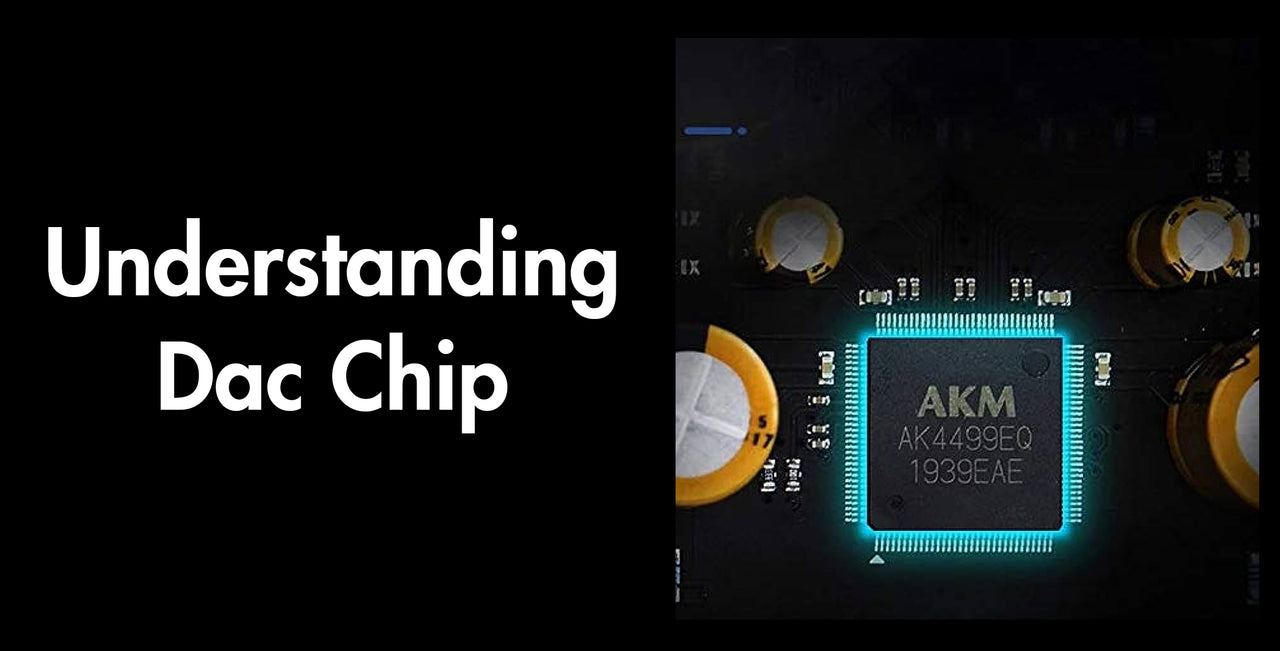 Understanding DAC Chips
Vaibhav Rathod
In the audiophile world, a DAC or a Digital Analog Converter is a widely used component. It is a crucial component in any audio chain mainly responsible for the decoding of digital signals and conversion of the same into analog for amplification. DAC is a fundamental component in digital audio signal processing. DACs are used to transform digital data, and digital audio files into analogue signals that can be further processed by amplifiers and output is prepared for headphones, in-ear monitors, or speakers. There are several famous manufacturers that design high-quality DAC chips which are used widely in today's devices. AKM Technologies, ESS Sabre Technologies, and Cirrus Logics are just a few names.

When we enter into the category of grabbing a DAC/AMP or even a digital audio player, we get to know it has some kind of DAC chip or the other. To finalise our decision on them, we need to understand more information about these DAC chips. Today's guide is based on that topic only. Today, we are going to share all the information you might need to understand DAC chips in a better way. Let's not waste any more time, get our reading glasses on, and we will start with the brand introduction to the famous ones first.
AKM Technologies:-
AKM Technologies is one of the most prominent DAC chip brands in the industry. Almost every other brand has incorporated their DACs in their products. AKM is actually a Japanese brand that designs and manufactures analog and mixed-signal integrated circuits. They are the biggest suppliers in the world for DAC chips with a huge catalogue of products under their name. AKM has a wide variety starting with the basic levels and go as high as flagship levels. Understanding their DACs is quite easy and simple, we basically have to just follow the number suite. The DAC chips are named in AK449X manner where the 'x' denotes the level of the chip. They start at AK4493 at the basic level, AK4495 and AK4497 as mid and mid-high level chips, and AK4499 as their flagship model. There's also an entry-level model that is currently in use for budget models known as the AK4377.
In-House Sound For AKM:-
Please Note that the final result will mainly depend upon the implementation of the DAC chipset in the audio circuitry. The level of the capacitors and other components in the circuit can affect the sound presentation. But every brand has a signature sound touch to their products. AKM DAC chips tend to have a rich, smooth sound with more rounded notes. Entry-level models have a little added warmth to them while the flagship models sound bigger, cleaner, and more detailed. AK4497 and AK4499 are highly featured sets in mid to high-end DAC/AMPs and DAPs while the AK4493 series is featured in most entry-level products. These are also very musical and silky in their presentation. That's why their new generation DACs are called Velvet Sound Technology.
Some More Information:-
AKM DAC chips are known for their high-performance characteristics. They tend to offer outstanding clarity with high SNR and DNR performance. They offer exciting performance supporting leading PCM, native DSD, and MQA signals naturally. AKM DACs are known for their smooth and natural sound signature which is very pleasing to listen to.
Some Famous Models with AKM DAC Chips:-
Price: Rs 2,990.
DAC: AK4377.
7Hz Seven Hertz 71 is a portable USB DAC that provides exceptional sound performance at a pocket-friendly price point. We get AKM's entry-level AK4377 DAC chip that provides a smooth sound signature. It has ample output power to drive most IEMs with ease. Whether you are an experienced audiophile or someone who is just starting out, 7Hz Seven Hertz 71 is a great option to consider.
JCALLY AP90

: Outstanding Clarity With Strong Output Power!!
Price: Rs 7,990.
DAC: AK4493SEQ.
JCALLY's AP90 is a premium quality Audio DAC/AMP equipped with a new-generation AK4493SEQ DAC chipset. It provides exceptional performance with class-leading SNR, DNR, and THD+N Distortion performance. It features dual output options including 3.5mm SE and 4.4mm Bal ports. JCALLY AP90 delivers quality high-resolution audio with ultimate details and resolution, a must-have for every audiophile.
Price: Rs 12,490.
DAC: AK4493.
SMSL Sanskrit 10th MKII is an outstanding desktop DAC known for its rich and organic sound presentation. It packs a rich sound tone with amazing clarity suitable for desktop setups. The AK4493 DAC chip at the core brings outstanding performance with the lowest harmonic distortion at just 0.002% and high SNR performance promising a clean, noise-free background and crispier details. SMSL Sanskrit 10th MKII offers great performance and is a vital choice in a desktop chain.
ESS Sabre Technologies:-
Just like AKM Technologies, ESS Sabre Technologies is also a well-reputed DAC chipset brand. It is headquartered in California. Founded back in 1983, ESS Sabre Technologies has offered a wide variety of high-performance DAC chips. Their DACs are used by top brands in the industry to develop high-quality portable and desktop DAC devices. Over the years, ESS Technologies has released several successful models in the market. Today they are one of the largest DAC chip providers in the industry right next to AKM Technologies. Their naming is a little different though, their flagship Chips have PRO in their name like the very latest ES9039S PRO, the previous flagship ES9038Pro, the mid-level chips have Q2M as the suffix like ES9038Q2M, and the entry-level models have named AC as suffix such as ES9281AC, etc.
In-House Sound:-
ESS Sabre DAC chips are known for their crisp, detailed sound. The ES9038Pro is a true 8-channel DAC that provides an exceptional level of detail retrieval while maintaining outstanding resolution and clarity. ESS DACs are prioritised when crisp details are required, they usually have a slightly neutral to bright sound signature profile. ESS DAC chips are widely appericiated for their Raw sound presentation. In most cases, They have the best SNR and DNR performance characteristics in their class.
Some Famous DACs with ESS Sabre DAC Chipset:-
Price: Rs 4,490.
DAC: ES9038Q2M.
Jcally JM60 is an ultra-compact portable USB DAC/Amp that houses an ES9038Q2M high-performance DAC chipset. It provides exceptional resolution and high-level details. The JM60 houses a standard 3.5mm single-ended output suitable for most in-ear monitors out there. JM60 maintains a natural, smooth sound that complements the signature of the connected in-ear monitors and presents them in a simple manner.
Price: Rs 6,999.
DAC: ES9038Q2M.
TP30 Pro is equipped with a new generation ES9038Q2M DAC chipset producing clear and strong output. It delivers quality output with an exquisitely detailed presentation. We have exceptional clarity and resolution, a true high-resolution sound performance!! Audiocular has featured full metallic body for exceptional looks. It's one of our favourite recommendations under Rs 10,000 for portable DAC&AMP.
Cirrus Logics:-
Cirrus Logics known as "CS" is a widely acclaimed DAC chipset brand from China. Their products are widely used in a variety of consumer electronics including portable DACs, Digital Audio Players, etc. Cirrus Logics has a long history of developing DAC chips, Some of their famous models include CS43131, CS43198, etc. Both these DACs are widely found in mid to high-tier DAC devices. Cirrus Logic's DAC chips are known for their high performance, low power consumption, and small size. They are used in a wide variety of audio products, and they are a popular choice for audiophiles and professionals who demand the best possible sound quality.
In-House Sound:-
Cirrus Logics DAC chips hit the sweet spot between the AKM and ESS DAC chips. These have the perfect balance of simple musicality and clear, detailed sound. CS DAC chips are widely appreciated for their clear and crisp sound presentation. The resolution and clarity is simply sublime with CS DAC chips, and the tone also has a smooth musical presentation.
Some Famous DACs with CS DAC Chipset:-
Price: Rs 4,490.
DAC: CS43131.
The Tanchjim Space Lite is a portable DAC/AMP that uses the Cirrus Logic CS43131 DAC chip. It is a small, lightweight device that is easy to carry around. It has a USB-C input and a 3.5mm headphone output. The Space Lite delivers quality sound that is pleasing to listen to and has enough details to make the output enjoyable for different genres of music.
JCALLY AP98

: Outstanding Quality With Exceptional Clarity.
Price: Rs 9,990.
DAC: CS43198.
The JCALLY AP98 is a portable DAC/AMP that uses dual Cirrus Logic CS43198 DAC chips. It is a small, lightweight device that is easy to carry around. It has a USB-C input, a 3.5mm headphone output, and a balanced 4.4mm headphone output. the AP98 is widely regarded for its clear, detailed sound that has ultimate resolution and showcases exceptional clarity.
R2R DAC Chipset:-
R2R DAC chips, or resistor-ladder DAC chips, are a type of digital-to-analogue converter (DAC) chipset that uses a network of resistors to convert digital signals to analog signals. The resistors are arranged in a ladder-like fashion, and the value of each resistor determines the output voltage of the DAC. Most R2R DACs are hand-crafted for getting accurate arrangement and quality performance. R2R DAC chips are known for their good sound quality, especially in the midrange and treble frequencies. They are also said to be good at resolving complex sounds and providing a good soundstage.
Sound Signature:-
R2R DACs have a very organic and natural sound presentation. They are slightly warmer and have a clean, rich, lush midrange presentation. Proper R2R implementations hit the perfect balance between technical performance and tonality. R2R DACs are limited in the market as of now, and they are mostly available in the premium segment of portable and desktop audio gear.
Some Famous R2R Based DACs:-
HiBy FC6

: Pure, Natural, Silky Sound in a Compact Package!!
Price: Rs 24,990.
DAC: R2R Based Darwin Architecture.
HiBy FC6 is a portable USB DAC designed with an R2R-based Darwin Architecture DAC Arrangement. It's a highly versatile compact device with Type-C standard connectors and features a 3.5mm single-ended output. The FC6 has a stunning sound presentation, it has a wide sound field with rich and lush overall tonality. FC6 is widely appreciated for its outstanding sound resolution and detail, it has the R2R magic which makes every musical session a memorable one.
Musician Pegasus: True Flagship R2R Desktop DAC!!
Price: Rs 99,990.
DAC: Custom-Developed R2R DAC.
Musician Pegasus is a true flagship R2R DAC with a fully balanced architecture. It is a well-received high-end DAC that provides outstanding sound quality with ultimate resolution and details. Pegasus with a powerful amplifier will bring you the ultimate desktop experience. It supports a solid aluminium chassis with a fully balanced audio architecture. This ensures clearer sound with reduced noise and vibrations. The pegasus supports high-resolution PCM, DSD, and MQA signals. Choose the Musician Pegasus if you are planning for a high-end desktop audio chain, it delivers simply the finest DAC experience one can have!!!
Final Words:-
The world of Audio decoders is massive. There are many more manufacturers that are slowly emerging and coming out with new and innovative chips that provide exceptional sound resolution with low-power consumption design. DAC chips basically play an important role in any given audio chain. A high-quality DAC can make the output clean, precise, detailed, rich, or musical, while a bad-quality DAC can ruin the sound output by introducing noise or other external interference. Always choose the best DAC so that you can enjoy true sound quality within your budget. The best part is that DACs are available across different price brackets so everybody can choose according to their pocke allowance. Well, this completes our guide to understanding DACs. We hope this guide helps you in understanding Audio Decoders in a better way. For any further assitance or queries, you can contact us through our official website.