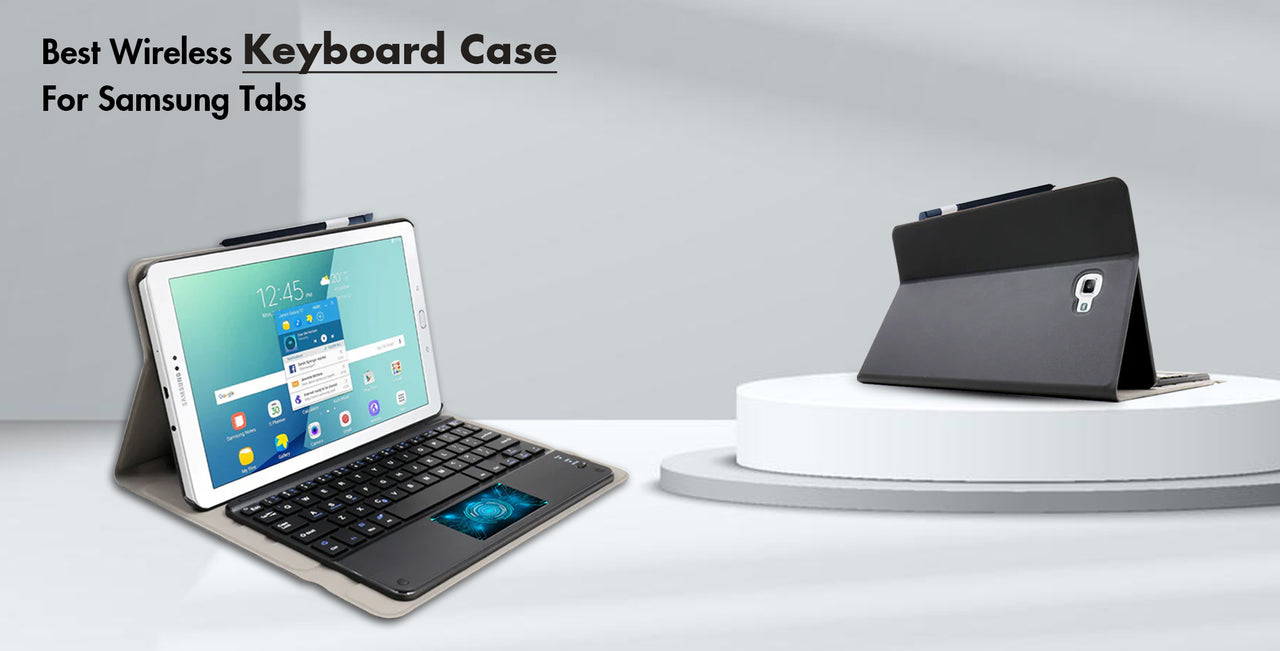 Best Wireless Keyboard Case For Samsung Tabs in 2023
Vaibhav Rathod
Technology is advancing at a rapid rate. We have come a long way from simple keypad phones to fully functioning multimedia smartphones in the market. In many cases, Smart Tablets are also on the rise. As the market for tablets is growing so is the requirement for their cases and accessories. While cases are available everywhere for tablets, we tried to offer something new, something unique, and something extremely useful. We at Concept Kart have a huge range of Keyboard Cases, Cases with built-in wireless keyboards as an essential companions for your tablets. Samsung, a multi-tech giant has a super large catalog of sleek, powerful, and undeniably versatile smart tablets suitable for both work as well as play. We have several models suitable for these remarkable Samsung tablets that unlock a world of possibilities with them. In this guide today, we are going to showcase some of our top offerings in the Keyboard Case category suitable for the latest generation Samsung Tablets. Join us on this amazing ride of exploring exciting new products available only with us at Concept Kart!!
Suitable Devices: Samsung Galaxy Tab S7/S8.
Price: Rs 2,890.
Grabbed the latest Samsung Galaxy S8 tablet? Or do you have Samsung's all-time loved Galaxy S7, the TECPHILE S-X700 is a fantastic wireless keyboard protective case? This case keeps your tablet safe and sound and provides you with a versatile Bluetooth keyboard with a built-in smart-gesture touchpad. Made using durable Leatherette material, the S-X700 offers great durability and a premium in-hand feel. TECPHILE S-X700 is suitable for Samsung Tablet 2020 and Samsung Tablet S8(2022) models.


TECPILE S-X200: Get The Best Out For Your Samsung Galaxy A8 Tablet!!
Suitable Devices: Samsung Galaxy A8.
Price: Rs 2,800.
Are you a proud owner of the amazing Samsung Galaxy Tablet A8? TECPILE S-X200 is a fantastic keyboard case with a built-in wireless Bluetooth keyboard. The keyboard also features a smart-gesture supporting touchpad that allows for easy mouse-like tracking on your Samsung tablet. The outer case is made up of high-quality durable leatherette material. It has the latest-generation Type-C USB Charging port for the Keyboard. You get a built-in 500mAh battery that provides a long battery life. Type your next blog on your Samsung Galaxy A8 with ease. Compatible devices are Samsung Tab A8(2022) 10.5" model.
TECPHILE S-P613: Seamless Integration, Effortless Typing!!
Suitable Devices: Samsung Galaxy Tab S6 Lite.
Price: Rs 2,890.
Our TECPHILE S-P613 is a seamlessly designed keyboard case suitable for Samsung Galaxy Tab S6 Lite. Improve your productivity and write your next article with the included wireless Bluetooth keyboard. The keyboard has a built-in smart-gesture touchpad. It has a magnetic design for an easy and secure connection with your Tab S6 Lite. It is easy to set up and offers multiple viewing angles. The P-613 keyboard case is made using high-quality durable Leatherette material. With a built-in 500mAh battery, get a long-lasting battery life suitable for hours of usage.
TECPHILE S-T500: Stylish Typing, Confident Protection!!
Suitable Devices: Samsung Tablet A7.
Price: Rs 2,890.
Samsung Tab A7 is a prestigious smart Android tablet in Samsung's catalogue. Our TECPHILE S-T500 protective keyboard case is designed especially for this model to provide excellent security and stylish typing feedback. The case includes a wireless Bluetooth keyboard with a fully functioning smart-gesture trackpad that has left and right-click buttons. The keyboard here uses Type-C charging and provides an amazing battery life as well. The TECPHILE S-T500 provides confident protection to your keyboards with easy and comfortable typing feedback.
TECPHILE T970T: Protective Case With RGB Keyboard!!
Suitable Devices: Samsung Galaxy Tab S8+/S7+/S7 FE.
Price: Rs 2,799.
For the latest generation Samsung tablet models such as the S8+, S7+, and S7 FE, we have the TECPHILE T970T protective keyboard case with a wireless Bluetooth keyboard. The keyboard here on the T970T features an attractive RGB backlight and comfortable keys with silent typing feedback. Typing on this keyboard is extremely comfortable and we get complete protection for our premium Samsung Tablet with a durable Leatherette material build. The keyboard also has a built-in smart-gesture trackpad with left and right keys for easy operation. It's a must-have for creatives who want the best out of their Tablet.
Final Words:-
Your Tablet can bring so many possibilities with it. It's no longer just a media device, it allows you to write, post, and share your articles, and lets you enjoy many functions that were previously only possible on laptops only. Samsung has one of the best ranges of smart Android Tablets in the market, we have the best companions for these tablets with fully secure durable material build and versatile Bluetooth keyboards. We hope this guide helps you in finding the best companion for your Samsung Tablets, for any further questions, you can contact us through our website.