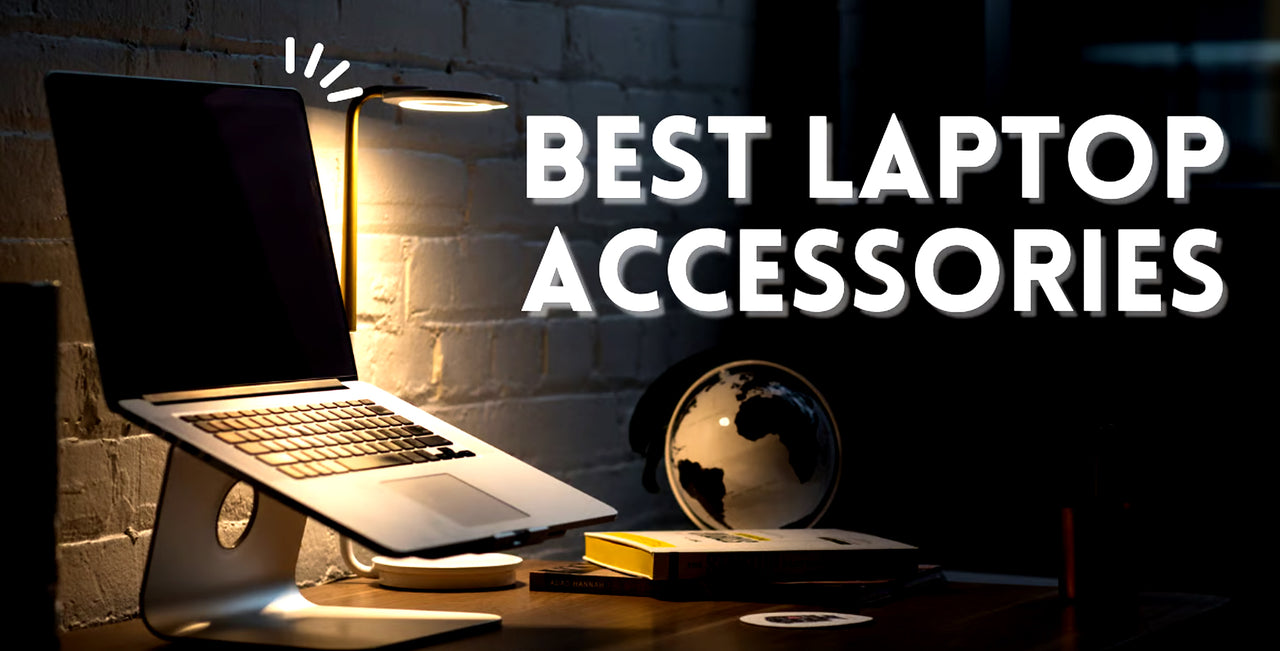 Best Accessories For Your Laptop: GaN Chargers, Smart Backpacks, Stands, and More
Aayush Pandey
With the advancement in technology all around us, Laptops have become an integral part of our everyday life. They are our perfect companions for everyday tasks, whether we are a student, a professional, a business owner, or a creative artist, our world surely revolve around laptops. Their portability greatly enhances their usability and the demand for laptops in the market is at an all-time high now. We at Concept Kart have always catered to your technological requirements, we aim to improve your everyday experience with high-quality gadgets. To bring the full potential out of your laptops, we can grab some after-market accessories such as GaN Fast Chargers, Laptop Stands, Secure Backpacks, etc. to make our experience with them smoother and more secure.
Welcome to today's guide, where we've curated our list of must-have accessories that are available with us at Concept Kart. We understand the importance of Laptops in everyday scenes and we have brought you some top-quality accessories that will make your experience even better. It's not just about getting a better experience, it's about improving the functionality as well, like faster charging, secure travelling, and more. That's why we have curated this selection of hand-picked top-quality accessories that not only protect but also improve your productivity!! So let's not waste any more time and begin with the guide!!
Price: Rs 2,299.
Fast Charging is here, most laptops now support different fast charging protocols. We have brought you a next-gen GaN Charger with 100W PD charging support, meet the TECPHILE CP-100PD. With advanced GaN technology, the TECPHILE CP-100PD provides a full 100W output to charge your laptop in minutes. It supports most leading protocols including Quick Charge QC3.0, PD3.0, Adaptive Fast Charging, and more. Simply use a compatible USB Type-C cable and enjoy full 100W fast charging on supported devices. It supports most laptop models from Dell, HP, Lenovo, Apple, and other famous brands. While most fast chargers are priced heavily, the TECPHILE CP-100PD is available at an attractive price tag.
Price: Rs 1,599.
One of the most common issues we get while using a laptop all the time is increased pain at the back of the neck also known as cervical pain. The primary reason behind this is the fact that we always keep our neck and back bent while using our laptops. One easy solution is to get a laptop stand or a laptop riser which brings the laptop to our height. Our OATSBASF Z01 is an easy-to-carry high-quality laptop stand with a solid aluminium alloy build. The stand is crafted using a high-precision CNC machining process with aviation-grade aluminium alloy material. It has a foldable design which makes it easy to carry around in the backpack. The stand provides three levels of height so users can adjust accordingly. It greatly enhances your laptop's performance with improved airflow for the fans at the back of the laptop. If you are someone who uses Laptop for hours every day, a good-quality laptop stand is a must. It supports laptops with up to 17" screen size. What can be better than a solid aviation-grade aluminium alloy stand available at a pocket-friendly price!!
Price: Rs 899.
Presenting another fantastic stand for your laptops, the TECPHILE GL-034. It's a premium-quality laptop stand made using high-quality aviation-grade aluminium alloy material. Its high-quality material protects the stand from colour fading, oxidation, and scratches. We have protective non-slippery rubber pads on the stand that not only keep the laptop in place but also protect it from accidental scratches. The TECPHILE GL-034 stand has a hollow-out design that facilitates heat dissipation and helps in managing air circulation keeping the laptop run cooler. It acts as a great stand for 11" to 17" laptops and goes easy on the pocket as well!!
Price: Rs 3,590.
BANGE 1908 is a multi-function smart bag that is expandable and convertible into a duffle bag. It fits large laptops with screen sizes up to 17.3" easily. It also has an external charging port for easily charging your smartphones and other gadgets with a simple power bank. It has anti-theft pockets securing your precious gears and keeping them safe. The BANGE 1908 backpack has a capacity of 22 to 37L allowing you to carry a lot of stuff alongside your laptops. It has a stylish and professional look, simply keep your laptop safe during your travels with the BANGE 1908 Smart Travel Backpack!!
Price: Rs 4,490.
What if we tell you you can have both style and security in a single accessory?? Well, that's right, the FENRUIEN 7869 is a secure backpack with a cutting-edge hardshell design. It has fully secure protection for 17" laptops with full protection. The backpack has password password-protected anti-theft lock that protects your valuables from thieves. It has a waterproof and scratchproof design with a multi-compartment build. You also get USB Type-C and USB Type-A external charging ports. FENRUIEN 7869 is an ultimate backpack that protects your laptops with great protection.
Price: Rs 799.
We know, we know trackpad is already there on all the laptops, but the pleasure and comfort of using a mouse is always better for both gaming and everyday usage. Presenting you with the HXSJ T18, a high-performance dual-mode wireless mouse. It supports wireless 2.4GHz and wireless Bluetooth connection modes providing full versatility to connect to different devices. It also has a brilliant RGB breathing light that looks simply spectacular. The HXSJ T18 also has adjustable DPI support allowing the user to cycle between 800-1200-1600 DPI values. HXSJ T18 goes easy on the pocket available at an interesting price point!!
Final Words:-
The world of Laptop Accessories is huge, super huge if we say it correctly. You can get plenty of other accessories including many more laptop stand models, many more mouse options, many more GaN chargers, etc. If you are trying to get the best out of your laptop, have a look at the range of accessories that we have in our store. Well, that's it for our today's guide, For any further assistance or queries, feel free to contact us at our website.