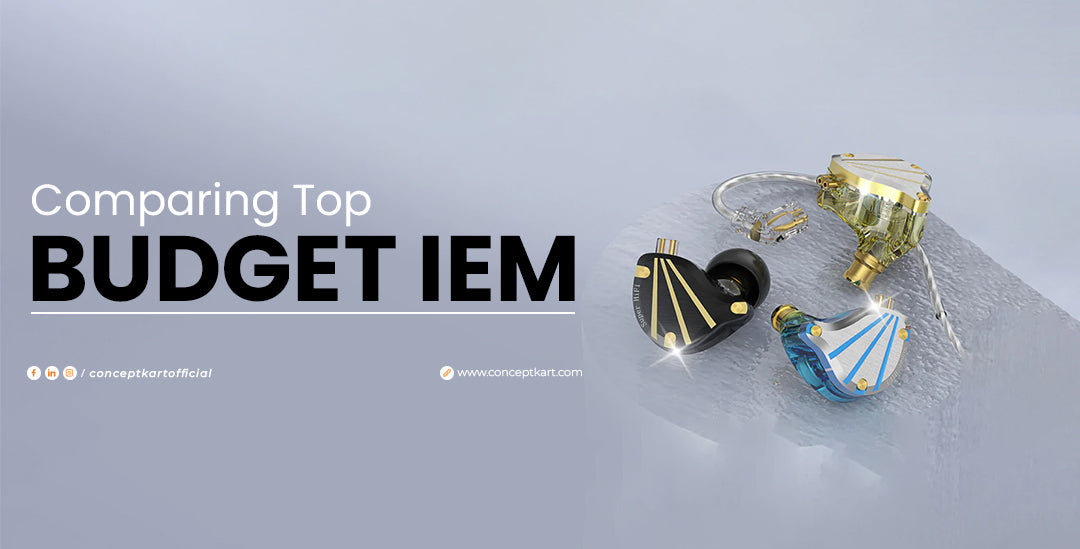 Comparing Top Budget IEMs
Gagan Jajoria
In-Ear Monitors
, commonly known as IEMs are widely used as a portable medium of audio enjoyment. Different from your regular earphones, an IEM indulges you in your music by covering your entire ear canal and providing you excellent isolation from the surrounding noise. They are quite good for everything right music enjoyment to movies and games with precise imaging and positioning capabilities. The market of In-ear monitors is humongous, you get a lot of options at any given price point which kind of increases the confusion in the minds of buyers.
When we talk about a budget segment,
like, say under 2000 Indian Rupees
, we have a lot of recommendations such as
7Hz Salnotes Zero, Moondrop Chu, CCA CRA+, etc.
Each one is said to be different than the other, then how do we choose the one right for us? Well, that's a tough question if you ask us. But don't worry, we are by your side in helping you out with your next purchase. You just need to know a few things about these recommendations and align them with your personal preferred listening style like sound signature and other characteristics. With the help of this blog today, we will be bringing you a comparison between the
top 5 IEMs
that go as a default recommendation when you look for
IEMs under 2000 INR
. So, without wasting any more time, let us begin!!
To summarise, here are our top five recommendations for
IEMs under 2000INR:-

KZ ZST X:-
Price: 1,499 Rs.
Sound Signature: V-Shaped signature with powerful bass response.Good For: Movies & Music.
Pros: Clean Midrange, Powerful Bass, Easy Drivability, Comfortable lightweight design.
Cons: Treble response has signs of sibilance and peaks in several tracks.

KZ has revolutionized the budget segment of in-ear monitors with its offerings. The ZST X is a single-dynamic driver IEM featuring a 10mm dual-magnetic driver unit on each side. ZST X is known for its excellent bass response and its exceptional midrange clarity. Treble region has got good energy but sounds peaky at times. KZ ZST X is an easy-to-drive pair, you can enjoy it with your smartphones, laptops, and other devices. The pair delivers some of the best vocals in its price segment. With deep-diving bass response and crisp midrange, the ZST X is a great choice for watching movies and also for listening to music.

You can check out more details about KZ ZST X here.
CCA CRA+:-
Price: 1,999 Rs.
Sound Signature: V-Shaped sound signature with great technical performance.
Good For: Gaming, Music, & Movies.
Pros: Warm, Smooth Sound, High-resolution midrange clarity, Treble has got good details, Comfortable Fit.
Cons: A hint of metallic touch for instruments such as cymbals, electric guitars, etc.

CCA released the CRA+ as an improvement over the original CCA CRA. With a 10mm dynamic driver unit that adopts a patented ultra-thin polymer composite diaphragm coil. It has got readjusted magnetic architecture on the previous model with a 0.15mm magnetic gap. It benefits the pair by delivering a cleaner sound with a lower distortion rate. With an adjusted 0.035mm diameter loop to achieve stable and efficient driver vibration frequency, the CCA CRA+ brings an amazing sound performance!! With improved driver configuration, the CCA CRA+ delivers solid technical performance that makes it a perfect companion for different use case scenarios including Gaming, Music, and Movies!!

Want to know more about CRA+?? Check out more information here.
7Hz Salnotes Zero:-
Price: 1,690 Rs.
Sound Signature: Smooth, Balanced tuning profile with Good vocals and treble extensions.
Good For: Gaming, Music, & Movies.
Pros: Great Tuning, good treble extensions, refined & precise presentation, good imaging, great technical performance, comfortable fit.
Cons: Simple looks, Treble is occasionally bulky.

If you are someone who prefers a smooth-balanced sound presentation, The 7Hz Salnotes Zero might fit your preferences with its outstanding sound characteristics. Zero treats you with a refined, full-bodied sound that complements different genres of music amazingly well. You get a clean bass shelf with absolutely amazing sub-bass, and well-textured mid-bass, complementing the other frequencies. Midrange shows good character, bringing lively vocals and the treble is extended well, bringing in a good level of technicalities with the Zero. 7Hz has done a great job in tuning the Salnotes Zero. The pair performs well for anything you throw at it, be it gaming, be it music, or be it enjoying movies, 7Hz Salnotes Zero will perfectly fit!!

Available in a pocket-friendly price of just Rs 1,690, Salnotes Zero is a no-brainer!! Check out more details here.
Moondrop Chu:-
Price: 1,539 Rs.
Sound Signature: Neutral-ish tuning with sub-bass boost.
Good for: Music, Movies.
Pros: Neutral sound tuning, Powerful Sub-bass, Upfront Vocals, Spacious & airy sounding, Non-fatiguing presentation.
Cons: Non-Detachable cable, A little lean in presentation.

Mooondrop Chu is the direct competition of other single dynamic driver IEMs in this price bracket. Tuned in line with the Moondrop's VDSF Target Response Frequency Curve, the Chu packs a wonderful sound performance with a neutral sound profile and elevated sub-bass presentation. Clear and precise sub-bass rumble can be felt with lovely vocals and great technical performance. The pair delivers a spacious soundstage with well-separated instruments. It's quite a great pair for music and movies. With its ergonomic shell design, the Moondrop Chu also ensures you get a comfortable listening experience.

Wanna know more?? Check out more information about Moondrop Chu here.
QKZ AK6 Titan:-
Price: 1,149 Rs.
Sound signature: V-Shaped profile with powerful Bass response.
Good for: Music, Movies.
Pros: Excellent bass response, powerful mid-bass, a clean midrange, lovely vocals, smooth, inoffensive treble.
Cons: Some might find the bass a lot, it has a heavy bass response.

QKZ AK6 Titan is the most affordable single-dynamic driver IEM in this price bracket. It's available for just 1,149 Rs. AK6 Titan sounds fantastic, it has a powerful bass response, a clear, crisp midrange, and a detailed, inoffensive treble response. AK6 produces an impactful sound. It's pretty solid for music and movies. If you love to listen to a powerful, groovy bass response with a clean, well-textured, refined bass response that complements other frequencies amazingly well, the QKZ AK6 Titan will surely meet your preferences!!

You can know more about QKZ AK6 Titan from here.
Conclusion:-
We are pretty sure these above-mentioned IEMs will perfectly fit the requirements of most people. Right from the QKZ AK6 to the CCA CRA+, we have brought you the list of top-performing In-Ear Monitors. If you have any questions or want to ask anything, feel free to contact us through our website!!