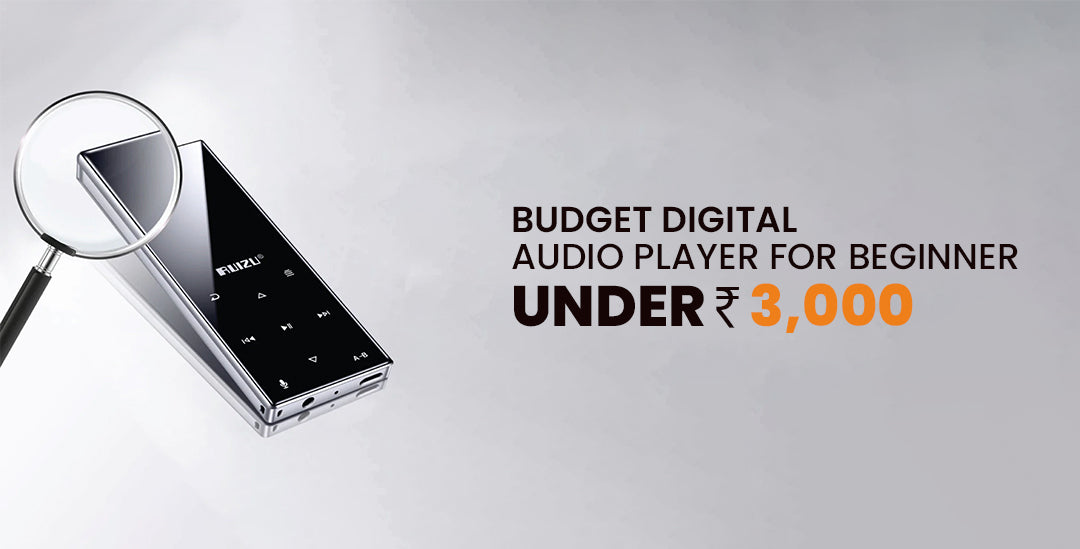 Top Five Digital Audio Players Under 3000 INR
Gagan Jajoria
Are you a beginner wandering around the internet looking for your first digital audio player? Or are you an experienced audio enthusiast who is just looking for a budget audio player for regular rough usage(gym, jog, etc.)? There are plenty of options available online at different prices, if we consider something completely in the budget segment like something under 3000 INR, the category is even more confusing with so many options from different brands. We have MP3 players, we have high-resolution MP4 players, we have digital audio players with high-resolution lossless FLAC file playback support, and the list of features goes on and on. In order to ease your confusion and help you decide on a music player that comes easy on the pocket, we have arranged a list of top-performing digital audio players in the market. With today's list, we will be focusing primarily on the budget price bracket of under 3000 Indian Rupees. Without wasting any more time, let's begin. Here are our top-five digital audio players!!
Top-Five Digital Audio Players:-
Swofy M2:-
Price: Rs 2,499.
Starting our list with the Swofy M2, a compact and versatile high-quality digital audio player with advanced Bluetooth V5.0 wireless connectivity. Carry your music library with you anywhere you go with its built-in 32GB memory with a 128GB expandable storage slot. M2 supports Hi-Fi lossless sound quality with support for different formats including FLAC, MP3, WAC, APE, OGG, etc. As an additional function, Swofy M2 also features an HD Microphone that helps you do voice recordings. Not only music, Swofy M2 also has a smart E-book reading application, JPEG/BMP image viewer, etc. With a 410mAH battery, it allows for music playback for long hours with a single charge!! With a 2.4" touchscreen, we can explore our music library easily as well.
Swofy M2 is a great music player designed for day-to-day regular usage. We personally prefer it for daily casual use whether at the gym or morning walk. Do check out more features of the Swofy M2 over here.
Swofy M10:-
Price: Rs 2,499.
What if we tell you we have a retro-styled compact portable music player for you!! Interesting ain't it!! Have a look at the amazing Swofy M10 portable music player. It's a full feature-rich portable music player that not only supports playback of your music library, Videos but also has a built-in Radio. Don't get fooled by its compact and retro design, the Swofy M10 has 32GB internal memory which is also expandable with a 128GB microSD card slot. Swofy M10 supports high-resolution FLAC file support along with regular music formats like MP3, WAV, APE, WAV, OGG, and more. Similar to the M2, the M10 also has a microphone built into it that supports crips voice recording.
Swofy M10 is a highly versatile music player with WMV/AVI video playback support as well. Do check out more details here.
RUIZU X68:-
Price: Rs 2,790.
X68 from RUIZU is a compact digital music player with 16GB internal memory and expandable 128GB storage. It has a 1.5" TFT Colorful display and houses a large 500mAh battery for long hours of music playback. RUIZU X68 supports most digital audio formats including MP3, WMA, APE, FLAC, WAV, AAC, OGG, and more. You can also connect your Wireless Bluetooth headphones/earphones with the RUIZU X68 using its Bluetooth V5.0 functionality. It also has many more features such as video playback, FM radio, voice recording, e-book reader, Pedometer, etc.
RUIZU X68 is a neatly designed compact portable audio player that can serve as a good companion for your day-to-day usage. It is priced at Rs 2,790, you can check out more features and details here.
RUIZU X52:-
Price: Rs 2,799.

RUIZU X52 is a super compact digital audio player with a wearable clip design. With its wearable clip design, you can easily take it for your morning jog or gym sessions. It's easy to carry, lightweight, and compact. RUIZU X52 supports playback for most music formats including MP3, WAV, Flac, and more. X52 even has video playback(128*128 resolution AMV format) and E-Book reading function. RUIZU X52 also has wireless Bluetooth V5.0 connectivity that enables wireless headphones and earphone connectivity with the Player. X52 has 16GB internal memory with a 128GB expansion slot that allows you to carry a huge music library with you!! RUIZU X52 also supports FM Radio functionality.
X52 is a compact digital audio player with a wearable clip design. It's a perfect companion for running, jogging, cycling, and other activities. One can simply mount the X52 on their arm or clothes. It's priced at Rs 2,799, refer more details here.
RUIZU D29:-
Price: Rs 2,999.
Coming to our absolute favorite of the lot, the RUIZU D29. It's a portable digital audio player that comes in two different storage options, You can choose between 8GB or 16GB internal memory with expandable storage of up to 128GB. D29 features a 1.8" colorful display and touch-sensitive keys. It supports most musical formats including APE, AAC, Flac, MP3, WMA, etc. It's extremely handy with a small form factor and lightweight design. D29 houses a built-in speaker and a standard 3.5mm headphone jack. RUIZU D29 music player has an FM radio and Voice recorder function. It also supports video playback with 320*240 AVI resolution videos. RUIZU has also given us standard functions such as E-Book reading, Alarm clock, etc.
D29 is a great music player with excellent sound playback and plenty of more features. It is priced only at Rs 1,999 for the 8GB variant and Rs 2,999 for the 16GB variant. Know more information here.
Final Words:-
These are our top-favorites, top-performing digital audio players that deliver quality performance with a compact form factor and come at a pocket-friendly price tag. Each and every single one of these will be a perfect companion for your everyday musical sessions. For any further questions and queries feel free to write to us at customercare@conceptkart.com.