NEW 10MM DYNAMIC DRIVER: CRA+ is equipped with a new dynamic driver, which combines multiple outstanding acoustic tuning technologies, using a patented ultra-thin polymer composite diaphragm. 0.15MM magnetic gap that benefits the lower distortion rate, 0.035MM diameter loop to achieve the stable and efficient driver vibration frequency, to bring you an unparalleled acoustic feast.
IMPRESSIVE LOOK: CCA CRA plus has Shining appearance to be more outstanding than ever. The faceplate of CRA+ is made with zinc alloy material and golden color which gives a lively and exclusive appearance.
UPGRADED VERSION: CCA has brought CRA+ an upgradation to CRA. It has improved the sound quality to a high level. Compared to CRA, it has adjusted the speaker structure from new moulding, to achieve better improvement and extraordinary hearing experience from the F1 (1st formant frequency). It's tuned to bring stronger bass, wider frequency response and shocking soundstage to treble extension. You get to enjoy HiFi music along with better soundstage, as tuned to upgrade with a 10mm driver. Adding the comfort and golden streak, it becomes a must-have IEM for those on the strictest of budgets.
HIGH PURITY CABLE WITH HD MICROPHONE: CCA CRA+ has high purity silver plated cable that improves sound quality and resolving details. You can be upgraded as a wireless version with Bluetooth ear hooks. High quality Mic for making calls and voice recordings while on-the-go. The mic module also features a single button control for functions such as skipping tracks / play pause / answering calls.
0.75MM TYPE C CONNECTOR: This CRA+ in ear monitor has 0.75mm QDC Connector and 3.5MM gold plated plug, which is compatible with a wide range of devices.
ERGONOMIC DESIGN & COMFORTABLE TO WEAR: The ergonomic design fits perfectly so it could not easily fall off and it's lightweight and comfortable design will allow you to wear this IEM for long periods.
Driver Type
10mm Dynamic Driver
Frequency Response
20 - 40000Hz
Wired Connectivity
3.5mm Gold-Plated
Pin Type
0.75mm 2-Pin Gold-Plated
Cable
High-Purity Silver-Plated
What will you get:
1 x CCA CRA+ Earphones
1 x Detachable Cable
3 x Eartips
1 x Earphone Case
1 YEAR WARRANTY
Don't worry, CCA - CRA+ Wired IEM comes with a 1 Year warranty against manufacturing defects. We guarantee that every product on Concept Kart is genuine and backed by the Manufacturer's warranty.
Read more about Concept Kart's warranty policy.
FREE SHIPPING ON ALL PREPAID ORDERS
We usually ship orders on same day if ordered before 2 pm or within 24 hours if ordered later (except on holidays/sunday, where processing times may be higher) from one of our domestic warehouses based out of Delhi. It normally takes around 1 to 5 business days for delivery. We use premium service partners such as Blue dart, DTDC and Delivery for faster and reliable service. A tracking number will be provided upon shipment.
In very rare cases when order is not received after 10 business days of shipment (extended by number of days when the govt. Restricts movement of goods due to factors such as coronavirus pandemic), please contact us and we will provide you a refund.
Best first IEM
As someone who is entering into audiophile journey, my first IEM is really cool. I wanted a bit more bass and bit less treble, by messing with the equalizer you can achieve that.
That is the plus point, you have everything and with the equalizer you can get everything. As a successor to the all famous CCA CRA, i love this.
Thank you for your feedback about your experience at our store. Your review means a lot to us and helps spread the word about our business to other customers like you!
CCA CRA . Pretty good sound
This iem has a clear sound.
Good sound stage and tonality.
Bass and treble both are good.
Above all, affordable.
I Recommend it.
We are so grateful for your kind words. Thanks for sharing your review with us and the community.
CRA legacy continuous
This might be different for you if you are already a CRA user. A little bit flatter bass and less accentuated treble in the CRA+, this is what you get in this. The overall tonality is similar to the CRA, the lower bass resolves well and does the proper justice to the HANS ZIMMER's OSTs. A great buy overall!!!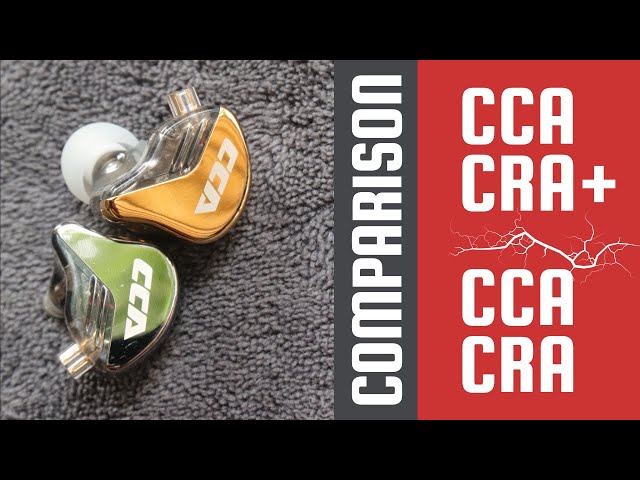 Thank you for a very well-rounded and through review. We appreciate your effort in putting this review and knowing it will be helpful and informative for our customers.
Have a good day!
Product title
Vendor
Rs. 19.99 | Rs. 24.99
Product title
Vendor
Rs. 19.99 | Rs. 24.99
Product title
Vendor
Rs. 19.99 | Rs. 24.99
Product title
Vendor
Rs. 19.99 | Rs. 24.99