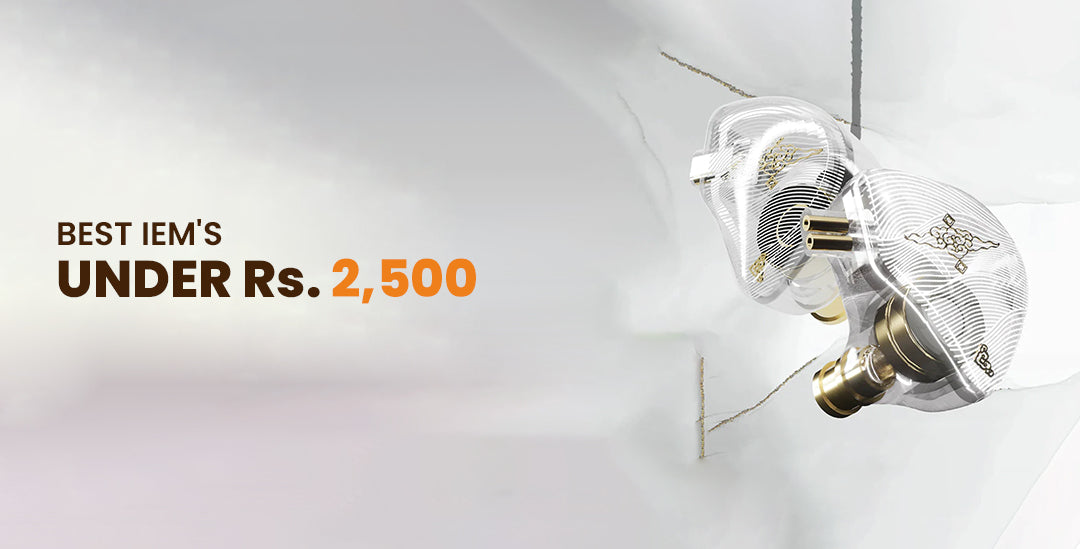 Best IEM's Under Rs. 2500/-
Gagan Jajoria
In-Ear Monitors, commonly known as IEMs have slowly become the main medium of music enjoyment for most audiophiles. This is because of their easy drivability, compact designs, and solid isolation. When we search the market for our next pair of in-ear monitors, especially at a budget price point, we get hundreds of options which usually make it difficult to decide on our next purchase. But what can make it easier, would be a guide where we will discuss different features of top-performing IEMs in the market. With this guide today, we will share our list of top-ten IEMs that you can get today under a budget price point of Rs 2500!!
Do note that the products in this list are not in any particular order. These are our top picks under the given price point. Let's begin.
Price: Rs 1,690.
Sound Signature: Warm & Balanced sound tuning.
If you want something that has a balanced tuning with a hint of bass boost, the 7Hz Salnotes Zero is a great pair for just under Rs 2,000. 7hz has featured a 10mm dynamic driver on the Zero that produces a powerful bass response. We are pretty sure that you are gonna love the deep sub-bass rumble with the Salnotes Zero. Not to mention the clarity of vocals and instruments that just complements your music well. Salnotes Zero can be driven safely off a smartphone only. You don't need special gear or gadgets to enjoy your music with Zero.
7Hz Salnotes Zero, for a smooth, warm, balanced sound signature with a detachable cable.
Price: Rs 1,539.
Sound Signature: Neutral Profile with a hint of sub-bass boost.
Moondrop Chu is one of the few budget IEMs that deliver a crisp neutral sound with a hint of sub-bass boost. Moondrop has tuned it following their famous VDSF target response curve that provides it with a good tonal balance and a wider sound field. You are treated with amazing clear vocals with smooth and detailed instruments. Moondrop has featured, high-quality metallic ear cavities on the Chu. The pair includes their famous Spring Tips as stock!!
Moondrop Chu, a great-sounding in-ear monitor that's easy on the pocket!!
Price: Rs 1,990.
Sound Signature: V-shaped with good clarity.
How can a list of top-performing IEMs at a budget ever be complete without mentioning the highly-acclaimed BLON BL-03? BL-03 has been a fan favourite for many years. This single dynamic driver IEM has gained a large number of followers for its exceptional sound quality and comfortable fit. BL-03 brings our music to life with its rich vocals and punchy bass response. BLON BL-03 can be driven straight off your smartphone so no need for fancy gears or gadgets!!
Blon Bl03 for a lively, fun sound and comfortable fit.
Price: Rs 1,399.
Sound Signature: V-Shaped with Amazing Punchy Bass.
CCA CRA is a solid performer with rock-solid bass response. The CRA packs a powerful punch in its lower end, the bass texture is truly exceptional. Even with such a powerful lower end, CCA manages to retain a clear midrange and decently detailed instruments with the CRA. CRA would be one of our top picks in this category, as it checks all the boxes for an exceptional IEM in a single package, comfortable fit, solid sound, and easy driveability!!
Enjoy good music with the CCA Cra!!
Price: Rs 2,399.
Sound Signature: V-Shaped Sound with a Wide Soundstage.
KZ leads the budget category with its exceptional range of products available in this category. ESX houses a 12mm dynamic driver unit and delivers a surround sound experience. KZ ESX packs a good punch in the lower end and delivers lovely midrange as well. Treble comes forward and showcases outstanding details in the category. The pair fits like a charm, and sounds even better with pretty good clarity throughout the frequency band!!
If you want a massive experience that's easy on the pocket, KZ ESX is a great choice!!
Price: Rs 2,290.
Sound Signature: Lively W-Shaped Profile.
TRN TA1 is a dual-driver hybrid IEM with a custom dynamic driver and a Knowles BA driver. The pair produces amazing output with a W-shaped profile. You get a thick bass response, rich vocal clarity, and lively instruments. Vocals with the TRN TA1 are some of the best you can get on this budget. Both Male and Female vocals are presented with a clean texture and rich details. Truly an exceptional experience. On top of that, you get beautifully designed metallic ear cavities and the TA1 doesn't require a lot of power to shine its best. It sounds pretty amazing straight out of a smartphone too!!
If you want a lively, fun sound signature where each frequency is presented in a forwarded manner, the TRN TA1 is a pretty good choice.
Price: Rs 1,549.
Sound Signature: Fun V-shaped profile with punchy bass.
QKZ has released this new dual-magnetic single dynamic driver IEM in collaboration with the HBB (Bad Guy Good Audio Reviews). HBB has adjusted the tuning profile of this pair with his expertise in High-End IEMs. In our experience, QKZ x HBB sounds phenomenal with a strong low-end performance. The pair delivers a powerful rumble in the sub-bass region with a slamming mid-bass response. QKZ x HBB sounds pretty fun and sounds nicely detailed.
Fun, Engaging, & Powerful, if you seek this kind of performance in your next pair of IEMs, the QKZ x HBB would be a great choice!!
Price: Rs 1,890.
Sound Signature: V-Shaped with a powerful lower end.
Tin HiFi T1s has got a pretty amazing sound with a powerful lower-end performance. It packs a 10mm dynamic driver unit with a brass cavity structure. The bass response on the T1s is pretty solid, it delivers a good punch with its mid-bass while showcasing a thunderous rumble in the sub-bass region. T1s has got resin material, lightweight ear shells that provide a super comfortable fit.
T1S delivers a punchy sound with a relaxed treble response. If you want a smooth-sounding, warm, bassy IEM, the T1S is a great option!!
We are back here with an update. Brands are regularly updating their catalogs with new products on a regular basis. We get new IEMs with different looks, different tuning, different features, and entirely different driver configurations as well as being released in the market regularly. So, we have planned to update this blog on a regular basis. While most of the previous IEMs still stand their value with great sound performance, we would like to add a few more to our recommendations list. So, without wasting any more time, let's begin with our top Picks for December 2022!!
Price: Rs 1,990.
Sound Signature: Neutral, Balanced sound with a hint of Warmth.

Tangzu Waner SG has taken the budget segment by storm. It's an amazing set of single-dynamic driver IEMs tuned for a neutral, balanced sound signature. The pair packs a punchy sound with a hint of warmth. It's very pleasing to listen to, with a rich, organic tonality. Tangzu has done a great job with the Waner SG, the pair complements different genres of music amazingly well!! On top of its amazing sound, Tangzu Waner SG also brings you a comfortable design. You can wear the pair for long hours without even noticing the pair in your ears!!

Tangzu Waner SG fits the bill with a smooth, organic tonality, and an affordable price!!
Price: Rs 1,290.
Sound Signature: Balanced Sound with a wide soundstage and excellent imaging.

With the latest Quarks DSP, Moondop has reworked the OG Quarks with digital signal processing. The pair has Type-C termination that helps you connect and use it directly with smartphones that don't have a 3.5mm headphone jack and are limited by the Type-C port. With the help of a built-in premium audio chip, Quarks DSP has been adjusted to deliver a crisp sound with outstanding imaging, exceptional vocal clarity, and precise details. Quarks DSP houses a 6mm micro dynamic driver, that delivers quality sound with the pair!!

Moondrop Quarks deliver quality sound with its built-in DSP chipset.
Price: Rs 2,699.
Sound Signature: Mild V-shaped sound signature with quality resolution and clarity.

We know, we know this is a little extra than our desired budget of the blog. But the Tin HiFi C2 Mech Warrior is just super amazing to not mention. It's just 199 Rs more than our budget of this blog, but believe us, it delivers amazing sound. The clarity, resolution, and details are simply top-notch for this price point. Tin HiFi C2 Mech warrior packs a 10mm dual-cavity dynamic driver with a PU+LCP composite diaphragm. It has got great looks with its mechanical design. Pretty sure the Tin HiFi C2 Mech Warrior will impress you with its amazing sound!!

Tin HiFI C2 Mech Warrior sounds excellent, looks beautiful, and has a great mechanical design.
Price: Rs 1,490.
Sound Signature: Balanced Profile with Crisp Highs, and Punchy Lower-End.

With a new 10mm titanium-plated diaphragm dynamic driver unit and dual-chamber dynamic coil design, TRN MT3 pack a powerful sound with a balanced signature and crisp high-frequency response. Treble region is nicely detailed. It is complemented by a powerful, punchy lower-end that brings life to your music. On top of this amazing sound quality performance, you also get outstanding build quality with its 5-axis CNC machined zinc-alloy ear shells!!

TRN MT3 brings an amazing build, solid sound, and an attractive price tag!!
Final Words:-
This was our list of top-performing IEMs under the budget of Rs 2,500 INR. We have tried our best to cover the entire range with beautiful performing IEMs. Most of these IEMs can be driven easily off our smartphones without the need for any special gear. So, what are you waiting for?? Ready your wallets and start shopping with us. For any questions and queries, you can contact us on our chat service available on our website.