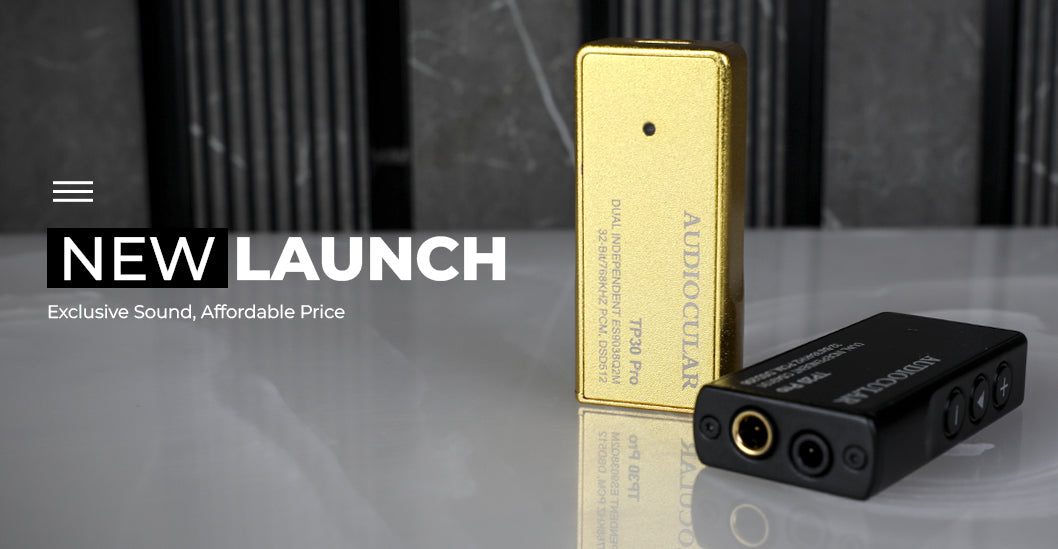 AUDIOCULAR TP20/TP30 Pro Premium Portable DAC At Affordable Price
Gagan Jajoria
AUDIOCULAR
is a new name in the audio industry. It's actually a new brand with a huge catalogue of
premium quality HiFi audio products featuring portable audio players, USB DAC/AMPs, IEMs, Eartips, etc.
Quite recently, AUDIOCULAR has introduced two brand new
high-performance portable USB DAC/AMPs, the TP20 Pro, and the TP30 Pro.
Both the
TP20 Pro and the TP30 Pro offer exciting sound performance decoding high-resolution audio signals on the go.
They are designed with utmost craftsmanship and come equipped with top-quality hardware for the best audio experience for the users. Just like the other products from
AUDIOCULAR, the devices are priced attractively starting at just Rs 4,999 for the TP20 Pro and Rs 6,999 for the TP30 Pro!!
TP20 Pro is a premium portable USB DAC/AMP with full metallic zinc alloy chassis and a high-performance dual DAC chipset featuring two independent CS43131 DAC chips. The CS43131 is a 32-Bit DAC chipset, which has been designed to provide superior level audio signal decoding. It supports decoding for high-resolution audio signals up to 32-Bit 384kHz PCM and native DSD256 audio signals. The CS43131 chip helps the TP20 Pro to achieve class-leading performance. It achieves an ultra-low THD+N rate of 0.0008%, high SNR performance(130 dB), etc. The CS43131 is a low-power consumption design, providing the TP20 Pro with an efficient design. TP20 Pro also supports decoding for MQA signals as well.
AUDIOCULAR TP20 Pro has dual headphone output ports.
It features a
3.5mm single-ended and another 4.4mm balanced headphone connection options.
It has high-power amplification with an output power rating of up to
4Vrms@32Ω(4.4mm), up to 151 MW at 32Ω of load
. It can
drive most IEMs with ease and help you to get a better listening experience. 
For easy pairing with sensitive as well as demanding IEMs,
TP20 Pro features two-level gain switches.
About the build, the
TP20 Pro is really well-built
. The device has a full metallic shell made up of high-quality zinc alloy material.
It has detachable Type-C connector cable that allows you to use the device with Android, Windows, Mac, iOS devices.The TP20 Pro is priced at Rs 4,999,
which is quite competitive considering its internal components.
Coming on to the flagship from AUDIOCULAR the TP30 Pro. TP30Pro houses best in class configuration featuring top-quality hardware components such as dual independent ES9038Q2M DAC chips, powerful amplification circuit, high-res PCM and DSD decoding, and many more features.
The
TP30 Pro supports decoding for high-resolution 32-bit 768kHz PCM, native DSD512, and MQA audio signals
. It achieves an
ultra-low distortion of 0.0007%,
while maintaining low power consumption. The
ES9038Q2M is a premium 32-Bit DAC chipset
featured in many high-end audio gadgets. It is known for its outstanding sound decoding capabilities and revealing sound signature!!
Just like the TP20 Pro, the TP30 Pro also has a full metal chassis made up of high-quality Zinc alloy material
. Instead of simple black, the
TP30 Pro has a vivid golden finish which looks quite rich and premium
. You also get physical volume control keys. It has dual headphone output ports featuring
4.4mm balanced and 3.5mm single-ended
output options.
Compared to the TP20 Pro, the TP30 Pro has more output power with an output rating of 270 MW @ 32Ω of load. So the resulting performance with the TP30 Pro is cleaner, more refined, and more powerful as well!!The AUDIOCULAR TP30 Pro is launched officially for Rs 6,999.
It is priced quite well considering the high-end audio components inside!!