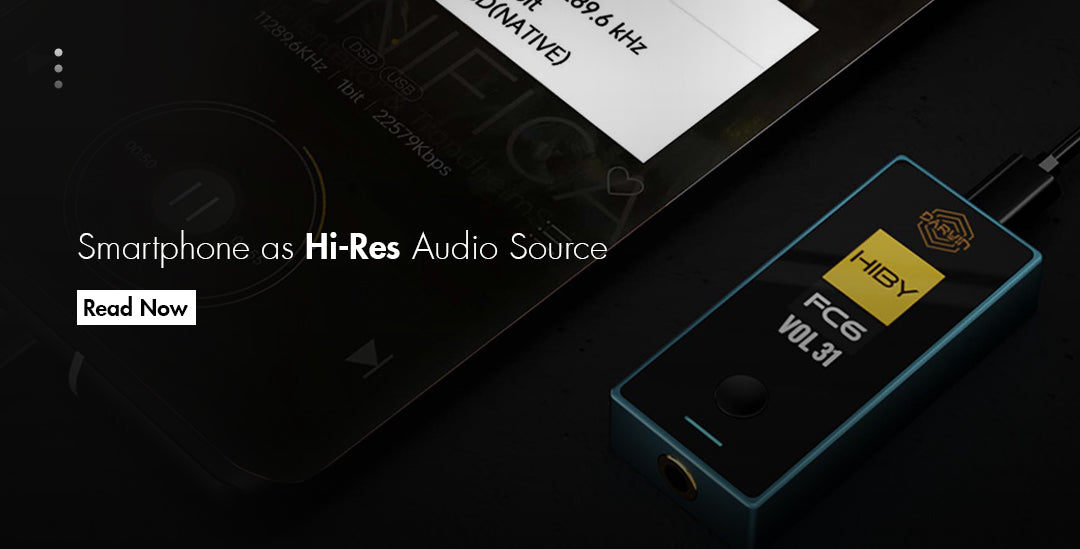 How to use your smartphone into an Hi-Res Audio gadget
Vaibhav Rathod
In 2023, Smartphones have become an inseparable part of everyone's life. From regular keys-operated devices that could only be used for calling, we have come a long way with full touch screen devices that are so much more capable than just calling. They are slowly replacing our cameras storing all our memories with a single click, and so much more. Little did we know, our smartphones are complete media devices as well. They support full video playback as well as music playback with support for most leading applications and audio codecs. Do you know, you can use your smartphone to taste high-resolution audio as well?? Yes, you read that right, with simple applications, and using some simple Portable USB DAC/AMPs, you can enjoy high-resolution audio straight with your smartphone. You don't have to spend a lot on a portable audio player, simple things within a pocket-friendly price range would instantly improve your experience and you can enjoy true Hi-Res audio with your smartphone!! In today's guide, we are going to cover all the aspects and things that you can do to get a Hi-Res audio experience with your smartphone and use your smartphone as your music source!!
Using the Appropriate Application:-
First and Foremost, you need to install an application where you get Hi-Res audio support. The stock music player on most Android devices supports playback for hi-res Flac files but you won't be able to get the best out of them because the signal is usually downscaled during decoding due to Android limitations. You need to install applications that bypass Android SRC and transfer the Hi-Res audio signal directly to the DAC for decoding. For this there are multiple applications available, some are free and some require some payment as well. Let's explore all of them.
Apple Music: Most Affordable Hi-Res Audio Streaming Service.
Cost: Free
We just need a membership to the streaming service.Easiest implementation for Hi-Res Audio and is available across both iOS and Android Devices. Moreover, you don't need any local files for this, Apple Music supports lossless streaming over the internet. And in our opinion, Apple Music has one of the largest music libraries available as well. They are usually available with up to 24-Bit/192kHz bitrate. The cost isn't much either, plans start for as low as 100 Rs for an individual per month and 150 Rs for a family of six per month. Apple Music comes pre-loaded on Apple devices, but you can install it on Android devices as well. Just enable Hi-Res Audio from the settings to get the best out of this setup. Moreover, if you have an Apple device, this is your best bet to enjoy Hi-Res audio with ease.
HiBy Music: From An Enthusiastic Brand!!
Cost: Free.
HiBy is a famous high-resolution audio gear manufacturer specializing in in-ear monitors, portable DAC/AMPs, portable audio players, etc. HiBy actually started with their application that they provided to famous brands such as Cayin, etc. They designed their products later on, but their application has been in use for years. It is available for free and it also has tidal streaming built-in(account required), MQA support, and the most interesting part about the HiBy Music application is the built-in PEQ and MSEB functions. MSEB is HiBy's self-developed tuner which is easy to learn, much easier than traditional EQ and complex PEQ things, and allows for so much control in the output. Enjoy high-resolution audio decoding including PCM, DSD, and MQA signals. Best part is, it helps you explore streaming on Tidal as well as access your locally stored files, and all this is available for free!!
Neutron Music Player: Hi-Res Audio Player For Android Devices.
Cost: Rs 790.
Other functions may include more charges.
Audio enthusiasts are familiar with this beautiful player. It almost feels technical and has so many features that you can actually adjust the output using the built-in EQ function. With simple looks, the Neutron Music Player brings bit-perfect audio output and you can enjoy great music with customizing abilities like EQ settings, Crossed settings, Tempo and Pitch modifiers, and a lot more. Open doors to an unlimited number of possibilities with the Neutron Music Player.
USB Audio Player Pro: Among The Best Hi-Res Apps on Android!!
Cost: Rs 500
Bit-Perfect Audio required additional payment.
USB Audio Player, commonly known as UAPP is a highly versatile and widely used Hi-Res audio player on the Android Playstore. The app supports bit-perfect audio output, helps you access your local media library, and also has Tidal integration as well(account required for Tidal). UAPP offers an intuitive UI that is easy to explore and looks beautiful as well. With bit-perfect audio, it helps us bypass the Android SRC and provides a direct transfer of audio signal from the source to the DAC device.

These are some of the most widely used applications that support bit-perfect Hi-Res Audio support. You should definitely try these out and decide which one is perfect for your requirements. We personally love using Apple Music on iOS devices, and UAPP/HiBy Music application on our Android devices. Neutron is also a highly-appreciated player with a technical UI and offers a lot of advanced features as well. Choose what you prefer and let's move on to the next part now.
Choosing Your DAC:-
You have chosen your software, now it's time you choose an appropriate hardware device as well. You have got the signal direct digital output through the USB Type-C port, now you need a decoding device to help you get the best out of your system. Do note that there are some smartphones that have built-in DAC chipsets, like some models from LG such as the V40, V30, etc. They have quad-DAC implementation and a built-in 3.5mm output as well, so you might not need a DAC with those phones. But for others, using a dedicated DAC is suggested.

Choosing a DAC is a bit on the trickier side, you need to know your requirements beforehand. This includes Budget, Output Ports, etc. Let's explore some of the best options available across different price brackets.
Affordable Type-C To 3.5mm DAC
JCALLY JM6T is a pocket-friendly USB DAC featuring a CX31993 DAC chipset. It supports high-resolution audio signal decoding and provides you with universal 3.5mm headphone output. The JM6T sounds clean and provides an exceptional price-to-performance ratio. You get to taste high-resolution audio enjoyment straight with your phone at a pocket-friendly price!!
Enjoy Hi-Res Audio & Charge Your Phone At The Same Time.
JCALLY SP7 is a specially Portable USB DAC that supports 3-in-1 functionality. It has fast 60W PD Charging support, USB Type-C earphone output support, and 3.5mm output support as well. We have CX31993 DAC so you can expect smooth and warm sound output with crisp high-resolution audio signal decoding helping you enjoy the lovely sound with your smartphone.
Premium ESS DAC With IN-House FPGA Architecture.
Shanling is a premium brand with an outstanding range of products. The UA1s is a high-performance USB DAC with a built-in premium ES9219C USB DAC. It provides exceptional audio signal decoding supporting advanced signals up to 32-Bit/384kHz PCM and native DSD256 audio signals. With built-in FPGA architecture, we get exceptional audio clarity and resolution. It is one of the must-have USB DAC/AMPs if you have a budget of around 5000 Indian rupees.
Ultra Compact Portable DAC.
Tanchjim Space Lite is a compact Portable USB DAC/AMP designed with a premium CS43131 DAC chipset and a 3.5mm single-ended output. It is highly portable, you can carry it anywhere with you with ease. The Space Lite delivers quality sound with high-resolution audio signal decoding support. It is appreciated for its smooth and buttery sound signature which is pleasing to listen to.
Clear Sound & Dual Headphone Outputs.
Audiocular TP20 Pro brings the goodness of dual CS43131 DAC chips promising top-level high-resolution audio signal decoding. It houses dual 3.5mm and 4.4mm headphone output ports, so allowing you to easily pair 3.5mm and 4.4mm headphones easily. It delivers quality sound with low-distortion performance and clear background with high SNR performance. The TP20 Pro also has a detachable cable that allows for easy pairing with both Android and iOS devices.
Latest USB DAC With Dual AK4493SEQ DAC Chips.
Experience enhanced audio capabilities with new-generation AKM AK4493SEQ DAC Chips implemented nicely into the JCALLY AP90. The USB DAC delivers quality sound with high-resolution audio signal decoding supporting PCM and DSD audio signals. It has got superb build as well housing both 3.5mm and 4.4mm terminations. It also has a detachable cable design allowing for easy compatibility with both Android and iOS devices.
Ultimate Sound With Dual AKM DAC Chipset.
Shanling recently came up with the UA3, a brand new Portable USB DAC/AMP equipped with the latest-generation AK4493SEQ DAC chips. The AKM4493SEQ DAC chips are known for their silky smooth velvet sound technology, they sound quite solid with refined and rounded notes. UA3 definitely takes your high-resolution audio listening to another level with its class-leading performance in terms of decoding. It supports both 3.5mm and 4.4mm outputs which makes it a great choice for audiophiles. UA3 also has a replaceable cable design allowing for easy connection with both Android as well as iOS devices.

This is just a short list of recommendations from our side, if you want to explore there are many more great options available at the best prices on our web store. You can check out our entire catalog of USB DAC/AMPs over here.
Final Words:-
Getting the best out of your smartphone is easy, you just need to have the right things by your side. By right things here, we mean proper applications that can bypass Android's SRC allowing for Hi-Res audio support, proper DAC/AMPs for Hi-Res audio signal decoding, and last but not least an appropriate set of earphones that provide you with an exceptional audio listening experience. We have curated this guide considering you have got the last point of earphones sorted and just need some help getting the best out of your smartphones. We hope this guide helps you and if you have any further questions or queries, you can always reach out to us from our website and we will try our best to help you out.