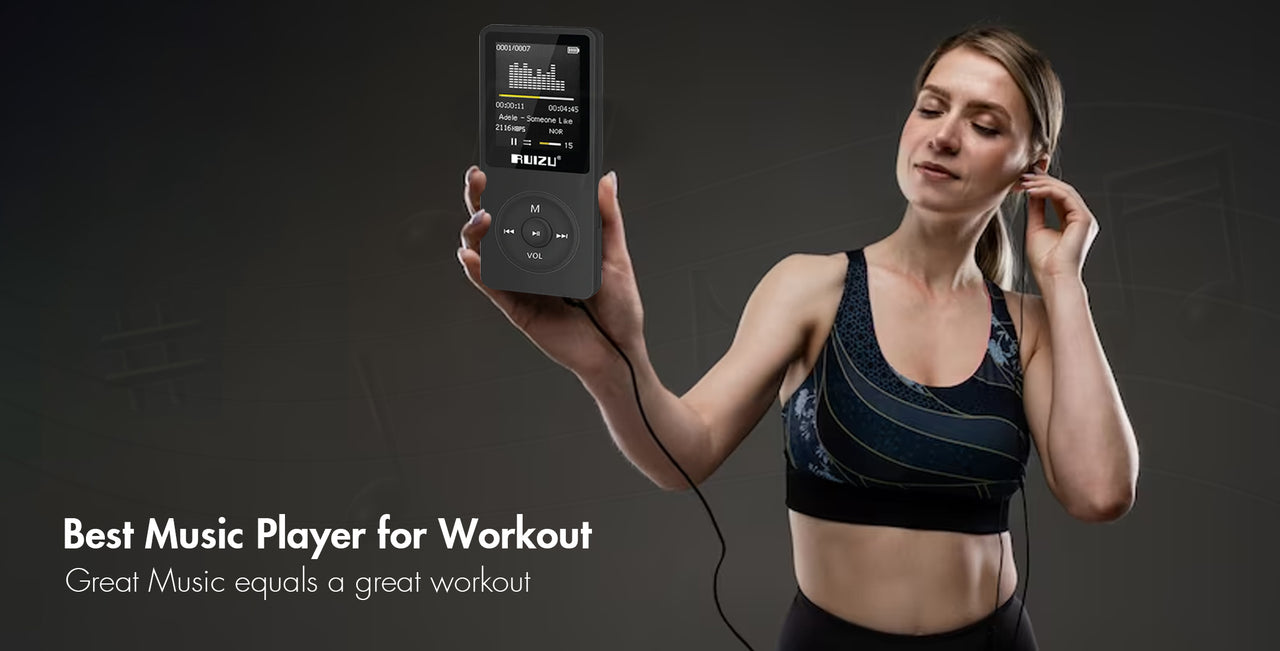 Pump Up Your Workout With Our Top Recommendations: Best Music Player for Workout
Vaibhav Rathod
Great Music equals a great workout. In gyms, we have loudspeakers pounding music that keeps us on our feet. When it comes to achieving peak performance during workouts, the right blend of motivation, adrenaline, and your favourite music makes a huge difference. Playing your favourite music on the speakers is not possible, so we have in-ear monitors that isolate us from the loud music being played outside. Music has proven to be a powerful tool in elevating the adrenaline and motivation for fitness enthusiasts, athletes, and casual gym-goes alike. But to truly harness the power of music, we need to get proper isolation which can be achieved using in-ear monitors now available widely across different price brackets. And to use your IEMs with your favorite music, you need a music player. You need a reliable and convenient music player that can keep up with your routine with its rough and tough build quality and compact structure for easy portability. In today's guide, we will dive into the world of portable music players with our top recommendations suitable for workouts and another day-to-day tasks as well.


Price: Rs 2,449.
RUIZU X52 is the perfect companion for workouts. The main thing that helps is the wearable clip at the back of the X52 that helps you to easily tie the X52 on your hand, on your shirt, or your lower. Key features include 8GB/16GB internal storage, expandable up to 128GB with a MicroSD card, Bluetooth V5.0 wireless connectivity allowing you to use your Bluetooth headphones with ease, fast charging support, and lossless audio support. 3.5mm Headphone output allows you to easily pair your favorite IEMs with the X52 with ease. Ruizu X52 has clean sound quality as well bringing you the best performance with your IEMs!!
RUIZU X02

: Simple Yet Powerful!!
Price: Rs 2,199.
X02 from Ruizu is again a player you can take for its simple form factor and strong sound characteristics. The player has a rigorous build with physical media control keys that allow you to easily manage your music even with sweaty hands. The player has an astonishing battery life of up to 80 hours and supports lossless music playback as well. It has built-in FM Radio helping you discover new music as well!! RUIZU X02 with its lightweight design and ultra-slim form factor makes it a great choice for every workout session.
Price: Rs 2,790.
RUIZU X68 is for fitness enthusiasts who want full focus on their workout. The simple and compact form factor of X68 is easy to use and manage while the physical keys allow for easy control over the entire media playback. It also has a wearable clip on the back that will allow you to wear the player on your clothing. Key features include 16GB internal memory expandable 128GB, Bluetooth V5.0 wireless connectivity, smart e-book reader, Avi Video playback support, lossless Flac music playback support, and many more features. It's a fully-packed device that brings a strong performance for a strong workout session!!
ChenFec M18

: Grand Sound With Compact Design!!
Price: Rs 2,490.
Despite its tiny footprint, the ChenFec M18 packs an impressive sound quality with heart-pounding bass and crystal-clear melodies. The compact form factor of M18 with its clip-on design makes it an ideal companion for heavy workouts. M18 is the perfect music player for a gym as its compact form factor allows for easy and comfortable portability. Simply clip-on on to your clothes or keep it in your pocket, the M18 will be there with you packing great sound. It has built-in 32GB storage with expandable storage using MicroSD cards. It has Bluetooth V5.0 wireless connectivity so that you can use your wireless headphones with ease. Elevate your workouts with the ChenFec M18 Music Player engineered specially for day-to-day use.
RUIZU A58 Music Player: Ground-Breaking Sound With High-Performance DAC!!
Price: Rs 3,890.
What if we tell you that you can enjoy high-resolution audio to its all glory during your workouts??? You can do that with the RUIZU A58 music player. This compact music player has a built-in high-performance audio DAC chip that provides DSD256 and PCM 24-bit/192kHz audio signal decoding. Experience your music like never before with unmatched clarity, the lowest distortion, and a pocket-friendly portable form factor. The A58 has an expandable memory storage of up to 128GB with a MicroSD card slot. It has a 3.5mm single-ended headphone jack that helps you use your IEMs with ease. RUIZU A58 is one of the most affordable and well-built music players that provides true Hi-Res audio support, a perfect choice for perfect workout enthusiasts.
HiBy R2 II Gen II

: Pump Up Your Workouts With Best Sound Quality!!
Price: Rs 8,990.
For true audio lovers, we have the HiBy R2 Gen II, a pure High-Resolution music player with an ultra-compact form factor. The R2 Gen II houses high-performance ESS ES9219C DAC chips from Sabre Technologies. This ultra-compact music player is the perfect choice for fitness enthusiasts who want pure high-resolution audio output. It brings the best out of your music and pumps you with motivation to deliver the best performance in your workouts. It supports native DSD, high-resolution 32-bit PCM, and even MQA audio signal decoding. You get PureAudio HiByOS with an MSEB Master tuning board. With support for the HiBy Link Remote control, users can control the HiBy R2 II with their smartphones as well!! It's an ideal music player for serious audio enthusiasts who want something handy for their gym sessions!!
Final Words:-
To end it all, finding the perfect music, IEM, and music player for your workouts can be a game-changer in enhancing your workouts. The right blend of rhythm, melodies, and beats has the incredible strength to give you an adrenaline boost that will enhance your music experience greatly. We have listed our top favourites which have the most compact form factor and the most easy usability, making them an ideal companion for the gym. These music players guarantee high-quality sound delivery and provide an enhanced experience for your workouts. We hope this guide finds you well, and you find the perfect music player for your needs. For anything else, we are always here to help, just connect with us through our website.