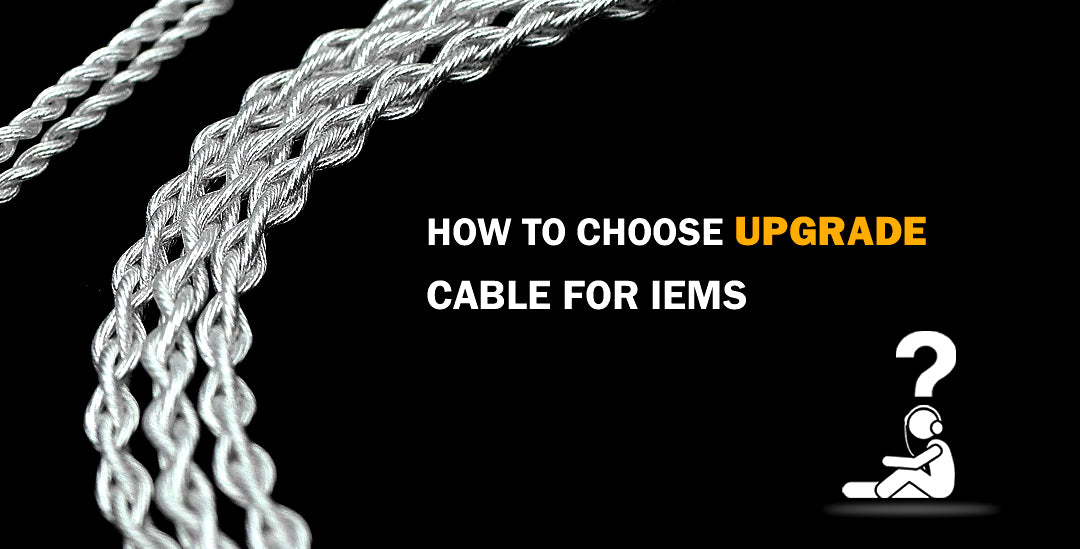 How To Choose Upgrade Cable for IEMs?
Vaibhav Rathod
The Audiophile world is growing at a rapid speed, HiFi audio has become a big part of our lives. We are now concerned about improving our listening experience in the best way possible at our own budget brackets. After all, a quality listening experience greatly improves the way we enjoy our music, it's like there's no going back once we experience what level of audio pleasure can be achieved. We at Concept Kart offer a great variety of HiFi audio products including in-ear monitors, portable DAC/AMPs, etc. But today, we are going to talk about something that's actually one of the least approached topics on the internet from the audiophile world, today, we are going to discuss the topic of Upgrade Cables. Do you know you can upgrade the stock cable of your IEMs? And they actually make a difference as well. It may sound complicated, but it's worth considering, Upgrade cables offer a bunch of advantages ranging from better and improved sound quality to stronger durability. They're a great investment for audiophiles and shall be considered.

In this guide, we'll explore how the cable upgrade works and what are the things that we should look forward to while looking for an upgrade cable. And then we will conclude with some high-quality upgrade cables worth considering that are available with us. So let's not waste any other minute, grab our reading glasses, and begin our guide!! Let's begin with the most common question to this then.
What is an Upgrade Cable??
In a pair of in-ear monitors, we usually get a decent-quality stock cable. But in order to maintain the costs of the products, brands usually include decent-quality cables only. So getting an after-market upgrade cable can improve the sound quality of your IEMs and elevate your listening experience greatly. Upgrade cables bring better quality core material which is usually, in most cases, is better than most stock cables. And we are not only talking about durability here, the upgraded and high-quality core material definitely brings us improvements in the sound quality department as well.
What to Look Forward While Going For Upgrade Cable?
This is where things get a little tricky. There are a few things that we need to look out for while deciding on an upgrade cable. We all know budget plays the primary role, but let's assume we have decided on a free budget, and now we have to decide on other things. Here's the list of things one should look for when going out for an upgrade cable.
Wire-Core Material:-
The primary thing to look forward to is the core material for the wire. We all know different material has different conductivity for electronic signals. Copper, Silver, Silver-Plated Copper, etc. Every different material has its own characteristics Copper is known for its added warmth, pure silver is preferred for more details and refinement, silver-plated copper brings us a balanced warmth and also enhances the details, etc. Please note that this is a summary based on big data of reviews based on different core material on the internet. Particular core material sound signatures might differ. We personally believe, Wire-Core material plays an important role in bringing improvements in the sound quality for the connected IEMs. We should also understand that the quality of the core material also matters. You must have read 5N, 6N, 7N, etc written ahead of wire core material. Higher the number, the purer the core material. Better quality of material tends to bring improvements in resolution and overall performance with the pair.
Insulation & Outer Sleeve Protection:-
One of the biggest issues with stock cable is microphone issues, which means cable introduces sound whenever the cable touches anywhere. In order to protect the sound signal from outside interferences and such microphone issues, Outer insulation coating and outer sleeve protection play an important role which is, in most cases available on upgrade cables. Whenever we go out looking for an aftermarket cable for our IEMs, Insulation or outer sleeve information is usually provided on the product page. This can be high-quality PVC sheathing or cloth sheathing that protects the sound signal from electromagnetic as well as microphones interferences. High-Quality outer sleeves and insulation also improve the durability of the cable. The outer sleeve, also protects the core material from oxidation.
Core-Count, Thickness of Wire Cores:-
More than Sound improvements, the Core Count and thickness of wire cores actually contribute to the build structure and durability of the cable. The higher the core count, the higher will be the thickness of the cable, and also thicker wire cores also result in thicker cables. Thicker cables are easier to manage, they are better in durability as well, unless they are absurdly thick. Wire core thickness is measured in AWG, standard cables have a 24-26AWG core diameter. The bigger the number, the thinner the cable, and vice versa.
Type of Braided Structure:-
Aftermarket cables have different braided structures. Braided structure means the structure with which the wire strands are braided together to form the complete cable. Litz Structure is widely used that helps in mitigating interference and crosstalk. The individual strands in the braid are typically arranged in a way that reduces electromagnetic radiation and minimizes the interaction between adjacent strands. This can lead to cleaner audio transmission and less interference from external sources, resulting in improved sound quality.
High-Quality Termination Plug or Different Termination Options:-
With our IEMs, we get either 3.5mm or 4.4mm terminated cables, mostly 3.5mm. But we are living in 2023 now and most of our sources have gone balanced with either 2.5mm or 4.4mm output support. So sometimes we require a change of cable just for the sake of going balanced and getting the benefit of better crosstalk and better channel separation with the balanced connections. Another point to note here is that nowadays many cables come with modular plug systems where one can change or switch the termination plugs whenever required. Not to mention, most aftermarket cables use high-quality termination plugs such as Rhodium-Plated, Gold-Plated, etc. Which are more durable and resistant to oxidation.
Better Quality Connectors:-
On the IEM side, we have MMCX or 2-pin connectors that are widely used. Aftermarket cables usually have high-quality gold-plated connectors that provide better signal transmission, and better durability with more susceptibility to oxidation. Be aware while choosing your next cable as you need to get the one appropriate for your IEM(like 2-pin is useless for MMCX IEMs and vice versa). Some premium cables like Effect Audio Signature Series cables have swappable connectors with their ConX technology as well.

These are the points one should always keep in mind while deciding on their next cable upgrade for IEMs. We can choose the wire core material, Termination plug, connector type, etc. Everything based on our own requirements. Now, let's go ahead and we will share some exciting products available on our store!!
Single-Crystal Copper, also known as monocrystalline copper is a high-purity copper material. The KBEAR 4-core 6N single-crystal copper cable is made using high-purity copper material that provides improved resolution and improved clarity with a touch of added warmth that adds the required punch to the sound. This cable comes at an attractive price which is always easy on the pocket!!
Are you someone who is always on the call? Or do you have plenty of meetings to attend in a single day and you want to use your IEMs while doing so?, the AUDIOCULAR IEM Upgrade Cable with Boom Microphone is made specifically for you. It's made up of high-quality OFC(Oxygen-Free Copper) material that provides a smooth and musical sound signature. The cable has a detachable Boom microphone that one can simply use while attending calls or meetings and detach when not in use.
If you are looking for a high-quality upgrade cable for your IEMs with a modular termination plug system, the Tiandirenhe 4 in 1 upgrade cable is a great choice. The cable consists of 392 cores of high-quality silver-plated monocrystalline copper material and features modular termination plugs. It has a handy and comfortable build that users can carry around easily in a simple carry case. The cable comes with 2.5mm, 3.5mm, and 4.4mm termination plugs included in the package.
LETSHUOER has designed this premium upgrade cable with Z Reviews. This is a high-purity silver-plated single-crystal copper cable made using high-purity core materials. It has a quad-wire 392-core configuration, the main attraction here is the modular termination plug system. Users can easily replace the termination as and when required. It comes with 3.5mm, 2.5mm, and 4.4mm termination plugs included in the package.
Moondrop offers a wide range of audiophile products including IEMs, TWS, etc. The Line-T is a high-quality 6N Single-Crystal copper upgrade cable designed especially for IEMs with 2-pin connector IEMs. The cable has a 4-strand 196-core secondary twisted structure design. It greatly improves the sound quality performance with improved signal transmission delivering crisp clarity and a hint of added warmth to the signature of your IEMs.
Tripowin has a wide range of upgrade cables designed especially for IEMs. The Amber is among their top-performing cables made using high-purity 32AWG OFC(Oxygen Free Copper) core material. It is super handy and easy to manage. You get a swappable termination plug system as well with 3.5mm, 2.5mm, and 4.4mm plugs included in the package. Amber has a clear and crisp sound with a bit of added warmth for musical pleasure.
Coming on to the premium range of Upgrade cables we have the Kinera Gramr. This is a premium modular IEM upgrade cable with swappable termination plugs and a detachable boom microphone. It is a high-purity silver-plated OFC cable with 250D nylon PVC outer coating for complete protection of the audio signal. You get 3.5mm and 4.4mm plugs in the package and also a detachable boom microphone for calls and meetings!! You can also buy Type-C or lighting plug for Type-C or Apple iOS devices.
XINHS 4-Core Upgrade Cable is a premium IEM upgrade cable designed with 5N UPOCC single crystal copper high-purity core material. The cable has a beautiful build and also provides the users with an improved sound presentation. The resulting sound with the XINHS cable is smooth, clear, and has a crispier stronger bass response. It is a perfect cable for people who want an upgrade cable for IEMs for under Rs 5,000 budget.
Effect Audio is a premium IEM upgrade cable brand from Singapore. The brand excels in the production and marketing of high-purity upgrade cables for IEMs. The Cadmus is a high-quality cable made up of Selected Premium UP-OCC Silver-Plated Copper Litz wire cores in a 4-wire configuration. The cable brings improved sound capabilities with lovely warmth and added richness for the tonality. Effect Audio Cadmus is crafted with premium features such as high-quality insulation, and swappable connectors with ConX technology, you also get MMCX connectors along with the cable. It is a cable when you want the best quality performance with your IEMs!!
Eros S is the flagship from the Signature series of IEM upgrade cables by Effect Audio. This 8-wire cable is made using Selected Premium UP-OCC Pure Silver Litz & Pure Copper Litz Hybrid Structure as the core material. It hits the sweet spot with improved resolution throughout the frequency band for a truly high-resolution sound listening experience. It is a premium cable designed for top-quality IEMs!!
Final Words:-
To summarise this all, selecting the right upgrade cable for your IEMs is a little tricky, but with some playing around you can find the perfect match that not only has improved durability but also provides you with improved sound performance. You can choose a cable that complements the strengths of your IEMs and matches your desired sound signature. The market is quite big and you can find upgrade cables ranging from pocket-friendly budget prices to absurdly high flagship-level prices. You need to find the perfect product at your preferred budget!! We suggest you carefully look at the market, and for any further help or queries, we are always available for you through the contact us section on our website.