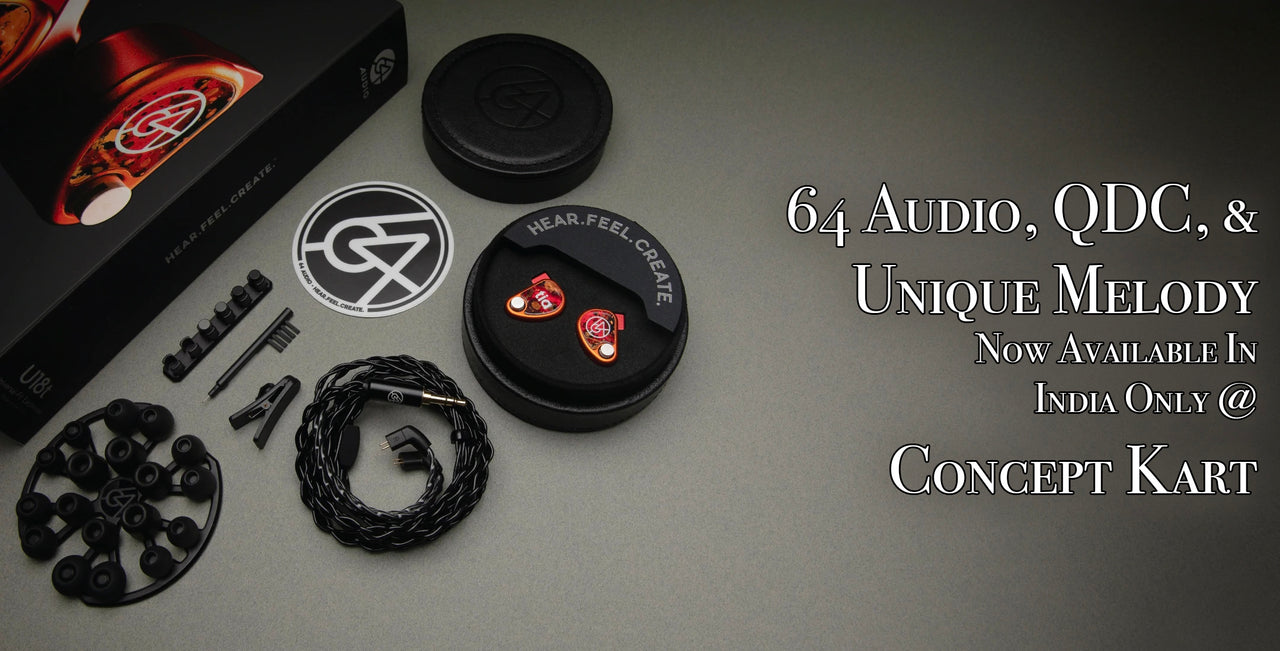 Premium IEM Brands 64Audio, QDC, Unique Melody Now Available In India
Gagan Jajoria
We at Concept Kart love introducing new gears to audio enthusiasts in India. Today, we are introducing three of the most celebrated and premium brands in the HiFi audio industry, let's welcome 64Audio, QDC, and Unique Melody officially in India via Concept Kart. Yes, you read it right, now purchase premium in-ear monitors in the industry with no worries for Custom duty or Shipping issues. We have brought them right to your doorstep, grab the awesome 64Audio U12T or the legendary QDC Anole VX, or the latest Unique Melody MEXT, available at the best prices online In India. Concept Kart is the first to bring both 64Audio and QDC officially in India!!
64Audio:-
64Audio is a name trusted by thousands of audiophiles all around the globe. It's an American brand that produces both Custom and Universal-fit In-ear monitors. They have a dedicated R&D team with experienced audio engineers. Their catalog starts with the 64Audio Duo and goes top to the Tia Fourté. 64Audio has been in the HiFi in-ear monitor business for over a decade now with multiple successful models under their name. We at Concept Kart will bring you an entire line-up of products with a full official warranty. Rest assured, you will get the best prices on 64Audio products!!
Products available with us:-
2. 64Audio Nio.
3. 64Audio Duo.
For anything else like the U6t, or any other model from 64Audio feel free to contact us at our support on our website.
QDC:-
Whenever it comes to highly detailed, Musical, and premium in-ear monitors, the QDC Anole series of premium in-ear monitors come directly into our minds. QDC has a history of designing hearing and communication devices for Police and the Military for over a decade. Their premium in-ear monitors are used widely by professionals and audiophiles all over the globe. We at Concept Kart have brought their premium IEMs right here for you, check out the legendary Anole VX, the TOTL Anole V14, and their other collection with us.
Products available with us:-
2. QDC Anole V14.
3. QDC Gemini.
4. QDC 8SS.
Apart from these two, we are continuously adding more products to our catalog. If you are looking for anything else from QDC, simply contact us at our support channel. We will help you procure them at the best prices.
Unique Melody:-
Over the past few months, we have been dealing with Unique Melody bringing their premium set of in-ear monitors for audio lovers in India. With years of expertise in the HiFi audio industry, Unique Melody has designed a special Bone Conduction driver system that produces sound by vibrations touching your ears. We not only have their Mest Mkii but also have their latest launched MEXT available for you with the best prices online. Be sure to check out our collection of Unique Melody products. You can also pre-order their flagship Mason FS with us too. Be sure to check out our entire collection of Unique Melody products.
Products available with us:-
We can also help you get any other product from Unique Melody like the Mirage, Mason, and more. Simply contact us at our support channel on our website.