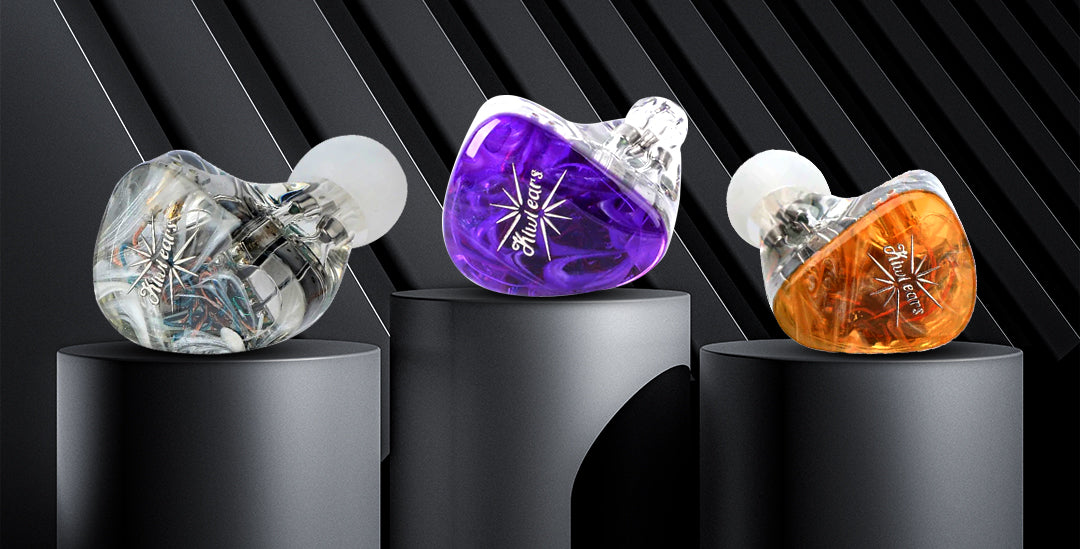 Discover the Exciting New Colors of Kiwi Ears Orchestra Lite In-Ear Monitors
Operations Team
Kiwi Ears Orchestra Lite Now Available In Three New Color Options
Earlier this year, Kiwi Ears treated us with the Orchestra Lite, a multi-BA IEM with a rich and natural sound tuning. The pair featured a multi-balanced Armature driver configuration featuring 8 high-performance balanced armature drivers on each side. The Orchestra Lite basically became a huge success right after its launch. We at Concept Kart were the ones who launched the Kiwi Ears Orchestra Lite in India, we brought you guys the pair during the launch itself. The pair instantly disappeared from our inventory, we were excited to see the amazing response from the audiophile community in India. Today, we are excited to introduce three brand-new colours to the Orchestra Lite. Now grab your favourite set of in-ear monitors in Vivid Orange, Tangy Purple, and Clear Transparent Color Options!! There is no increase in the pricing, you can just grab the pair in three brand new astonishing colour options at the same price of Rs 19,999!! Let's explore more about these new colour options!!
All-new Vivid Color Profiles:-
Kiwi Ears Orchestra Lite was earlier introduced in two colour options, Blue and Green. Both of these colours had a rich and elegant feel to them. Kiwi Ears introduced three new colour profiles for the pair, now you can choose among a total of five colours. Apart from the previously launched Blue and Green colours, now we have the Kiwi Ears Orchestra Luite in Tangy Purple, Clear Transparent, and Vivid Orange Color Options. These three colours bring a new life to the Orchestra Lite, each one looks stunning and eye-catching. The new colors blend perfectly with the transparent cavities treating the users with exceptional looks.
In Pursuit Of Excellent Sound:-
Kiwi Ears equipped the Orchestra Lite with eight premium balanced armature drivers on each side. It has been crafted to bring the true essence of high-resolution audio with a rich and dynamic sound. The drivers are arranged together in a three-way passive crossover with five components. We have a strong lower-end response with dual BA sub-woofers, lovely midrange accuracy with rich tone all thanks to the four custom-developed mid-range BA drivers, and exceptionally clear and extended high-frequencies with two customized ultra-tweeters. The drivers are adjusted professionally in pursuit of excellent sound!! Each unit here is handcrafted to perfection with customized BA driver units. Kiwi Ears bundles the Orchestra Lite with a high-purity 4-Core 7N Oxygen-Free Copper Cable. The pair adopts standard 0.78mm 2-pin connectors and a 3.5mm single-ended termination plug. The 0.78mm connectors make it easy to replace the cable whenever required.
Exquisite Music Enjoyment With New Color Options:-
Kiwi Ears Orchestra Lite is an IEM that doesn't require any introduction. The IEM ever since it was launched has grabbed a lot of positive feedback from its users both in India and on the global level. The new Color options simply revive the pair with a new life, all three new colour options look spectacular in every single possible way. Vivid Orange has that charming tone while the Tangy Purple looks fun and enjoyable the Clear Transparent is as clear as water!! We hope you guys like these new colour options of the Orchestra Lite as much as we are excited to bring them to India. Now you don't have to worry about custom duty or any other hidden charges, simply get the Kiwi Ears Orchestra Lite delivered to your doorstep with the quickest shipping policies!!