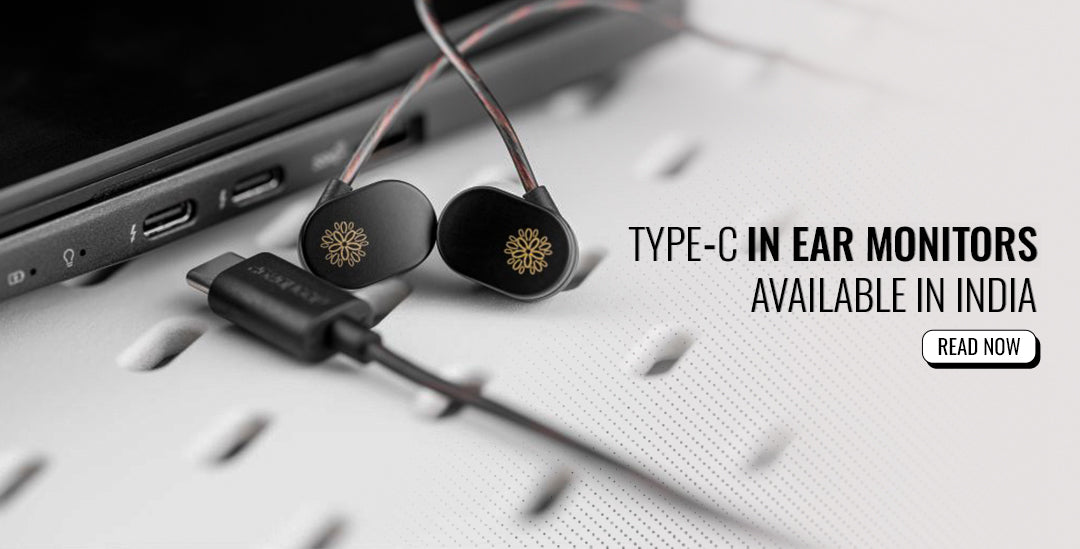 Type-C In Ear Monitors available in India
Vaibhav Rathod
In today's era when most smartphone brands have disregarded 3.5mm headphone jack in order to make their devices thinner and smaller, USB Type-C ports have become more prominent. Audio lovers are either dependent on using a portable DAC with their phone to use their standard 3.5mm earphones, which is not always comfortable. This has resulted in an increase in demand for earphones with type-C termination and brands have noticed this increase in demand. In order to fulfill this, many brands have released specially developed Type-C earphones with built-in DSP profiles(Digital Signal processor) that bring us high-resolution audio experience straight out of our smartphones. We at Concept Kart have always brought new and updated Tech gadgets to India. To help out music lovers in India, we already have a wide collection of audiophile gear including IEMs, Portable DACs, etc. Today, with the help of this blog, we will explore the world of Type-C earphones to highlight some of the exciting products available for you in India. Get ready to revolutionize your audio listening experience with your smartphones! Buckle up, get your reading glasses on, and let's begin.
Sound Signature: Warm, Lively.
Tanchjim recently released a Type-C terminated variant for its famous Tanya in-ear monitors. At first glance, the pair looks simple with bullet-shaped simple ear shells, but it packs a wonderful sound with warm, strong lower-end, clear midrange, and lively, smoothly done treble. The Tanya DSP features a 7mm micro-dynamic driver unit that produces powerful and detailed sound. It also has a brass resonance suppression ring in the rear cavity that enhances sound delivery with clarity and resolution. The Tanya DSP features standard Type-C termination which makes it an easy match for the latest generation laptops and smartphones. You also get a built-in DSP(Digital Signal Processor) working for you and enhancing your listening experience. Tanchjim Tanya DSP retails for Rs 2,190, you can check out more details here on our website.
Sound Signature: Balanced, Smooth.
JIU is the latest product from the house of Moondrop. It's identical to their famous model Chu but with a Type-C termination and built-in DSP profile. The Moondrop JIU features a 10mm dynamic driver unit that produces clear and responsive sound with a wide soundstage. The pair is tuned in line with Moondrop's custom VDSF target response. Moondrop has crafted the beautiful JIU with hit-quality zinc alloy ear cavities. You get a non-detachable Type-C terminated cable allowing you to enjoy high-resolution sound straight out of your smartphone.
Sound Signature: Neutral, Detailed.
Salnotes Zero is a widely acclaimed set of single dynamic driver in-ear monitors. The pair is widely regarded for its outstanding clarity and details. 7Hz has released a special Type-C variant for the famous IEM allowing users to enjoy high-resolution audio straight out of their smartphones. Salnotes Zero is one of the most affordable sets with a neutral sound with exquisite details, definitely worth checking out.
Sound Signature: Warm, Clear.
Quarks is one of the most affordable sets of in-ear monitors that come with Type-C termination. Moondrop has designed the Quarks with a 6mm micro dynamic driver enclosed in simple and elegant transparent bullet-shaped ear shells. The pair has been optimized by digital signal processing(DSP) technology to produce high-resolution sound clarity for the listeners. It has a patented anti-blocking filter, double -damping structure design for improved sound performance. Quarks was a successful pair in both 3.5mm and type-c termination, but sadly it is discontinued now.
Final Words:-
As technology continues to evolve, it's important to stay updated and adapt to the new technologies. If you can't use a portable DAC and are dependent on using Type-C earphones straight out of your smartphones. We have all these above-mentioned offerings that offer crazy sound clarity, comfortable fit, and all that while being easy on the pocket. We hope this guide helps you find your next pair of in-ear monitors and you get to enjoy your favourite music straight with your smartphone. If you have any further questions or queries, feel free to contact us through our website, we are always ready to help!!