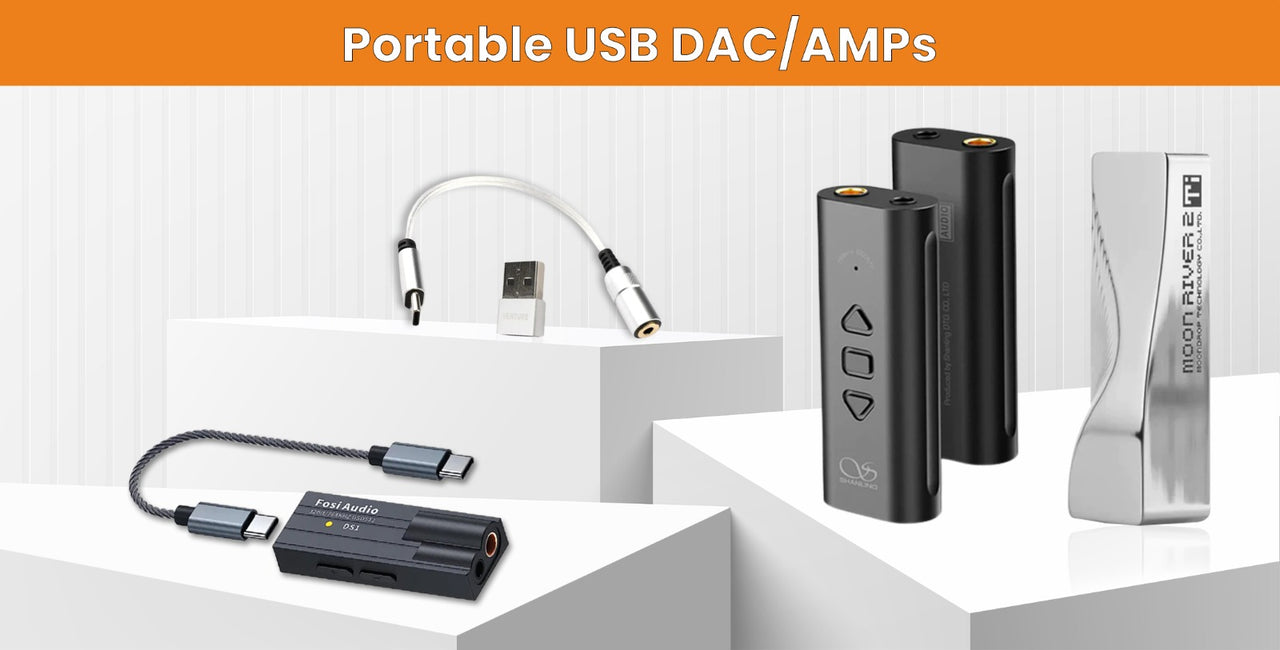 Portable USB DAC/AMPs: Top Choices Across Price Ranges
Operations Team
In the vast world of Audiophilia, media in the form of digital audio is being used widely across different devices. Whether you are an experienced audiophile or someone who is simply looking to enhance your listening experience, Investing in a portable audio setup is always a good choice as you can enjoy good quality music anytime anywhere. But the whole scene of a dedicated portable audio setup also needs some consideration. One can easily opt for a dedicated audio player and dive deeper into the audiophile world in an instant, or one can purchase a portable USB DAC&Amp and enjoy enhanced quality music playback straight out of their smartphones or other digital devices such as tablets, Laptops, etc. Getting a Portable USB DAC is a good start for buddying audiophiles and it is also a good option for experienced audiophiles to add more signatures to their ever-growing collection of products.
Whether you have yourself a newly-launched Apple iPhone 15, or the latest Pixel or Samsung flagship, these portable USB DAC/AMPs help you enhance your audio listening experience with their impeccable sound capabilities. In today's guide, we will start with the very beginning by understanding the DAC and AMP part, then we will explore some of our top offerings which promise rich and immersive sound capabilities. Since the new Apple iPhone 15 comes with a Type-C interface, you can choose one from these to get the best out of your phone in terms of audio quality! We will try our best to cover different price segments starting from the budget category to the high-end category to showcase some premium offerings as well. Let's not waste any more time, and begin our journey today with the very first question.
What is a Portable USB DAC/AMP?
Portable DAC/AMP is a compact and handy device that you can connect with your smartphones, tablets, and other USB output devices including Laptops and PCs. These devices come equipped with high-quality DAC(Digital-to-Analog Converter) decoding chips and a built-in amplifier that effectively improves the sound output quality from the source device. For audio enthusiasts and casual listeners, the Portable USB DACs make huge sense as they can improve your listening experience without breaking the bank at all. Let's understand its core components for better understanding.
What is a DAC?
As mentioned earlier, DAC stands for Digital-to-Analog Converter. Since all our audio is in digital formats(MP3, Flac, DSD, etc.), a DAC converts this binary digital signal into analog signals so that we can hear it. A high-quality DAC chip ensures we get cleaner output with better harmonic distortion, dynamic range, and signal-to-noise ratio performance. DAC plays an important role in the quality of sound that we will get.
What is an Amp?
As you might guess from the name, an Amp is short for Amplifier. It basically amplifies the analog signal provided by the DAC section. The better the amp section, the better the output power, and a better amp section also promises lower distortion and high-power output with lower background noise. In most portable DAC/AMPs, we get a decently powerful amp section that drives most IEMs without breaking a sweat and sometimes can power headphones as well.
Now, that we have understood the basics behind the words DAC and AMP, now we have to finalize the budget part. For portable DAC/AMPs, a budget of under Rs 5,000 is a great start for new audiophiles who want to have a taste of high-resolution audio without breaking the bank, you can choose a budget of under Rs 10,000 for having an upgrade or a different taste than your regular setup, or you can go all out with products around Rs 15,000 and beyond to get flagship-level products for best quality performance. Now, let's explore some of our favorite offerings around these price brackets.
Best Portable DAC/AMPs Under Rs 5,000:-
Venture Electronics Abigail Pro: CX31993 Type-C to 3.5mm DAC Dongle!!
Price: Rs 1,199.
Buy Link - https://tinyurl.com/5n9xjjaf 
Who says getting a rich and immersive sound is always costly?? You can grab the amazing Venture Electronics Abigail Pro, a budget-friendly portable USB DAC/AMP with a CX31993 DAC chipset. It provides a warm and smooth sound presentation with neat details, a good entry point for beginner audiophiles.
JCALLY JM45: Premium Sound, Budget Package!!
Price: Rs 2,290.
 Buy Link - https://tinyurl.com/2p8kv3sm
JCALLY JM45 is a brilliant portable USB Type-C DAC that houses a high-performance ES9318 DAC chipset. It supports high-resolution 32-bit/384kHz PCM and native DSD256 audio signal decoding promising quality sound with rich details. Its standard Type-C connectivity enables easy access to different devices including Apple iPhone 15, Samsung S23, Google Pixel, and many more.
Shanling UA1S: Compact & Handy Portable USB DAC!!
Price: Rs 4,490.
Buy Link - https://tinyurl.com/yc7by4n8
Shanling UA1S is a premium portable USB DAC designed with a high-performance ES9219C DAC chipset. The device adopts in-house developed FPGA architecture and features a standard 3.5mm headphone output. It supports high-resolution 32-bit/384kHz PCM and native DSD256 audio signal decoding. With its low-power consumption design, it will provide efficient performance with most devices out there. Shanling has designed the UA1S with a high-purity OFC connector cable. It's a handy and versatile device which can be considered the first DAC for beginner audiophiles who target the best performance under Rs 5,000.
Audiocular TP20 Pro: Balanced Connection Is Also Possible In This Budget!!
Price: Rs 4,999.
Buy Link - https://tinyurl.com/3xbthush
Audiocular TP20 Pro is a high-performance premium Portable USB DAC/AMP that houses dual independent CS43131 Cirrus Logics DAC chips. The TP20 Pro offers the best performance in this category. Get exceptional clarity, ultimate resolution, and also, a balanced 4.4mm headphone jack support, it's not just made for beginner audiophiles, even experienced users can use it for different tastes.
Best Portable DAC/AMPs Under Rs 10,000:-
Audiocular TP30 Pro: Exclusive Golden DAC/AMP!!
Price: Rs 6,999.
Buy Link - https://tinyurl.com/29hwatuu
Audiocular TP30 Pro is a premium-grade portable USB DAC/AMP with ESS Sabre's premium ES9038Q2M 32-bit DAC chipset. This brilliant DAC/AMP offers amazing performance while decoding high-resolution 32-bit/768kHz PCM and native DSD512 audio signals. It offers an excellent sound presentation with the lowest distortion and a noise-free clear background with high SNR performance. The TP30 Pro is a DAC that you can choose and retire for a few months without worrying about any change.
Tempotec Sonata BHD Pro: Impressive Sound With MQA Support!!
Price: Rs 8,190.
Buy Link - https://tinyurl.com/33czky42
Tempotec Sonata BHD Pro is the flagship portable USB DAC/AMP from the house of Tempotec. The device houses an asynchronous USB chipset with dual CS43131 DAC chips. It also has built-in FPGA architecture with three independent femtosecond oscillators. Users can enjoy true high-resolution audio signal decoding supporting 32-bit/384kHz PCM, native DSD, and 8x MQA unfolding on the Sonata BHD Pro. Tempotec Sonata BHD Pro has an independent high-precision volume control with an all-aluminium alloy chassis and a visible window, an exclusive premium build. Tempotec Sonata BHD Pro offers flagship-level performance at a pocket-friendly price point, an exceptional deal!!
FOSI Audio DS1 Portable Type-C DAC: Class-leading Quad-DAC Arrangement!!
Price: Rs 8,290.
Buy Link - https://tinyurl.com/mrxf8u4s
Fosi Audio DS1 is also a fantastic contender in the budget segment that offers excellent acoustic capabilities. The DAC section here is the most unique in this segment, we have a quad-DAC arrangement with four ES9038Q2M DAC chips delivering magical performance. Enjoy your favourite melodies with exceptional clarity, outstanding resolution, and excellent output power as well. FOSI DS1 has a strong amp section that outputs 220mW of clean output easily driving most IEMs on the go. It also has UAC1.0 mode that enables easy connection with previous-generation devices including gaming consoles such as Nintendo Switch, etc.
Shanling UA3: Rich, Smooth, Powerful!!
Price: Rs 8,990.
 Buy Link - https://tinyurl.com/y2wa9x58
Another one of our favourites is the Shanling UA3, an ultimate portable USB DAC with dual AK4493SEQ DAC chips and Dual RiCore RT6863 Amp chips. The UA3 provides exceptional sound performance with a rich tone. It supports high-resolution 32-bit/768kHz PCM and Native DSD512 decoding. It offers clean performance and easy compatibility with dual 3.5mm+4.4mm Headphone sockets. The UA3 offers dual USB operating modes supporting both UAC2.0 and UAC1.0 modes. It has a solid build with metallic chassis as well. Shanling UA3 offers rich and smooth output with powerful output as well.
Best Portable DAC/AMPs Over Rs 10,000:-
Moondrop Moonriver 2 Ti: Premium Sound With Premium Titanium Alloy Chassis!!
Price: Rs 17,990.
Buy Link - https://tinyurl.com/mrxznbez
Moondrop Moonriver 2 got a specially designed Titanium Alloy variant recently. It is a premium designed variant for the highly-acclaimed Moonriver 2 portable USB DAC with an exclusive Titanium alloy chassis and a full-circuit display see-through display window on the back. As for the sound circuit, the DAC houses dual CS43198 flagship-DAC chips from Cirrus Logics and a precisely designed four-channel high-power dual-amp section. It provides a clear and strong output with an ultra-low noise floor. The Moonriver 2 Ti is a true flagship-level DAC/AMP that pairs well with most IEMs and promises an amazing listening experience. It is fully compatible with different devices including Apple iPhone 15, Samsung Galaxy S23 series, and more.
HiBy FC6: Experience R2R Magic!!
Price: Rs 24,990.
Buy Link - https://tinyurl.com/8pse9cyh
You can also have the pleasure of enjoying R2R magic in portable DAC/AMP format. Have a look at the amazing HiBy FC6, a premium portable USB DAC/AMP with HiBy's self-developed R2R Darwin Architecture. The DAC has a rich and impressive sound character with a lovely, natural tonality. The Timbre of the FC6 competes well with high-end music players because it sounds natural and lively. It's an amazing DAC to consider if you want an organic experience with your favourite music.
Luxury & Precision W4: Flagship Portable DAC/AMP!!
Price: Rs 42,990.
Buy Link - https://tinyurl.com/2du65h9w
Talk about ultimate flagship performance, we have the L&P W4, a true flagship portable USB DAC/AMP. It is the true flagship designed with a custom LP5108 Core Circuit. The W4 offers exclusive performance with two different LP tuning profiles. Experience a wonderful sound with a natural tone, and crystal-clear background, and also get the benefit of SPDIF digital output through the 3.5mm port. The W4 has multiple EQ options and different SDF tuning profiles, five digital filters, to help you play around with the output. If you don't want to invest in a dedicated high-end DAP, the Luxury&Precision W4 is a fantastic choice to get a similar experience with your phone.
Final Words:-
Portable DAC/AMPs are an efficient way to enjoy high-resolution music. Even when you are on the go, or you simply need something to hook to your laptop/PC and enjoy high-quality music, Portable DAC/AMPs are a great choice. In this guide today, we have tried our best to explain the device in the easiest way possible, and then list some of our favourite models around different price points. We hope this guide helps you find your perfect sound, for any further assistance or queries, you can contact us through WhatsApp.
Thank You!!