FENRUIEN Hardshell Smart Backpack is a must-have for your Adventures 
Item Type
Gaming Laptop Backpack
Interior
Laptop Interlayer, Pockets for laptops, phone, pens, wallets and more
Lock Type
TSA Password Protected
Material
PC&ABS Hard Shell, 900D PU Coated Oxford Fabric
Lining Material
Soft Flannel Lined
Dimension
18.9 x 12.6 x 7.5 Inches
What will you get
1x FENRUIEN Backpack
FREE SHIPPING ON ALL PREPAID ORDERS
We usually ship orders on same day if ordered before 2 pm or within 24 hours if ordered later (except on holidays/sunday, where processing times may be higher) from one of our domestic warehouses based out of Delhi. It normally takes around 1 to 5 business days for delivery. We use premium service partners such as Blue dart, DTDC and Delivery for faster and reliable service. A tracking number will be provided upon shipment.
In very rare cases when order is not received after 10 business days of shipment (extended by number of days when the govt. Restricts movement of goods due to factors such as coronavirus pandemic), please contact us and we will provide you a refund.
PASSWORD PROTECTED TSA LOCK
This business travel backpack offers a distinctive double-layer TSA customs lock design, ensuring the security of your belongings. Additionally, a concealed anti-theft pocket on the back safeguards your valuable items from potential thieves. This feature helps protect your belongings from potential theft or unauthorized access. TSL locks are designed to provide strong and reliable protection for various applications, including luggage, backpacks, briefcases, and other personal belongings.
DUAL PORT EXTERNAL CHARGING
The backpack comes with a built-in Type-C & USB Port external charging port. This allows you to conveniently charge your electronic devices, such as smartphones or tablets, while on the move. You can connect a power bank inside the bag and charge your devices without having to open the backpack. (The package includes a USB & Type-C cable, but the user is required to provide their own power bank.)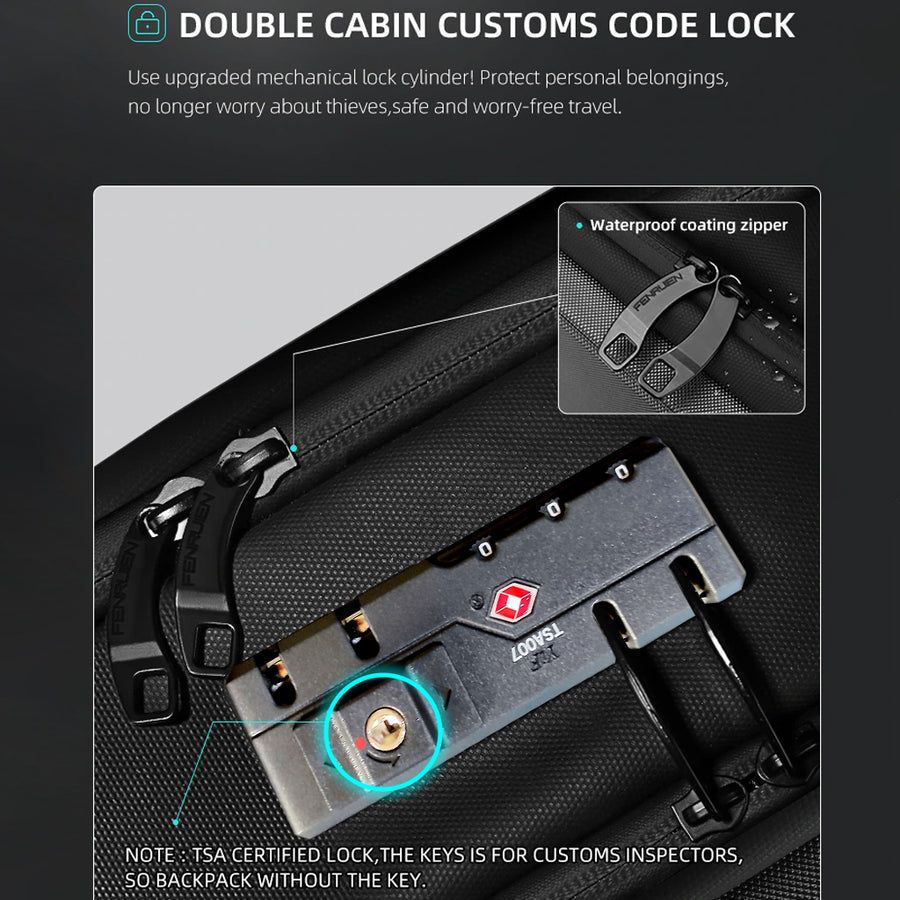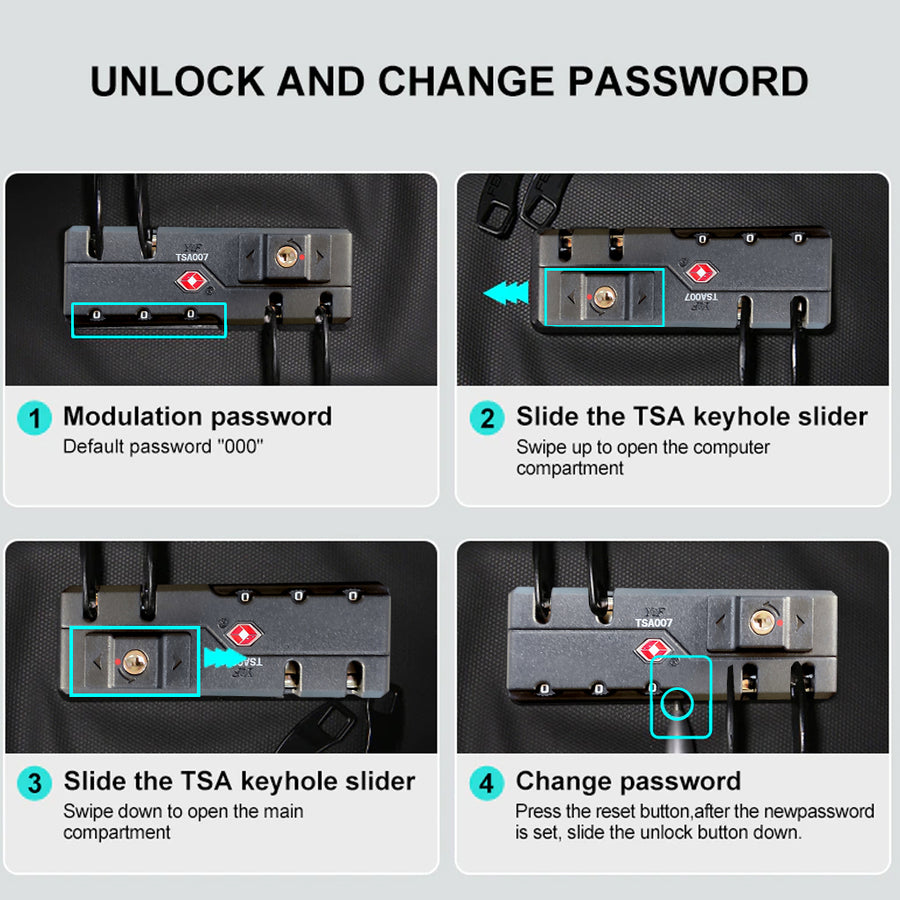 DOUBLE PROTECTION WITH HARDSHELL TOP
The FENRUIEN gaming laptop backpack boasts a durable construction, combining a waterproof PC&ABS hard shell, a soft flannel-lined interior, and SBS dual zippers with water-resistant coating. This advanced design ensures excellent protection for both your belongings and laptop. waterproof oxford material, providing excellent protection against rain, raindrops, and dirt. Its scratch-resistant design ensures durability, making it perfect for various scenarios.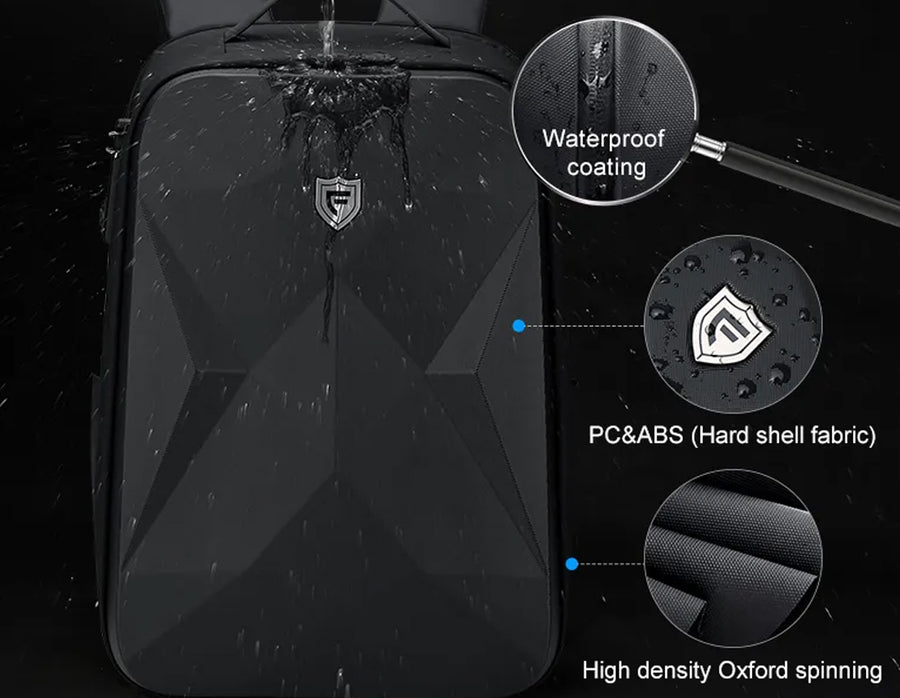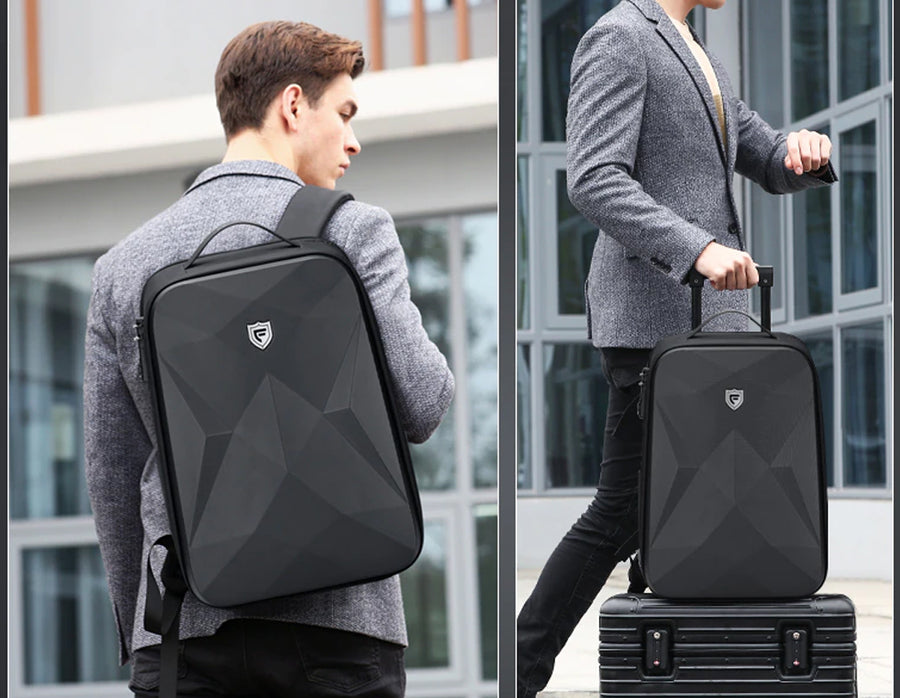 LARGE CAPACITY LAPTOP BACKPACK
The backpack's dimensions are 18.9 x 12.6 x 7.5 inches. It features a main compartment with six pockets, offering excellent organization for your belongings, making them easy to find. The padded computer compartment is suitable for most laptops up to 17 inches in size. The backpack comes with a range of functional pockets, wet and dry separation pockets, and long pockets that can accommodate water bottles and umbrellas. These multiple compartments make it convenient to organize and store your belongings efficiently.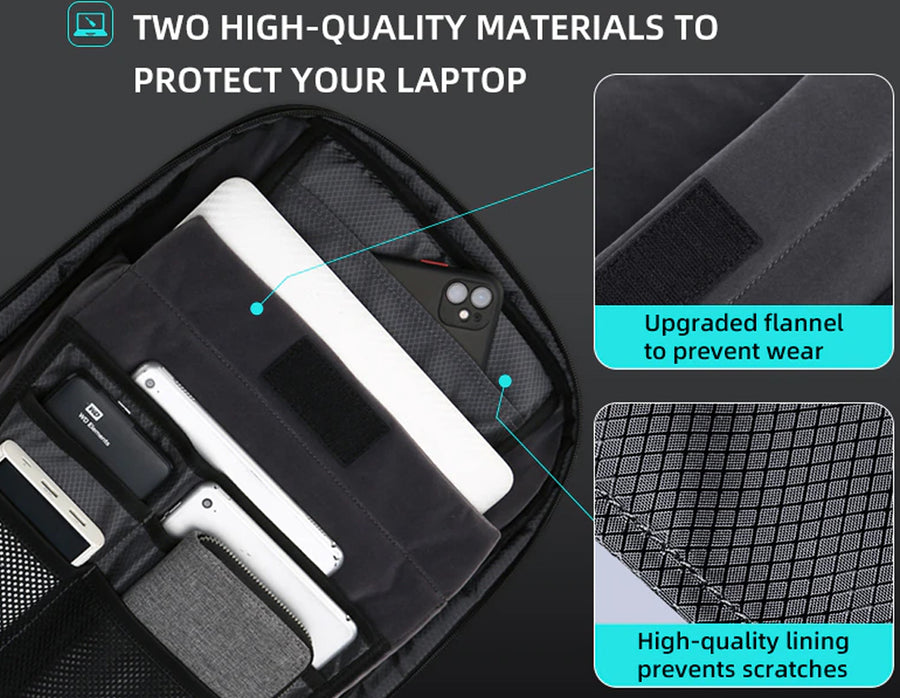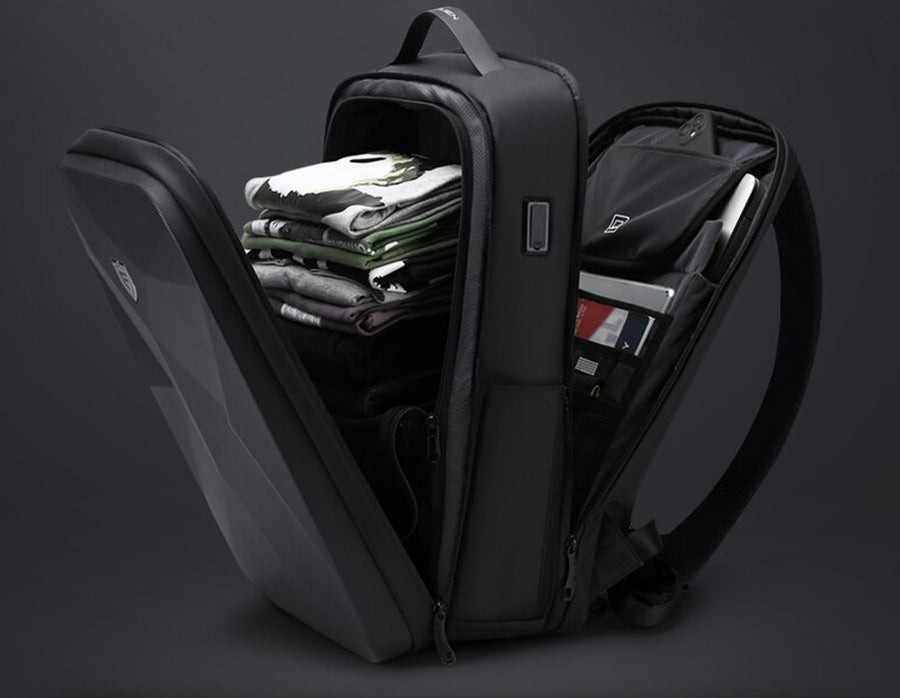 3D STYLISH & ERGONOMIC DESIGN
Backpack incorporates 3D honeycomb breathable S-shaped shoulder straps and cushion in its tech backpack, effectively relieving the discomfort caused by heat and humidity. This feature ensures enhanced comfort, especially during the summer season. Moreover, the backpack's water-resistant coating and SBS zippers add extra protection against moisture and ensure your belongings remain safe and dry.
COMFORTABLE SILICON HANDHELD
The backpack comes with a comfortable Silicon handheld option, making it easier to carry when you don't want to wear it on your back. This feature is especially useful when navigating crowded areas or when you want to switch up carrying styles. Its luggage strap can be installed on a suitcase, which is very convenient for international air travel and day trips.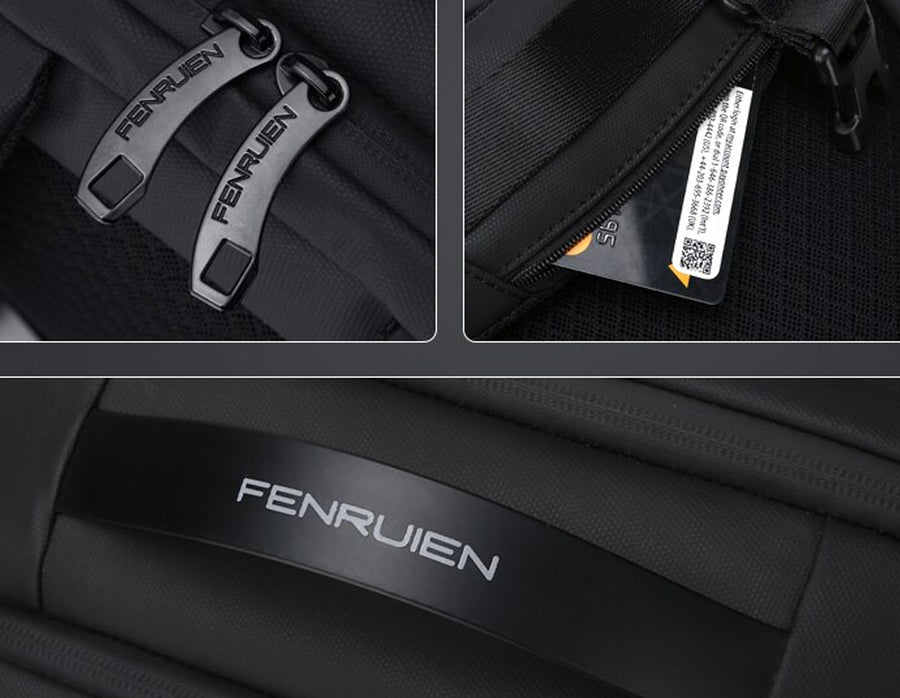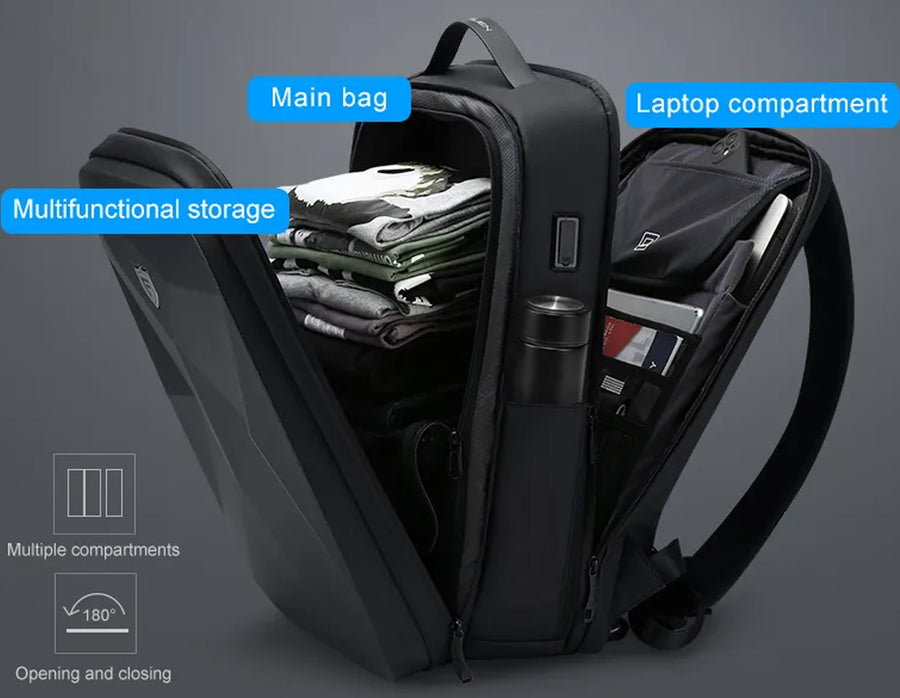 COMPACT AND MULTIFUNCTIONAL DESIGN
The Smart travel backpack is not only functional but also aesthetically appealing. The design combines looks and practicality, ensuring you look stylish while carrying a bag that meets your travel needs. It can be used in various scenarios such as business, commuting, working, business trip, tourism, sports, hiking, mountain climbing, picnics, etc. used as a gift for men's, birthdays, graduation etc.
Product title
Vendor
Rs. 19.99 | Rs. 24.99
Product title
Vendor
Rs. 19.99 | Rs. 24.99
Product title
Vendor
Rs. 19.99 | Rs. 24.99
Product title
Vendor
Rs. 19.99 | Rs. 24.99