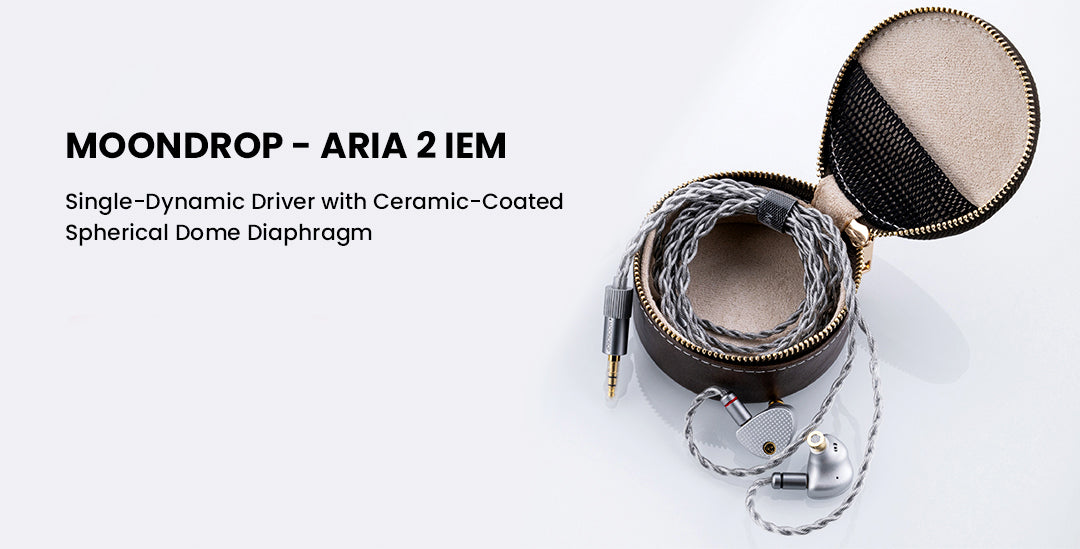 Unveiling the Moondrop Aria 2: A Game-Changer in Audiophile Sound
Operations Team
Moondrop has recently launched the latest generation of its famous Aria in-ear monitors, introducing the Moondrop Aria 2. Coming as a successor to the OG Aria, the Aria 2 has a lot of expectations as the Aria was one of the top-selling single-dynamic driver IEMs from the house of Moondrop. We brought you guys the Moondrop Aria when it came out, and now we are also bringing you the all-new Moondrop Aria 2 in India. Moondrop Aria 2 is available with us on pre-order priced at Rs 8,790. You can book yours with us today, stocks are expected to come in 1-2 weeks time and the shipments will then be delivered following the order sequence number. Check out more information about the Moondrop Aria 2 on our store page here.
Moondrop has introduced a state-of-the-art dynamic driver unit in the Aria 2. These earphones feature a patented dynamic driver structure, which includes a high-quality TiN ceramic-coated dome and composite diaphragm. The symmetrical magnetic circuit, coupled with a meticulously designed acoustic cavity resonance control system, ensures a clear and accurate audio response. The result is a sound quality that is exceptionally robust, with enhanced vocal clarity and extended treble response. Your music will sound cleaner and more precise, with minimal distortion.
Moondrop is renowned for its exquisite craftsmanship, and the Aria 2 continues this tradition with exclusive CNC-milled zinc alloy earpieces. These earphones have a premium look and feel. The front and back components are securely fastened using custom screws, eliminating the risk of adhesive-related wear and tear, and ensuring the pair's durability. In addition to these exclusive zinc-alloy ear shells, the Aria 2 boasts a CNC-machined gold-plated brass nozzle with a swappable filter design, allowing users to easily replace the filter as needed.
To enhance comfort during prolonged use, Moondrop has equipped the Aria 2 with a newly developed off-centre diversion pressure vent structure. This design effectively counters the negative effects of sound proximity to the ear concha, providing listeners with a comfortable wearing experience. This also helps in producing clear sound with a low-distortion rating.
Moondrop, with its years of expertise in designing premium in-ear monitors, has meticulously tuned the Aria 2 to adhere to its renowned VDSF target response curve. This promises high-quality audio with enhanced vocals and minimal distortion. The Moondrop Aria 2 comes with a brand-new stock cable, featuring a hybrid design with copper and silver-plated components in a Litz braided structure. The cable includes swappable termination plugs with 3.5mm single-ended and 4.4mm balanced options. With their universal 0.78mm 2-pin connector design, users can easily replace the cable as they like and prefer. 
Moondrop Aria 2 is a new-generation single dynamic driver IEM that is here to bring musical experience to the masses. Its newly-developed dynamic driver unit, exquisite shell design, and premium cable promise a top-quality sound experience. Grab the Aria 2 for yourself for just Rs 8,790. Don't worry about any hidden charges, get the Aria 2 with full invoice and warranty only at Concept Kart!!