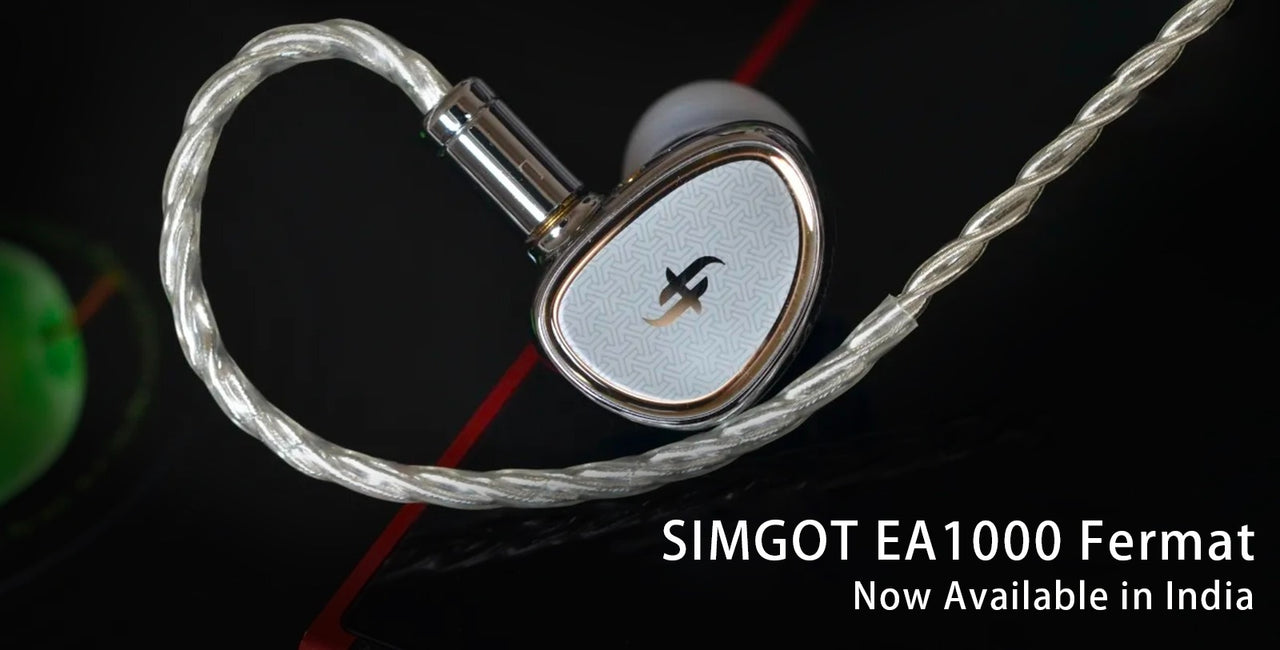 Simgot EA1000: Stunningly Beautiful 1DD+1PR Driver IEMs
Operations Team
Over the past few months, Simgot has emerged as one of the prominent names in the in-ear monitors market. Their recent single dynamic driver set, the EA500 got a lot of recommendations worldwide, it was a huge success in India as well and We at Concept Kart were the ones who brought it first in India. Simgot is quite active in the industry, the brand has regularly brought us new and amazing products such as the EW100P, EW200, EM6L, and more. All these pairs received good reviews and increased the reputation for Simgot in the industry. Today, we are excited to bring you their latest flagship IEM in the "EA" series with the launch of the Simgot EA1000 on our website. Simgot EA1000 brings cutting-edge technology with its unique dual-driver hybrid setup featuring a 10mm specially-designed dynamic driver and a 6mm PR(Passive Radiator) driver. Immerse yourself in the world of excellent sonic characteristics with the uniquely crafted Simgot EA1000!! We have priced the Simgot EA1000 attractively for just Rs 19,990, Order yours with us today!!
Innovative SDPGD™ Diaphragm Technology:-
Simgot EA1000 features innovative SDPGD™ Sputter Deposition Purple-Gold Diaphragm Technology. It is a specialized diaphragm manufacturing process that results in a high-rigidity, lightweight diaphragm in a stunning purple-gold color.
Second-Generation Dual-Magnetic Dual-Chamber Dynamic Driver Unit:-
Simgot has equipped the EA1000 IEMs with a second-generation DMDC™ dual-magnetic and dual-chamber technology dynamic driver unit. It has an optimized structure for enhanced magnetic flux with better control. This DMDC technology promises improved output with a wider frequency band and excellent dynamic range. Experience ultimate clarity with the EA1000 packing exquisite details and resolution.
Premium Dual-Driver Hybrid Architecture:-
Simgot has equipped the latest EA1000 with a unique and innovative dual-driver hybrid setup. The pair brings a 10mm full-frequency dynamic driver unit connected with a 6mm lightweight composite diaphragm as a PR unit for a more responsive full-frequency band. This unique setup promises quality sound with deep-diving bass response with excellent texture, clear vocal performance, and exclusively detailed instruments. The interaction between the Purple-Gold Diaphragm and the airflow in the rear cavity generates subtle vibrations and reflections. Listen to your favourite melodies like never before with the Simgot EA1000!!
Play With The Tuning With Swappable Tuning Nozzles:-
 Simgot features removable tuning nozzles on the EA1000. The pair comes with three sets of meticulously tuned sound nozzles. Each nozzle has a different build material like Brass, Stainless Steel, etc. Different material of the nozzle affects the sound output and caters to diverse sound preferences with three different frequency response on the set allowing you to play around and find your perfect sound!!
All-Metal Body With High-Transparency Crystal Panel:-
Simgot EA1000 features an excellent build structure. The pair combines artistic high-transparency crystal panels with meticulously engineered all-metal stainless steel ear shells. The shells look spectacular, looking premium and exquisite in every way possible.
High Purity Silver-Plated OFC Litz Structure Cable:-
Simgot EA1000 features standard 0.78mm 2-pin connectors. The pair comes with a premium-quality high-purity silver-plated OFC Litz structure cable which ensures smooth signal transmission. Enjoy quality sound with low interference and distortion and enjoy your music to the fullest.
Simgot EA1000 brings an innovative new approach to audio lovers, its 10mm full-frequency driver and 6mm PR unit promises quality sound with exclusively textured lower-end, ultimate mid-range clarity, and detailed treble region. The looks of the EA1000 ear shells are simply out of this world, the set looks and feels absolutely amazing, and the high-transparency crystal panels are simply eye-catching. Get an exquisite listening experience with the Simgot EA1000, grab yours today for just Rs 19,990.