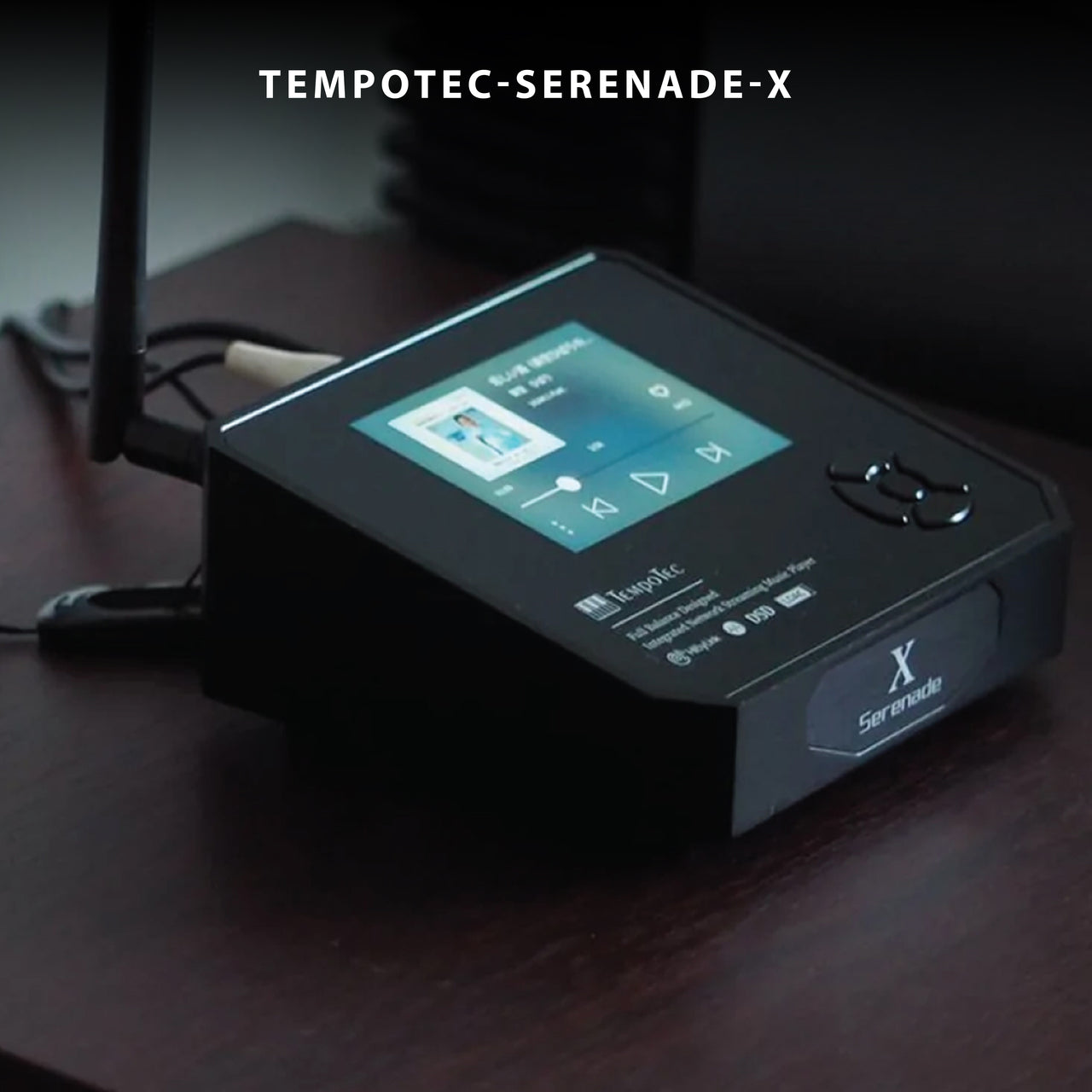 Tempotec Serenade X
Gagan Jajoria
With the world going online and people mostly depending on streaming services for their audio requirements, a Network Audio Streamer has become a must-have gadget in any given audio chain. They bring the entire streaming library right to our desktop. Tempotec, a widely recognized HiFi audio gear brand has launched its latest network streamer known as the Tempotec Serenade X. Concept Kart is proudly bringing you the all-new Serenade X right at your doorstep. Today, we are officially launching the Serenade X on our store for our customers priced at Rs 25,000 INR.
Tidal, Qobuz, Apple Airplay, Everything At Your Fingertips:-
Tidal and Qobuz are world-famous Hi-Res Lossless Audio streaming services. Tempotec Serenade X is fully compatible with both of these as well as also has Apple Airplay support. Using Apple Airplay, you can enjoy Hi-Res Lossless music through the Serenade X. It can serve as a one-point solution for all your streaming needs on a desktop setup.
Equipped With Dual Sabre DAC Chips:-
Tempotec has featured fully balanced audio circuitry on the Serenade X. It consists of a dual DAC arrangement featuring dual ES9219 DAC chips, one for each channel. It ensures we get unprecedented audio performance in decoding high-resolution PCM and DSD signals, allowing the Serenade X to achieve best-in-class performance with low distortion ratings of -112dB and high SNR of about 130dB.
Ultra-Low Jitter FPGA Clock Architecture:-
The digital input circuit on the Serenade X is designed using dual custom crystal oscillators and FPGA PLL mode. This digital audio circuitry is professionally designed to deliver a clean sound signal transmission. It ensures stable digital input with accurate clock source and low phase distortion.
Not Just A Network Streamer, But Also A Premium USB DAC:-
Tempotec Serenade X is not just a network streamer, but it can also be used as a premium high-performance USB DAC. Tempotec has featured multiple input options on the Serenade X including USB, Coaxial, Optical, and even High-resolution Bluetooth.
High-Resolution Bluetooth Receiver:-
You can connect the Serenade X with your source device like smartphone or tablets using Bluetooth connectivity. With the help of a high-performance Bluetooth chip, the Serenade X supports stable lag-free Bluetooth input with LDAC, UAT, and AptX transmission protocols. LDAC supports 24-Bit/96kHz wireless transmission while UAT supports transmission up to 24-Bit/192kHz signals with compatible devices.
Full 16X MQA Decoding:-
MQA has slowly become a part of our Hi-Res audio life. It's a new format that makes high-resolution audio streaming easy and widely available with smaller file sizes. Only MQA-supported devices are capable of unfolding the streams and bringing a true studio-grade performance to the listeners. The latest Tempotec Serenade X brings full 16x MQA decoding packing a true Hi-Res package!!
Big Touch Screen Display & Media Control Keys:-
Serenade X comes with a big and colorful 3.2" colorful display. You can easily operate the device and adjust the playback like you would on a smartphone. Apart from the touchscreen display, Serenade X also has physical media control keys that allow you to operate the device easily. With HiBy Link application integration, you can also convert your smartphone into a fully functioning remote control for the Serenade X.
Precise Volume Adjustment With Digital Volume Controls:-
Instead of an analog Potentiometer that might introduce imbalance in the Right and Left Channels while adjusting the volume, the Tempotec Serenade X supports digital volume control. It not only provides precise volume adjustment but also saves you from unnecessary noise introduced by the volume wheel.
Fully Balanced Line-Out & 4.4mm Headphone Output:-
Tempotec Serenade X features a 4.4mm output port that can act as both line-outs as well as phone-out functionality. It provides a clean and powerful headphone output with ratings of about 285mW @32Ω. Apart from the 4.4mm Bal output, Serenade X also has a traditional RCA line-out port for further AMP connections.
Tempotec Serenade X is a well-built, feature-rich network streamer that can also be utilized as a USB DAC on any given audio chain. It not only brings you Tidal and Qobuz support but also packs Apple Airplay functionality unlocking your doors to the complete world of wireless streaming. Check out more information and order a Serenade X for yourself from our store here. There are no hidden charges, and orders placed before 2 PM are usually dispatched on the same day!!