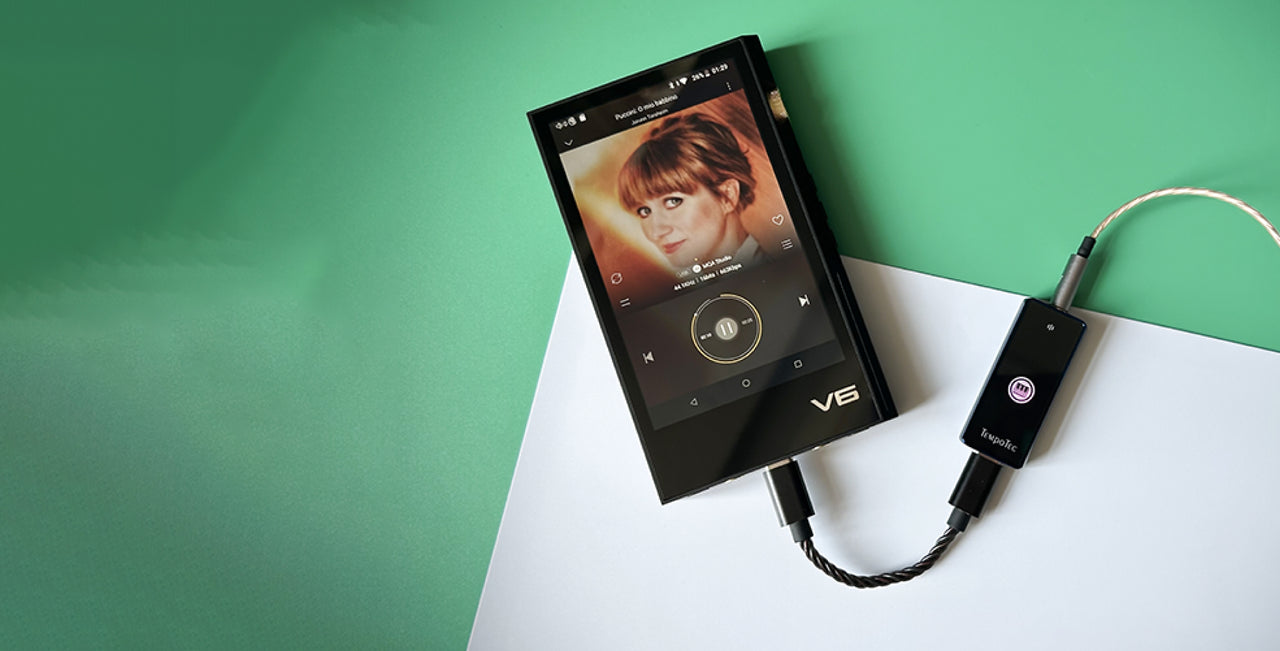 Tempotec V6 Pre-Order News
Gagan Jajoria
Introducing the highly-anticipated Tempotec Variations V6 Premium Android Digital Audio player. Concept Kart is proudly bringing you the talk of the town, the latest premium digital audio player from Tempotec. Earlier this year, Tempotec launched the Variations V6 through its Kickstarter campaign. Early users and reviewers praised the player for being one of the best players in its price segment. Finally, the Kickstarter campaign has concluded. We now have the Variations V6 available with us on Pre-Order priced at 28,999 Rs Only, shipments will begin in about 3 to 4 weeks.
Concept Kart is dedicated to bringing you top-quality smart gadgets with the best prices available right at your doorstep. We don't have any hidden charges or extra shipping duties. For products that are available in stock, we offer same-day shipping if ordered with us before 2 pm.
Complete High-Resolution Decoding With Dual Latest Generation AKM DAC Chips:-
Tempotec V6 is a complete Hi-Res audio package in your pocket. It is designed with a premium dual DAC chipset with two latest-generation AK4493SEQ DAC Chips. V6 provides high-resolution audio signal decoding with support for 32-Bit/768kHz PCM and native DSD512 signals. It also has 16x MQA decoding packing a pure studio-grade sound performance in a compact form factor.
Clean Performance With Precise FPGA Digital Clock Circuit:-
With years of expertise in designing HiFi audio gears, Tempotec has equipped the V6 with a professionally designed FPGA digital audio circuit. It is matched with dual independent low-jitter crystal oscillators providing you with a high-quality digital source with low phase noise and low internal jitter.
Easy Connectivity With Multiple Audio Output Ports:-
Tempotec V6 houses multiple output ports. It has separate output ports for Headphone Outputs and Line-Out Functions. Tempotec has featured 3.5mm and 4.4mm ports, with separate headphone and line-out ports. Here the Line-Out Ports are the best match for speakers and other headphone amplifiers while the Phone Output ports are best suited for headphones and IEMs. With professionally designed amp circuit, V6 produces a powerful output up to 660mW@32Ω impedance load.
Countless Applications With Open Android 8.1 & SRC Bypass:-
Tempotec has loaded the Variations V6 with an Open Android 8.1 Operating system. This brings you a huge library of countless media applications through the Google Playstore that you can simply install on the V6. Tempotec has designed its operating system with Android SRC Bypass, which enables Hi-Resolution audio decoding support throughout the OS. Every application you install on the device will take full benefit of its DAC architecture and treat you with amazing sound quality!! V6 also has HiBy Link Application support.
Wireless Two-Way Bluetooth Support:-
Tempotec V6 supports two-way Hi-Res Bluetooth connectivity. It can act as either a Bluetooth Transmitter or a Receiver. It supports multiple high-resolution transmission protocols including LDAC, UAT, AptX HD, AptX, etc.
Solid Build With Aluminum Alloy Frame & 4.2" Bright Display:-
The outer frame and chassis of the Tempotec Variations V6 is made up of aluminum alloy with glass panels at the front and the backside. The player has got classy looks with precisely crafted edges and corners. Tempotec has treated it with a golden volume wheel for a complementary premium finish. The V6 is actually quite compact weighing only 202grams and housing a 4.2" colorful display.
Long Battery Life With QC3.0 Fast Charging Support:-
Tempotec V6 has a large 4500mAh battery that provides up to 12 hours of continuous music playback on a single charge. The impressive thing is that the V6 provides you with 12 hours of music playback in high-gain mode. It also supports QC3.0 quick charging that changes it completely from 0% to 100% in just 2.5 hours.
Carry Your Entire Music Library With Lage Capacity MicroSD Card Support:-
Tempotec V6 allows you to carry your entire music library with its large capacity microSD card slot. It supports up to 2TB of microSD card and provides playback from different audio formats from M4A to MP3, Flac to DSD.
USB Output & Coaxial Output:-
Tempotec V6 provides digital output via its USB port. It can be connected to a USB DAC or a USB Dongle or even further DACs through its USB output. The USB Port of V6 also provides Coaxial digital output. It can act purely as a digital audio source in your Audio Chains!!
V6 has been a highly-anticipated digital audio player. It has got a lot of praise under its name. You can pre-order Tempotec V6 with us, the units are in transit, and shipments will begin in approximately 3 to 4 weeks. Check out more information here.