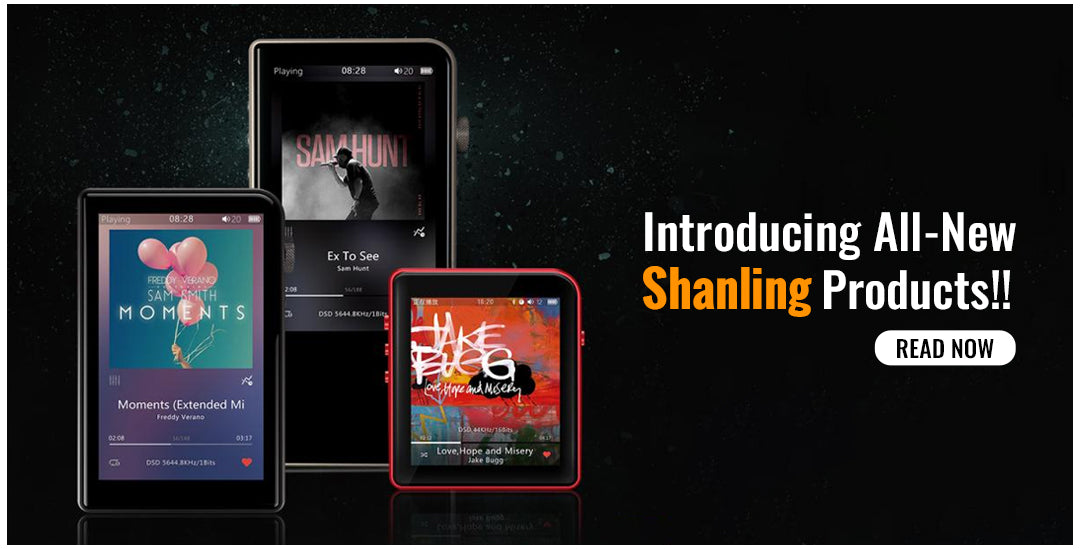 Launching Premium Audio Gear From Shanling Audio!!
Vaibhav Rathod
Concept Kart is a leading destination for high-quality gadgets. We cater to our customers with a wide range of products from different categories including audiophile HiFi products, premium cycling components, smart home gadgets, etc. Audio is one of our largest categories and we are regularly working to extend our reach by partnering with different brands. We are super thrilled to announce the launch of premium audio products from Shanling Audio, a renowned name in the HiFi audio industry. Shanling is a premium name in the market with a legacy of craftsmanship and innovation in designing premium audio products. They have a wide catalogue of products ranging in different categories such as Digital Audio Players, Portable USB DAC/AMPs, In-Ear Monitors, etc. We are excited to provide our customers access to these innovative and class-leading products from Shanling available at your doorstep in India. No need to worry about any hidden charges or customs taxes, freely purchase Shanling products with a full brand warranty, available with us only at Concept Kart.
Let's explore some deals available with us for Shanling Products!!
Experience Top-Quality Music With Flagship Audio Player!!
Create an enriching portable audio setup with the best-in-class Shanling M7. Shanling M7 is a high-resolution portable digital audio player with an open Android operating system. It comes equipped with the best hardware featuring ES9038Pro 8-channel 32-Bit DAC chipset paired with a specially designed OP+BUF-based amplification section. The Shanling M7 is known widely for its extraordinary sound delivery, crystal clear background, and astonishing resolution. Name any feature you require, and the Shanling M7 might have right under its sleeve. Designed especially for users who don't want to compromise on the sound front!! If you are looking for something best-in-class sound, Shanling M7 is definitely worth considering. Do check it out here.
Premium Android Audio Player With Quad DAC Arrangement!!
M6 Ultra came as an upgrade to the classic M6 series of Android Digital Audio Players by Shanling. It is the first in the series to feature a premium quad-DAC arrangement with four AK4493SEQ DAC chips. Shanling designed the player with an in-house developed OP+BUF architecture amplification section with famous chips including OPA1612, OPA2211, LTA8092, and BUF634A chips. It's the younger brother to the Shanling M7, providing an identical performance with great resolution and clarity. Open Android OS allows you to download and install different media applications easily. It's a great player that packs a fantastic sound!! You should check it out here.
Dual ESS Sabre Magic With Great Battery Life!!
Looking for a high-performance digital audio player in a budget segment? Don't look anywhere else as Shanling's brand-new M3 Ultra is right here. Rocking a deadly combination of dual ESS Sabre DAC Chips and a Dual RT6863-based amp section, the M3 Ultra produces clear sound with ultimate details. It comes equipped with Qualcomm Snapdragon 665 8-core SoC and 3GB of RAM unleashing the full potential of open Android 10 OS with multimedia application support. Shanling M3 Ultra serves its users well with an astonishing battery life of up to 20.5 hours. Enjoy your favourite music, with your favourite application with the Shanling M3 Ultra!!
Shanling M0 Pro:
Compact, Versatile, Hi-Res With Innovative Balanced Port!!
For budget users who want a portable and compact audio player, Shanling M0 Pro is a fantastic choice. It has an ultra-compact form factor that makes it a perfect choice for workout, and jogging sessions. It houses dual ES9219C DAC chips for crystal-clear sound signal decoding. We have an innovative 3.5mm port with balanced connection support. With a compact form factor, the M0 Pro is an ideal day-to-day portable audio player!!
Shanling UA3:
Premium Quality Hi-Res USB DAC/AMP!!
Shanling has years of expertise in designing portable USB DAC/AMPs, UA3 is among their recently launched portable DAC/AMP designed with Dual AK4493SEQ DAC chips. It also features a customized amp section developed with Dual RT6863 amp chips. UA3 produces crystal clear sound straight out of your smartphone. It is also compatible with other devices such as laptops, PCs, and even Nintendo Switch gaming consoles. Shanling UA3 is both compact and versatile, you can carry it around easily and can also pair it with your choice of the source device!!
Clean, Crisp Hi-Res Decoder!!
UA2 Plus is another one of Shanling's premium UA series portable DAC/AMP designed with a premium ESS Sabre DAC chipset. With the ES9038Q2M at its heart, the UA2 Plus packs an exciting sound with support for high-bitrate 32-Bit/768kHz PCM and native DSD512 audio signals. UA2 Plus delivers impressive performance for its price point with class-leading THD+N & SNR performance. The output has a rich tone and crisp definition for instruments, promising a sublime listening experience!!
Great Sound, Compact Package!!
Introducing the entry point to the "UA" series of portable DAC/AMPs with the UA1S. Shanling UA1S incorporates the high-resolution ES9219C 32-Bit DAC chip, delivering exceptional sound quality. With its in-house developed FPGA architecture, the UA1S ensures a pristine audio experience, characterized by cleaner and more vibrant sound reproduction. It offers compatibility with various devices, including Android, Windows, MacOS, and iOS, thanks to its interchangeable cable design. Additionally, the UA1S boasts a low-power consumption design, making it ideal for smartphone users who want to preserve battery life!! A fantastic option for people looking for a high-res decoder on the go!!
Hi-Res Audio With Premium Bluetooth DAC/AMP!!
UP5 is a premium Hi-Res Bluetooth DAC/AMP from the house of Shanling. Many people love it for its supreme audio performance and superb build quality. The DAC achieves high-resolution audio decoding with its dual ES9219C 32-Bit DAC chips, delivering clean and crisp output. It features Qualcomm's QCC5120 Bluetooth chipset for stable connectivity and supports various high-resolution transmission codecs including LDAC, LHDC, etc. Shanling UP5 supports high-resolution audio signal decoding including 32-Bit PCM, native DSD, and even 8x MQA unfolding for the best audio experience. With multiple output options, including balanced and single-ended connections, it caters to a wide range of headphones and IEMs. In fact, Shanling UP5 is the only Bluetooth DAC/AMP in the market that features 3.5mm, 2.5mm, and 4.4mm headphone ports. Shanling UP5 is an outstanding device that promises a pure high-resolution audio experience along with high-definition Bluetooth connectivity!! UP5 is a device that should be in everyone's collection!!