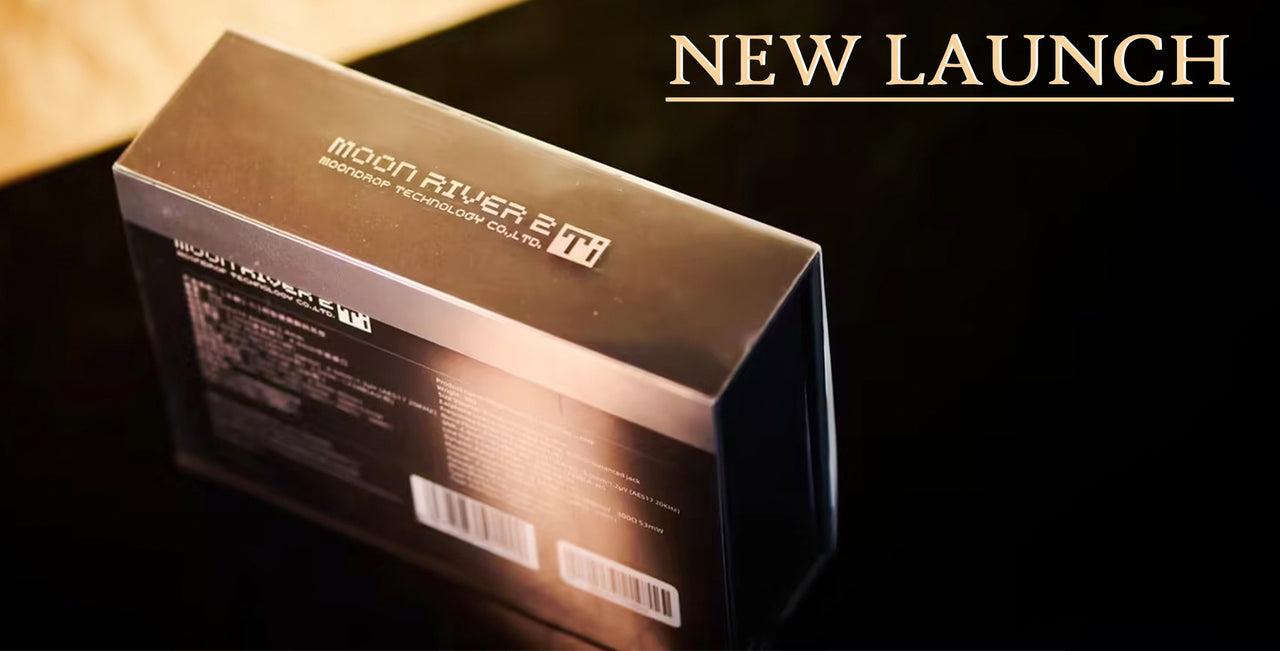 Latest Launch MOONDROP - MoonRiver 2 Ti Portable USB DAC & Amp
Animesh Gupta
In the world of audiophiles, Moondrop is usually counted among the top names when it comes to premium in-ear monitors and portable USB DAC/AMPs. For many years, Moondrop has acted as a pillar in the HiFi Audio market with a wide catalogue of offerings. We at Concept Kart have worked closely with Moondrop bringing you guys their amazing products available directly in India. Today, we are proudly launching their latest Moonriver 2 Ti portable USB DAC/AMP. It's a special Titanium build variant for the award-winning Moonriver 2 portable USB DAC/AMP from Moondrop. Moondrop has not only upgraded the build structure, they have also optimized the components inside for improved audio performance. We have brought the Moondrop Moonriver 2 Ti for you priced at just Rs 17,990!!
Super Robust, Super Exquisite Build:-
First and foremost, we have got a brand new, premium look with the Moonriver 2 Ti. The premium Portable USB DAC/AMP is built using high-quality TC4 titanium-alloy material. It has the same design and form factor as the OG Moonriver 2, just with a newer, more-exquisite finish. The chassis is now crafted using a high-precision CNC machining process, it is well-textured, well-finished, and treats the device with a super exquisite build. It's not just the Titanium shell, Moondrop has designed the new Moonriver Ti as a completely overhauled device. Moonriver 2 Ti also has a clear see-through glass window on the back side which showcases a clear view of the circuitry inside.
Enriching Sound With Premium Dual DAC Arrangement:-
Moondrop Moonriver 2 Ti features a high-performance dual DAC arrangement. It adopts dual CS43198 32-bit DAC chips that deliver high-quality sound signal decoding. Moonriver 2 Ti supports Hi-Res PCM and Native DSD signal decoding through the connected device. It decodes 32-Bit/384kHz PCM and native DSD512 audio signals. The resulting output is clean and precise, we get ultra-low distortion performance and high SNR/DNR performance!!
Strong & Powerful Dual-Amplifier Design:-
Moondrop has equipped the Moonriver 2 Ti with a dual-amplifier design. The amp section on the Moonriver 2 Ti has a dual-chip four-channel output circuit. It provides clean and powerful sound signal amplification with low distortion introduced. Moonriver 2 Ti has an output power rating of up to 250mW!!
Both Single-Ended as well as Balanced Headphone Output Options:-
Moondrop Moonriver 2 Ti has both single-ended and balanced headphone output ports. The premium DAC/AMP houses 3.5mm single-ended and 4.4mm balanced headphone output ports. It has an independent 100-level volume control that enables you to smoothly pair your sensitive as well as demanding IEMs with ease
Low-Power Consumption Design:-
Moondrop has specially equipped the Moonriver 2 Ti with a low-power consumption circuit. This consists of 5 piece-independent power chips that deliver proper power to every component of the audio circuitry. It helps in getting a cleaner and more precise output with low distortion and clean noise-free background.
Interchangeable Cable Design:-
Moondrop Moonriver 2 Ti has a detachable cable design. It has universal Type-C connectors, Moondrop includes a high-quality Type-C to Type-C Cable for easy connection with PCs, Laptops, smartphones, and tablets devices. You can use Lightning cable for connection with iOS devices as well.

Moondrop Moonriver 2 Ti is a noticeable improvement over the OG model. It is an ideal device for people who want the best quality audio straight with their smartphone. Moonriver 2 Ti is available here in India priced at Rs 17,990. You can check out more details here.