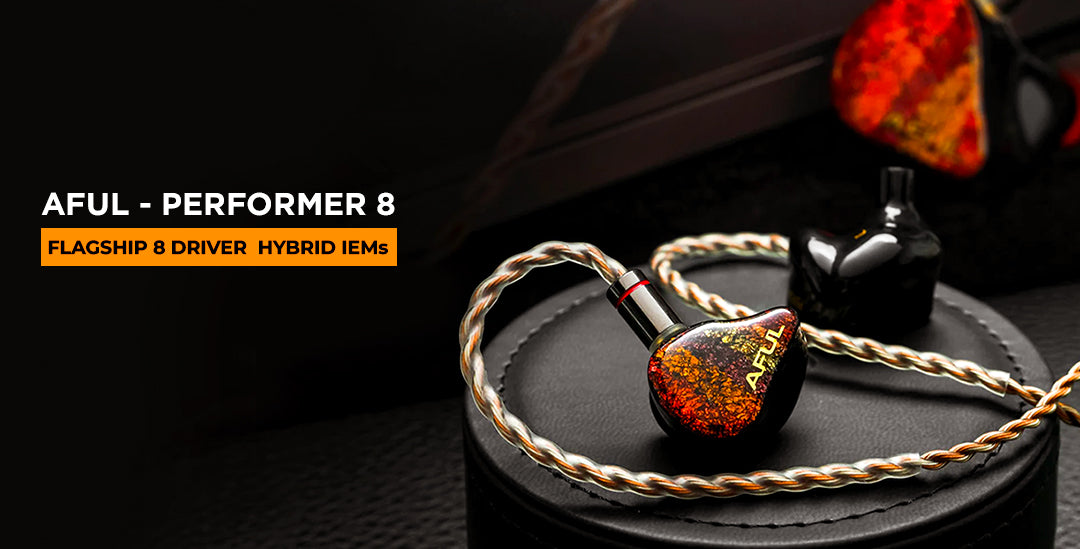 AFUL - Performer 8 Now Available In India
Vaibhav Rathod
After the successful debut in the market with the Performer 5, AFUL Audio instantly started working on their next project. The Performer 5 was appreciated by audio lovers both in India as well as in the international market. We had previously brought you the Performer 5 available at your doorstep in India, we are going to follow up the same with the Performer 8. Yes, you guys read that right, the AFUL Performer 8 is available with us at our store priced at Rs 32,990. It's currently available on a pre-order basis with delivery expected in 1 to 2 weeks. You can order yours here. Let's get to know AFUL's latest creation better.

Performer 8 features an 8-driver hybrid configuration with 1 dynamic driver and 7 balanced armature drivers on each side. The pair is designed to deliver ground-breaking flagship-grade sound with attractive-looking ear shells. AFUL has designed the Performer 8 with several key upgrades over the Performer 5, like more drivers, upgraded 3D printed acoustic tube structure, revised damping system, and optimized RLC network frequency correction technology. AFUL features a longer and thinner bass tube that greatly refined the lower-end performance of the pair with a stronger punch and clearer response. These upgrades bring notable improvements to the sound of the Performer 8, it is tighter, stronger, clearer, and enhanced in every possible way.
The Performer 8 also features AFUL's patented 3D Printed Acoustic Tube structure, which ensures a strong, deep, and refined lower-end presentation. Additionally, a high-damping, air pressure relief system helps to reduce wearing fatigue and enhances the bass response. The RLC Network Frequency Correction Technology fine-tunes the sound output of each driver unit, ensuring clean and precise sound reproduction. It also enhances the treble response, bringing the performance of the balanced armature drivers on par with EST drivers, promising spectacular performance for the users.
AFUL Performer 8
is a treat for the ears. It delivers a
pure sound resolution
and
unparalleled clarity
,
with controlled and impactful bass, clear and crisp midrange, and open, airy treble
. The compact and lightweight design is not only visually stunning, but also comfortable to wear for extended periods of time.
AFUL
has actually
designed the pair with hand-painted aluminium foil on the face cover area
. To further enhance the audio experience,
AFUL includes a high-purity stock cable with the Performer 8
. This
4-strand cable, with 98 cores on each strand
, is constructed from
high-purity monocrystalline copper silver-plated material
. It ensures clean signal transmission, deep bass response, and an expansive soundstage.
Overall,
AFUL Performer 8
is a beautifully built
IEM that is surely gonna upgrade the way you enjoy your favourite music
. We at
Concept Kart
have
brought the amazing AFUL Performer 8 available to your doorstep
. No worries about custom duties or any other hidden cost,
grab the AFUL Performer 8 for Rs 32,990 today with a full warranty!! Order yours with us!!