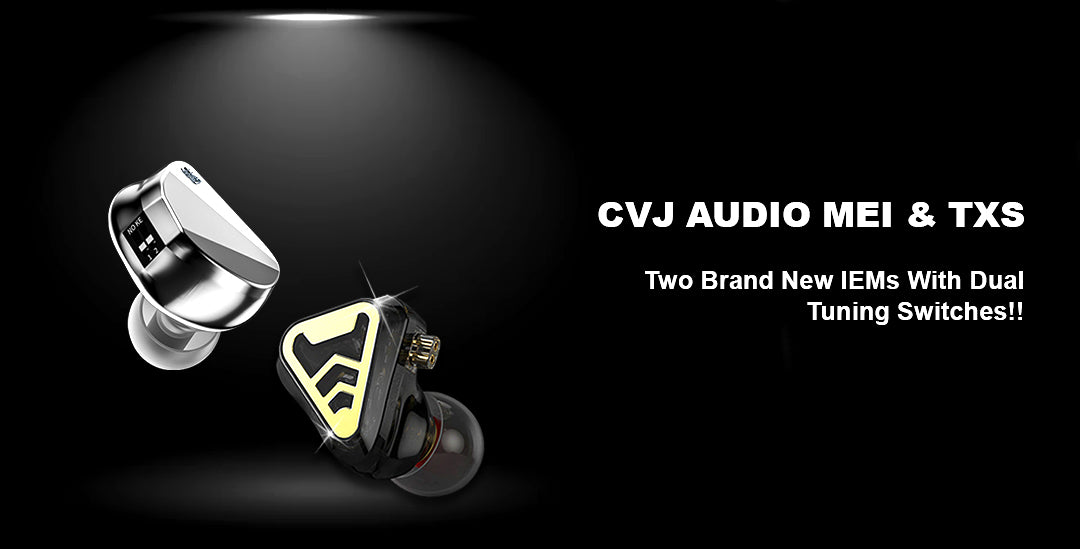 CVJ Audio Mei & TXS: Two Brand New IEMs With Dual Tuning Switches!!
Gagan Jajoria
CVJ Audio is a new emerging brand with a range of high-quality in-ear monitors in the budget category. CVJ launching their high-quality products for you guys in India with the announcement of their two brand new in-ear monitors, let's welcome the CVJ Mei and CVJ TXS. CVJ Mei is a famous model that is grabbing a lot of attention in the international market. It houses a three-driver hybrid configuration featuring one powerful, dynamic driver and dual BA drivers on each side. The CVJ TXS is a budget single dynamic driver offering featuring a 10mm dual-magnetic dynamic driver unit. Both the CVJ Mei as well as the CVJ TXS allow the users to adjust the output to their liking with their unable switches. They feature two tuning switches that allow you to easily adjust the output to your liking!! Let's get to know both of them some more.

CVJ Mei: Three-Driver Hybrid IEMs with Tuning Switches!!
Mei is a newly-launched three-driver hybrid IEM from the house of CVJ. It houses a specially developed customized dual-magnetic dynamic driver unit alongside a premium high-performance Balanced Armature driver from Knowles and a customized Balanced Armature driver. These three drivers work in harmony and promise high-resolution clarity with excellent transient speed. The primary attraction here on the CVJ Mei is the adjustable tuning with two tuning switches available at your disposal. They provide effortless customization of the sound output to suit your preferences. These switches are specifically designed to control the frequency crossover, granting you the ability to activate or deactivate various driver units within the CVJ Mei. You can run it as a single dynamic driver DD, as a DD+BA hybrid, or simply as a DD + Dual BA driver combination. Unique and innovative we would say!!

Another attraction of the CVJ Mei is its beautiful build quality. The ear shells are made up of high-quality aviation-grade aluminum magnesium alloy material. They have a smoothly done, precisely crafted structure that is ergonomic in shape promising a comfortable fit for the users. CVJ Mei can be driven easily off most sources since the pair has a low impedance of just 16Ω!! You can enjoy high-resolution music with the CVJ Mei and adjust the output to your liking as well, an ideal deal!! And to make the deal even better, we have priced the CVJ Mei attractively at just Rs 5,490 available in two color options Black & Silver.

CVJ TXS: Budget Single DD IEM With Tuning Switches!!
CVJ TXS is an interesting set of IEMs. It is probably the only IEM in the budget category that features tuning switches. CVJ has equipped the set with a high-quality 10mm dual-magnetic dynamic driver unit with a black gold compounded diaphragm. The dual-magnetic structure enhances the performance of the set with clear & strong lower-end, accurate midrange, and a wide soundstage. It helps the pair to produce an immersive & engaging sound experience.

Just like the Mei, The CVJ TXS also features dual tuning switches. They also work on adjusting the frequency crossover circuit. They provide three-different sound profiles with the pair. You can choose between Music Mode for a balanced sound suitable for an enjoyable and accurate music experience, Game Mode for optimized spatial awareness and improved positional accuracy, and HiFi Mode for a natural and lively sound presentation suitable for audiophiles.

CVJ TXS is a beautiful sounding single dynamic driver IEM that allows you to play with the tuning to suit different use case scenarios, We have priced the CVJ TXS at just Rs 1,099 making it the most affordable set in the market with dual tuning switches. We hope you enjoy the CVJ Mei and the CVJ TXS, for any further questions and queries, you can contact with us through our website.