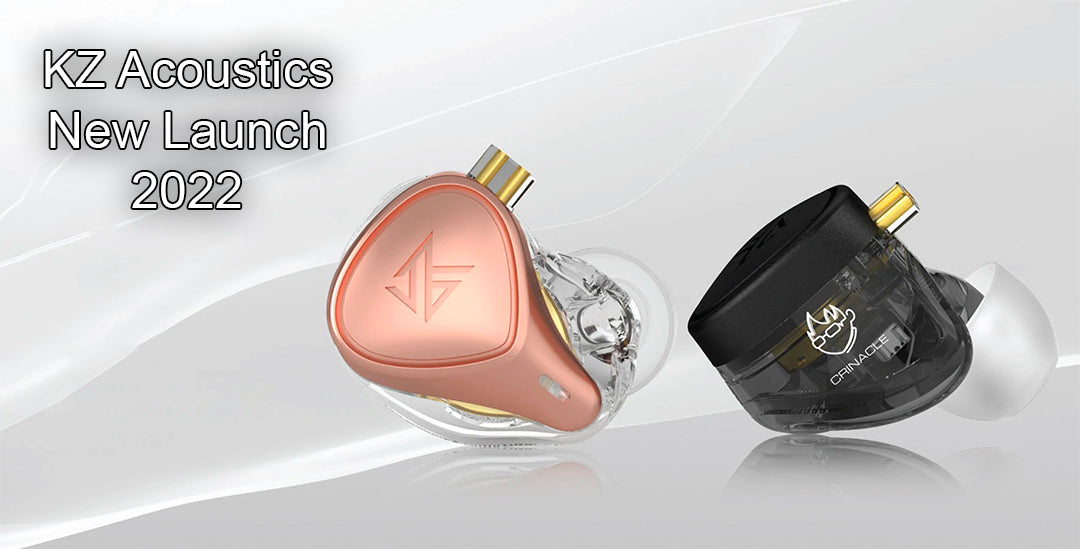 New Products From KZ Acoustics In India: xCrinacle CRN, T10, AZ10!!
Gagan Jajoria
With their last few products, KZ Acoustics has made garnered a lot of positive feedbacks in the audiophile industry. From the beginning, they only focused on delivering quality sound at budget prices. We at Concept Kart have brought all of their products available for you right here in India. No worries about any import taxes or hidden shipping charges, simply available for you to purchase directly from us. We have brought almost their entire lineup of the latest products including the KZ ZAS, the KZ ZEX, the KZ EDC, and many more. Today, we add a few of their latest products to our collection of KZ products available here in India. We have brought their latest KZ X Crinacle CRN(ZEX Pro) tribrid IEMs, the KZ T10 Wireless Headphones, and the KZ AZ10 Bluetooth adapters. We know you have been waiting for these products, so we have made these available for you at the best prices online here in India. Check out our collection of KZ products here.
KZ X Crinacle CRN:-
Price: Rs 2,799.
If anything has created hype in recent times, it should be for the KZ X Crinacle CRN. A collaborative project with KZ and Crinacle where Crinacle(highly-recognized audio reviewer) has helped the brand finalize the tuning for the CRN. KZ X Crinacle CRN is basically the ZEX Pro, a tribrid offering from the brand that features a unique combination of a dynamic driver, a low-voltage electret electrostatic unit, and a high-frequency balanced armature driver per side. The KZ ZEX Pro is disappearing from the stocks like anything, so be sure to check it out and grab a unit for yourself with us here. We promise you will get the best deal on the KZ X Crinacle CRN with us here in India.
Key Features:-
10mm Dual Magnetic Circuit Dynamic Unit.
6.8mm Electret Electrostatic Unit.
30095 High-Frequency Balanced Armature.
Zinc Alloy Covers.
Translucent Resin Cavity.
Fitting Cochlear Design.
2-pin 0.75mm Connectors.
Silver-Plated Double-Flat Cable.
Comfortable Wearing.
Interested in the KZ X Crinacle CRN? Purchase it from our store here.
KZ T10 Wireless Headphone:-
Price: Rs 8,999.
Just like their Wired in-ear monitors, KZ Acoustics is well-known for its range of Bluetooth products. The T10 is their latest Wireless over-ear headphones with a Titanium Diaphragm driver unit and ANC noise cancellation technology. KZ has made sure the T10 provides exceptional performance with its excellent set of features that includes Bluetooth 5.0 connectivity, large 40mm dynamic driver units, Adjustable ANC(Active Noise-Cancellation) technology, Superb battery life(up to 38 hours on a single charge), and many more advanced features. If you were looking to buy a pair of Wireless Bluetooth headphones with ANC support and absolutely brilliant sound performance, the KZ T10 might be an ideal choice for you.
Key Features:-
ANC Active Noise Cancellation Technology.
40mm Dynamic Drivers.
Titanium Diaphragm.
5 HD Microphones
Bluetooth V5.0 Connectivity.
38 Hours Battery Life.
Protein Leather Material.
Wear Optimisation.
If you are interested in the KZ T10 Wireless ANC Headphones, feel free to check them out here.
KZ AZ10 Bluetooth Adapters:-
Price: Rs 2,999.
Turn any of your Hi-Fi IEMs completely wireless with this set of premium Bluetooth adapters from KZ known as the KZ AZ10. These are a successor to their highly-successful AZ09 Pro Bluetooth Adapters. They bring all advanced features along with them like the latest Bluetooth V5.2 connectivity, ultra-low latency mode for gaming, Three frequency balanced super sound field function, Long battery life, and many more. KZ AZ10 has an in-built HD microphone for crisp voice quality during calls. KZ AZ10 supports TWS+ dual transmission mode with high-res AAC and SBC wireless. In simple words, the KZ AZ10 is designed to take your HiFi IEMs completely wireless while maintaining their true sound performance.
Key Features:-
Bluetooth V5.2 Connectivity.
Three Different Operating modes(Full Power Mode, High-Performance Mode, Spatial Audio Mode).
Three-Frequency Balanced Super Sound Field.
Proper Audio & Video Synchronisation.
Long Battery Life.
TWS+ Dual Host Transmission.
AAC/SBC Transmission Codec Support.
HD Microphone.
Want to try the Truly Wireless route for your favorite et of IEMs? Consider the KZ AZ10 as a great contender that not only provides you a clean signal but also offers you countless more features too!! So what are you waiting for, order the KZ AZ10 for just Rs 2,999 from here.