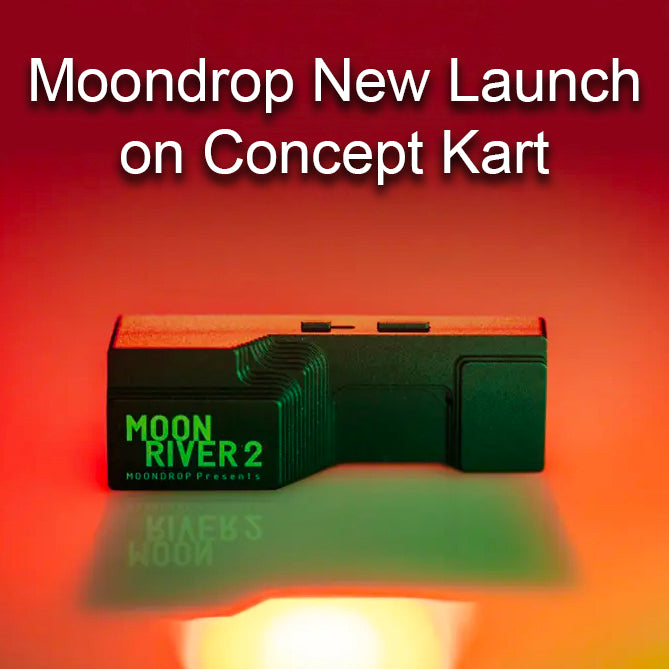 Moondrop Latest Product Launch In India: Moonriver 2, Aria Special Edition, & More
Gagan Jajoria
Moondrop is one of the most active HiFi audio brands from China. Over the years, they have gained a reputation as one of the top IEM brands from China. We at Concept Kart have always brought you Moondrop products here in India at the best prices online. Previously we have brought the Moondrop Kato, the KXXS, the Aria, and many more famous IEMs from Moondrop in India. Today, We are launching new and latest products from Moondrop on our website, do check them out below for the best deals available for you here in India. Now shop your favorite Moondrop with us without worrying about any hidden custom charges and get a full one-year warranty!!
Moondrop Moonriver 2:-
Released recently, the Moonriver 2 is the very first USB DAC/AMP to come out of the house of Moondrop. For the Moonriver 2, Moondrop has left no stone unturned, they have literally designed it with the best specs possible and deliver a tremendously clean and powerful performance for its users. Moonriver 2 gets a fully-balanced audio circuitry with dual CS43198 DAC chips. It has two headphone output ports, one balanced 4.4mm and another single-ended 3.5mm. Moondrop has designed the Moonriver 2 with dual OPAMP architecture for its four-channel balanced audio circuitry. With its premium Dual DACs and a fully balanced audio architecture, the Moondrop Moonriver 2 generates a clean and powerful output that can power your Hi-Res IEMs and headphones easily. We have the Moondrop Moonriver 2 available with us for just Rs 16,490!!
Take your portable music stack to an all-new level of awesomeness with the Moondrop Moonriver 2, Now available in India via Concept Kart.
Features:-
>DAC configuration: 2xCS43198.
>Headphone output: 4.4mm balanced + 3.5mm single-ended.
>High-resolution Decoding.
>PCM: 32/384kHz.
>DSD: Native DSD256.
>Swappable Type-C cable.
>Aluminum alloy chassis.
Price:-
Moondrop Aria Special Edition:-
Moondrop has recently launched a special edition for their famous Aria single dynamic driver in-ear monitors. Designed in collaboration between Moondrop & Hatsune Miku a Japanese Vocaloid digital singer this special edition of Moondrop Aria is being referred to as Moondrop Aria Elven Maiden. The internal configuration is kept the same as the original Moondrop Aria with a 10mm single dd unit that features a dual-cavity design and uses an LCP(Liquid Crystal Polymer) diaphragm for clean & powerful sound performance.
Moondrop Aria special edition is designed in a collaboration between Moondrop and Hatsune Miku. They have made the design and look of the Elven Maiden edition Aria with a Harp(a musical instrument), and Wings as the main elements on the faceplates. With its LCP diaphragm 10mm dual-cavity dynamic drivers, the Aria Limited Edition has got balanced sound response characteristics. The Moondrop Aria Special Edition is made available in limited numbers, so grab them before they go out of stock!!
Features:-
>Artistic new design.
>10mm dual-cavity dynamic driver.
>Liquid Crystal Polymer diaphragm coil.
>N52 Neodymium magnet circuit.
>CCAW voice coil.
>Comfortable fit.
>Impedance: 32Ω.
>Sensitivity: 122dB.
Price:-
Apart from these two latest Moondrop products, we also have other products of Moondrop likeThe Moondrop Quarks budget earphones, Moondrop Spring high-quality silicone ear tips, etc. Soon, we will be launching the latest single dynamic budget in-ear monitors from Moondrop, the Moondrop CHU, so stay connected with us at www.conceptkart.com we will be bringing you great deals on premium audio gears!!!