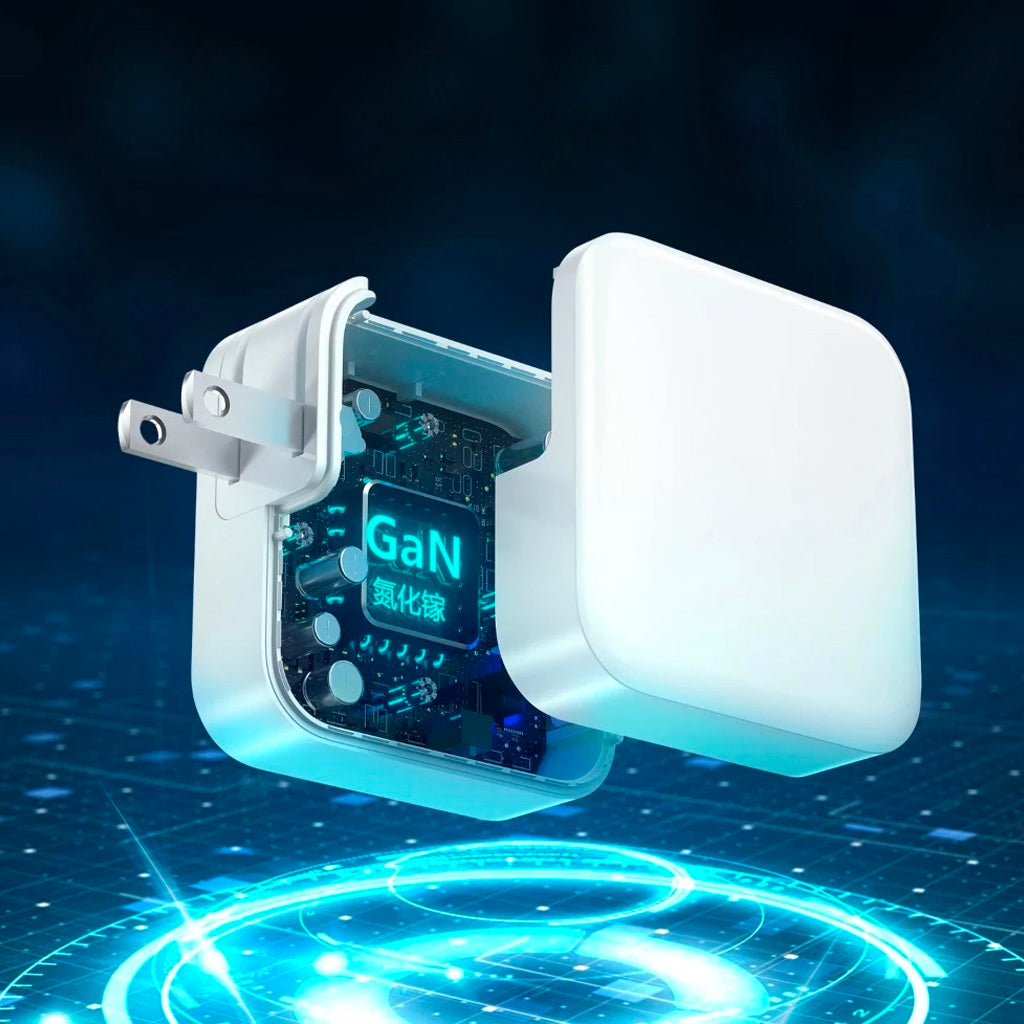 High-Power GaN Chargers Now Available In India
Gagan Jajoria
In 2021, the market for phone and laptop chargers is revolutionized with a brand new GaN charger technology. You can see plenty of powerful 100W and above chargers mentioned as GaN chargers in the market. We at Concept Kart are launching a wide collection of top-quality and widely recognized GaN chargers made specifically for your smartphones, laptops, and other devices. But first, we should know what a GaN charger actually is.
What is a GaN charger?
GaN stands for Gallium Nitride, a popular material used for solar cell arrays on satellites. It is a type of semi-conductor that produces less heat while producing better power. Less heat enables the components to be placed closer bringing more power from small, compact chargers. GaN is a crystal-like material that is capable of conducting high voltages of power, it is more efficient than any previously implemented technologies in chargers such as Silicone. These are not only better in terms of output power, but also has proper safety measures that protect the devices from overcharging or getting any kind of battery damage. They have proper power delivery system, allowing only the amount of output that is acceptable by the connected device. In short words, GaN chargers are the future of charging for our devices and gadgets.
Concept Kart is bringing you top-quality gadgets and products. We have launched multiple high-power GaN chargers on our website. Check some information about them below.
URVNS A1904 161W GaN Charger:-
Starting with the very best we have the ultra-powerful URVNS A1904, a 161W charger with PPS technology. The PPS technology supports Samsung's latest Adaptive Fast Charging Technology(AFC), Huawei's SCP/FCP, QC4.0/QC3.0 and other charging standard making it fully compatible with a wide range of gadgets and devices. It houses four high-speed ports, two USB Type-C and two standard USB 3.0. They operate simultaneously providing a powerful charging current that enables it to charge your devices more efficiently. It smartly charges your devices with efficient heat dissipation by adopting high-performance transformers, capacitors, and other components. URVNS A1904 is the ultimate solution for all your charging needs, it is priced at Rs 6,199.
Order URVNS A1904 from here.
URVNS A1903 150W GaN Charger:-
Sibling to the TOTL A1904, the A1903 outputs 150W of charging current. It resembles the A1904 in features by including PPS Technology, Four Outputs(2 USB Type-C+2 USB 3.0), and more. The A1903 has a built-in intelligent chip that enables the charger to adjust the output voltage, current, and Power allowing the users to connect multiple devices at once. With PPS Technology, the A1903 is suitable for most of the devices supporting Samsung AFC, QC 4.0+, QC 3.0, and other charging standards. It comes with a non-slip silicone pad that protects it from fall damage and prevents friction too. The A1903 is available with us for just Rs 5,499.
Order the mighty A1903 with us here.
URVNS CP 100PD 100W GaN Charger:-
Something designed for people who are trying to explore GaN chargers at a more affordable price segment. Priced at just Rs 2,499, the URVNS CP100PD has a 100W max output power rating. It has four output ports including one Type-C PD port, one USB 3.0 smart charge port, and two standard USB ports with a max output power rating of 2.4A. The USB Type-C PD port here has PPS technology following multiple charging standards including Samsung AFC, QC3.0, Huawei FCP, and more. CP100PD houses a USB 3.0 smartphone charger port that adjusts the output as per the connected devices. It supports QC3.0, FCP, AFC, and 2.4A output. Max output power rating via this port is 5V/3A(18W). The other two USB 3.0 ports have a fixed output power rating of 5V/2.4A(12W) with support for QC 3.0, FCP, AFC standards. This compact yet powerful device is priced at just Rs 2,499.
Order the URVNS CP100PD from here.
URVNS P310 100W PD Adapter:-
Another beautiful and powerful power adapter from URVNS is the P310 100W PD Adapter. It houses four output ports with three USB Type-C and one USB Type-A adapter. The first two or top two USB Type-C ports have a max output power rating of 100W with PPS technology support. The third USB Type-C port supports PD3.0 technology with a maximum output power rating of 20W. USB 3.0 Type-A port has a max output power rating of 18W. One can simply use the URVNS P310 100W PD adapters to charge their laptop, smartphone, or any other device at unbelievably fast charging speed. GaN technology has allowed us to design high-power adapters in compact form factor. The P310 PD is an ultra-compact adapter, you can take it with you anywhere you go!!
Priced at just Rs 4,299, the P310D is a stellar power adapter. Order yours from here.
CHOETECH PD8002 65W GaN Charger:-
CHOETECH PD8002 is a powerful GaN charger that supports stable fast charging with maximum power ratings of up to 65W. It houses two output ports, one PD USB Type-C and another USB A port with 5A/2.4A ratings. Users can connect devices with both the ports simultaneously, it provides full-speed charging to them at the same time. With multiple high-performance transformers and other components, this power adapter is designed to work with both PD and QC charging standards. The CHOETECH PD8002 is available to purchase for just Rs 2,999.
Order this stunning GaN charger from here.
URVNS CT31 100W Charging Type-C to Type-C Cable:-
For the best quality charging experience, we recommend you to use these powerful GaN chargers with high-quality charging cables. We recommend you to get this URVNS CT31 100W Type-C to Type-C Charging cable. It houses Hynetek HUSB332 Chip that smartly provides only the required amounts of charging current and voltage to the connected devices.
Order this cable from here.