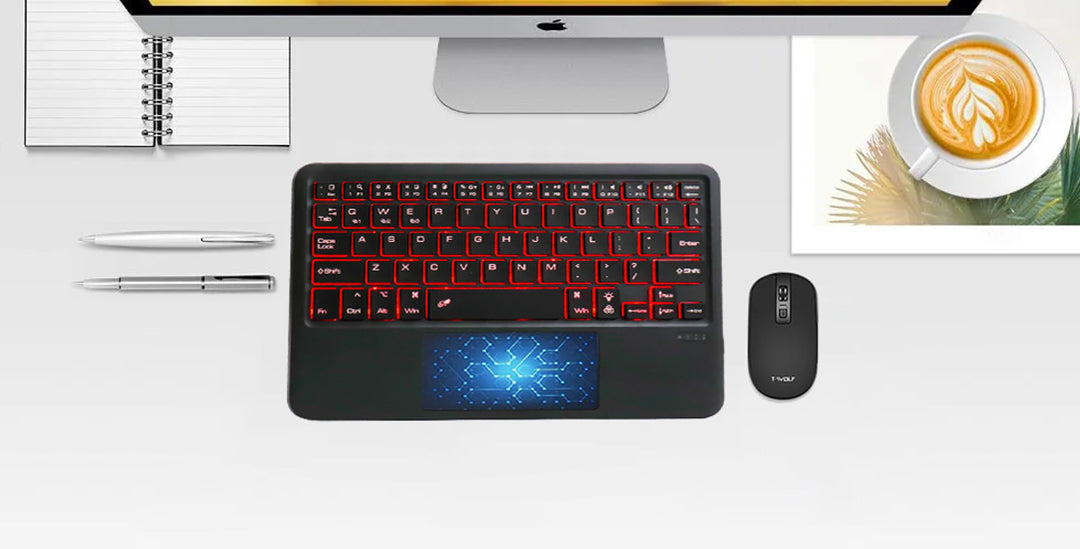 Best Wireless Keyboards Under 2000
Gagan Jajoria
A Keyboard is a very important component of any computer system. You just can't use any computer system properly without a keyboard. Whether your system is in an office or you have a personal gaming setup, you always need a comfortable keyboard for easy usage and comfortable typing. Even laptop users sometimes prefer using wireless or wired external keyboards for ease of use and personal comfort. A comfortable or familiar keyboard helps you respond quickly with a familiar layout. In 2023, most keyboards have gone wireless that too with Bluetooth connectivity allowing multi-device connection. This also allows for easy connections with both Computer/Laptop systems as well as Tablets. This brings versatility at a big level for the users, giving the user full freedom of typing their next article or blog at their comfort.
We at Concept Kart have brought you a wide range of handpicked gadgets that will help you with your day-to-day tasks. This includes a big category of Wireless Keyboards that are available at pocket-friendly prices. Our products are carefully tested for durability, comfort, and features. Today, with the help of this blog, we are sharing our top-five keyboards that are our personal favourites, our top picks in the wireless keyboards category that too at a pocket-friendly price point of right under Rs 2,000. So, let's get our keyboards typing and begin with our list!!
Key Features: Up to 3 Devices simultaneous connection, multi-touch trackpad, compatible with iOS, Android, Windows, and Mac devices, Seven-Color Backlight.
Ideal for: Office & Gaming Use.
B102D is an ultra-slim portable wireless Bluetooth keyboard designed with a multi-touch gesture-supporting trackpad. It connects flawlessly with your Tablets and Computer systems and provides you with easy usage. The keyboard itself has a Compact layout that is very familiar with laptop keyboards. It's fully compatible with Mac and Windows systems with Command/Option and Ctrl/Alt keys. B102D supports multi-device connectivity, allowing for simultaneous connection with three devices. B102D also has a 7-color dynamic RGB backlight. It supports easy charging with a USB Type-C port. With a built-in trackpad, you get easy tracking on your tablets and computer systems without a dedicated mouse.
 Price: Rs 1,599.
Key Features: Ultra-slim lightweight design, Wireless Bluetooth connectivity, Comfortable Typing with Low-Profile Round-Shaped Keys, Automatic Sleep/Wake Function.
Ideal For: Office Use.
260C is a Wireless Bluetooth keyboard with comfortable low-profile round-shaped keys. The Keyboard has an ultra-slim lightweight design which makes it super easy to take anywhere we go. It's not just slim and portable, but also has a stylish design with a beautiful, eye-soothing colored finish. Wireless Bluetooth connectivity allows for easy connection with different devices including tablets, computers, and laptops. It has dedicated system-specified keys for Android, iOS, and Windows devices which makes it super handy and versatile. Typing on the 260C is super comfortable, it has round-shaped keys that provide a comfortable grip with fingers. 260C also includes a multi-touch trackpad. It's one of the best keyboards you can grab at a pocket-friendly price for your daily usage.
Price: Rs 1,349.
Key Features: Dynamic RGB Backlight with different lighting modes, Compatible with Windows, iOS, and Android devices, Multi-touch gesture trackpad, Silent Operation With Scissor Keys.
Ideal for: Gaming and Office Setups.
TECPHILE HB118D is quite an amazing keyboard that will get you drooling with its dynamic RGB backlighting. The keyboard features a multicolor RGB backlight that can be adjusted in seven different modes, creating a full dynamic atmosphere for the users. It supports multiple systems with system-specified keys for each system. HB118D is designed with super quiet Scissor keys. They not only provide comfortable typing but also has a super quiet operation. This makes this an ideal choice for office systems. TECPHILE has also featured a multi-touch smart gesture trackpad on the keyboard enabling easy tracking on connected systems!! It's one of our top-favorite keyboards under Rs 2,000!!
Price: Rs 1,499.
Key Features: Ultra-slim portable design, Seven Color Bright backlight, Great Price, Automatic Sleep Mode.
Ideal For: Office Use.
Concept Kart CS030D is one of our most affordable offering in this segment But that doesn't mean it's not good. It's a great keyboard with comfortable typing and wireless Bluetooth connectivity. CS030D features a seven-color bright backlight and a vivid shell design as well. It looks beautiful, works flawlessly, and comes easy on the pocket as well. It feels like this keyboard ticks all the boxes at an exciting price point!!
Price: Rs 999.
Key Features: Comfortable typing, Ultra-Slim Design, 7-Color Vivid Backlit Design, High-Sensitivity Smart Touchpad, Stylish & Portable design, Quiet typing with Scissor Keys.
Ideal For: Office & Gaming Setups.
250D is one of the most comfortable keyboards in our collection. This keyboard has been designed with super comfortable and quiet round-shaped scissor keys. They not only offer quick keystrokes but also give quiet feedback on every single keystroke. It has Wireless Bluetooth connectivity for easy and simple connection with most devices including smartphones, tablets, laptops, and desktop computer systems. 250D also houses a seven-color bright backlight. It also houses a high-sensitivity multi-touch gesture-supporting trackpad!!
Price: Rs 1,649.
Final Words:-
This completes our list of top favorite wireless keyboards that hit the sweet spot with comfortable typing, features, and price brackets. If you are someone who is looking to add a portable wireless keyboard to your setup that too at a pocket-friendly price point, we are pretty sure this list will be helping you out. For any further questions and queries, do reach out to us through our website!!