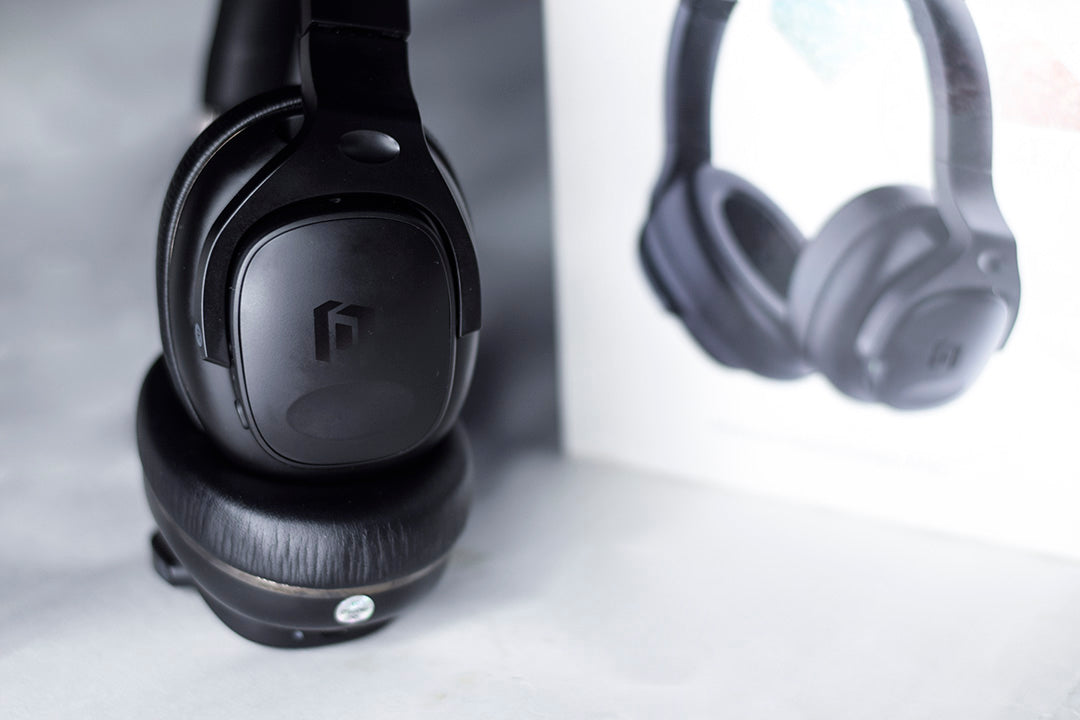 Mobvoi TicKasa Noise-Cancelling Bluetooth Headphones Review
Gagan Jajoria
Being an audio enthusiast or you can call me an audio lover, I have always been open to trying out different types of transducers including In-ear monitors, Over-Ear Headphones, Bluetooth earphones, and even Bluetooth Headphones. While I have a personal opinion that wired and wireless will always have a huge quality difference, the latest wireless products in the market say otherwise. With updated Bluetooth transmission protocols like LDAC/APTX HD, wireless Headphones and earphones have achieved impressive acoustic performance. They also offer digital ANC(Active Noise Cancellation) that effectively cuts down on the background noises letting one enjoy their music in full isolation. Today, I am gonna share my experience, my review with a Bluetooth over-ear headphone, the Mobvoi Tickasa ANC BT Headphones.
Mobvoi TicKasa ANC BT Headphone:-
Mobvoi is a high-tech brand associated with multiple gadgets specializing in smartwatches. The Mobvoi TicKasa ANC BT headphone with upgraded hybrid ANC technology. It has five built-in microphones that capture the outside noises and cut them down significantly. It has a Qualcomm QCC3031 Bluetooth chipset, the TicKasa BT Headphone supports high-res audio signal streaming with aptX HD protocols. It is available in India via Concept Kart priced at just Rs 7,499.
Disclaimer:-
This unit was provided to me free of cost by Concept Kart in return for this review. I just wanted to try out a good BT headphone before purchasing one for myself, they allowed me to test the Mobvoi TicKasa. I am not affiliated or paid by Concept Kart to write positive or negative reviews, all impressions here are completely my own. You can purchase it from their store link here.
Before we begin here are the Pros and Cons of Mobvoi TicKasa BT ANC Headphone.
Pros:-
>Smooth sound tuning.
>ANC works well.
>Swiveling ear cups.
>Comfortable and lightweight.
>Hard carry case.
>Can be used with wired Aux connection.
>Mic quality is good.
Cons:-
>Full plastic build.
>No transparency mode.
>Sound lacks extensions a the top and lower end.
Mobvoi Package:-
The Mobvoi TicKasa BT headphones come packed in a white hard cardboard box with an image of the headphone printed right on the front with shiny ANC written right behind it. The packaging here is quite simple and nothing extra-ordinary to focus on. Inside we have all the contents in a hard zipper carry case. The contents of the package are Mobvoi TicKasa BT headphones, one 3.5mm-3.5mm aux cable, one micro-USB charging cable, and some documentation.
Design and Build:-
The headphone here mainly has a hard plastic built-in matte black finish. It looks classy and elegant. The headband is adjustable with a metallic frame and cushioned headband for comfortable use and solid structure. Mobvoi has treated the headphones with soft leather earpads ensuring a comfortable listening experience for the users. All controls are present on the right side ear cup that includes a power on/off button that is also used for turning the noise cancellation feature on/off, Three media keys(One play/pause, two-volume keys), and an aux port. A charging micro-USB port is present on the left ear cup. The ear cups here swivel around their axis with a movement close to 180° allowing the users to adjust the fit as per their comfort. Despite being fully plastic, the headphone feels quite solid. A rich matte finish provides it with a smooth and elegant look.
Turning It On & Connectivity:-
Simply press and hold the NC key on the right ear cup for three seconds to turn the headphone on. It will inform you with voice commands like "Power On", "connected", "ANC is on/off" whenever you do the appropriate action. Connecting it is very simple, just search your nearby Bluetooth devices and it will come as Mob HP ANC 2957. The connection here is also stable and firm over a range of up to 10-12 meters(Unblocked). There is no noticeable signal loss or lag in the signal that I faced while using the Headphone with my Apple iPhone 12 mini. The headphone maintained a solid connection with my phone. Though as I go above 8-9 meters, there is a very slight lag introduced in the signal.
Active Noise-Cancellation:-
I first tried the ANC recently when I got to try my friend's Air Pods Pro. Honestly, I felt very pressurised at the beginning. I mean, the silence was almost cutting it down to my nearby sound completely but slowly I got used to it and now I enjoy this darkness. I could listen to my music in complete darkness. Coming the ANC performance of the Mobvoi headphone here, it is quite solid. Similar to the AirPods Pro, it effectively reduced background sound. I could no longer hear my wife screaming at me for doing another audio gear purchase, so it's a win for me. It effectively reduced the TV sound that was in the room, I no longer get a mixture of my music with tv advertisements, again a win-win situation here. With this experience, I can say the ANC in Mobvoi headphones works flawlessly. But where it lacks will be a lack of transparency mode. There are only two modes, ANC on and ANC off, there should be a transparency mode too that allows close voices to peep in allowing one to talk to people nearby.
Battery Life:-
The company claims its battery life to be about 30 hours. During my usage over the past week, the headphone lasted on me for about 28 hours listening at 70% volume AAC codec with my Apple phone. I expect it to drop to about 24-25 hours while using high-resolution aptX HD protocol. Though with ANC this gets reduced a bit like 20-22 hours on AAC codec. I had to charge it only twice over the past week, so the battery life is quite solid for your day-to-day use.
Sound Quality:-
First thing straight, I should say I am impressed by the sound quality of Mobvoi here. Most of the wireless headphones/earphones I have tried to date that including many models from Boat, OnePlus, and JBL, all have a bass-boosted sound signature. TBH, I didn't expect it to sound this good, I was expecting it to also have a bass-boosted sound profile as that is how 99% of the consumer market products are. But to my surprise, Mobvoi has a smooth U-shape profile. The bass and treble region are elevated but in a nice and smooth manner. You won't say it is bass boosted or lacks clarity at all. The headphone has a neutral to slightly bright sound profile with no noticeable harshness or sibilance. It produces a pleasing listening experience with a decent lower end, smooth midrange, and inoffensive treble response.
Mobvoi TicKasa produces some decent thumps in the lower end with good speed and decay. They don't go too deep but at the same time doesn't take all your attention with a boosted profile. It is a tightly-controlled presentation, the bass region doesn't overlap or leak to the mid-range. The overall lower-end presentation has good quality and quantity, though the extension here could be better. Midrange and vocals are the main attraction here with Mobvoi. The headphone maintains good clarity and presents you with beautiful vocal performance for both male and female vocals. Instruments such as acoustic guitars, Piano's have good detail and separation with them. Treble tuning is done professionally here. Like the lower end, the top end isn't too extended either, but the overall presentation retains good amounts of detail. I simply love that the Mobvoi isn't sharp or edgy with the treble region. The notes are presented smoothly and are actually pleasing to listen to.
In terms of sound dynamics such as soundstage, layering, imaging, I would say Mobvoi performs decently. In fact, it sounds better than most of the consumer-grade Bluetooth gears I have listened to date. The only thing I would say sounds better will be Apple Air Pods Pro but see the price difference here.
Final Words:-
Personally, I am mightly impressed with the Mobvoi TicKasa. I didn't expect it to sound to this level, I mean I have tried so many gears from different brands but just couldn't connect to a wireless one. Most of them had a boosted lower end that overlapped everything else in the sound, but this beauty here retains all its clarity with a decent lower-end response. In terms of ANC and SQ performance, it is close to the Air Pods Pro that is priced almost four times its price. Mobvoi TicKasa fulfills its purpose as a Bluetooth headphone with Bluetooth V5.0 connectivity that doesn't drop regularly and maintains a stable connection. I will be getting this one for myself for watching movies, Netflix, and casual music listening. I would like to thank Concept Kart for letting me audition the Mobvoi TicKasa, you can purchase it from their store link here.