Explore the Universe from the Comfort of Home with Smart Galaxy Starship Projector
Product Name
Galaxy Starship Projector
Laser Power
30mW 515mm Green
LED Power
Red: 1W, Green: 1W, Blue: 1W
Music Connectivity
Bluetooth
Application
Home Light, Part Light, Atmosphere Light, Bedroom Night Light, Theater, Restaurant, bar etc.
Control Mode
Touch Control, App Control, Physical Buttons
Connect Voice Platforms
Google assistant, Amazon Alexa
Watts : 24W
What will you get
1 X Galaxy Starship Projector
1 X USB-C Charging Cable
1 XUser Manual
6 MONTHS WARRANTY
Don't worry, Tecphile B018 Foldable Wireless Keyboard comes with a 6 Months warranty against manufacturing defects. We guarantee that every product on Concept Kart is genuine and backed by the Manufacturer's warranty.
Read more about Concept Kart's warranty policy.
FREE SHIPPING ON ALL PREPAID ORDERS
We usually ship orders on same day if ordered before 2 pm or within 24 hours if ordered later (except on holidays/sunday, where processing times may be higher) from one of our domestic warehouses based out of Delhi. It normally takes around 1 to 5 business days for delivery. We use premium service partners such as Blue dart, DTDC and Delivery for faster and reliable service. A tracking number will be provided upon shipment.
In very rare cases when order is not received after 10 business days of shipment (extended by number of days when the govt. Restricts movement of goods due to factors such as coronavirus pandemic), please contact us and we will provide you a refund.
3 IN 1 NEBULA, AURORA & GALAXY EFFECTS
The latest and most unique galaxy starship projector, which has 3 effects like Nebula, Aurora, and Galaxy. This night lamp projector has effects of colored clouds, shooting stars, beautiful sky and 9 Planets. You can set any effect Earth, Jupiter, Mars, Moon etc, change the light effects via app. The clouds float like ocean waves quietly under the night, allowing you to experience different and interesting starry nights. It can stimulate children's interest in astronomy. It helps children inspire curiosity, imagination, and creativity.
BUILT-IN 8 WHITE NOISE
This Starship projector has 8 Built-in white noise which help you in sleeping every night. When you're having issue sleeping at night due to insomnia, plugged the projector in your bedroom and the atmosphere and music will make sleep. This can also use to asleep your Baby/kids peacefully. It has sound of Birds, Stream, Wind-bell, Ocean Wave, Wind/Rain, Baby Smile, Soft Music, Crickets. The light can be dim enough to not keep you awake but bright enough to make sure you don't trip over anything in the room.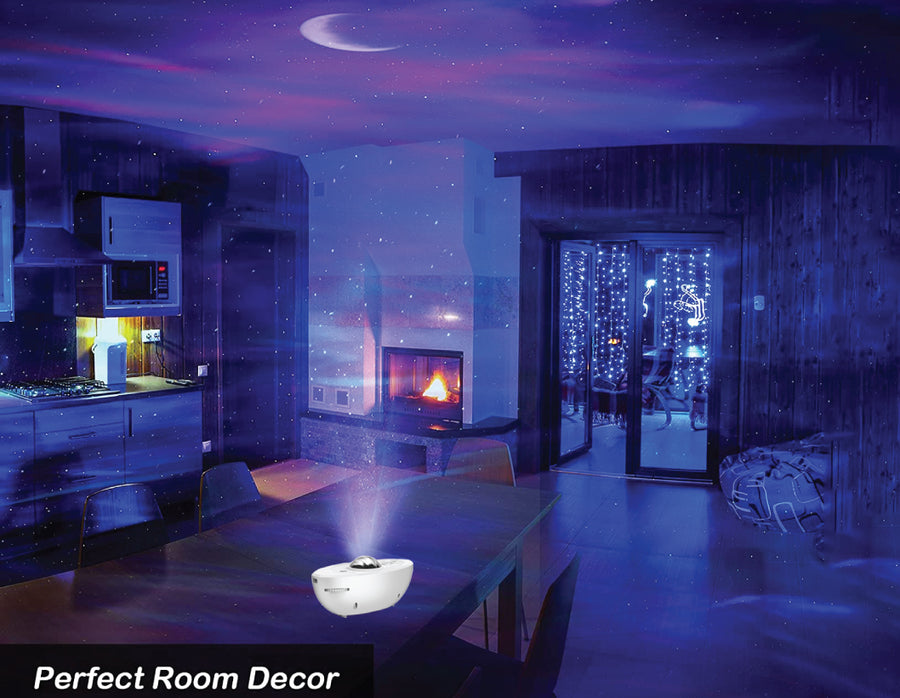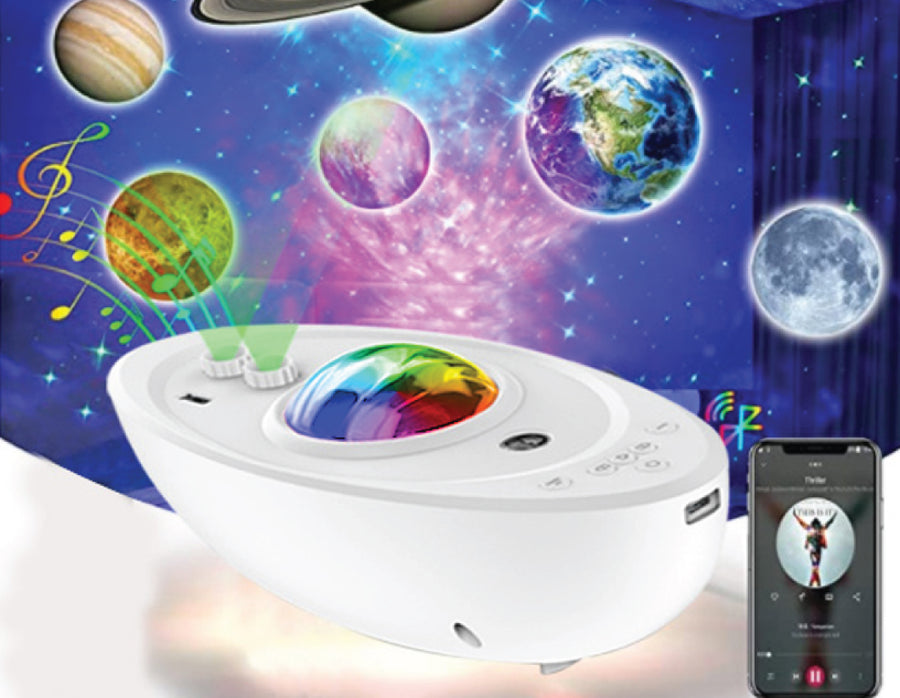 BLUETOOTH CONTROL MODE & USB POINT
This smart projector can be used with smartphones via Bluetooth, and it also has a USB slot option (Does Not Include any USB Accessories Used in Photos to Represent Its Features such as USB Fan, Light). Not only a galaxy starship projector, but also a music player. Enjoy the fantastic starry while listening to music. The lights flicker with the rhythm of the music, producing a richer galaxy projection effect! Listen to your favorite music, relax and practice yoga, fitness and meditation to reduce work fatigue.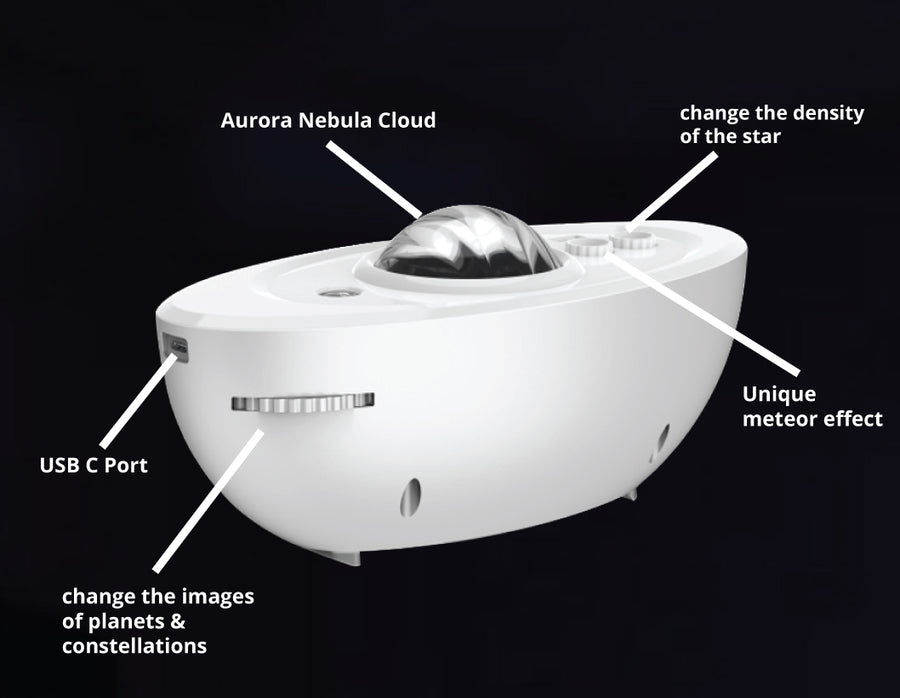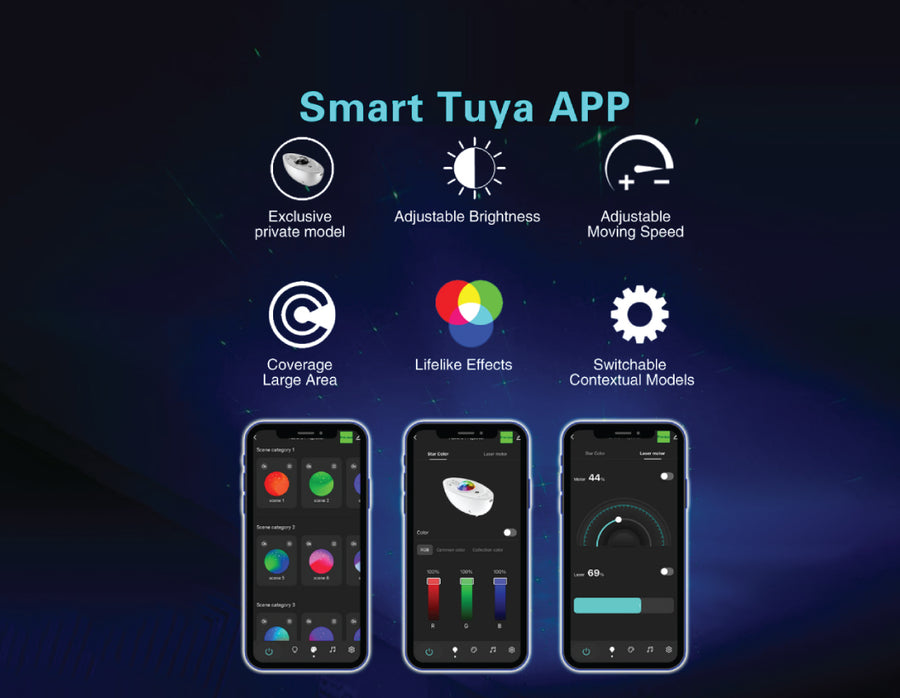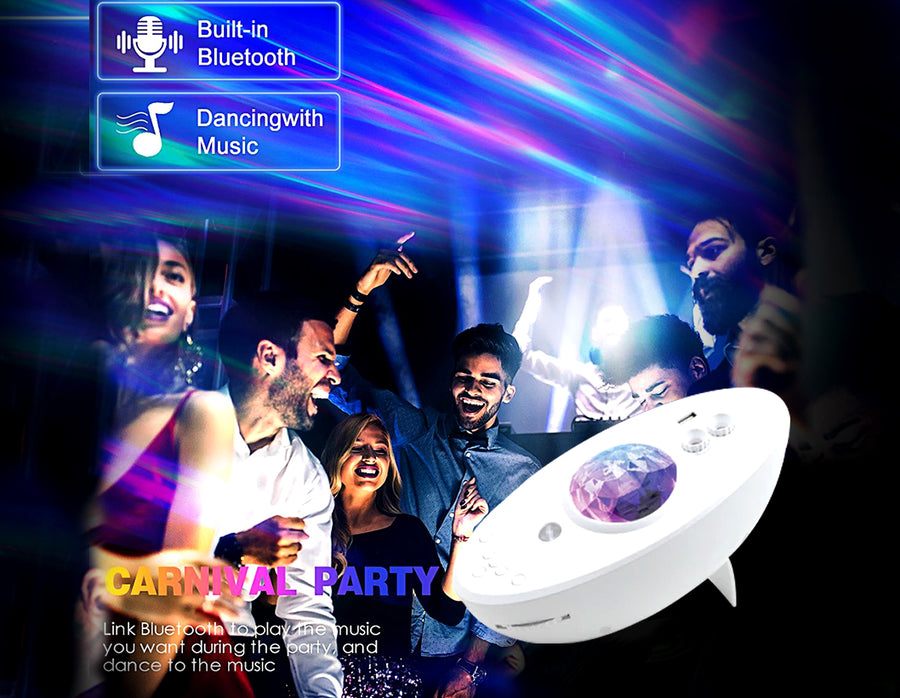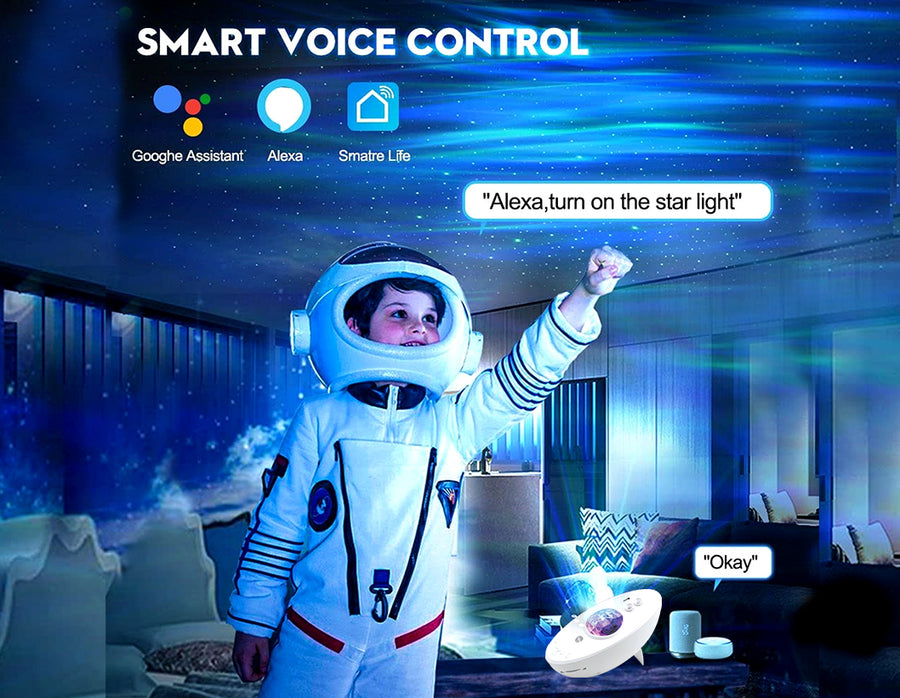 APP CONTROL & VOICE ASSISTANCE
This Wi-Fi smart Projector also control via smart app. Download "TUYASMART" APP to control the projector from anywhere. You can change the colors and lighting scene of the star light through the smart app. You can also turn on the night light projector via voice commands from Alexa or Google Assistant. Let Alexa do the work and you just take a rest and enjoy the light.
USB CABLE POWERED & AUTO-OFF TIMER
This cosmos star projector is powered by USB Type C. Enjoy night sky light projector all night or timer will stop your galaxy room light projector night light in 2 or 4 hours when you have fell into a peaceful sleep, so you don't have to worry about shutting it down. You can easily change all settings by the App control.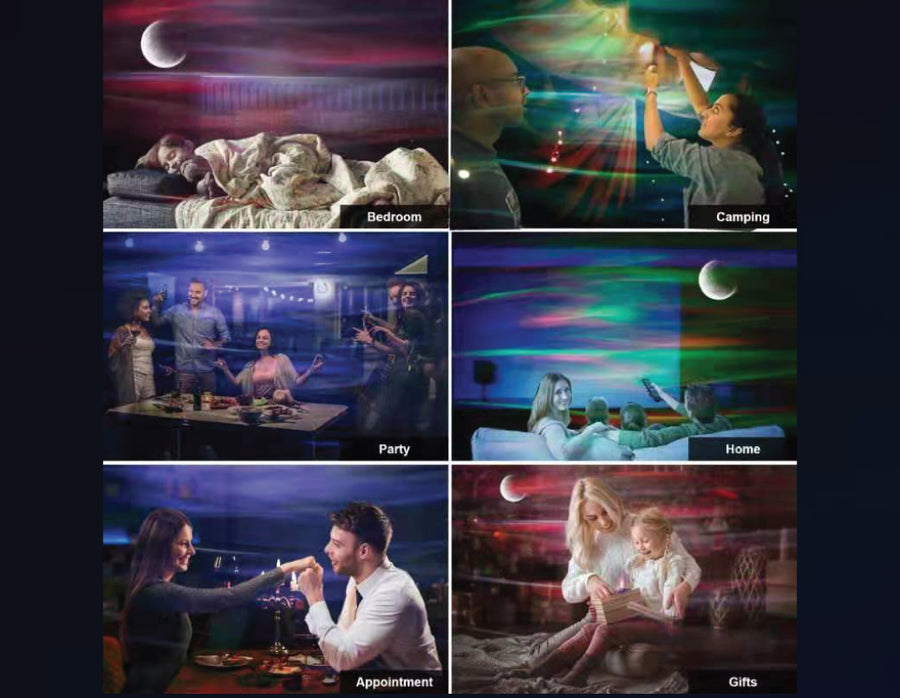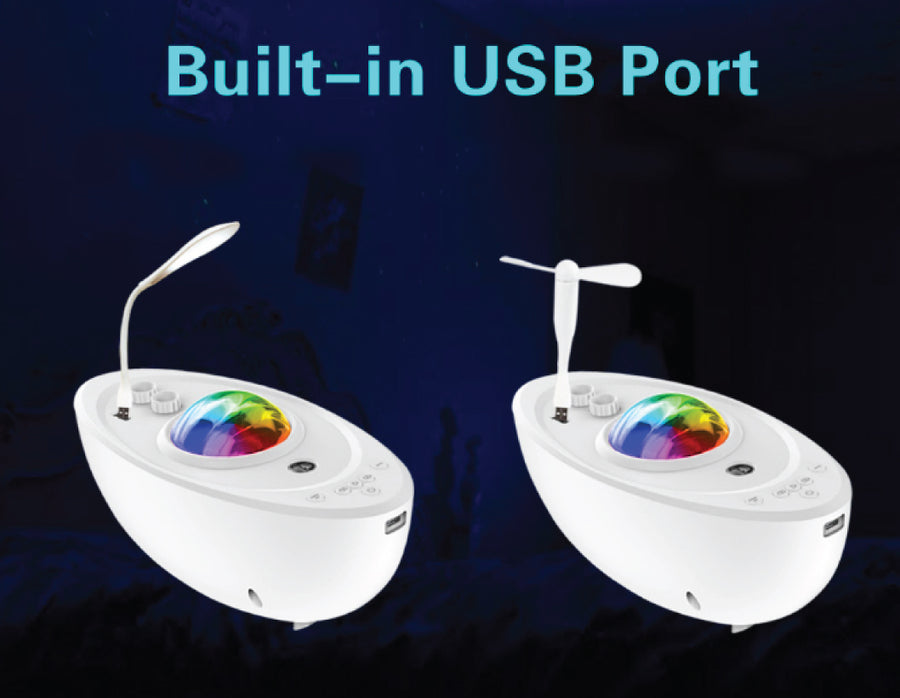 LIGHT MAKE ATMOSPHERE
The Nebula Projector is a multitasker projector, you can use for home, party, wedding, birthday, holiday, decorative lights. It can also make atmosphere for romantic dinner or gaming. Therefore, this means you don't need to buy a lot of lights, which saves money. The light can be dim enough to not keep you awake but bright enough to make sure you don't trip over anything in the room. How to use

Power Button
Step 1: Short Press to turn on the Projector.
Step 2: Long Press the button for 5s until blue lighting up to get distribution network.
Step 3: Download and Open the Tuya smart app, click on add device
Step 4: Click on Auto scan
Step 5: Click on Galaxy Starship
Step 6: Choose Wi-Fi and enter password (It will start connecting)
Note: This is not a Movie Projector.

BUILT-IN SPEAKER
Galaxy Starship comes with Built-in Bluetooth speaker, allowing You to wirelessly stream audio from their devices and enjoy music, podcasts, or other audio content. The Bluetooth speaker connect to smartphones, tablets, or other compatible devices via Bluetooth technology, eliminating the need for wired connections. Providing You a convenient and immersive audio experience enhancing your enjoyment and entertainment during the space journey.
Setting Up the Projector as A Bluetooth Speaker
Step 1: The Bluetooth feature of the projector is turned ON by default, and you will hear a voice prompt saying, "Bluetooth Mode "when you turn ON the projector.
Step 2: Now, turn ON the Bluetooth on your smartphone, tablets, computer, or other devices, and set it to search for a new device.
Step 3: Select the "ZAD-C1" from the list of devices.
Step 4: Once paired, you will hear a voice prompt" The Bluetooth device is connected successfully."

Excellent Night light for Kids
My 4 years Daughter loves it.
Thank you for your feedback about your experience at our store. Your review means a lot to us and helps spread the word about our business to other customers like you!
Product title
Vendor
Rs. 19.99 | Rs. 24.99
Product title
Vendor
Rs. 19.99 | Rs. 24.99
Product title
Vendor
Rs. 19.99 | Rs. 24.99
Product title
Vendor
Rs. 19.99 | Rs. 24.99