Unmatched Sound, Uncompromising Quality
Product Name
TANCHJIM Kara Flagship 1 DD + 4 BA Hybrid In-Ear Earphone
Frequency Response
7-40Khz
Pin
Gold Plated Straight Pin
Conductor
Litz Oxygen-free Copper Wire
What will you get
1x Tanchjim Kara IEM
1x Detachable Cable
6x Pair Eartips
1x Earphone Case
1x User Manual
1x Warranty Card
1 YEAR WARRANTY
Don't worry,TANCHJIM Kara Flagship Hybrid IEM comes with a 1 Year warranty against manufacturing defects. We guarantee that every product on Concept Kart is genuine and backed by the Manufacturer's warranty.
Read more about Concept Kart's warranty policy.
FREE SHIPPING ON ALL PREPAID ORDERS
We usually ship orders on same day if ordered before 2 pm or within 24 hours if ordered later (except on holidays/sunday, where processing times may be higher) from one of our domestic warehouses based out of Delhi. It normally takes around 1 to 5 business days for delivery. We use premium service partners such as Blue dart, DTDC and Delivery for faster and reliable service. A tracking number will be provided upon shipment.
In very rare cases when order is not received after 10 business days of shipment (extended by number of days when the govt. Restricts movement of goods due to factors such as coronavirus pandemic), please contact us and we will provide you a refund.
INTRODUCING THE EXQUISITE TANCHJIM KARA EARPHONES
Tanchjim has created a truly stunning design for the Kara. These in ear monitor have a beautiful, clear shell that resembles a crystal. The shells are made of top-notch resin material, which is used in medical settings. They are lightweight, small, and have a sleek design.
EXPERIENCE THE POWER OF FIVE-DRIVER HYBRID TECHNOLOGY
Tanchjim Kara IEM are designed with a special setup of five different drivers. They have a DMT3 dynamic driver unit with a unique PU+Peek Composite diaphragm, along with four high-performance balanced armature drivers. These drivers work together to create amazing sound quality, making your music come to life with its natural tones and vibrant response.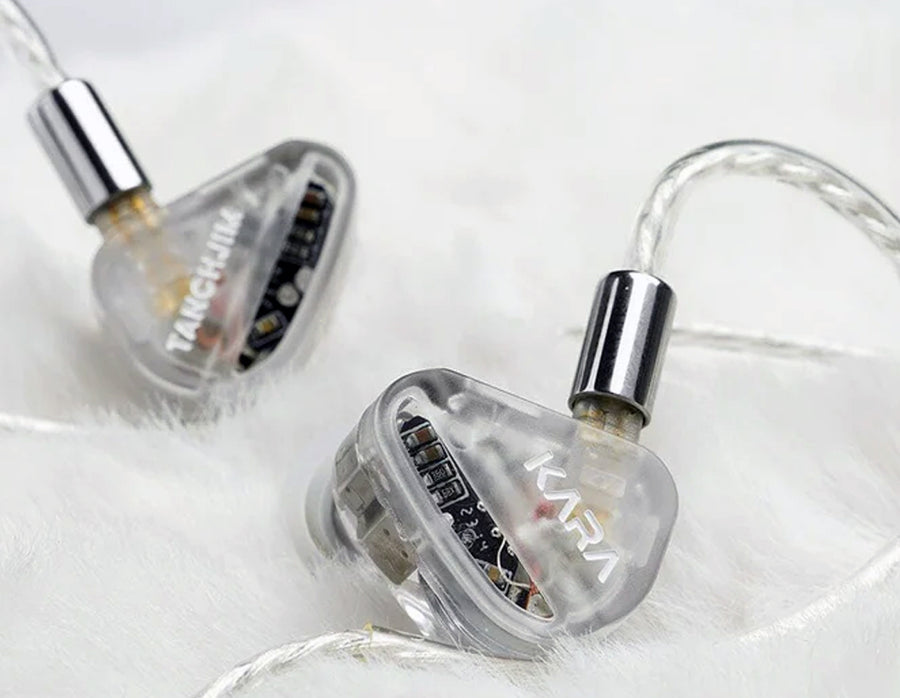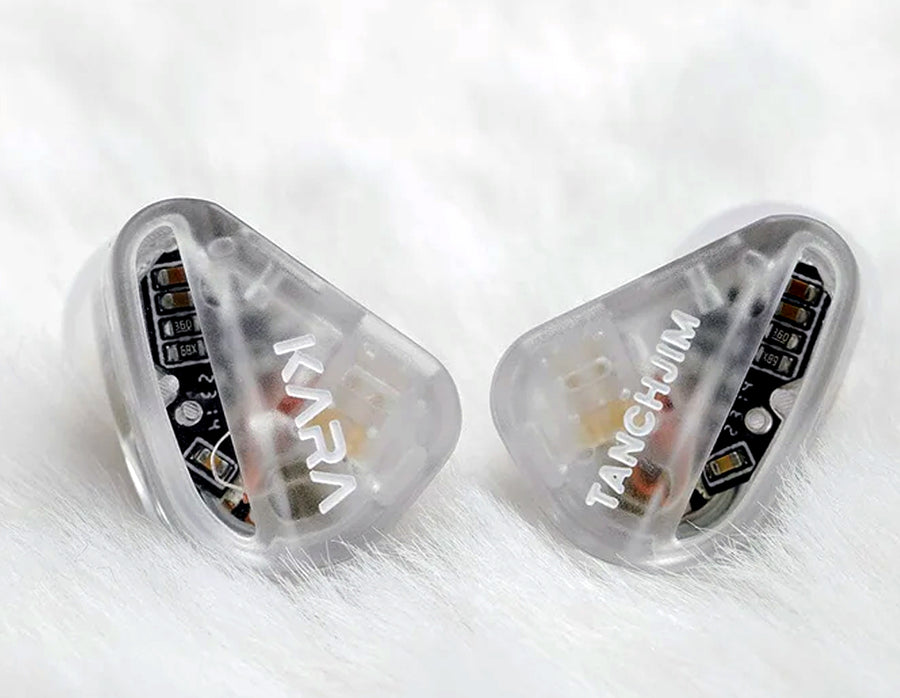 THREE-WAY ANALOG FREQUENCY DIVISION ARCHITECTURE
Tanchjim Kara in ear monitor use a three-way analog frequency crossover to arrange the drivers effectively. This system, combined with a precisely designed electronic crossover and 3D printed acoustic tube cavity, ensures clear sound with minimal interference. The Dynamic Driver is optimized for powerful bass, the dual SONION 2389D balanced armature driver unit handles mid and high frequencies, and the customized dual composite balanced armature driver unit excels in producing unmatched ultra-high frequencies.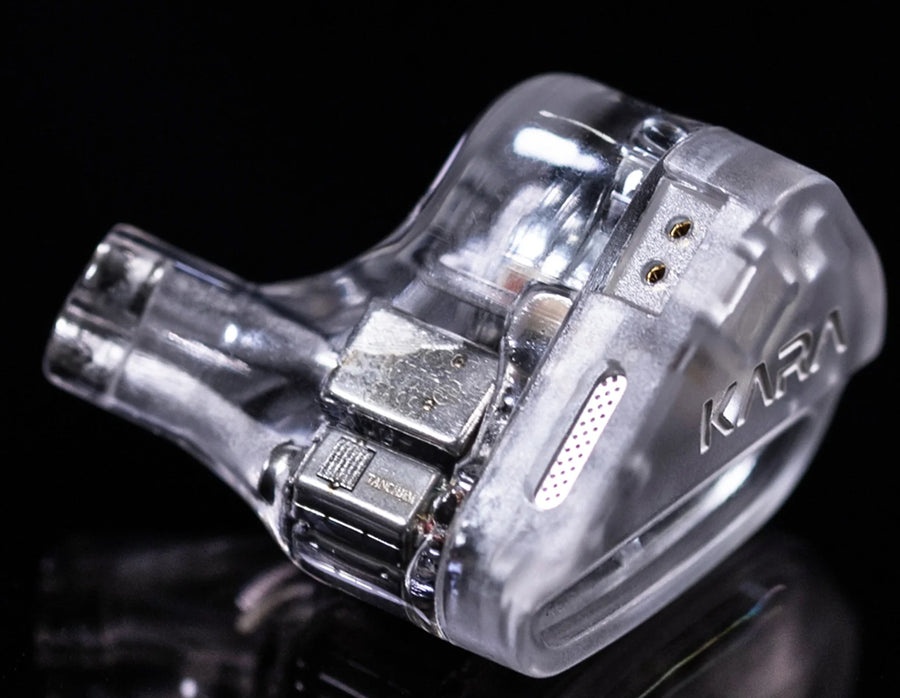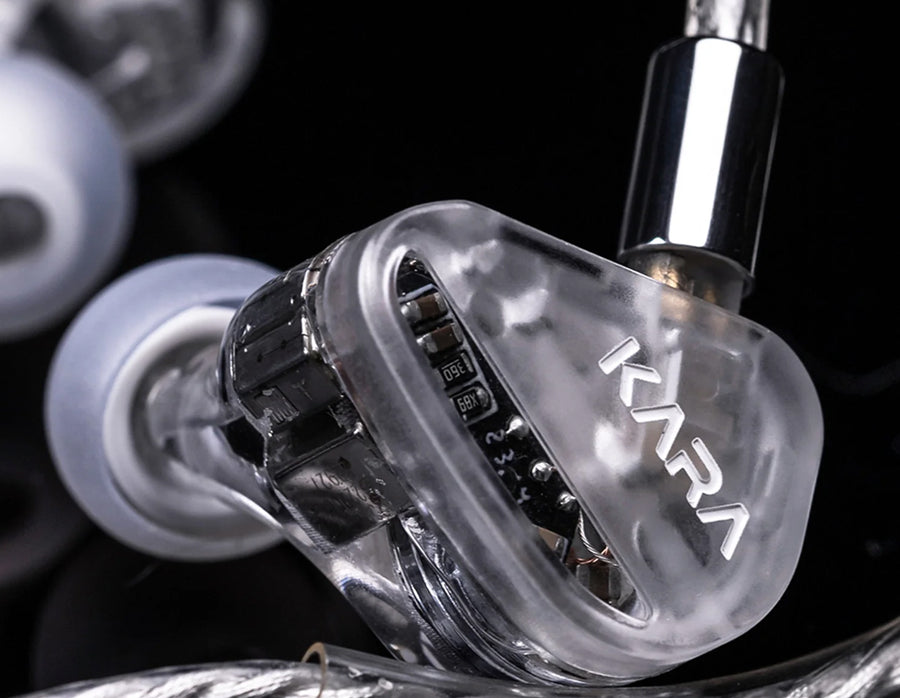 COMPACT AND COMFORTABLE
The Tanchjim Kara earphones are crafted with a small and compact form factor, made possible by a meticulously designed acoustic tube structure. Through scientific engineering, space utilization has been optimized, resulting in a sleek design. Not only does this compact size contribute to a visually appealing aesthetic, but it also guarantees a comfortable and secure fit for users.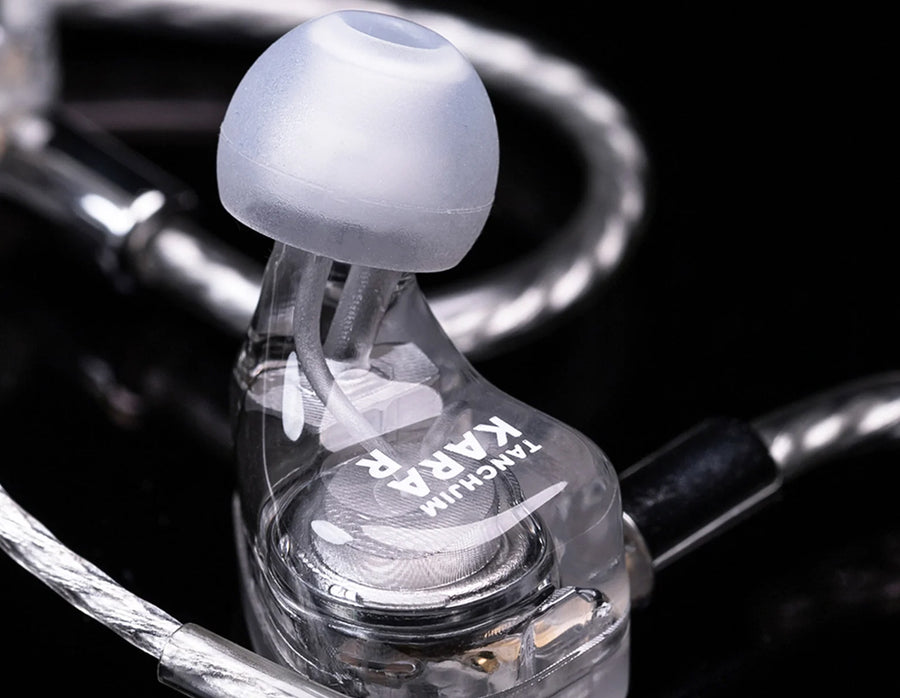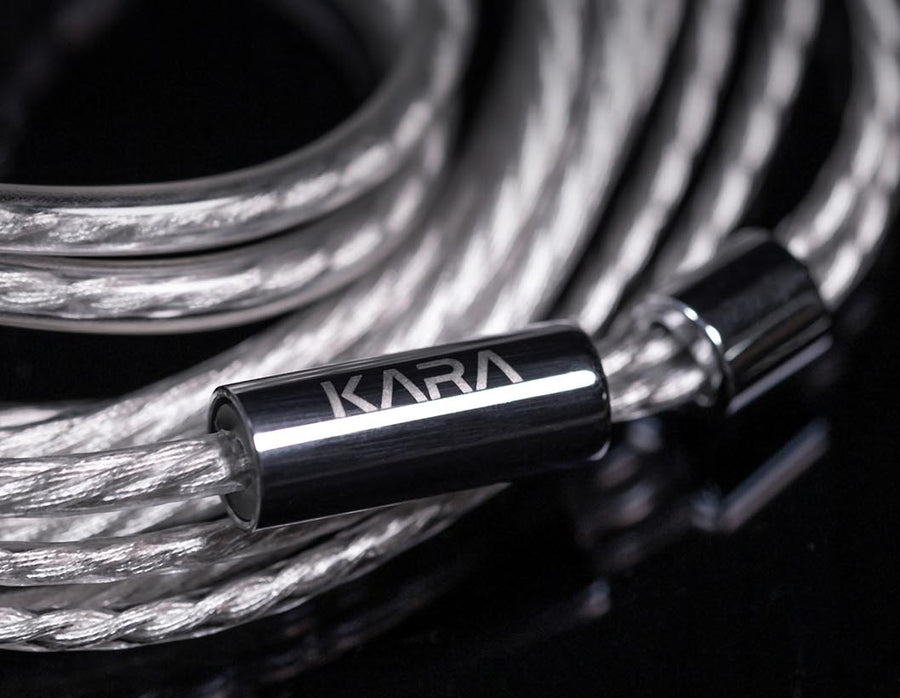 PROFESSIONALLY TUNED SOUND RESPONSE CURVE
Tanchjim has meticulously fine-tuned the sound of the Kara, aligning it with their specially designed HiFi tuning curve. This results in a remarkable audio experience characterized by a seamless ultra-high frequency response, impactful bass, and crisp, vibrant midrange. The Kara achieves a well-balanced sound profile that is sure to impress.
HIGH-PURITY SILVER PLATED CABLE
Tanchjim provides a premium stock cable known for its exceptional quality. This cable is made of 6N oxygen-free copper with silver plating, ensuring high purity. The cable has a Litz texture that makes the wire soft and anti-oxidant. The metal components on the wire are made up of high-quality stainless-steel material.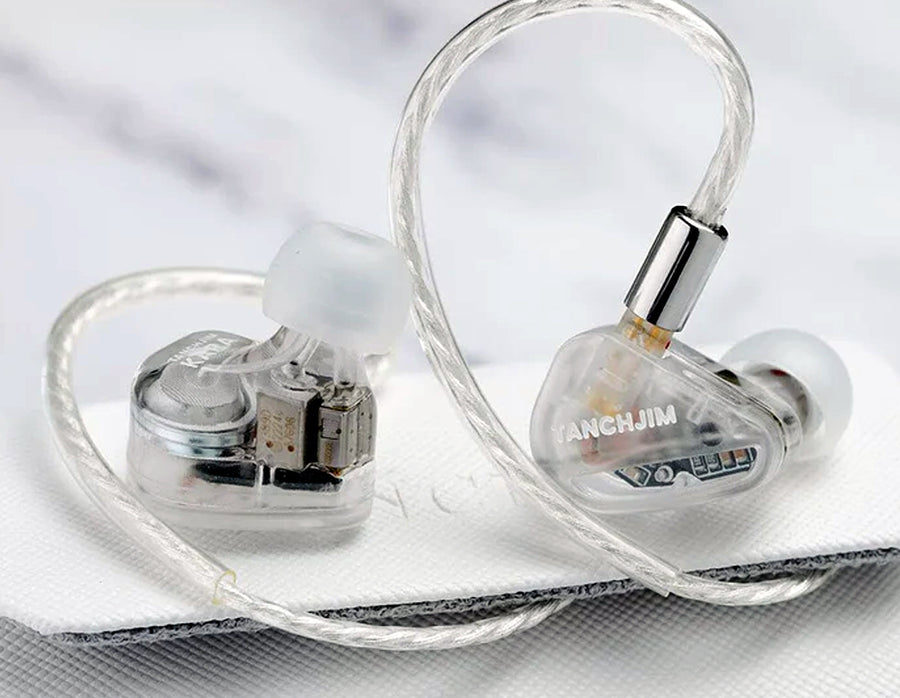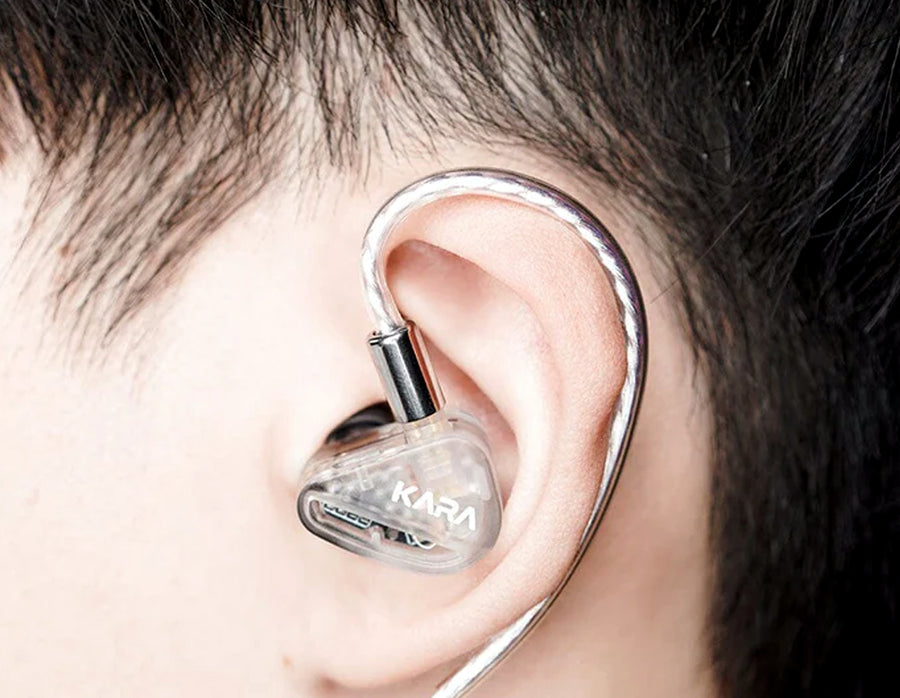 ENHANCED EXPERIENCE PREMIUM ACCESSORIES
Tanchjim provides excellent accessories with the Kara earphones. These include a top-quality PVC leather storage bag with a stylish white cross pattern, as well as high-quality T-APB air-pressure balancing ear tips. The leather carry case ensures safe and convenient transportation of your earphones.
Product title
Vendor
Rs. 19.99 | Rs. 24.99
Product title
Vendor
Rs. 19.99 | Rs. 24.99
Product title
Vendor
Rs. 19.99 | Rs. 24.99
Product title
Vendor
Rs. 19.99 | Rs. 24.99