Precision in Sound, Innovation in Design
Product Name
Sennheiser IE600 IEM
Transducer Principle
Single Dynamic Driver, Pressure Chamber
Frequency Response
4 – 46,500Hz
Sound Pressure Level
118dB at 1kHz, 1Vrms
Impedance
18Ω System Impedance
Wired Connectivity
3.5mm, 4.4mm
Connector
Fidelity (+) MMCX
Technology
Unique Dual-Chamber Absorber System
Housing
ZR01 Amorphous Zirconium Housings 3D Printed in Germany
What will you get
Sennheiser IE 600 Earphones
Unbalanced Para-Aramid Reinforced Cable With 3.5mm Connector
Balanced Para-Aramid Reinforced Cable With 4.4mm Connector
3 Pairs of Silicone Ear Adapters (S, M, L)
3 Pairs of Foam Ear Adapters (S, M, L)
Premium Carry Case
Cable Clip, Cleaning Tool
Presentation Box with Signed Customer Certificate User Manuals
2 YEAR WARRANTY
Don't worry, Products Sennheiser - IE 600 IEM comes with a 2 Year Warranty against manufacturing defects on this product. All warranty claims in India are handled by Sennheiser India, an Authorized Service Partner.
Read more about Sennheiser's warranty policy.
Website:
Service Centers In India
Email
:
in-info@sennheiser.com
Contact No:
1800-22-3632
FREE SHIPPING ON ALL PREPAID ORDERS
We usually ship orders on same day if ordered before 2 pm or within 24 hours if ordered later (except on holidays/sunday, where processing times may be higher) from one of our domestic warehouses based out of Delhi. It normally takes around 1 to 5 business days for delivery. We use premium service partners such as Blue dart, DTDC and Delivery for faster and reliable service. A tracking number will be provided upon shipment.
In very rare cases when order is not received after 10 business days of shipment (extended by number of days when the govt. Restricts movement of goods due to factors such as coronavirus pandemic), please contact us and we will provide you a refund.
IMMERSE YOURSELF IN MUSIC WITH THE NEW IE 600
Discover the brand-new IE 600 earphones from Sennheiser. Sennheiser is known for making high-end audiophile devices, like IEMs and headphones. The IE 600 is the latest addition to their IE series. It's made in Germany and has special 7mm True Response dynamic driver on each side that make your music sound really clear and nice. When you use the IE 600, it feels like the music is all around you, and everything sounds great and real.
3D-PRINTED ZIRCONIUM ALLOY HOUSINGS
Sennheiser has utilized advanced 3D printing techniques at their German facility to create the ear cavity for the IE600 model. These cavities are constructed from AMLOY-ZR01, a zirconium alloy known for its exceptional strength and typically used in aviation. The IE600 has a rich and elegant look with these Zirconium alloy cavities. They have an ergonomic design with a compact form factor ensuring a comfy fit for most listeners.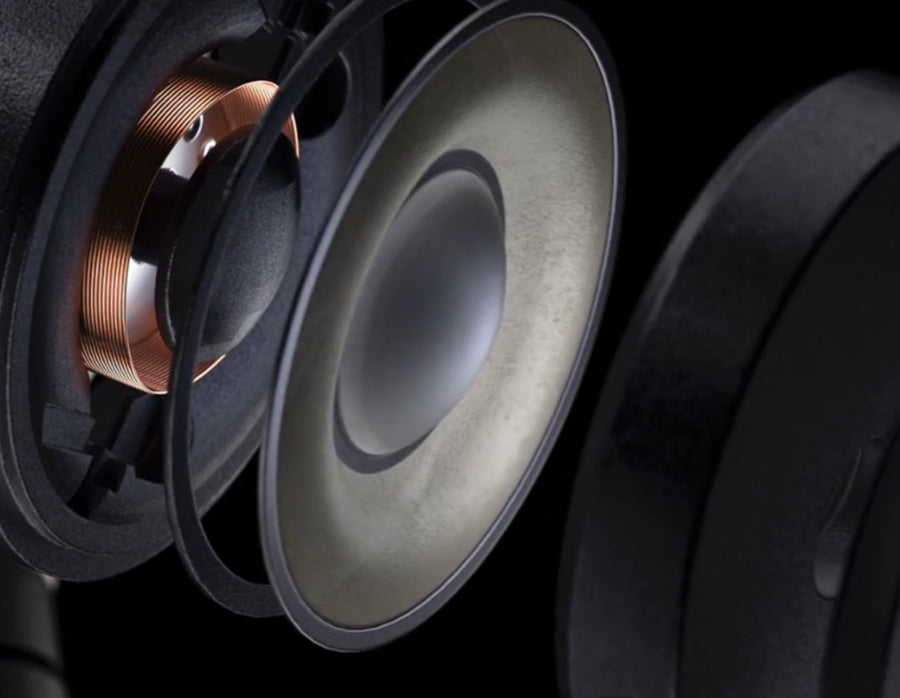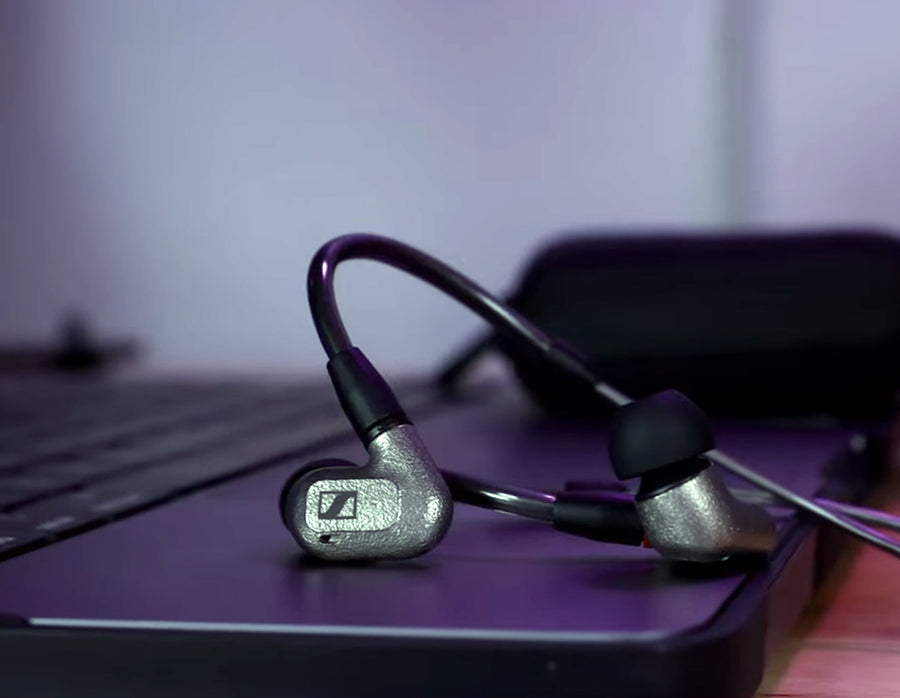 OUTSTANDING DUAL RESONANCE CHAMBER CONFIGURATION FOR ENHANCED DETAIL AND CLARITY
The IE600 ear shells come equipped with a unique dual-chamber frequency chamber right within the nozzle, designed to extract Hi-Res details from your music. This advanced feature contributes to the exceptional sound quality of the IE600, delivering unparalleled clarity, intricate details, and remarkably low distortion. The meticulous calibration of the IE600 includes an acoustic back volume integrated into the nozzle, resulting in a truly natural sound experience.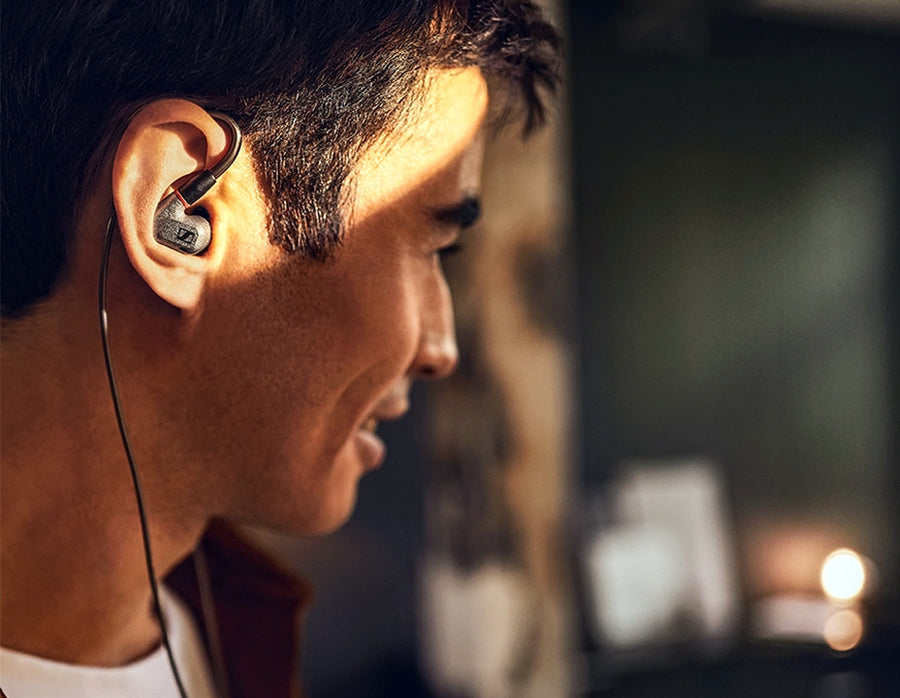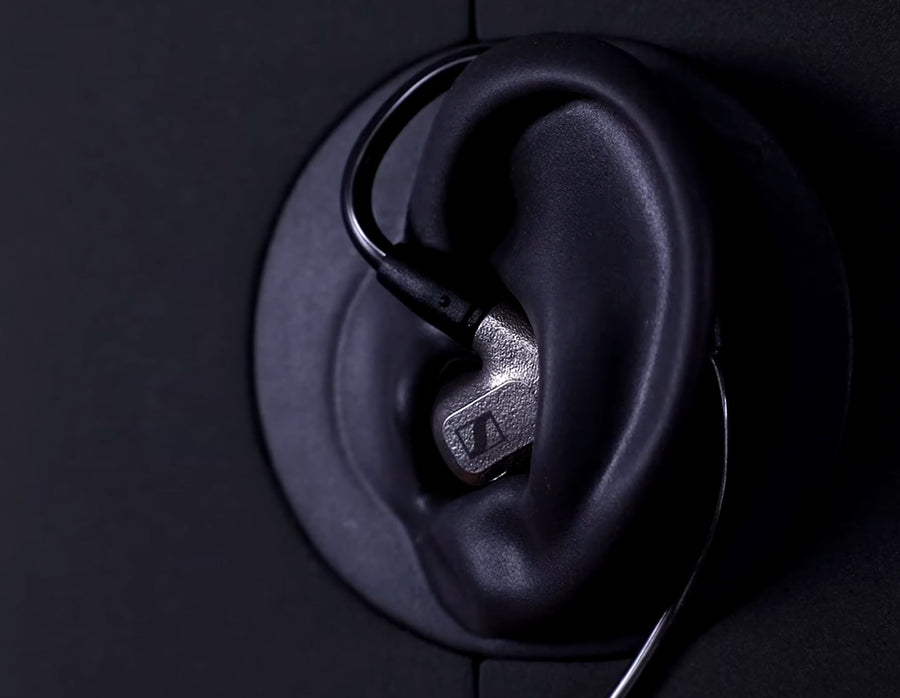 EXPERIENCE A PERFECTLY TAILORED FIT WITH PREMIUM ACCESSORIES
The Sennheiser IE 600 brings impressive sound in a small, comfortable design. It includes a variety of silicone and memory foam ear tips and ear hooks that fit well. The IE 600 also offers strong, durable cables. There's one with a regular 3.5mm connection and another with a 4.4mm balanced connection. The connectors are plated in gold and positioned securely in the case. The cables are 125cm long, giving you flexibility to connect to different audio devices and Hi-Fi systems.
Product title
Vendor
Rs. 19.99 | Rs. 24.99
Product title
Vendor
Rs. 19.99 | Rs. 24.99
Product title
Vendor
Rs. 19.99 | Rs. 24.99
Product title
Vendor
Rs. 19.99 | Rs. 24.99