Sennheiser IE 200 - Make Sound Come Alive
Transducer principle
Dynamic
Acoustic principle
Closed
Weight (headphone)
400 grams
Frequency response
6 – 20,000Hz
Sound pressure level (SPL)
119dB (1kHz, 1Vrms)
Total harmonic distortion (THD)
<0.08 %
What will you get
1x IE 200 IEM
1x Braided cable with MMCX connectors and 3.5mm plug
1x Silicone and memory foam sets (S, M, L)
1x Pouch
1x Safety guide
1x Earphone Case
2 YEAR WARRANTY
Don't worry, Sennheiser IE200 Wired IEM comes with a 2 Year Warranty against manufacturing defects on this product. All warranty claims in India are handled by Sennheiser India, an Authorized Service Partner.
Read more about Sennheiser's warranty policy.
Website:
Service Centers In India
Email
:
in-info@sennheiser.com
Contact No:
1800-22-3632
FREE SHIPPING ON ALL PREPAID ORDERS
We usually ship orders on same day if ordered before 2 pm or within 24 hours if ordered later (except on holidays/sunday, where processing times may be higher) from one of our domestic warehouses based out of Delhi. It normally takes around 1 to 5 business days for delivery. We use premium service partners such as Blue dart, DTDC and Delivery for faster and reliable service. A tracking number will be provided upon shipment.
In very rare cases when order is not received after 10 business days of shipment (extended by number of days when the govt. Restricts movement of goods due to factors such as coronavirus pandemic), please contact us and we will provide you a refund.
7MM EXTRA-WIDE BAND TRUERESPONSE TRANSDUCERS
High-fidelity earphones with Irish-made 7mm TrueResponse transducer for balanced, true-to-life sound. This exceptional piece of engineering features a 7mm extra-wide band transducer, designed in Germany, that delivers unparalleled audio quality without any distortion. What sets it apart is that each transducer has been meticulously manufactured by Sennheiser Consumer Hearing in Ireland, employing an advanced process to minimize any variation between individual units of these miniature dynamic drivers.
UNIQUE DUAL-TUNING FEATURE
The Sennheiser IE 200 features an innovative dual-tuning feature, protected by a patent, which allows users to adjust the bass level by selecting one of two positions for the ear tips. With this unique capability, audiophiles have the flexibility to fine-tune the amount of low-end according to their personal preference. By choosing between the two mounting positions, users can experience a diverse range of musical shades, extending from deep and emotionally captivating bass response to texture-rich treble. The included ear tips provide the means to unlock this customizable audio experience.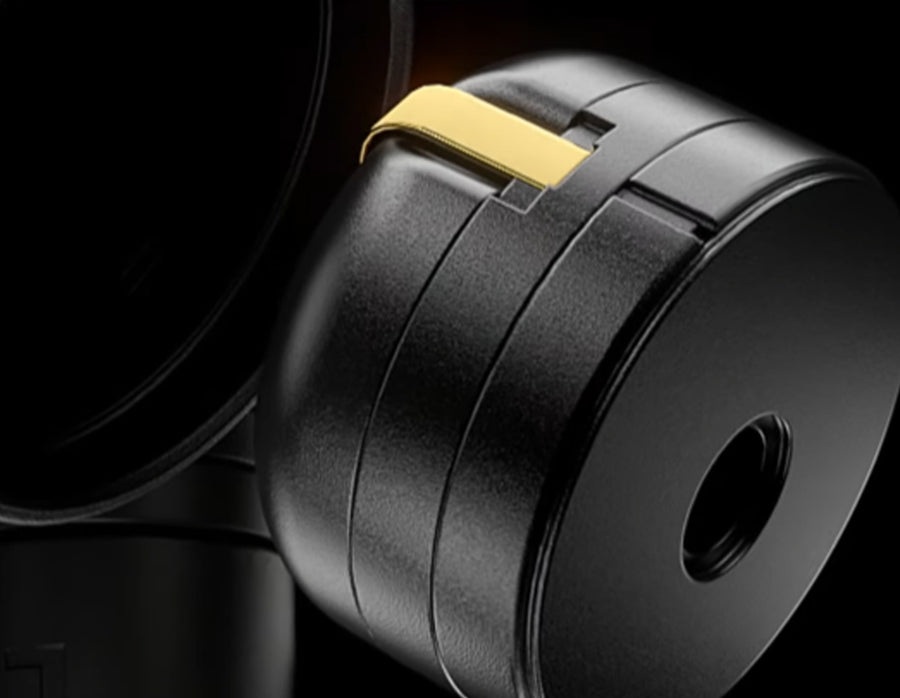 ADJUSTABLE EAR HOOKS FOR PERFECT FIT
The Sennheiser IE 200 is designed with adjustable ear hooks and a variety of ear adaptors available in different sizes (S/M/L). These adaptors are crafted from silicone and memory foam materials, providing a comfortable and customizable fit for individual users. The adjustable ear hooks ensure a secure and personalized wearing experience, while the selection of ear adaptors allows users to find the perfect size that suits their unique ear shape and preferences.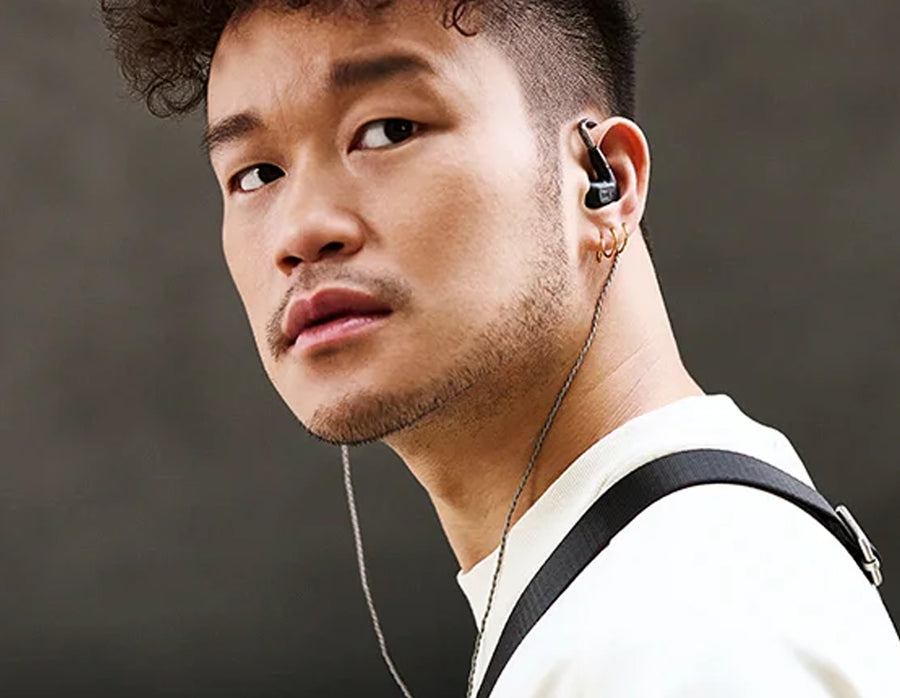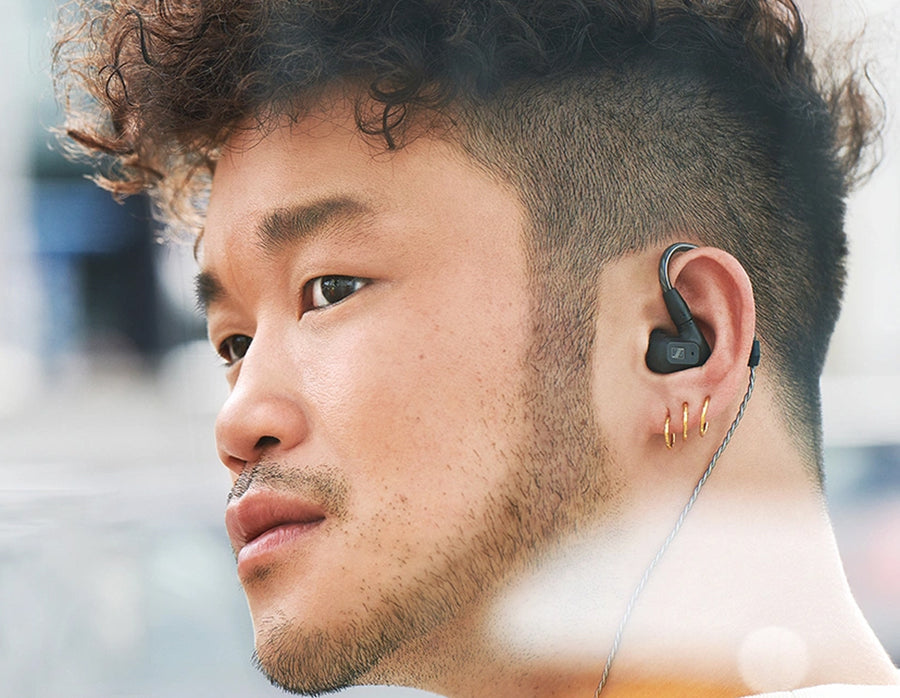 BRAIDED CABLE
The IE 200 is equipped with a 3.5mm cable that features gold-plated MMCX connectors. These connectors ensure a reliable and secure connection between the earphones and audio source. Additionally, the cable is reinforced with Braided cable, which enhances its stability and provides exceptional tear resistance. This durable construction ensures long-lasting performance, even during rigorous daily use, making the IE 200 a reliable companion for audiophiles on the go.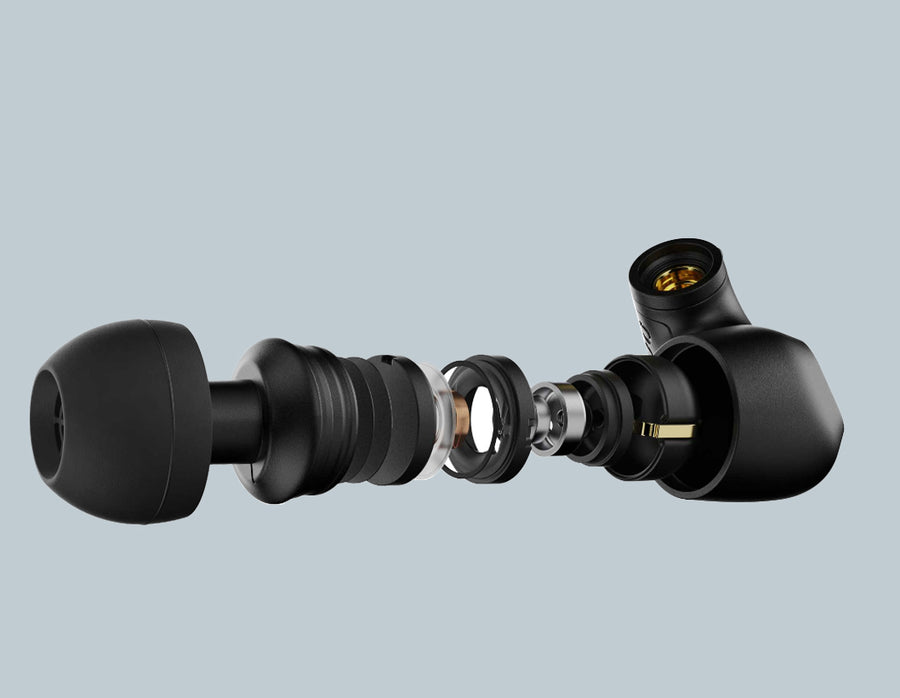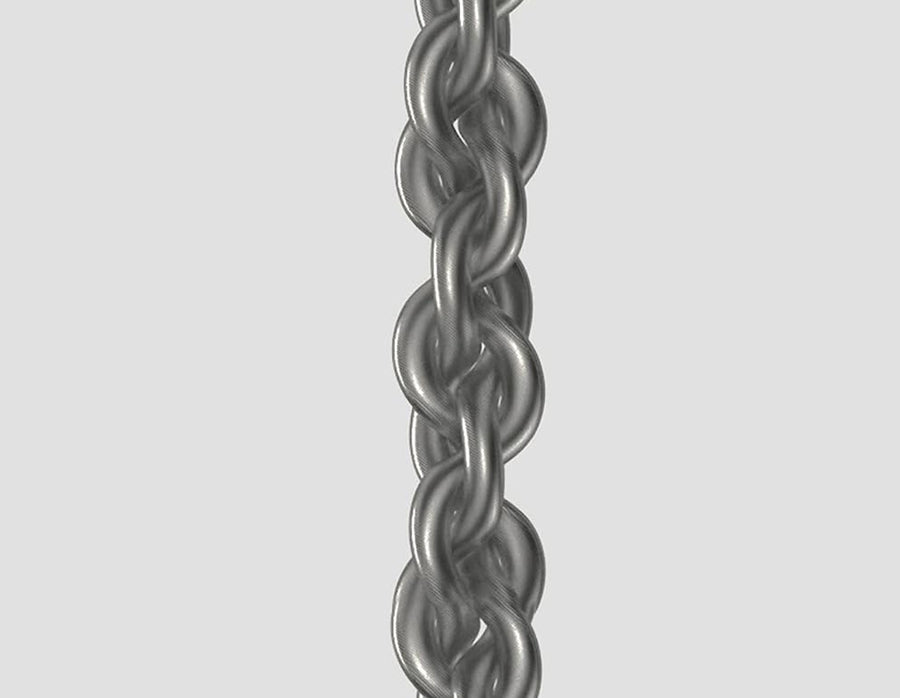 APPEALING MINIMALIST DESIGN
The IE 200 features an appealing minimalist design, characterized by its clean and simple aesthetic. The all-black color adds a touch of elegance and simplicity to the earphones, making them visually appealing to a wide range of users. The focus on minimalism ensures a timeless design that complements any style or preference, while maintaining a sleek and sophisticated look. Whether for casual or professional use, the IE 200's minimalist design adds a touch of refined elegance to your audio setup.
PRECISION ASSEMBLY
The transducers used in the IE 200 are carefully assembled with precision by Sennheiser Consumer Hearing in Ireland. During the manufacturing process, an advanced technique is employed to minimize any variation between individual units of the miniature dynamic drivers. This attention to detail ensures consistent and uniform performance across all IE 200 units, allowing users to experience the audio quality exactly as intended by Sennheiser.
Product title
Vendor
Rs. 19.99 | Rs. 24.99
Product title
Vendor
Rs. 19.99 | Rs. 24.99
Product title
Vendor
Rs. 19.99 | Rs. 24.99
Product title
Vendor
Rs. 19.99 | Rs. 24.99