Shipping & Delivery
Heavy rain and flood like situations may cause delays
Free Shipping on Prepaid Orders
Same day dispatch, if ordered before 2:00 PM.
Order Placed before 2:00 PM will be shipped within 24 hrs. (Except Sunday and Holidays)
Cash on Delivery Available
Cash on delivery applicable for order under ₹ 15000
EXTRA SAVINGS & Rewards
Earn upto 5% of order value
With GST invoice, save up to 28% on business purchases
RETURN POLICY
10 Days Replacement Policy
All products are covered by 10 Day Replacement Guarantee. This product is eligible for a free replacement, in case you receive a damaged, defective or different item. Please keep the product in its original condition with all accessories & packaging for a successful return. We may contact you to assess the damage or defect before issuing a replacement. Accessories like cables and eartips are not backed up the manufacturer's warranty.

Please note that physical damage cases need to be brought to our notice within 24 hours.

WARRANTY
1 Year Manufacturer's Warranty
Model Number
WRS-EUC-3D-WH
Wireless Protocol
Wi-Fi2.4GHz
Working Voltage
90-250V AC, (50/60 Hz)
Standby Consumption
0.1 mA
Wireless Range
30 metres (inside)
Material
ABS flame retardant
What will you get:
1x Curtain Switch
1x User Manual
2x Screw
1 YEAR WARRANTY
Don't worry, MOES - Smart WiFi+RF Curtain Switch comes with a 1 Year warranty against manufacturing defects. We guarantee that every product on Concept Kart is genuine and backed by the Manufacturer's warranty.
Read more about Concept Kart's warranty policy.
FREE SHIPPING ON ALL PREPAID ORDERS
We usually ship orders on same day if ordered before 2 pm or within 24 hours if ordered later (except on holidays/sunday, where processing times may be higher) from one of our domestic warehouses based out of Delhi. It normally takes around 1 to 5 business days for delivery. We use premium service partners such as Blue dart, DTDC and Delivery for faster and reliable service. A tracking number will be provided upon shipment.
In very rare cases when order is not received after 10 business days of shipment (extended by number of days when the govt. Restricts movement of goods due to factors such as coronavirus pandemic), please contact us and we will provide you a support.
WIFI CURTAIN SWITCH
WiFi Curtain Switch that allows for controlling a roller shutter using multiple methods such as manual control, RF remote control, voice control, and app intelligent control. Additionally, the system allows for 1/2 way or multiple control association to control one roller shutter with multiple switches, as well as group control to multiple switches.
Note: The curtain motor is not included in the package and must be purchased separately.
APP REMOTE CONTROL
A WiFi Curtain switch with Tuya Smart or Smart Life App allows remote control of motorized curtains and shutters through a smartphone app. This is a convenient feature that allows you to control your curtains and shutters from anywhere, as long as you have an internet connection. Automatically close or open when you are not at home adds an extra layer of security and convenience.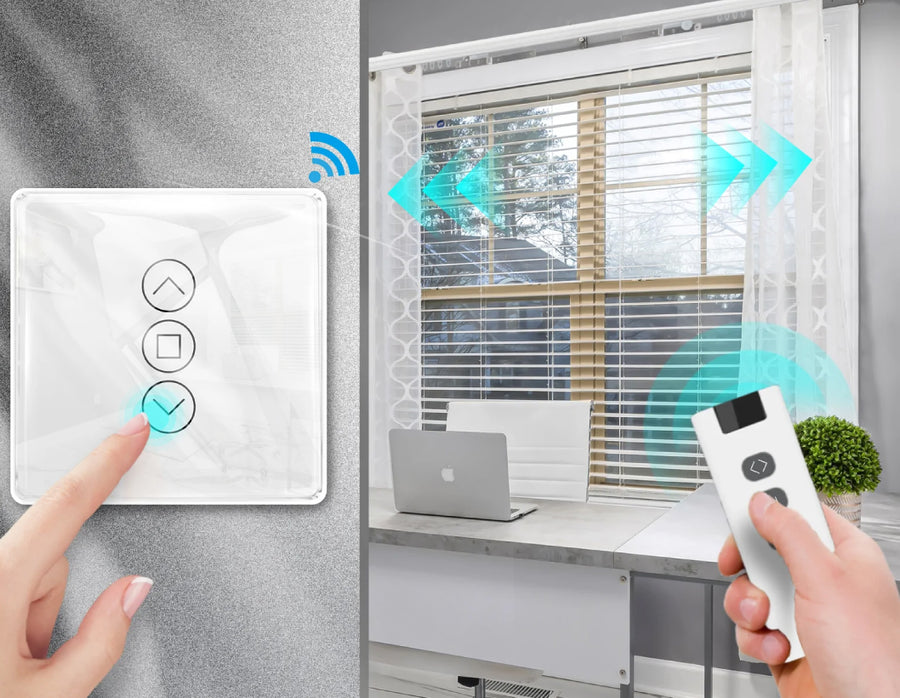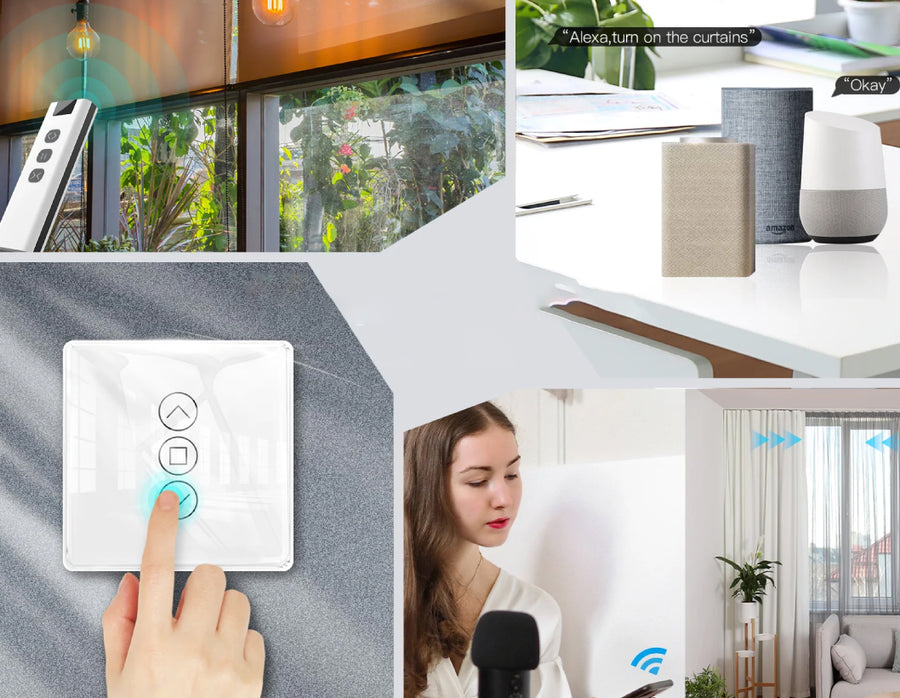 ALEXA & GOOGLE HOME
This Smart Curtain Switch is compatible with both Amazon Alexa and Google Home, which are popular voice assistants used in smart homes. This compatibility allows for voice control of the curtains and shutters using voice commands, making it even more convenient for users to operate their curtains and shutters hands-free. The system allows for sharing of control with family and friends, which adds an extra level of convenience for households with multiple people who want to control the curtains and shutters.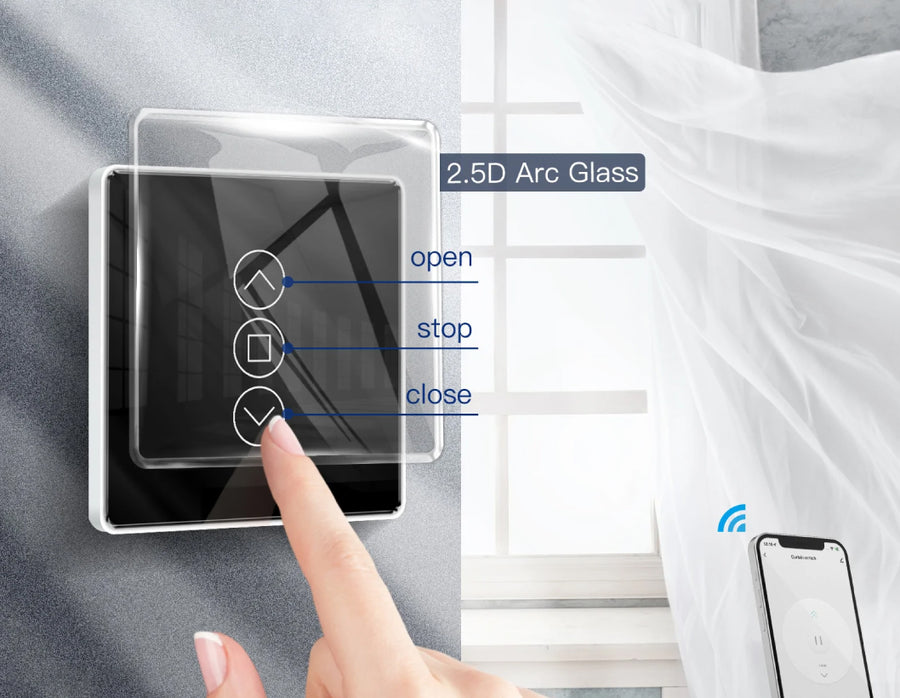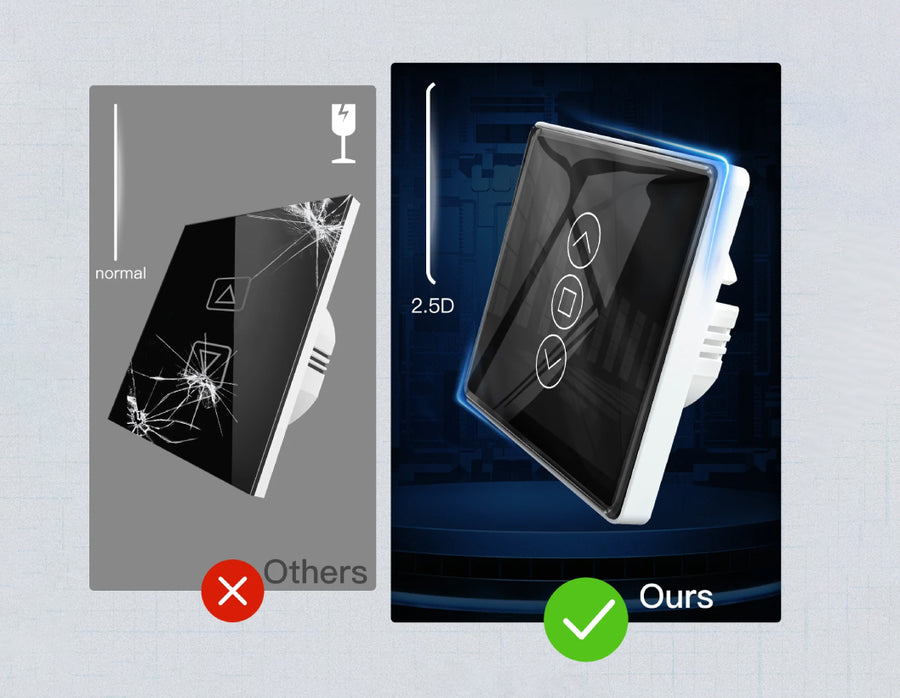 COMPATIBILITY
It seems that the system is versatile in terms of its compatibility with various types of blinds, shutters, and Venetians. This makes it a flexible solution for a variety of spaces, such as offices, studies, bedrooms, and living rooms.
Add a heading
Add content using the options to the left
Product title
Vendor
₹ 19.99 | ₹ 24.99
Product title
Vendor
₹ 19.99 | ₹ 24.99
Product title
Vendor
₹ 19.99 | ₹ 24.99
Product title
Vendor
₹ 19.99 | ₹ 24.99
<! -- Mezereon Configuration -->