Shipping & Delivery
Heavy rain and flood like situations may cause delays
Free Shipping on Prepaid Orders
Same day dispatch, if ordered before 2:00 PM.
Order Placed before 2:00 PM will be shipped within 24 hrs. (Except Sunday and Holidays)
Cash on Delivery Available
Cash on delivery applicable for order under ₹ 15000
EXTRA SAVINGS & Rewards
Earn upto 5% of order value
With GST invoice, save up to 28% on business purchases
RETURN POLICY
10 Days Replacement Policy
All products are covered by 10 Day Replacement Guarantee. This product is eligible for a free replacement, in case you receive a damaged, defective or different item. Please keep the product in its original condition with all accessories & packaging for a successful return. We may contact you to assess the damage or defect before issuing a replacement. Accessories like cables and eartips are not backed up the manufacturer's warranty.

Please note that physical damage cases need to be brought to our notice within 24 hours.

WARRANTY
6 Months Manufacturer's Warranty
Clear Voice in a Compact Device
Product Name
MECHEN V01 Digital Voice Recorder
Recording Gain
Level 1 to Level 5
Bit Rate
512Kbps, 1024kbps, 1536kbps
Music Format
MP3/WAV/APE/WMA/FLAC
Supported Systems
Windows 7/8/10/11, Mac OS 10
Battery
300 mAh lithium polymer
Operating Temperature
0-40℃
Play modes
Shuffle, Sequential, Single Repeat, Repeat all A-B
What will you get
1x MECHEN VO1 Digital Voice Recorder
1x Type C Cable
1x Earphone
1x User Manual
6 Months WARRANTY
Don't worry, MECHEN - V01 64GB Digital Voice Recorder comes with a 6 Months warranty against manufacturing defects. We guarantee that every product on Concept Kart is genuine and backed by the Manufacturer's warranty.
Read more about Concept Kart's warranty policy.
FREE SHIPPING ON ALL PREPAID ORDERS
We usually ship orders on same day if ordered before 2 pm or within 24 hours if ordered later (except on holidays/sunday, where processing times may be higher) from one of our domestic warehouses based out of Delhi. It normally takes around 1 to 5 business days for delivery. We use premium service partners such as Blue dart, DTDC and Delivery for faster and reliable service. A tracking number will be provided upon shipment.
In very rare cases when order is not received after 10 business days of shipment (extended by number of days when the govt. Restricts movement of goods due to factors such as coronavirus pandemic), please contact us and we will provide you a support.
ADVANCED PCM HD RECORDING TECHNOLOGY
MECHEN digital recorder employs advanced PCM HD recording technology in conjunction with specialized recording integrated circuits (ICs). This combination enhances the capability to capture and preserve the most authentic and pristine audio quality, ensuring exceptional clarity in recorded sound.
BUILT-IN 64GB STORAGE, LINE IN RECORDING, AND TYPE C POWER SUPPLY
This Digital IC recorder features a generous 64GB internal flash memory and utilizes the WAV format for efficient storage of extensive recordings. It boasts a built-in microphone for direct recording and supports line in recording through an audio cable. Additionally, it comes with a built-in battery and a Type C port for charging, ensuring versatile and convenient usage.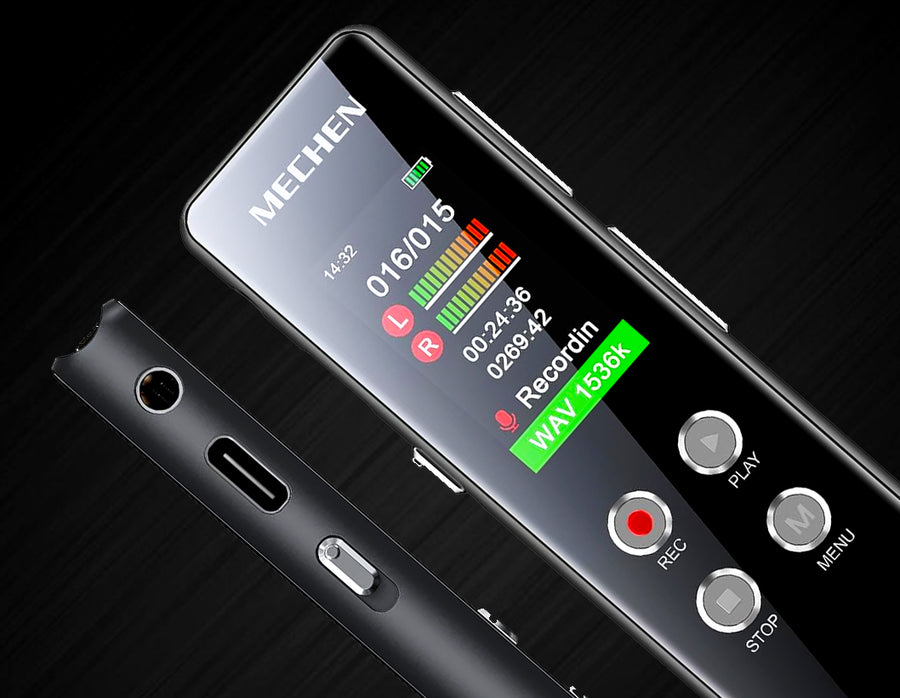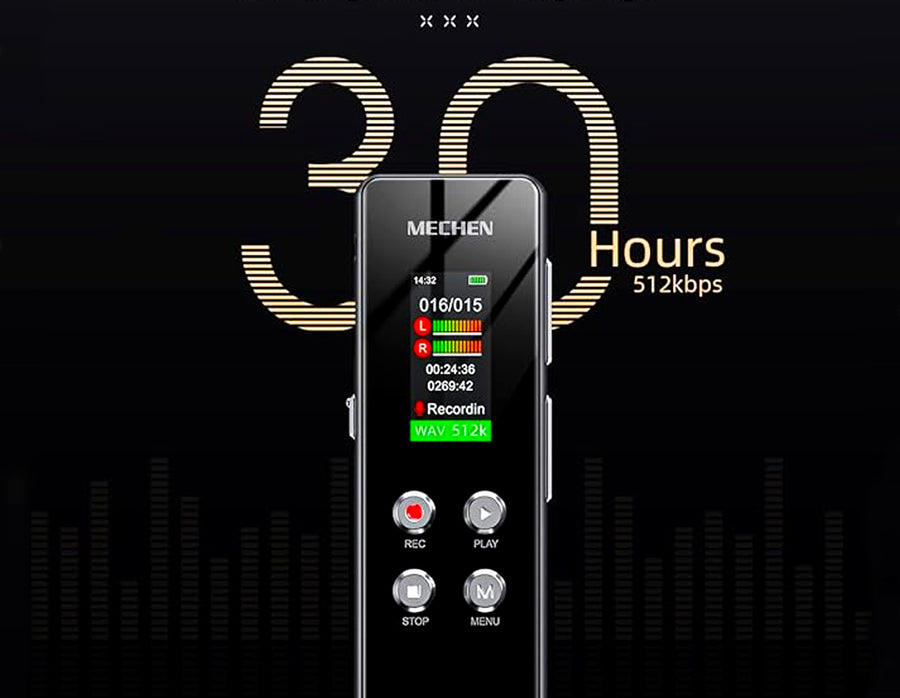 ADJUSTABLE SOUND QUALITY AND MICROPHONE SENSITIVITY WITH RECORDING MONITOR
Choose from three recording bit rates – 512 kbps, 1024 kbps, and 1536 kbps – allowing you to tailor the sound quality to your specific needs. Additionally, customize microphone sensitivity from level 1 to level 5 using five recording gains. The device also includes a convenient recording monitor feature, enabling you to insert earphones during recording and listen to the captured audio in real-time.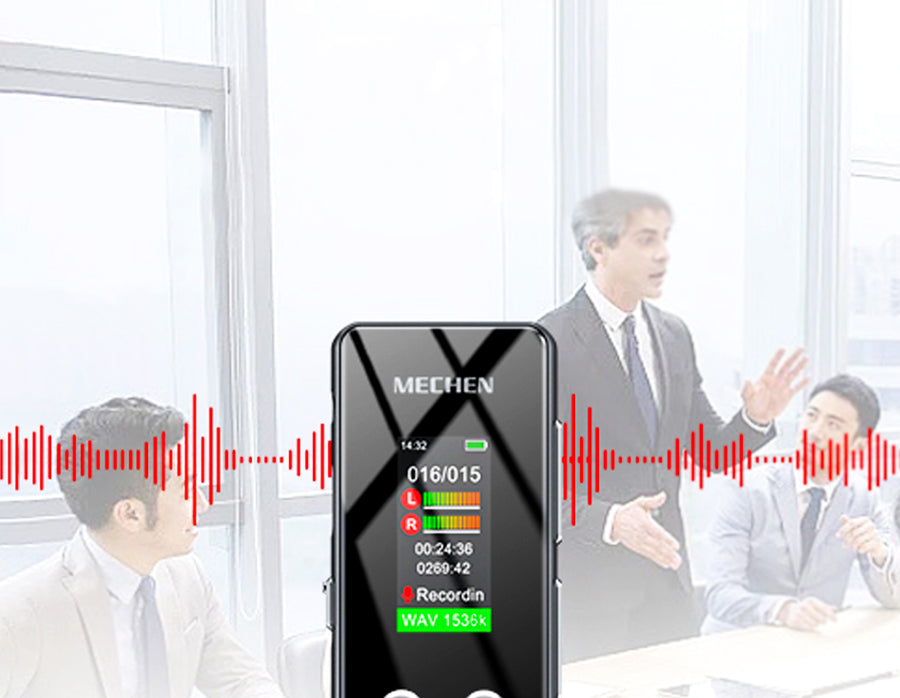 VOICE-ACTIVATED RECORDING, SCHEDULED RECORDING, AND POWER-EFFICIENT SHUTDOWN
This compact recording device features VOR recording, which automatically halts recording when audio levels drop below 50 dB, conserving space and ensuring efficient use. It supports continuous recording for added convenience. Additionally, the device includes an energy-saving automatic power-off feature, maximizing battery life for prolonged usage.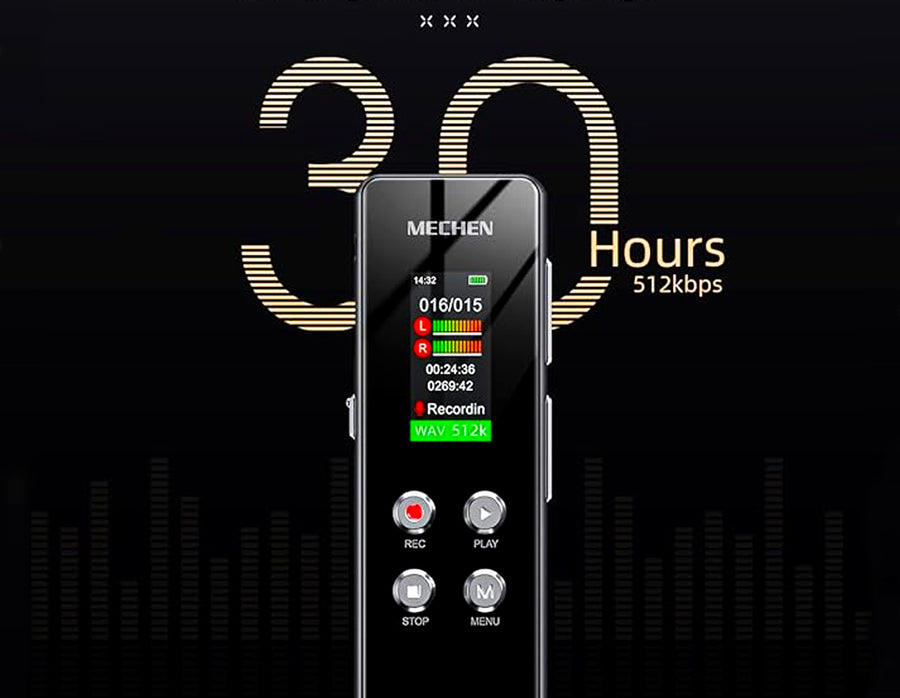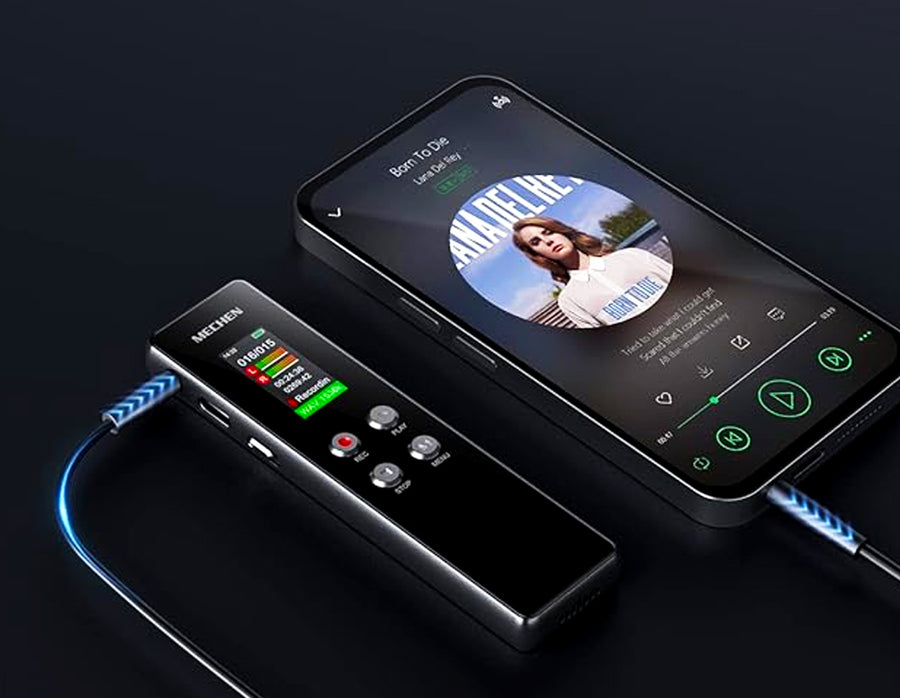 COMPACT AND USER-FRIENDLY
The MECHEN mini voice recorder is designed to fit easily into your pocket, making it smaller than a smartphone and highly portable. Its sleek design ensures discretion in various situations like interviews and conferences, causing minimal disruption. With straightforward button operations, it is incredibly user-friendly, suitable for beginners and experts alike.
SECURE PASSWORD PROTECTION AND MUSIC PLAYBACK FEATURES
Safeguard your sensitive data by setting up a password, ensuring the protection of your recorded information. Additionally, the device offers a range of music functionalities, including repeat, shuffle, speed playback, equalizer, and shadowing playback (AB repeat), allowing you to indulge in a delightful musical experience.
Add a heading
Add content using the options to the left
Product title
Vendor
₹ 19.99 | ₹ 24.99
Product title
Vendor
₹ 19.99 | ₹ 24.99
Product title
Vendor
₹ 19.99 | ₹ 24.99
Product title
Vendor
₹ 19.99 | ₹ 24.99
<! -- Mezereon Configuration -->