UNLEASH YOUR AUDIO POTENTIAL WITH KZ KZ x HBB PR2
Cable Type
Silver-Plated Cable
What will you get:
1x KZ x HBB PR2 WIRED IEM
1x Silver Plated Detachable Cable
1x User Manual
3x Pair Silicone Eartips
1x Foam Memory Eartips
1 YEAR WARRANTY
Don't worry, KZ x HBB PR2 Wired IEM comes with a 1 Year warranty against manufacturing defects. We guarantee that every product on Concept Kart is genuine and backed by the Manufacturer's warranty.
Read more about Concept Kart's warranty policy.
FREE SHIPPING ON ALL PREPAID ORDERS
We usually ship orders on same day if ordered before 2 pm or within 24 hours if ordered later (except on holidays/sunday, where processing times may be higher) from one of our domestic warehouses based out of Delhi. It normally takes around 1 to 5 business days for delivery. We use premium service partners such as Blue dart, DTDC and Delivery for faster and reliable service. A tracking number will be provided upon shipment.
In very rare cases when order is not received after 10 business days of shipment (extended by number of days when the govt. Restricts movement of goods due to factors such as coronavirus pandemic), please contact us and we will provide you a refund.
13.2MM PLANAR MAGNETIC DRIVER
KZ x HBB PR2 IEM is equipped with newly developed 13.2mm planar magnetic driver that eliminates the voice coil structure and replaces it with ultra-low resistance nano silver electroplating lines. This results in a low-load diaphragm that offers improved high-frequency performance and faster response speed, which are the benefits of using a planar magnetic driver.


7+7 N52 RUBIDIUM MAGNET ARRAY
KZ x HBB PR2 IEMs features a magnetic circuit system that uses a double-sided array composed of 14 N52 rubidium magnets, resulting in a wider frequency response, higher resolution, and stronger transient response. This system brings the magnetic circuit performance to an optimal level, resulting in a more vivid and lifelike sound quality that immerses the listener in the audio experience.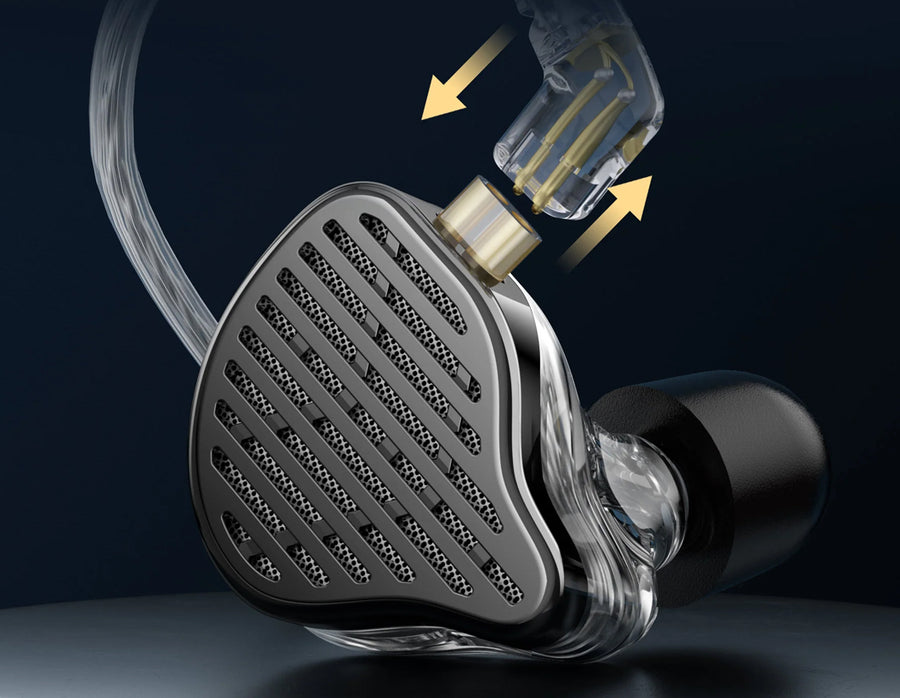 HIGH-PRECISION NANOSCALE SILVER PLATED DIAPHRAGM
KZ x HBB PR2 have opted for a silver-plated nanoscale diaphragm despite its higher cost, which necessitates greater technical precision to maintain circuit accuracy within 2 microns. Our diaphragm outperforms others in terms of its swift vibration response, inherent three-frequency balance, and superior transient resolution, which may be beneficial in applications that require precision and high-speed performance.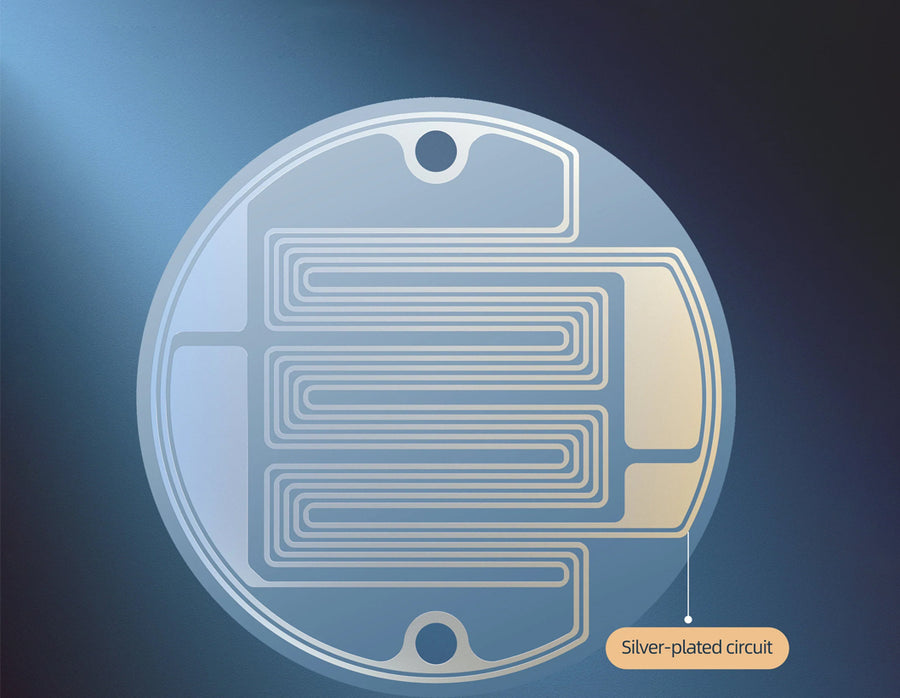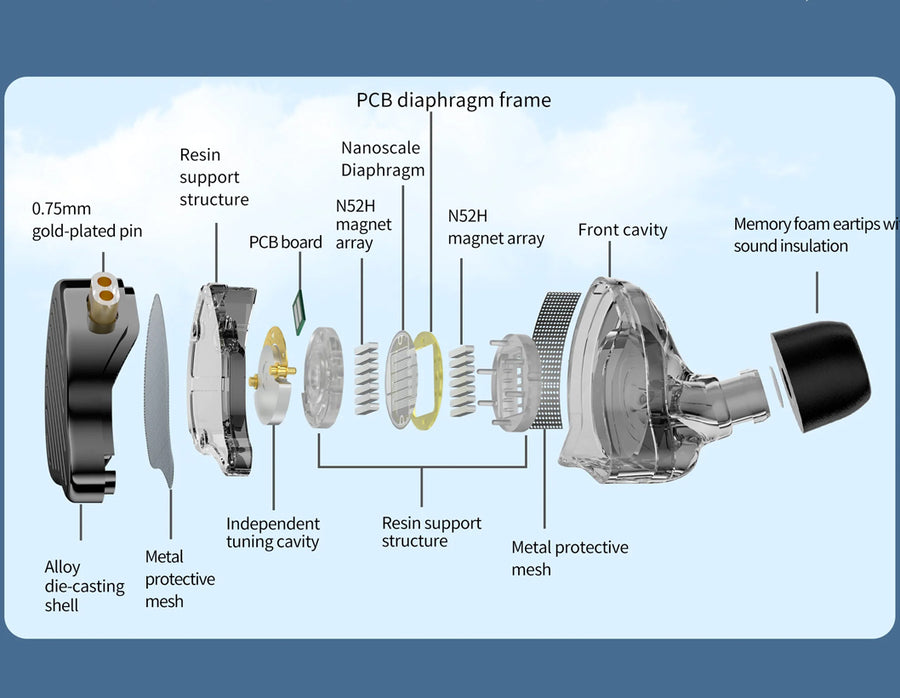 AMAZING ACOUSTIC CURVE DATA
The acoustic team has obtained impressive acoustic curve data for the KZ x HBB PR2 carefully regulating each frequency band to achieve a natural and smooth tuning. This results in a superior frequency response that can seamlessly adapt to different music genres, making it an excellent choice for various listening preferences.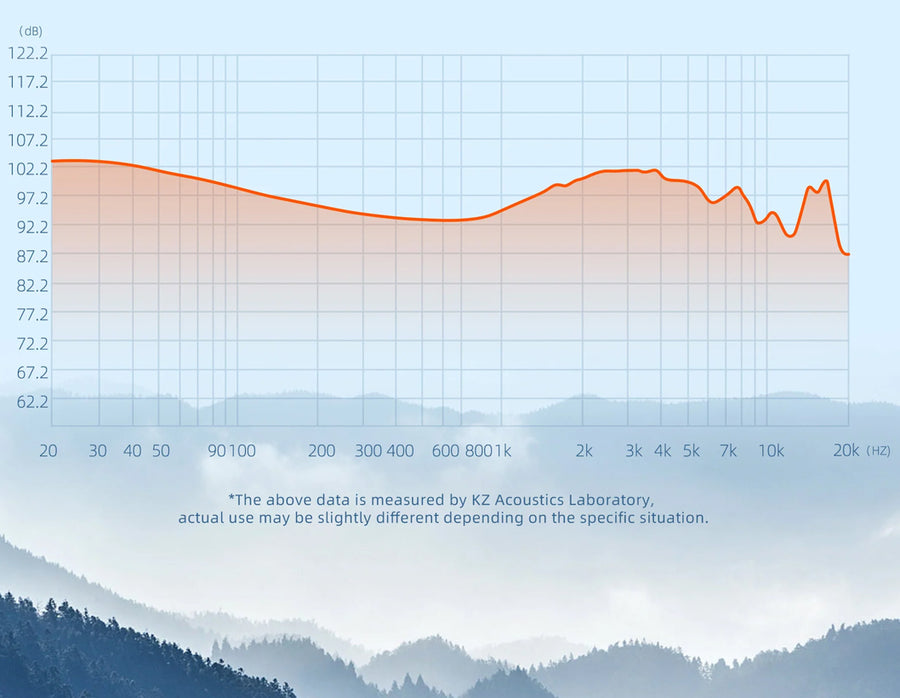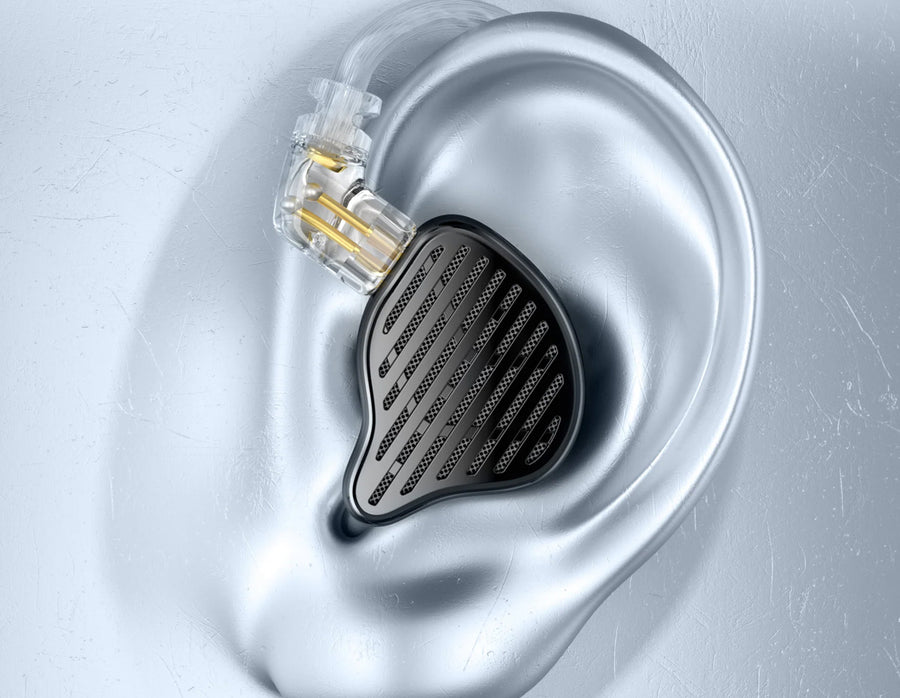 EXQUISITE DESIGN AND CRAFTMANSHIP
KZ x HBB PR2 IEM features a front shell made of high-density alloy material that provides a refined appearance and smooth texture. The semi-open exhaust design incorporated in the earphones effectively reduces pressure on the chamber, preventing excessive clutter reflection and resulting in a more natural and accurate sound quality.
HIGH PURITY SILVER PLATED CABLE WITH HD MICROPHONE
KZ x HBB PR2 comes with oxygen free copper core with silver plating cable. It adopts 0.78mm 2 pin connector and 3.5mm termination plug. High-quality silver-plated material ensures high-resolution audio with smooth signal transmission.It features an in-line microphone that is compatible with standard mobile phone HD calls. The microphone allows you to make and receive phone calls directly from the headphones, without needing to take out your phone. The microphone allows Answer/Hang up the call, short press to Pause/Play, Long press to Reject the call, and press twice to Next Song.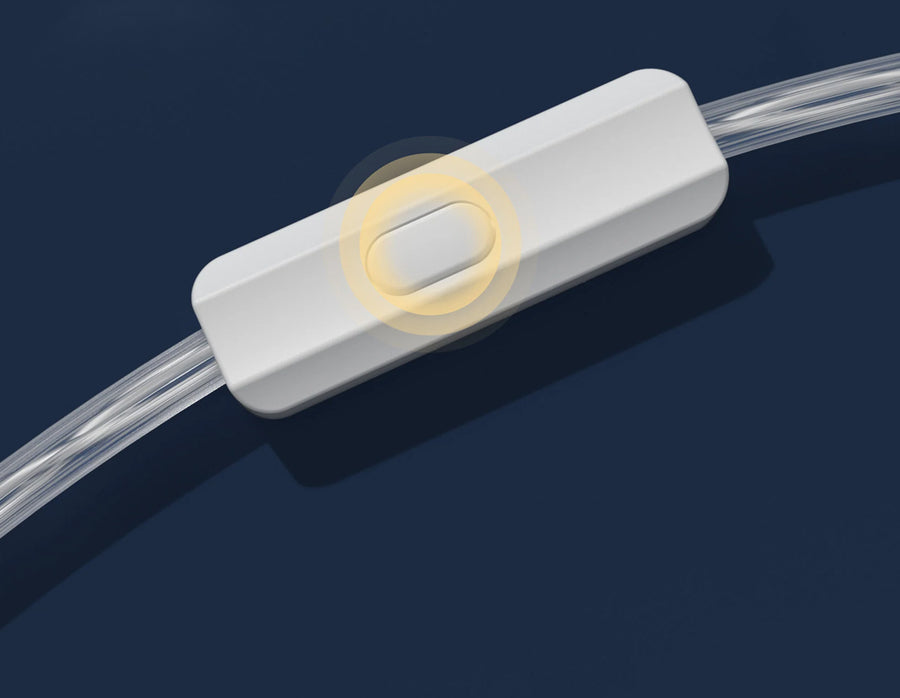 ERGONOMIC DESIGN & COMFORTABLE TO WEAR
KZ x HBB PR2 IEMs have an ergonomic design and come with three different sizes of soft, skin-friendly silicone ear tips. This ensures a comfortable and snug fit for the wearer, with minimal discomfort or irritation, providing a seamless and pleasurable listening experience.
Good For The Price
Good IEM but poor cable robs the product of its
Value. You will have to drag the DAC near you to comfortably listen with such a short cable.
Superb details in a clear, fast and neutral fashion.
SOUND SIGNATURE
Sub bass is good. Okay rumble.
Mid base is very tight, very fast. People looking for bass won't like the PR2.
Mid range is clean. Male vocals shine while female vocals are a bit thin.
Treble is good. Very well controlled. I had no issues listening to the PR2 for long sessions.
HOW CONTENT SOUNDS
MUSIC has very good separation. I listen to Punjabi, English and Japaense music and just to give two examples, Sidhu Moosewala songs sound so good. His voice is well separated from the music and all instruments are there.
Secondly, a Japanese songs I like to hear for testing separation, Zankyousanka by Aimer, the second half of the song is full of instruments and this IEM delivered there which is so impressive.
ANIME has the same story, the music playing in the background is well separated from the scene. To try and describe, the music is constantly playing linearly regardless of the scene which is very immersive. To give an example from AoT (SPOILERS) Ep. 13 Basic Needs, one of my favourites, there a moment where Mikasa and Armin are running ahead of Eren in the Attack Titan form, the epic score is playing in the whole space and totally separated from every thing, that is, the huge steps of the Attack Titan and the steam coming out of him and then the footsteps of Mikasa and Armin. Testament to the fast response and level of details.
MOVIES also have the same story. I tried watching Kung Fu Panda, which was the same story as anime, music in the whole room and the scene playing separately in front of us.
Second movie was Godzilla v Kong where I specifically watched the fight secen at the end. Imaging is okay but the visual effects sound very realistic was the main takeaway. p**n sounds good too. There's faint slurping and the clear moan. Little bit sound of the guy too, POV might not be good depending on the positioning of the camera.
SPORTS, that I watch are Formula 1 and UFC
In formula one the details and imaging are clear but too clear here because I can tell the difference between the panning of the camera and the cars actually passing and I could clearly, and annoyingly, tell about the camera atop the rear wing that the camera is off centre.
UFC is such a pleasure to watch with these. These are so immersive. So when the crowd is not cheering I could clearly hear the strikes in proportion to the ring as the whole sound stage and at the same time the commentary and many a times the ring side coaches depending on the microphone being used. When the crowd goes loud the detail level makes it so immersive.
THINGS TO NOTE.
These are semi open back. The music usually suppresses everything but if something very loud is going on around or you're listening to a piano, you can hear from the outside. I can hear my loud ceiling fan clearly while watching an interview but only somewhat while listening to music.
Good dac is required. I tried these first with a simple 1k dac dongle but I really had to up the volume for playing well. Then u remembered having the two year old Hidizs S3 dongle dac, which could play these fine even at lower volumes.
Sound stage is okay but it feels like it's only horizontal. Even there when something is going across left to right, the middle part is somehow subdued, like tye centre 25% of the screen.
Good balanced sound
Nice..lil bit expensive as compared to its sound
Kz x HBB PR2
Very engaging sound with great resolution.
Recommend.
Thank you so much for taking the time to leave us this amazing review.
It sounds better than it should
This could easily be double the price and it would still sell.
pros-
instrument separation is great
bass is tight and kicks in at the right time, has good sub bass
well tuned at mid volume
build quality is good
does not sound metallic and still has the pros of a planar being very fast.
cons-
graphs online are very inconsistent where you might get a copy with very high treble
driver flex (does not cause performance issues but just sounds cheap when putting them on)
cable is meh (but it works fine)
People talk about how hard this iem is to drive, my dongle Abigail pro seems to run it fine. Anything below might be hard but it can be run by a dongle that costs around 1k
I have not tried its direct competitor the crin red but i have tried other iems like zetian wu, ie200 and 7hz zero. This has the best price to performance ratio of them all. to my surprise they are very comfortable despite being big, might be because they are light weight (compared to iems like zetian wu and kato)
Thank you for a very well-rounded and thorough review of PRODUCT OR SERVICE. We appreciate your hard work in putting this review together and know it will be helpful and informative for your customers. Have a good day!
Thanks,
Concept Kart
Product title
Vendor
Rs. 19.99 | Rs. 24.99
Product title
Vendor
Rs. 19.99 | Rs. 24.99
Product title
Vendor
Rs. 19.99 | Rs. 24.99
Product title
Vendor
Rs. 19.99 | Rs. 24.99