Unleash the Power of Precision and Performance
Sensitivity
Standard Version 112±3dB
Tuning Version 109±5dB

Impedance
Standard Version 20Ω
Tuning Version 20Ω~50Ω

Cable Type
Silver Plated Cable
What will you get
1x KZ AS24 IEM
3x Pair Silicone Eartips
1x Ejector Pin
1x Silver Plated OFC Cable
1x User Manual
1 YEAR WARRANTY
Don't worry,KZ AS24 IEM comes with a 1 Year warranty against manufacturing defects. We guarantee that every product on Concept Kart is genuine and backed by the Manufacturer's warranty.
Read more about Concept Kart's warranty policy.
FREE SHIPPING ON ALL PREPAID ORDERS
We usually ship orders on same day if ordered before 2 pm or within 24 hours if ordered later (except on holidays/sunday, where processing times may be higher) from one of our domestic warehouses based out of Delhi. It normally takes around 1 to 5 business days for delivery. We use premium service partners such as Blue dart, DTDC and Delivery for faster and reliable service. A tracking number will be provided upon shipment.
In very rare cases when order is not received after 10 business days of shipment (extended by number of days when the govt. Restricts movement of goods due to factors such as coronavirus pandemic), please contact us and we will provide you a refund.
HIGH-END 12 BALANCED ARMATURE DRIVERS
KZ AS24 IEM is equipped with 12 BA drivers per side, which breaks the audio hardware ceiling 31736 array design BA is responsible for high and ultra-high frequency, providing smooth scalability and rich sound details. Customized 29689 BA is responsible for mid-frequency, bringing a clean vocal and transparency in mid-range. 30019 BA is responsible for high-frequency, providing a refined sense of layering and realistic on-site experience. The newly designed 22955 BA is responsible for low-frequency, bringing a powerful and resilient bass.
HIGH-PRECISION 3D-PRINTED ACOUSTIC FILTERING NOZZLE
The AS24 In-ear monitor features a DLP 3D printing technology to create a high-precision integrated acoustic filtering nozzle. This advanced manufacturing technique allows for the accurate and intricate printing of complex internal structures within the earphone cavity. As a result, the AS24 achieves efficient and uniform sound reproduction, enhancing the overall audio quality and providing a more immersive listening experience.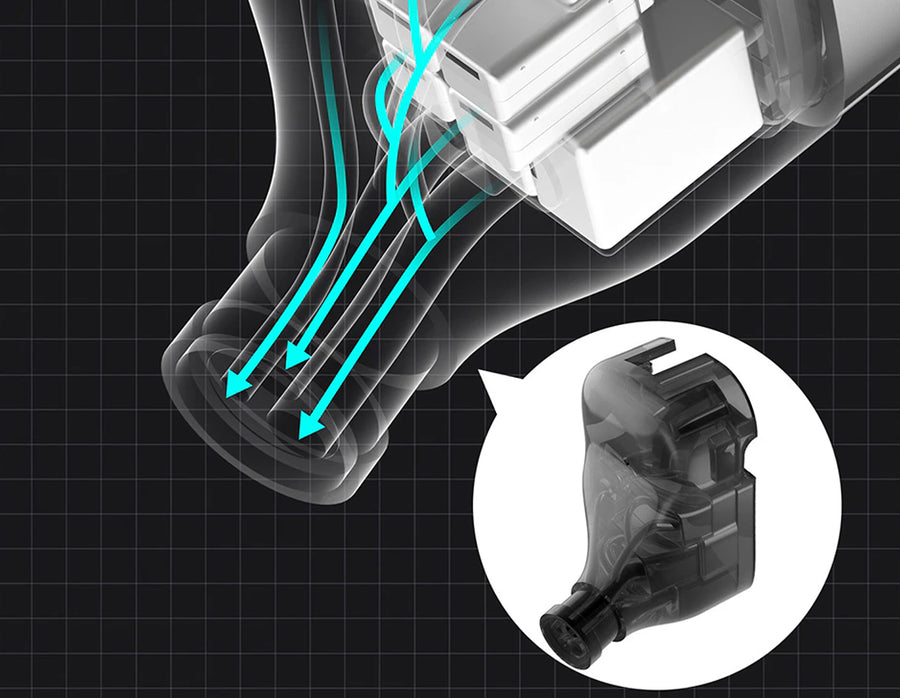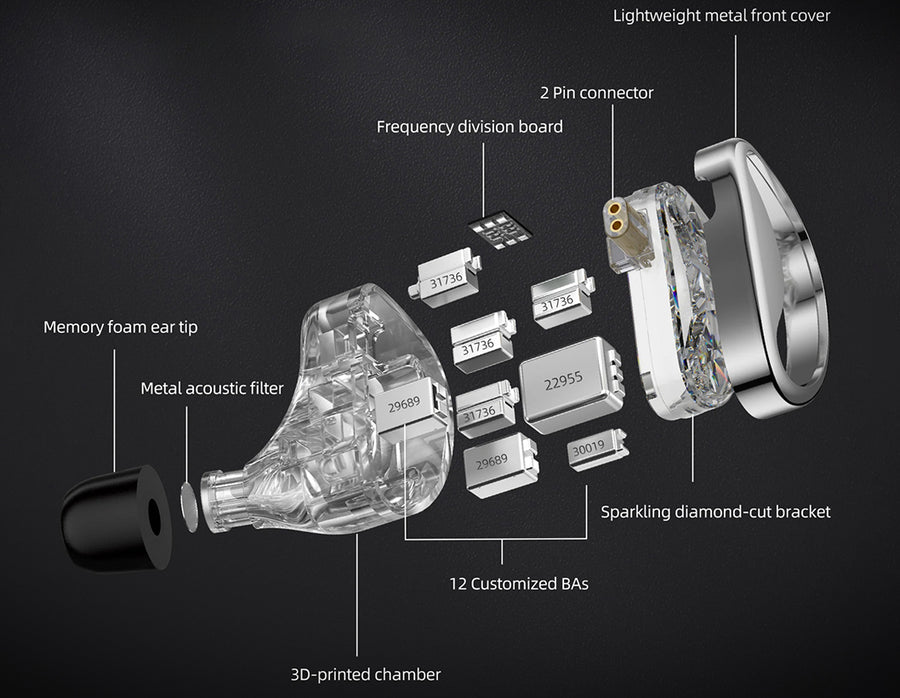 AVAILABLE IN TWO OPTIONS
The KZ AS24 is presented in a choice of two variants. Customers have the flexibility to select the standard variant, which functions like a regular UIEM (Universal-Fit In-Ear Monitor). Alternatively, they can choose the special tunable variant equipped with 8 tuning switches. This tunable version empowers users to experiment with the Main and Auxiliary switches. The Main switches grant control over the complete band and bass frequencies, while the Auxiliary switches facilitate adjustments to the midrange and treble output.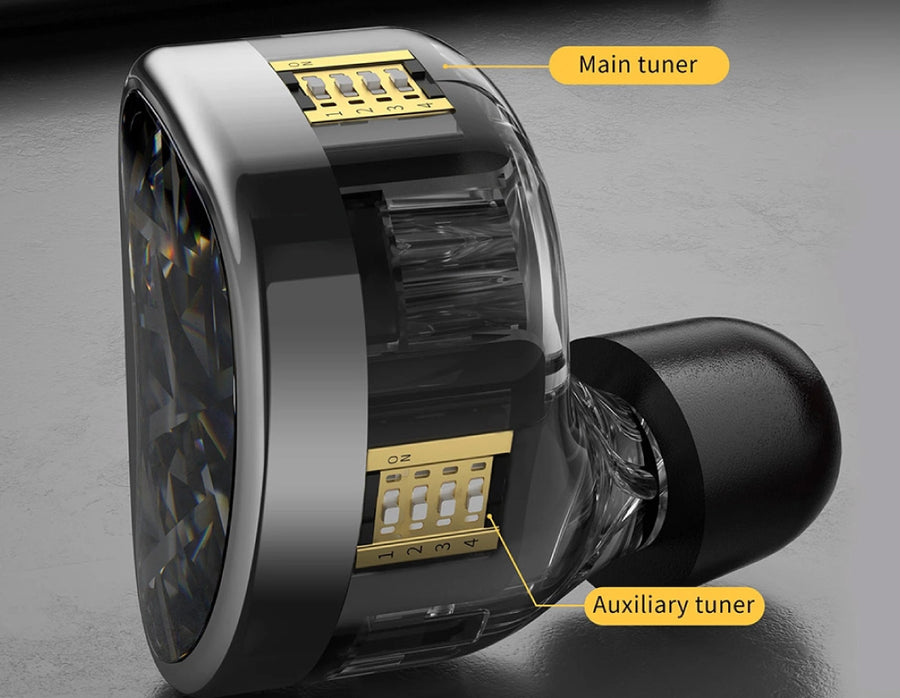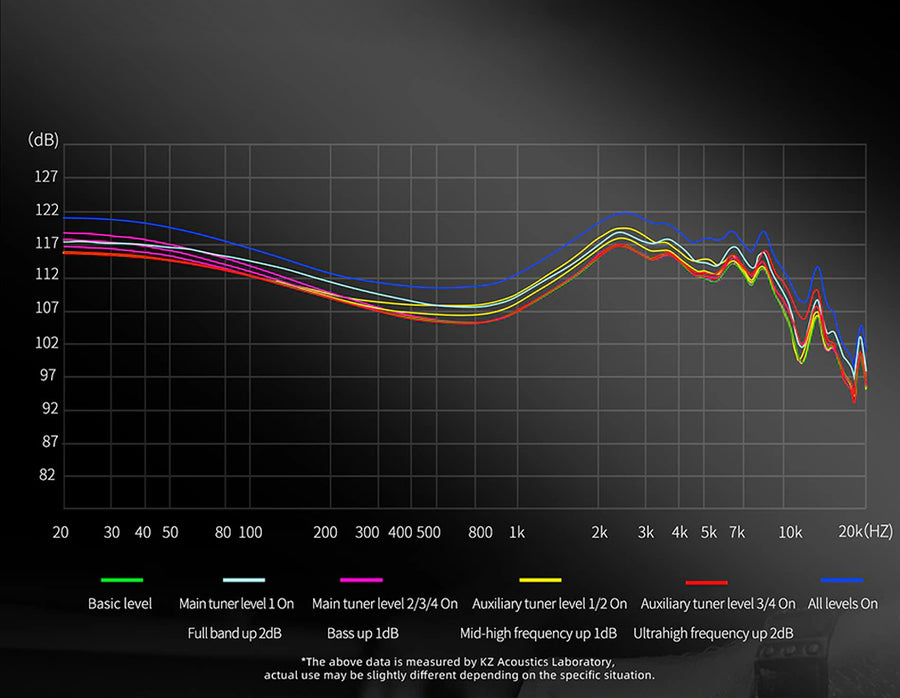 IN-LINE CONTROL MIC
KZ AS24 earpiece monitor features an in-line microphone that is compatible with standard mobile phone HD calls. The microphone allows you to make and receive phone calls directly from the headphones, without needing to take out your phone. The microphone allows Answer/Hang up the call, short press to Pause/Play, Long press to Reject the call, and press twice to Next Song.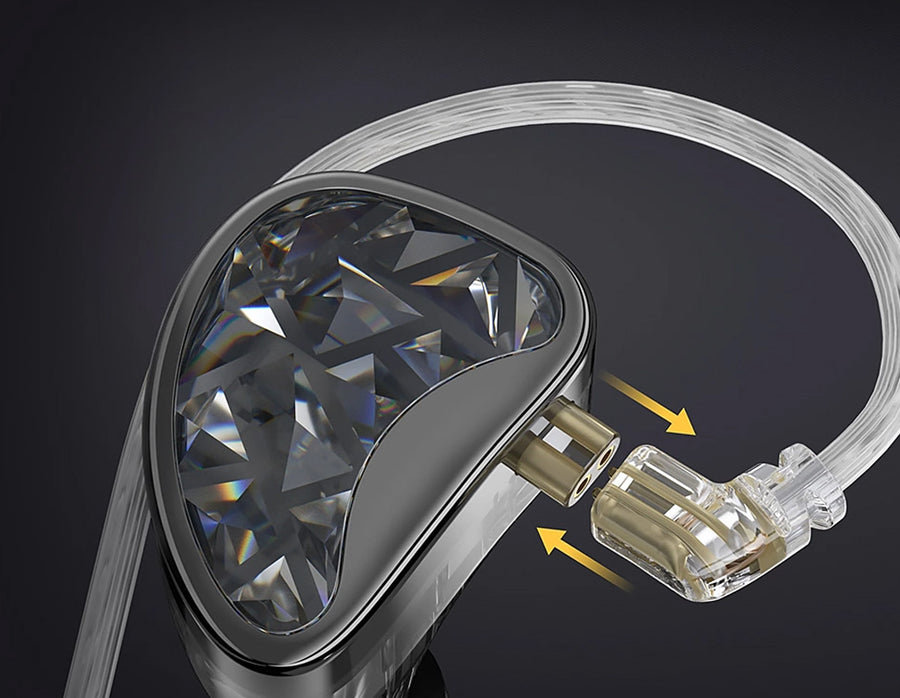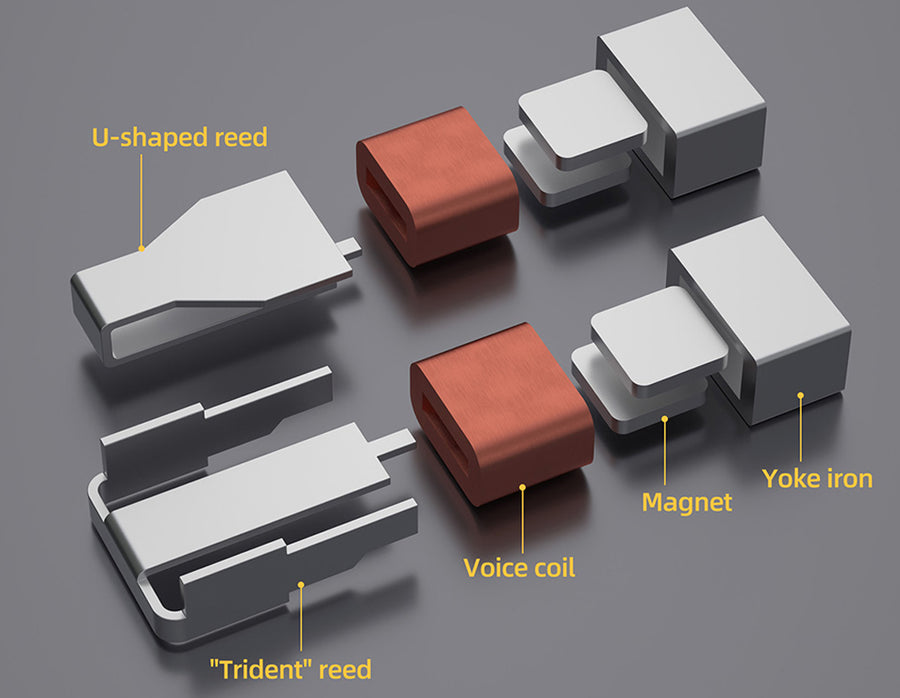 HIGH-PURITY SILVER PLATED OFC CABLE
KZ AS24 In-ear monitor comes with a high-purity silver-plated flat cable. The silver plating enhances the efficiency of audio signal transmission, resulting in improved fidelity and resolution. It adopts 2 Pin 0.75mm connector and 3.5mm standard jack.
LIGHTWEIGHT SKIN-FRIENDLY RESIN MATERIAL
The AS24 In-ear earphones is constructed using a lightweight and skin-friendly resin material. This choice of material not only ensures durability but also guarantees a comfortable fit for extended listening sessions. Listeners can enjoy their favorite music without discomfort, even during long periods of use.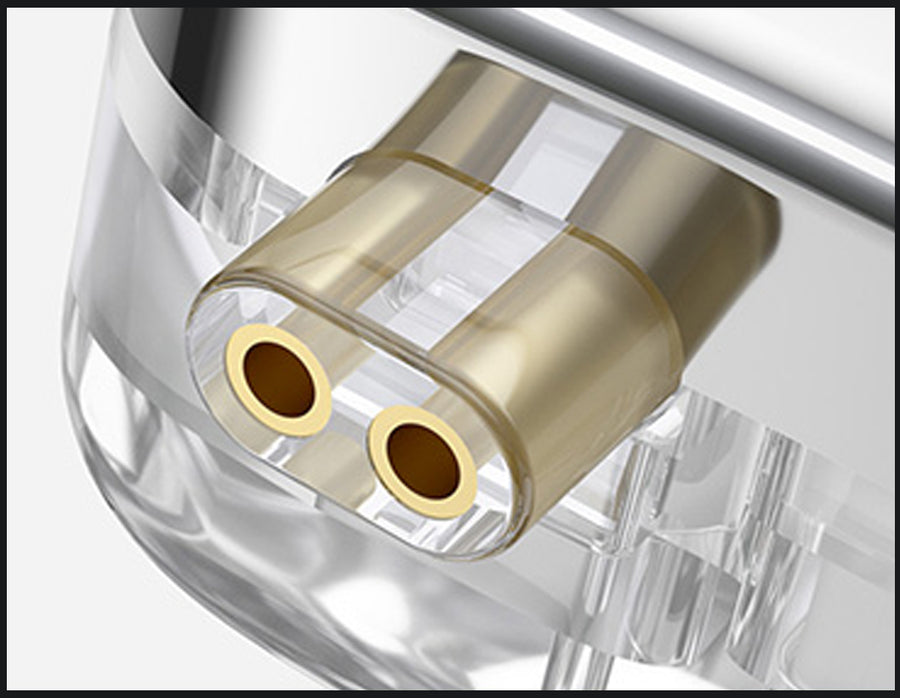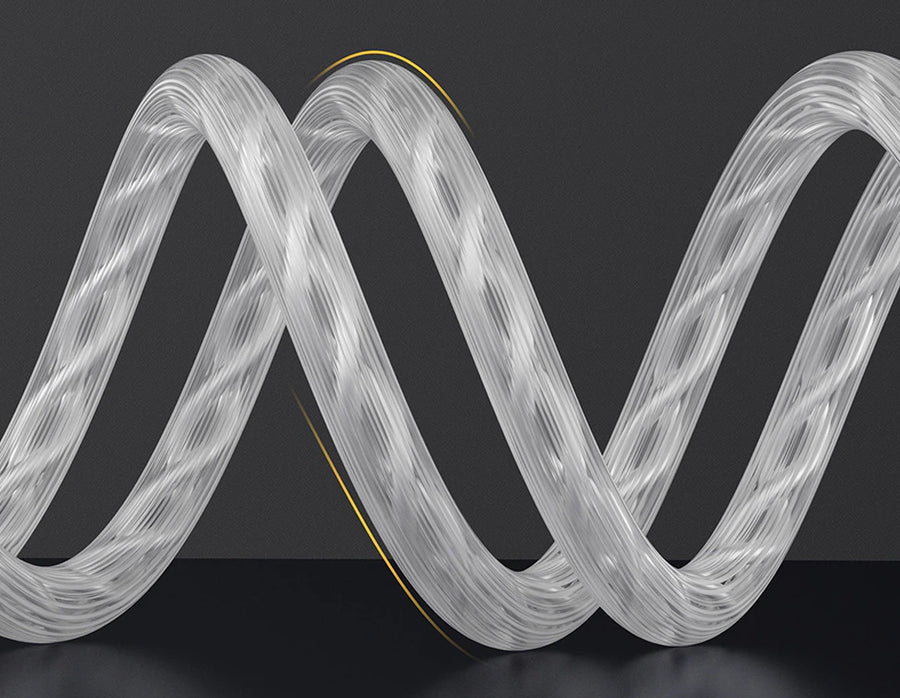 COMFORTABLE AND CONVENIENT
KZ AS24 IEMs have an ergonomic design and come with three different sizes of soft, skin-friendly silicone ear tips. This ensures a comfortable and snug fit for the wearer, with minimal discomfort or irritation, providing a seamless and pleasurable listening experience.
Product title
Vendor
Rs. 19.99 | Rs. 24.99
Product title
Vendor
Rs. 19.99 | Rs. 24.99
Product title
Vendor
Rs. 19.99 | Rs. 24.99
Product title
Vendor
Rs. 19.99 | Rs. 24.99