Unleash Your Music in Perfect Harmony
Product Name
KiwiEars Quintet IEM
Drivers
1 Diamond-Like Carbon (DLC) dynamic driver, 2 balanced armature (BA) drivers, 1 planar magnetic driver, and 1 piezoelectric (PZT) bone conductor
Cable Details
1.2meters, High-Quality Oxygen-free Silver-Plated Copper Cable
Cable Connectors
2 Pin 0.78mm
Cable Termination
3.5mm Stereo Cable
What will you get
1x KiwiEars Quintet IEM
1x High-quality Oxygen-free Silver-Plated Copper Cable
6x Pairs Silicone Eartips
1x Carrying Case
1 YEAR WARRANTY
Don't worry,KiwiEars Quintet IEM comes with a 1 Year warranty against manufacturing defects. We guarantee that every product on Concept Kart is genuine and backed by the Manufacturer's warranty.
Read more about Concept Kart's warranty policy.
FREE SHIPPING ON ALL PREPAID ORDERS
We usually ship orders on same day if ordered before 2 pm or within 24 hours if ordered later (except on holidays/sunday, where processing times may be higher) from one of our domestic warehouses based out of Delhi. It normally takes around 1 to 5 business days for delivery. We use premium service partners such as Blue dart, DTDC and Delivery for faster and reliable service. A tracking number will be provided upon shipment.
In very rare cases when order is not received after 10 business days of shipment (extended by number of days when the govt. Restricts movement of goods due to factors such as coronavirus pandemic), please contact us and we will provide you a refund.
HYBRID DRIVER CONFIGURATION
KiwiEars Quintet IEM combines a 4-driver configuration consisting of a DLC dynamic driver, two balanced armature drivers, a planar magnetic driver, and a piezoelectric bone conductor. With a total of 10 drivers (5 drivers per side), it delivers a rich and immersive audio experience. The DLC dynamic driver offers impactful bass, while the balanced armature drivers provide natural and resolving mids. The planar magnetic driver ensures extended frequency response and exceptional clarity, and the piezoelectric bone conductor enhances ultra-treble microdetail and soundstage. Together, these drivers create a balanced tonal signature with detailed treble, neutral upper mids, and impactful bass, allowing you to hear every nuance in your music like never before.
INNOVATIVE MICRO PLANAR TRANSDUCER
KiwiEars Quintet IEM features the innovative Micro Planar Transducers (MPT) tweeter system, which revolutionizes the audio experience. This cutting-edge technology offers low noise, ensuring a clean and immersive sound reproduction. With high output capacity, the MPT tweeter delivers crisp and detailed treble, bringing out the subtle nuances in your music.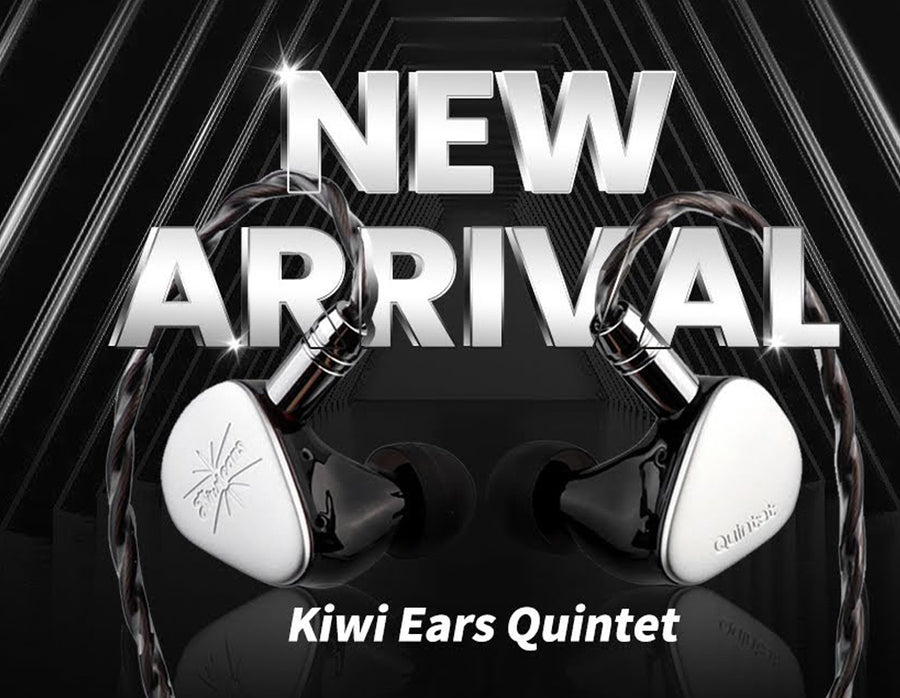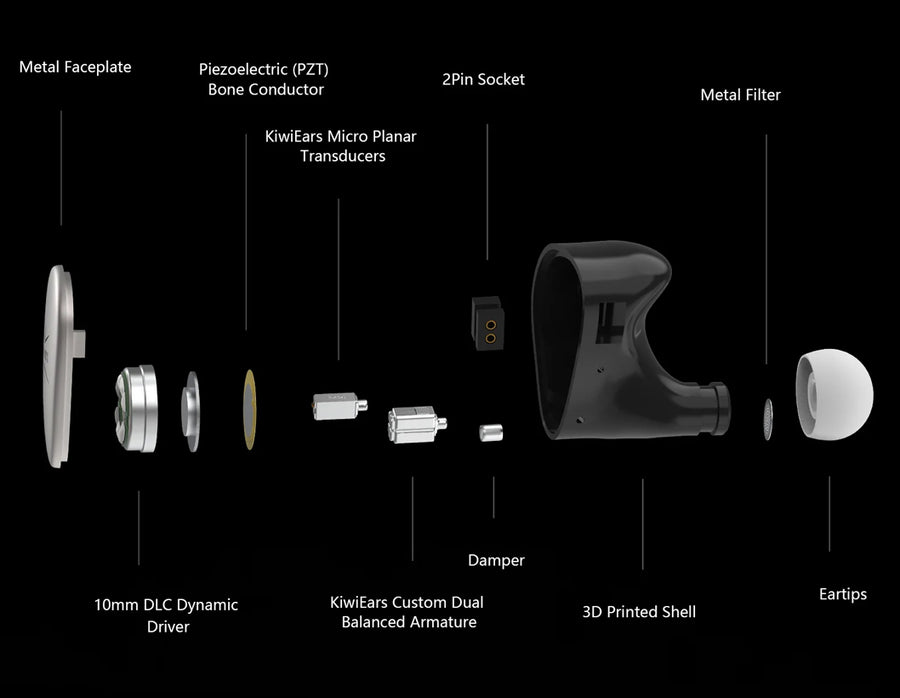 BALANCED TONAL SIGNATURE
The KiwiEars Quintet IEM is designed to deliver a balanced tonal signature that delivers high-quality sound for audiophiles. The Quintet carefully combines the best qualities of each driver type to create a harmonious audio experience. The impactful bass produced by the DLC dynamic driver adds depth and presence to the low-frequency range, while the balanced armature drivers contribute to neutral upper mids, ensuring a clear and natural reproduction of vocals and instruments. The detailed treble, facilitated by the planar magnetic driver and the piezoelectric bone conductor, adds sparkle and definition to high-frequency elements in the music.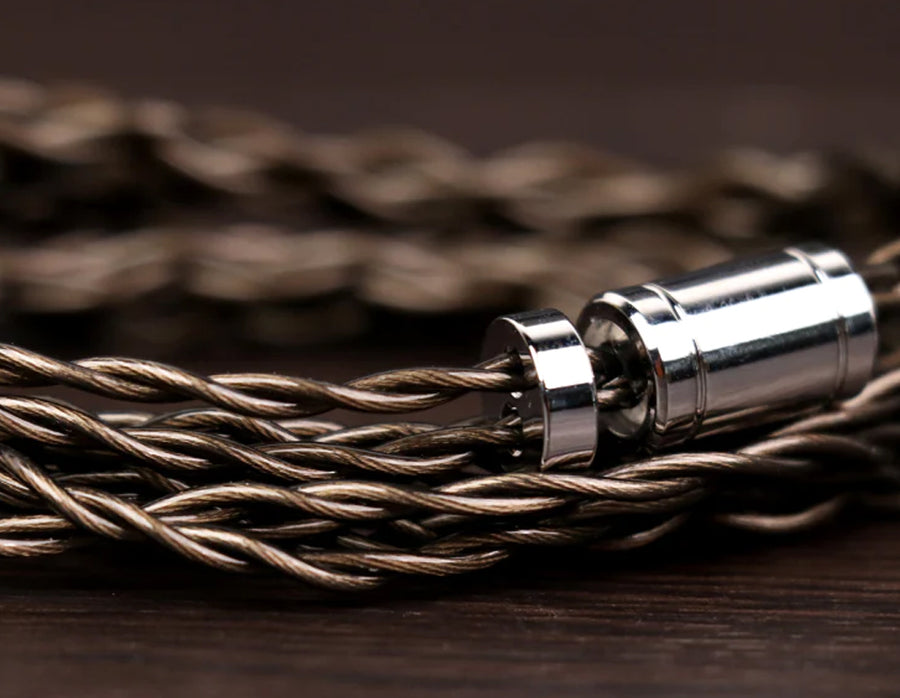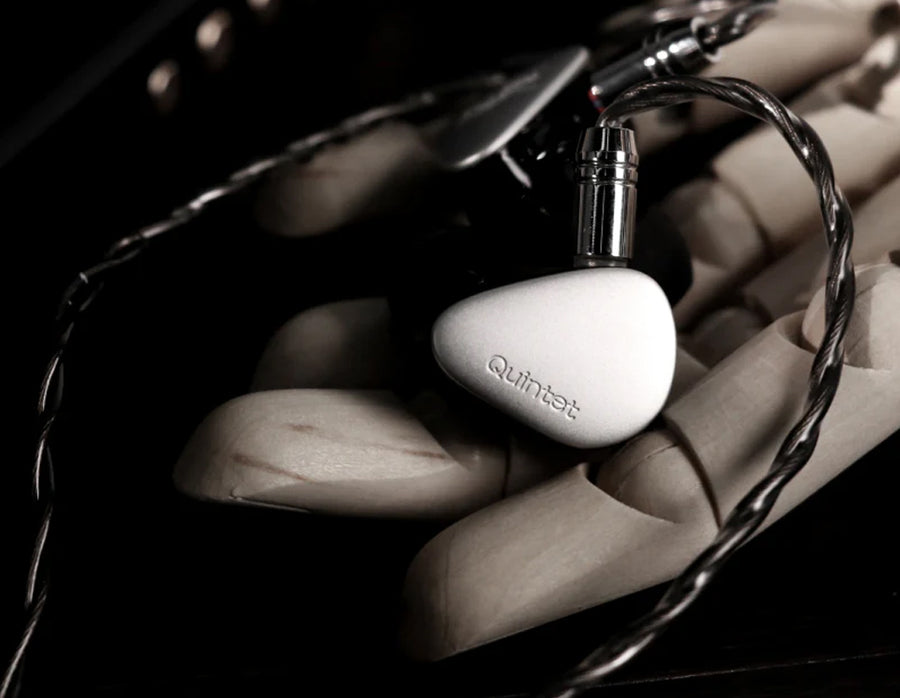 HIGH-QUALITY OXYGEN FREE SILVER-PLATED COPPER CABLE
KiwiEars Quintet comes with high-quality oxygen-free silver-plated copper cable ensures excellent audio transmission, delivering a clean and pristine signal with minimal interference or distortion featuring a 2-pin connector. This allows for effortless cable replacement, giving you the flexibility to customize your listening experience or replace a damaged cable. This feature provides convenience, versatility, and the option to upgrade or switch cables according to your preferences.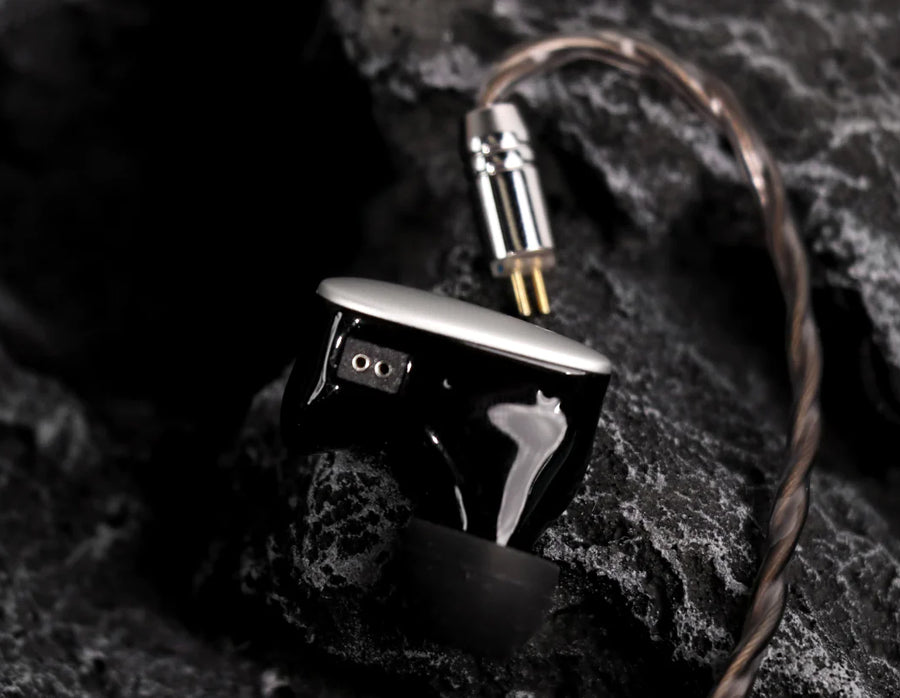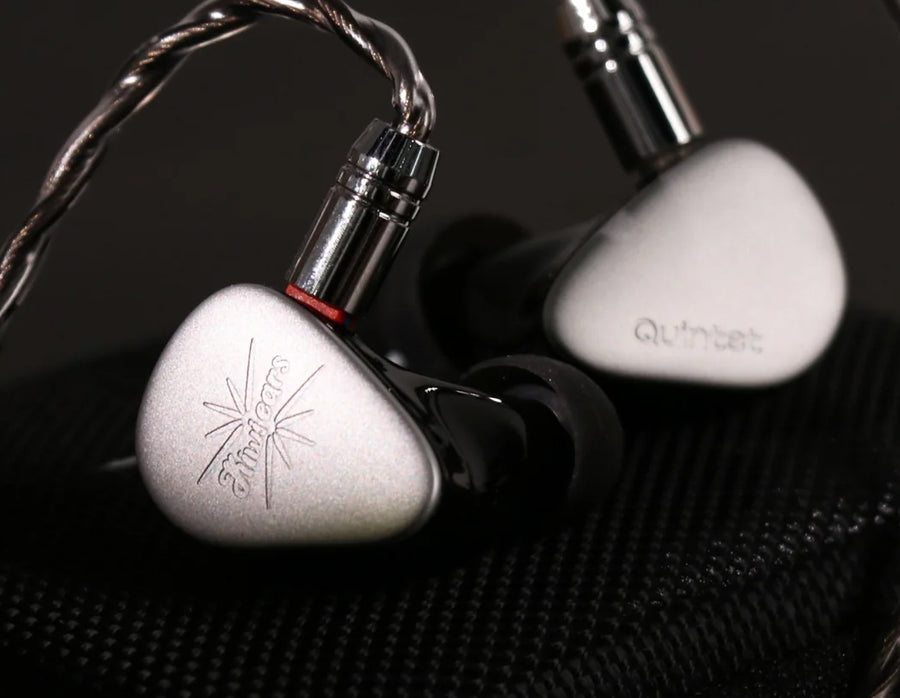 METICULOSLY HANDCRAFTED IEM
KiwiEars Quintet IEM is meticulously handcrafted, tested, and paired to ensure exceptional consistency and quality across both the left and right channels. This hands-on approach allows for meticulous attention to detail during the manufacturing process, resulting in a product that meets the highest standards of craftsmanship. The careful construction and testing of each unit guarantee that you receive a precisely matched pair of IEMs that deliver a consistent and immersive audio experience.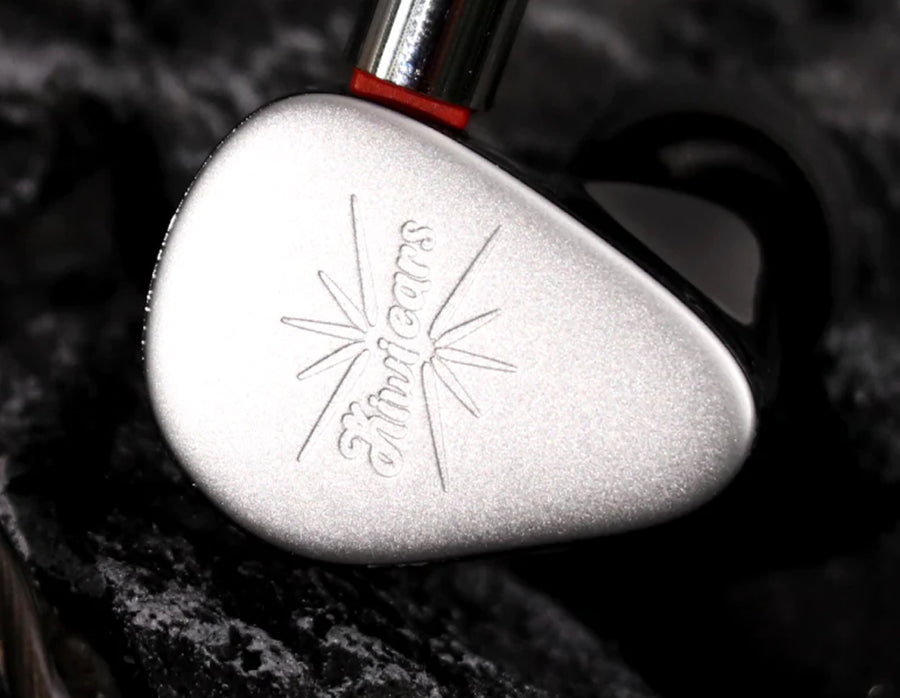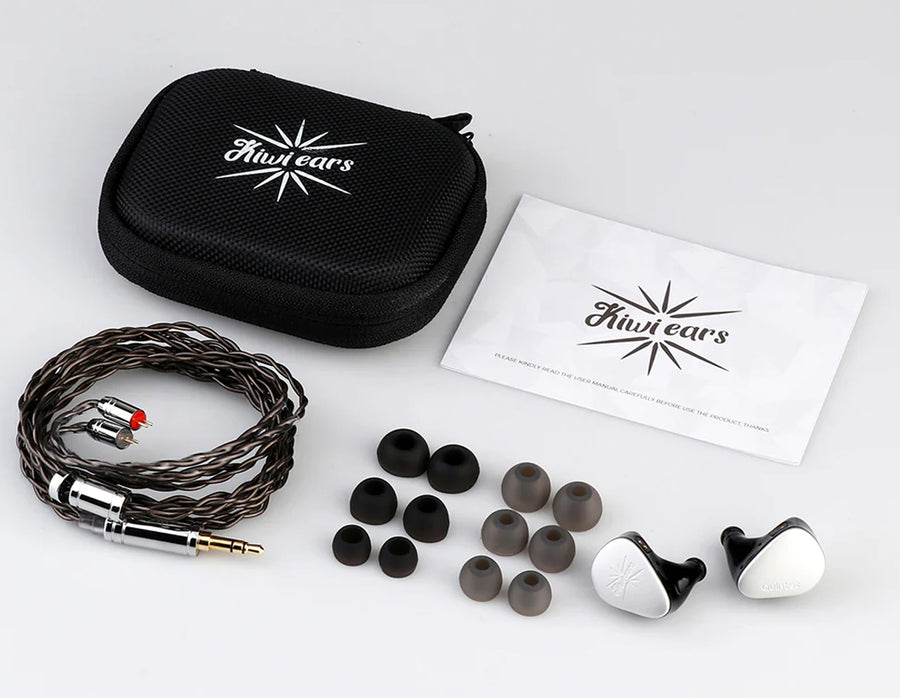 ERGONOMIC DESIGN AND COMFORTABLE TO WEAR
The KiwiEars Quintet is designed with an intuitive earphone placement, ensuring a hassle-free and comfortable experience. The ergonomic design allows for easy insertion and proper alignment, ensuring a secure fit and optimal audio performance.
Product title
Vendor
Rs. 19.99 | Rs. 24.99
Product title
Vendor
Rs. 19.99 | Rs. 24.99
Product title
Vendor
Rs. 19.99 | Rs. 24.99
Product title
Vendor
Rs. 19.99 | Rs. 24.99