Shipping & Delivery
Heavy rain and flood like situations may cause delays
Free Shipping on Prepaid Orders
Same day dispatch, if ordered before 2:00 PM.
Order Placed before 2:00 PM will be shipped within 24 hrs. (Except Sunday and Holidays)
EXTRA SAVINGS & Rewards
Earn upto 5% of order value
With GST invoice, save up to 28% on business purchases
RETURN POLICY
10 Days Replacement Policy
All products are covered by 10 Day Replacement Guarantee. This product is eligible for a free replacement, in case you receive a damaged, defective or different item. Please keep the product in its original condition with all accessories & packaging for a successful return. We may contact you to assess the damage or defect before issuing a replacement. Accessories like cables and eartips are not backed up the manufacturer's warranty.

Please note that physical damage cases need to be brought to our notice within 24 hours.

WARRANTY
1 Year Manufacturer's Warranty
INTRODUCTION: Binary Acoustics was founded back in 2017. The brand has dedicated years to research and development in pursuit of creating products that deliver an immersive audio experience. They target to design high-quality sounding IEMs with compact form factors. They bring the perfect fusion of high-fidelity sound with great comfort. 
Model Name
× Binary Chopin
Product Name
Gizaudio × Binary Chopin IEM
Senstivity
122dB/Vrms@1Khz
Effective Frequency Response
20-20Khz (IEC60318-4)
Driver
8mm Cermet diaphgram DD and 3BA hybrid system
Housing
Resin 3D Printed Chamber + Stainless Steel Panel
What will you get
1x Gizaudio × Binary Chopin IEM
1x High Purity Stock Cable
3x Pair Eartips
2x Earphone Pouch
1x User Manual
1x Cleaning Brush
1 YEAR WARRANTY
Don't worry, Gizaudio × Binary Acoustics Chopin IEM comes with a 1 Year warranty against manufacturing defects. We guarantee that every product on Concept Kart is genuine and backed by the Manufacturer's warranty.
Read more about Concept Kart's warranty policy.
FREE SHIPPING ON ALL PREPAID ORDERS
We usually ship orders on same day if ordered before 2 pm or within 24 hours if ordered later (except on holidays/sunday, where processing times may be higher) from one of our domestic warehouses based out of Delhi. It normally takes around 1 to 5 business days for delivery. We use premium service partners such as Blue dart, DTDC and Delivery for faster and reliable service. A tracking number will be provided upon shipment.
In very rare cases when order is not received after 10 business days of shipment (extended by number of days when the govt. Restricts movement of goods due to factors such as coronavirus pandemic), please contact us and we will provide you a support.
DEVELOPED IN PARTNERSHIP WITH GIZAUDIO
Crafted in partnership with the renowned Gizaudio, a prominent media channel with a substantial fan base, Binary Acoustics has engaged in a collaborative effort to harness their simulated frequency curve recommendations. This collaboration has culminated in the optimization of the Chopin's performance to ensure that it delivers a superb auditory experience. The Chopin has been meticulously fine-tuned to offer accurate sound reproduction and the ability to enhance various music genres seamlessly.
FOUR DRIVER HYBRID SETUP
The Chopin is equipped with a four-driver hybrid setup by Binary Acoustics. This setup features an 8mm ceramic diaphragm dynamic driver unit that enriches the audio experience with robust bass. Additionally, it features a customized balanced armature (BA) driver dedicated to delivering exceptional midrange sound quality, along with a custom composite dual-BA driver unit for precise and crystal-clear high-frequency response.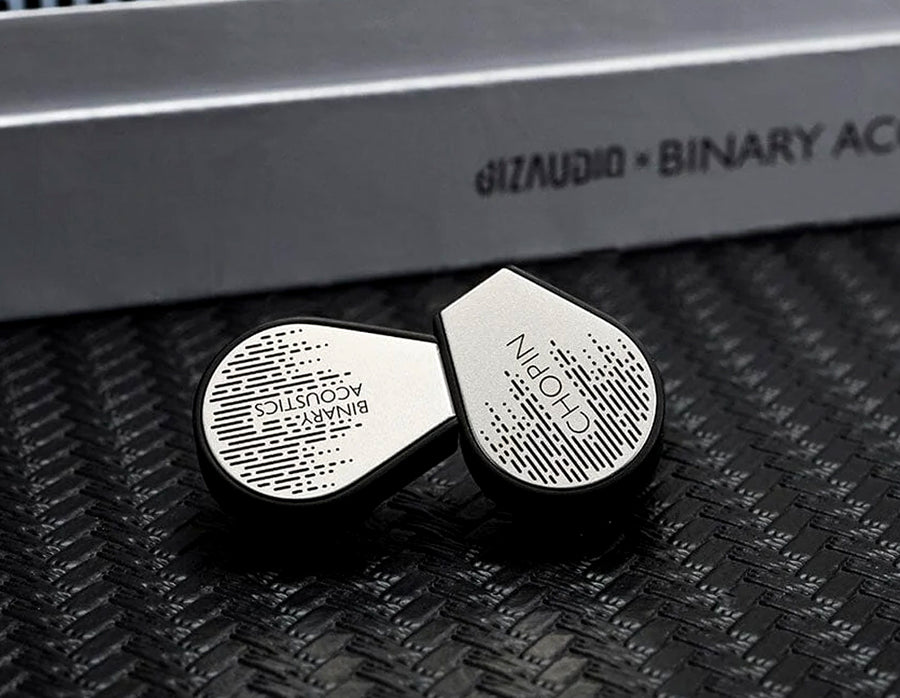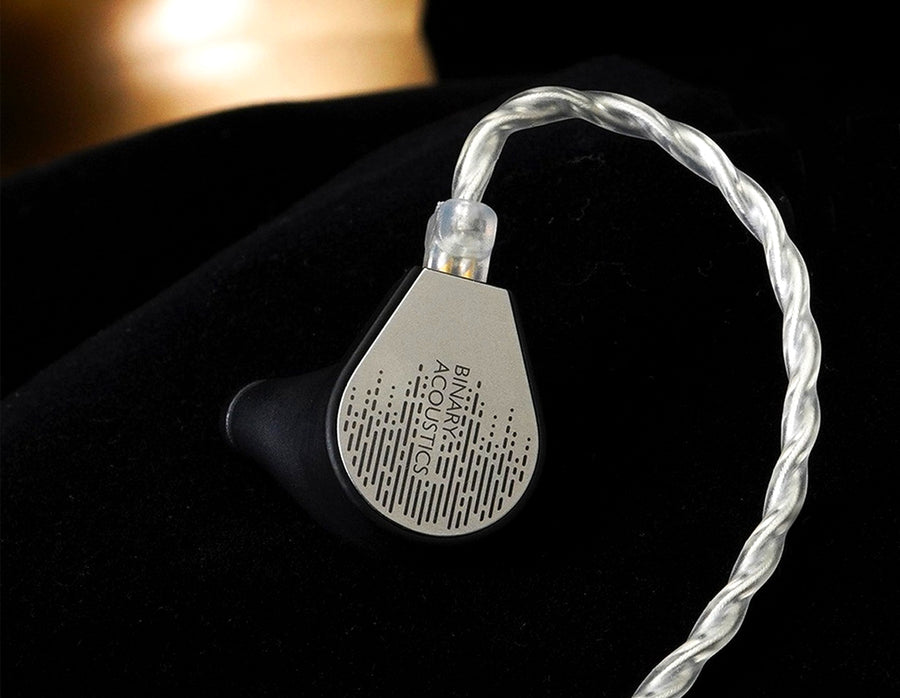 ENHANCED COMFORT AND STYLISH DESIGN
Binary Acoustics x Gizaudio Chopin offers a comfortable ergonomic design for its shells. These shells are meticulously crafted using high-precision 3D printing technology and skin-friendly medical-grade resin material, ensuring a snug fit. Additionally, they feature stylish designer aesthetics, accentuated by stainless steel face panels, adding to the excitement of their appearance.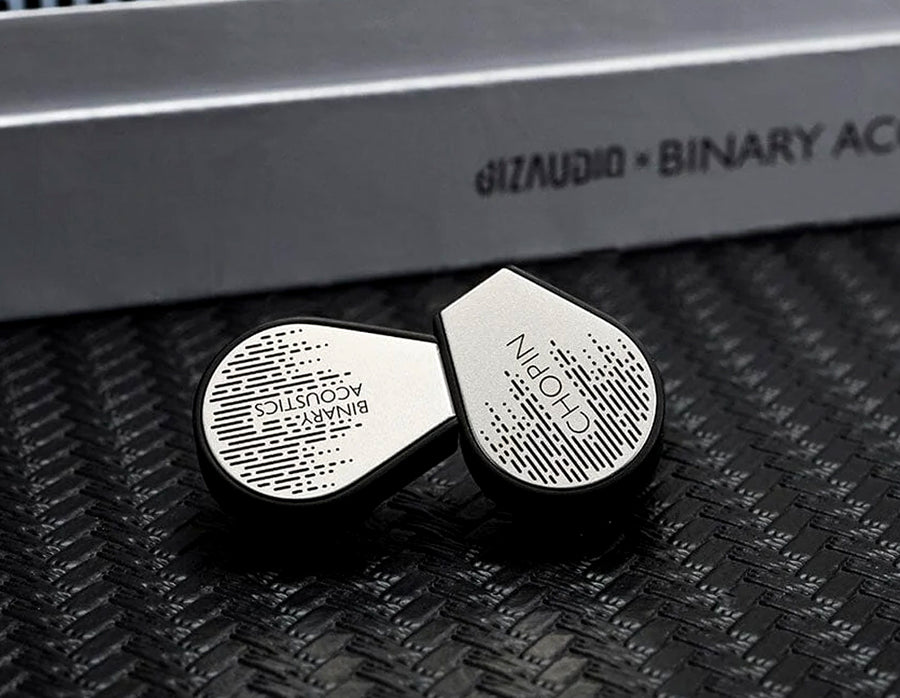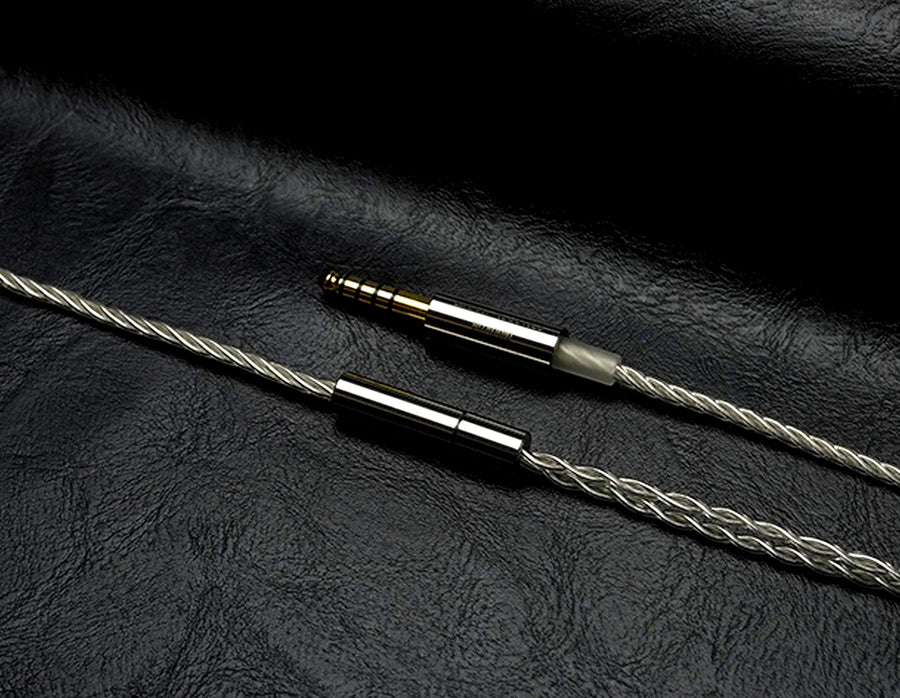 PREMIUM QUALITY STOCK CABLE
Binary Acoustics x Gizaudio Chopin comes with a high-quality cable made of pure OFC (Oxygen-Free Copper) with silver plating. This cable ensures clear sound transmission, leading to improved sound quality and reduced distortion. You can choose between 3.5mm or 4.4mm termination options when placing your order.
Add a heading
Add content using the options to the left
Product title
Vendor
₹ 19.99 | ₹ 24.99
Product title
Vendor
₹ 19.99 | ₹ 24.99
Product title
Vendor
₹ 19.99 | ₹ 24.99
Product title
Vendor
₹ 19.99 | ₹ 24.99
<! -- Mezereon Configuration -->