Precision, Power, Perfection
Product Name
DUNU SA6 MK2 IEM
Frequency Response
5Hz – 40Khz
Total Harmonic Distortion
<0.5% at 1Khz
Balance Armature Driver Configuration
• BASS (2): Sonion AcuPass Vented Dual Woofer
• MIDRANGE (2): Knowles Custom Midrange Driver (x2)
• TREBLE (2): Knowles Custom Dual Tweeter

Tuning Modes
• Default Signature (Switch Position "I")
• Atmospheric Immersion (Switch Position "ON")

Housing Material
• Shell: German Nice-Fit Hand-Poured UV Acrylic Resin
• Faceplate: High-Grade Stabilized Wood

Wire Material
HULK Pro Mini
Cable Connector
2 Pin 0.78mm
Plug Connector
• Patented Q-Lock Plus Modular Plug System
• Included Plug Termination(S)
• 4.4mm TRRS Balanced, 3.5mm TRS Single-Ended

What will you get
DUNU SA6 MK2 in-ear monitors (IEMs)
Premium Hulk Pro Mini IEM cable
Various sizes of ear tips, including larger-sized S&S ear tips
Stylish and sturdy carry case with DUNU logo
User manual or instruction guide
1 YEAR WARRANTY
Don't worry, DUNU Studio SA6 MK2 IEM comes with a 1 Year warranty against manufacturing defects. We guarantee that every product on Concept Kart is genuine and backed by the Manufacturer's warranty.
Read more about Concept Kart's warranty policy.
FREE SHIPPING ON ALL PREPAID ORDERS
We usually ship orders on same day if ordered before 2 pm or within 24 hours if ordered later (except on holidays/sunday, where processing times may be higher) from one of our domestic warehouses based out of Delhi. It normally takes around 1 to 5 business days for delivery. We use premium service partners such as Blue dart, DTDC and Delivery for faster and reliable service. A tracking number will be provided upon shipment.
In very rare cases when order is not received after 10 business days of shipment (extended by number of days when the govt. Restricts movement of goods due to factors such as coronavirus pandemic), please contact us and we will provide you a refund.
SIX HIGH-PERFORMANCE BA DRIVERS
DUNU Studio SA6 MK2 is unique pair of IEMs that delivers outstanding performance. It is equipped with six Balanced Armature drivers sourced from well-regarded manufacturers, SONION and Knowles. This configuration includes dual SONION woofers for the low frequencies, dual midrange drivers from Knowles for the midrange frequencies, and dual treble drivers, also from Knowles, for the high frequencies. The pair has been meticulously adjusted with a three-way frequency crossover, allowing for precise frequency division and response.
DELIVERS AN IMPROVED AUDIO EXPERIENCE
DUNU SA6 MK2 has undergone a sound tuning revamp based on user feedback from the OG Studio SA6 and limited Edition SA6 Ultra. It includes an improved three-frequency response, delivering deeper bass impact, cleaner midrange accuracy, and wider, airier treble extensions. This ensures compatibility with various genres, offering listeners a truly blissful and immersive listening experience.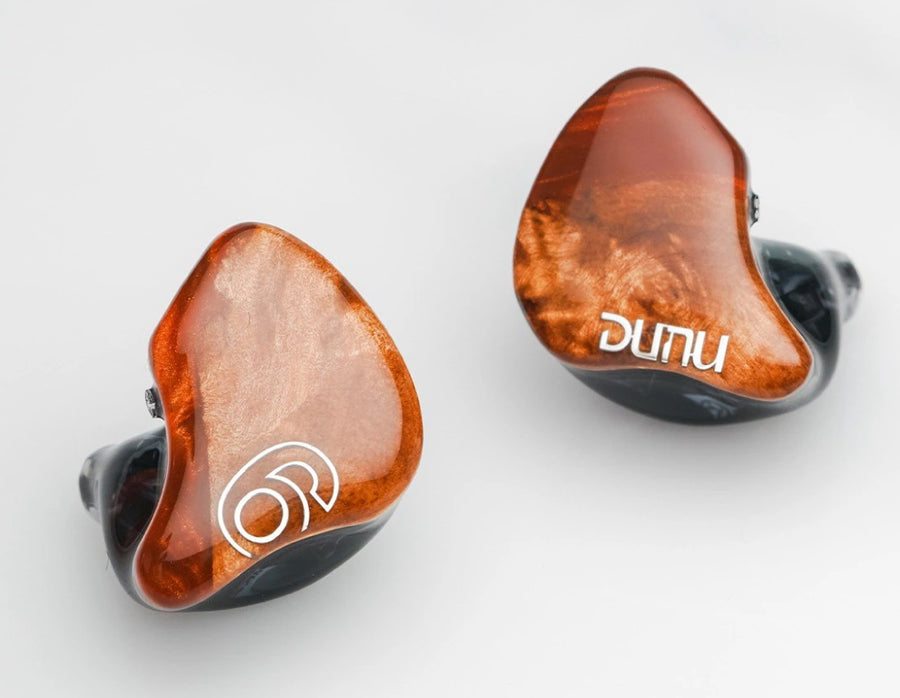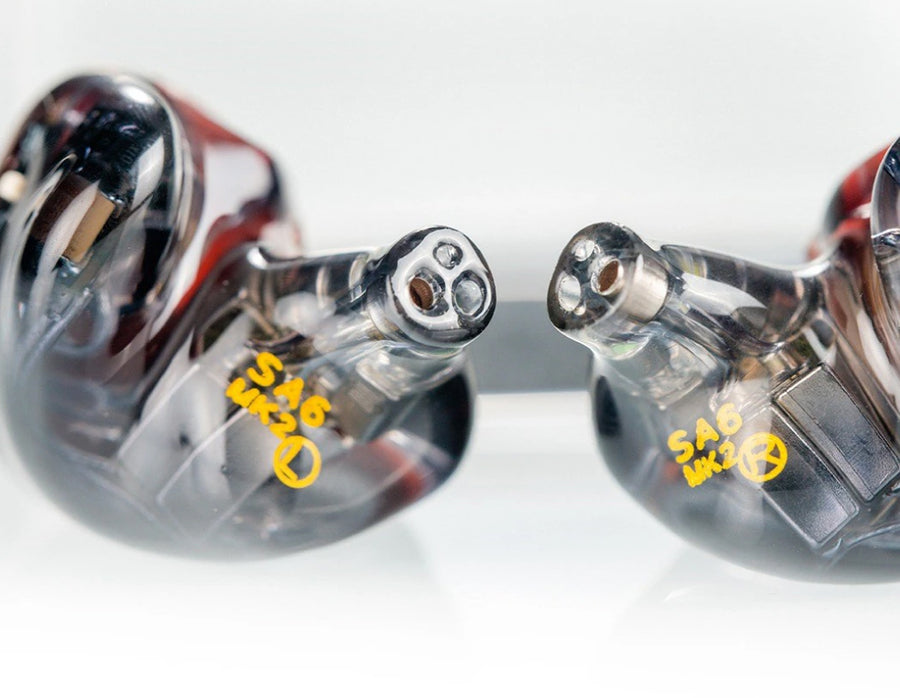 DUAL SOUND SIGNATURE WITH SINGLE TUNING SWITCH
DUNU SA6 MK2 features a tuning switch that allows users to choose between two different sound signatures. The switch is easy to use with just your fingers, no special tools required. The standard mode provides accurate and balanced sound, while the ambience enhancement mode adds a little extra punch to the lower end. These two modes can adapt to different music genres effectively.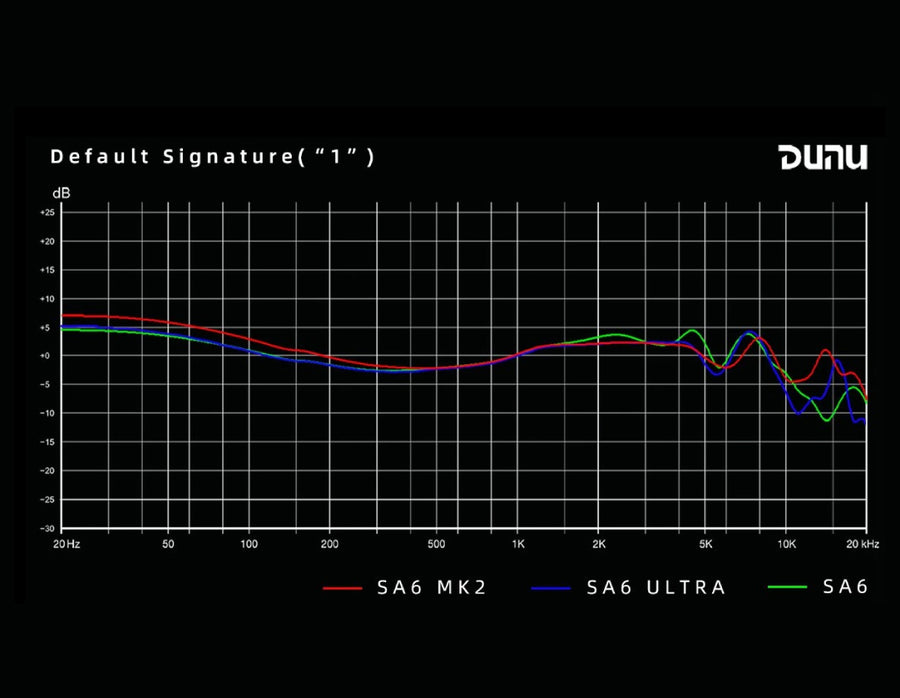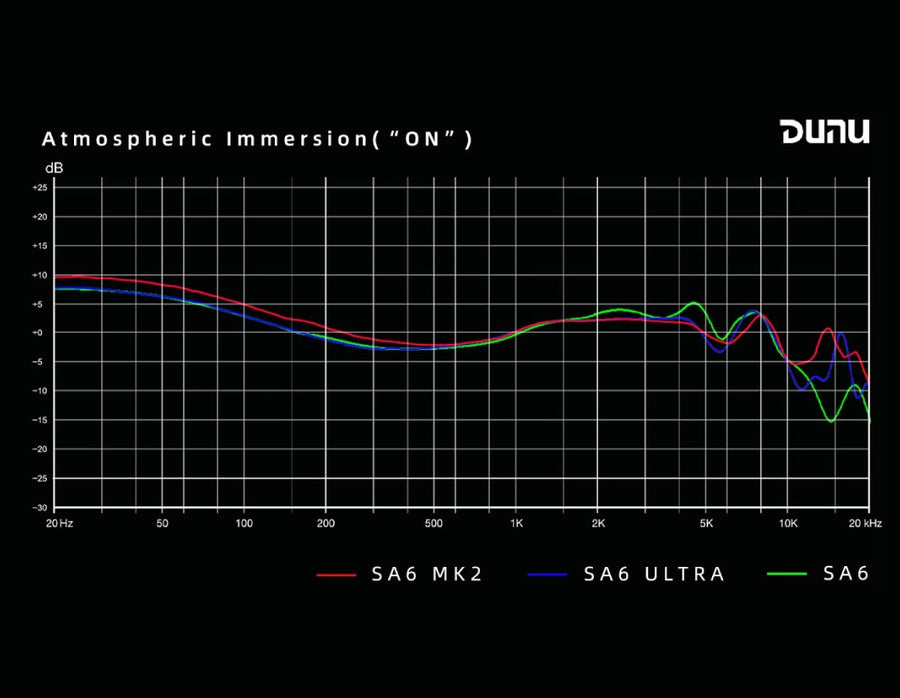 INTRODUCING THE PREMIUM HULK PRO MINI UPGRADE CABLE
The new SA6 MK2 comes with the DUNU Hulk Pro Mini IEM cable as standard, similar to the SA6 Ultra. This upgraded cable shares the same design as the original Hulk Pro but with a lighter build while maintaining excellent sound quality. It features DUNU's patented Q-Lock swappable termination plug system and includes both 3.5mm and 4.4mm plugs in the package.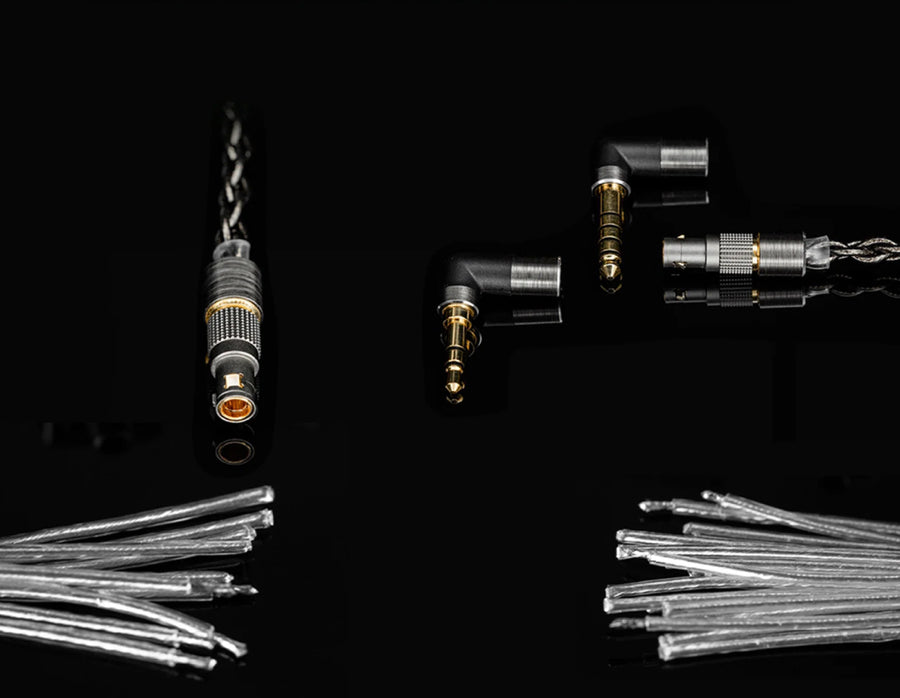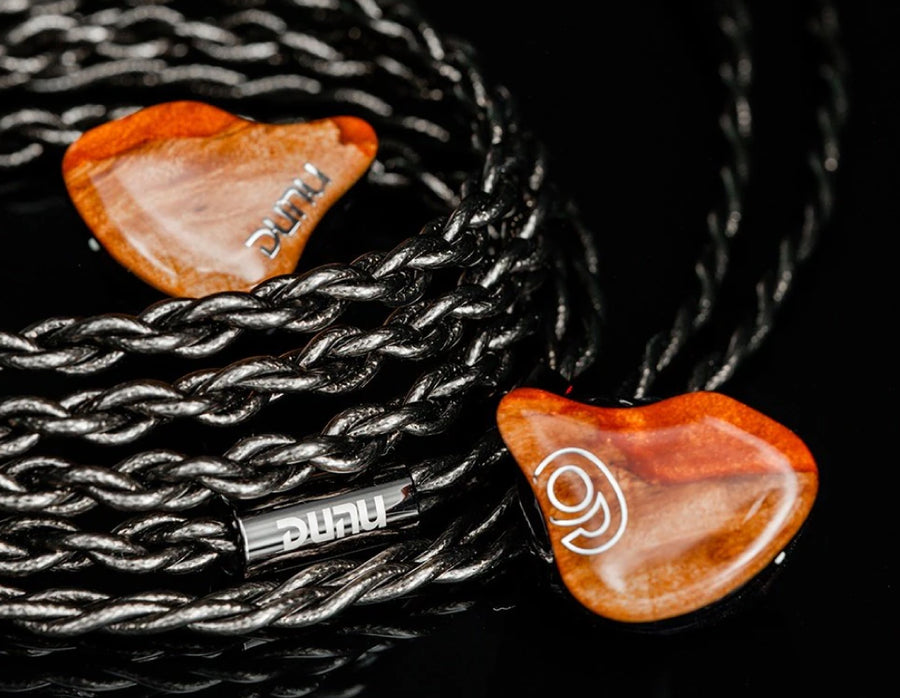 HANDCRAFTED ELEGANCE AND ENHANCED COMFORT
DUNU Studio SA6 MK2 has got impressive new design. Its handcrafted shells feature exquisite wooden face covers in a great combination of red and contrasting tones, resulting in a truly stunning appearance. The shells have been thoughtfully shaped to prioritize comfort and ergonomics, ensuring a pleasant and comfortable wearing experience.
NEUTRAL SOUND PROFILE WITH SLIGHTLY BOOSTED LOWER-END RESPONSE
The SA6 MK2 offers an overall neutral sound profile with a slight emphasis on the lower-end response, creating a well-balanced audio experience that complements various genres of music. With exceptional clarity, delightful tone, and a satisfyingly punchy lower end, these earphones deliver an incredible sound performance.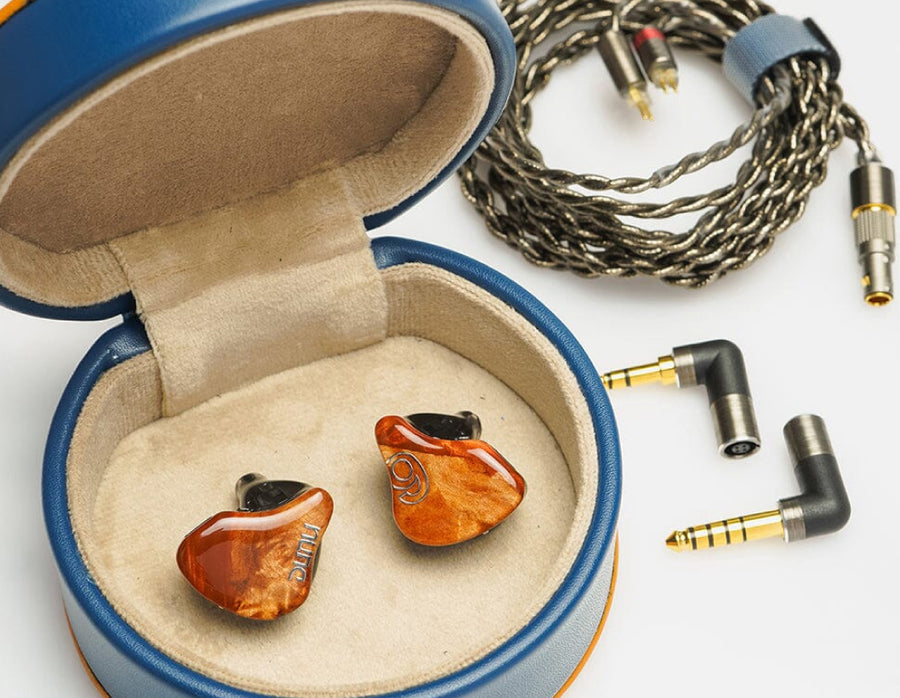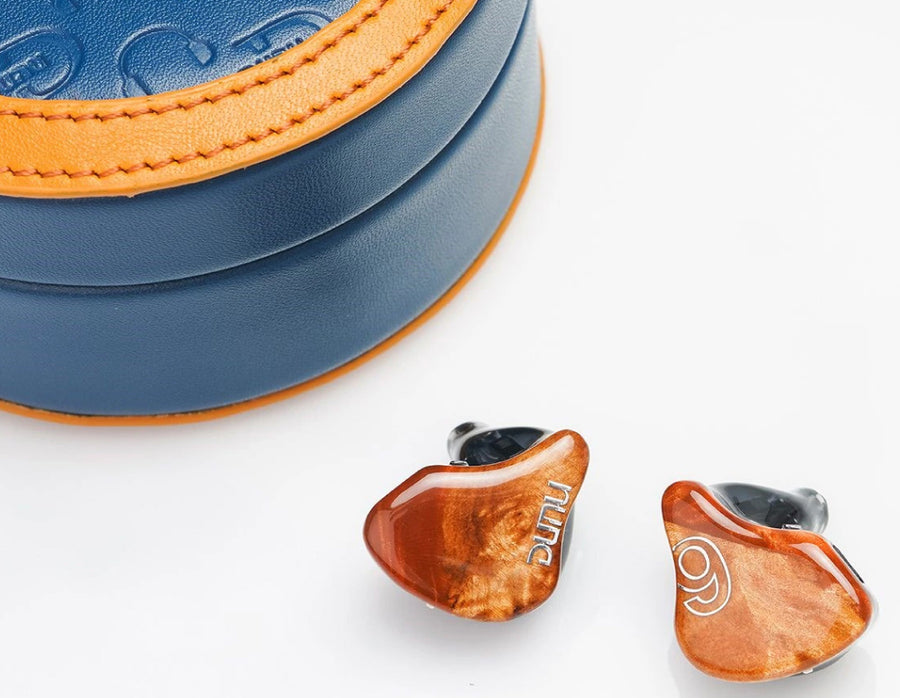 COMPLETE PACKAGE
DUNU SA6 MK2 IEMs comes with various ear tips, including larger-sized S&S ear tips from DUNU. It also includes a stylish and sturdy carry case with the DUNU Logo on top. The DUNU SA6 MK2 provides everything you need to start using them right away, all neatly packed in one complete package.
Product title
Vendor
Rs. 19.99 | Rs. 24.99
Product title
Vendor
Rs. 19.99 | Rs. 24.99
Product title
Vendor
Rs. 19.99 | Rs. 24.99
Product title
Vendor
Rs. 19.99 | Rs. 24.99