Elevate Your Listening Experience with CVJ TXS IEM
Earphone sensitivity
115dB
Frequency range
20-20000Hz
Earphone interface
2Pin 0.75mm S (Standard)
Driver unit
10mm dual magnetic dynamic coil
What will you get
1 x CVJ TXS IEM
1 x Cable (Oxygen Free Copper)
2 x Pair Eartips
1 x Tuning Switch Pin
1 x User Manual
1 x Earphone Case
1 YEAR WARRANTY
Don't worry, TRI - Star River IEM comes with a 1 Year warranty against manufacturing defects. We guarantee that every product on Concept Kart is genuine and backed by the Manufacturer's warranty.
Read more about Concept Kart's warranty policy.
FREE SHIPPING ON ALL PREPAID ORDERS
We usually ship orders on same day if ordered before 2 pm or within 24 hours if ordered later (except on holidays/sunday, where processing times may be higher) from one of our domestic warehouses based out of Delhi. It normally takes around 1 to 5 business days for delivery. We use premium service partners such as Blue dart, DTDC and Delivery for faster and reliable service. A tracking number will be provided upon shipment.
In very rare cases when order is not received after 10 business days of shipment (extended by number of days when the govt. Restricts movement of goods due to factors such as coronavirus pandemic), please contact us and we will provide you a refund.
BLACK GOLD COMPOUNDED DIAPHRAGM
It feature a black gold compounded diaphragm. The compounded diaphragm design allows for improved rigidity, reduced distortion, and increased sensitivity, resulting in accurate sound reproduction across a wide frequency range. The black gold compound adds an element of durability and elegance to the diaphragm, brings a high-quality audio experience with enhanced clarity and detail.
DUAL MAGNETIC DYNAMIC DRIVER
The IEM feature a dual magnetic dynamic driver system. This configuration includes two magnets and a diaphragm. The dual magnets enhance the low-frequency performance, providing deep and rich bass reproduction. Additionally, the driver setup contributes to a wide soundstage, expanding the perceived spatial dimension of the audio. The enhanced atmospheric density created by this design adds depth and realism to the sound, resulting in a more immersive and engaging listening experience.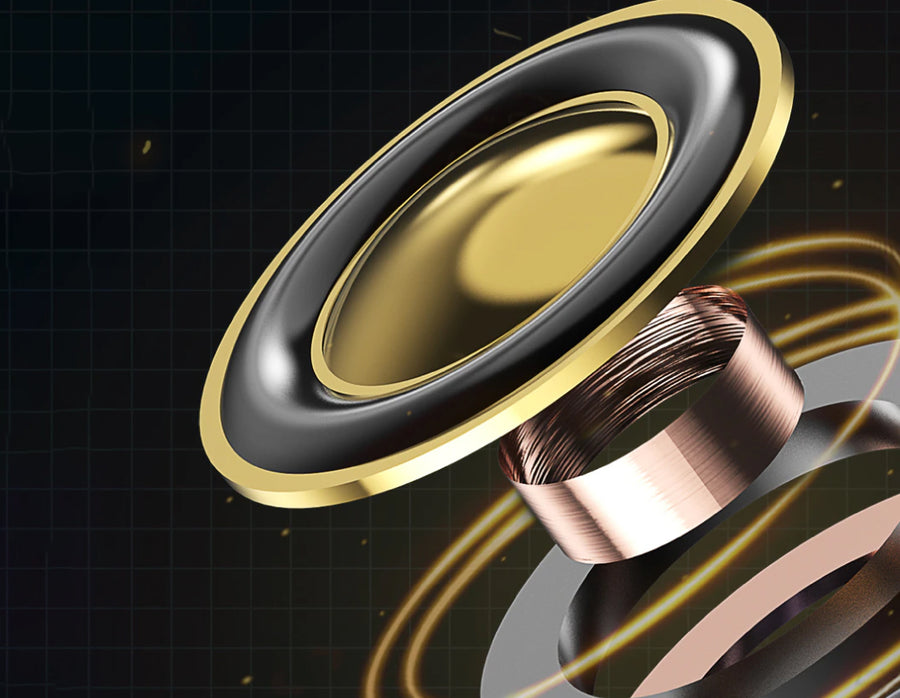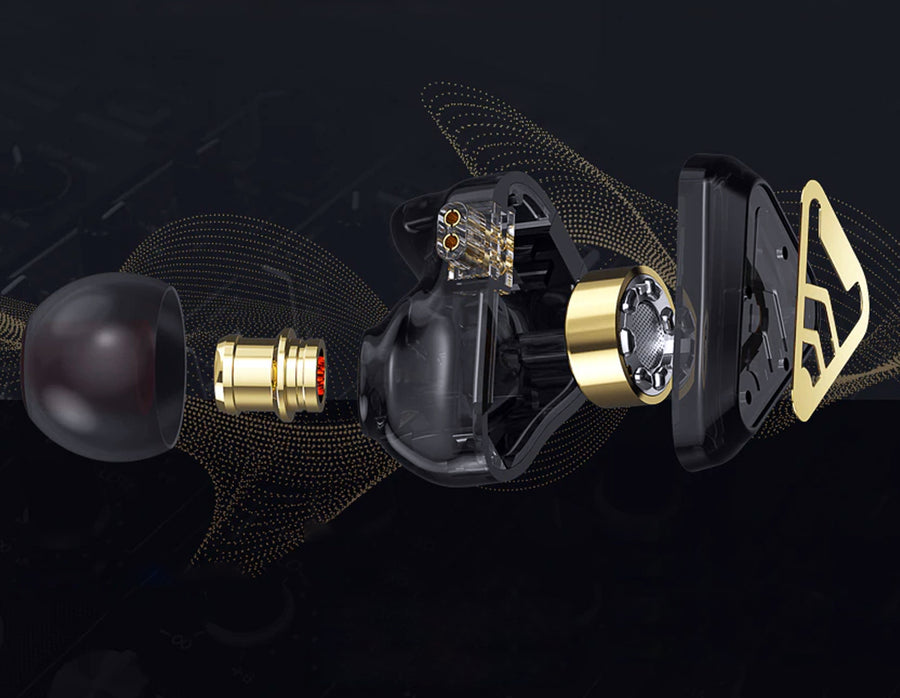 METAL INLAY DECORATION
The TXS IEM incorporate a decorative element of metal inlay. This feature adds a stylish and visually appealing design element to the headphones, enhancing their overall aesthetic appeal. The metal inlay decoration provides an extra touch of sophistication and attention to detail, making the headphones stand out in terms of both looks and craftsmanship.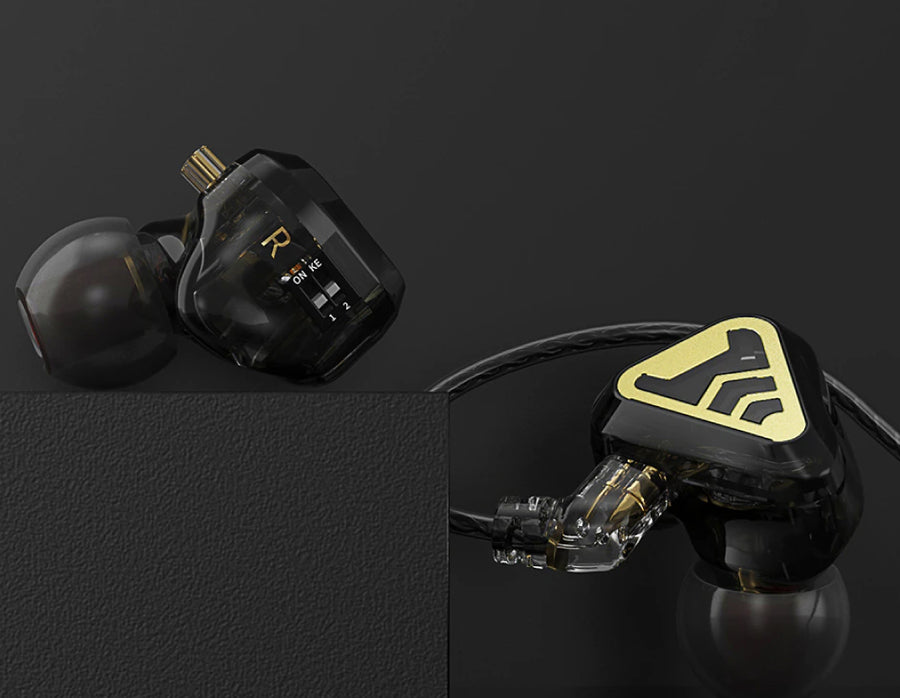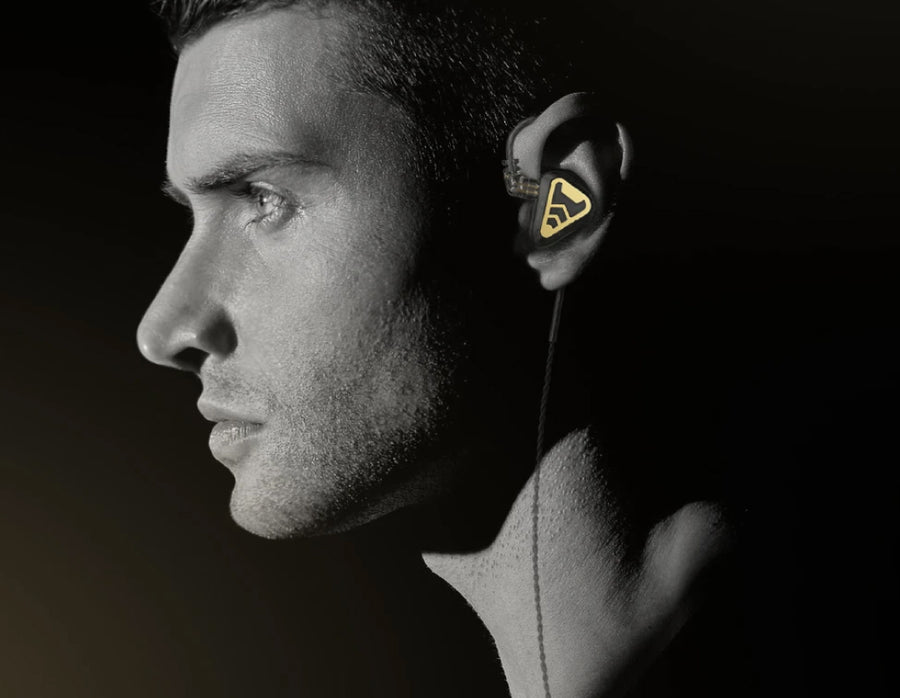 HD CALL MICROPHONE
The IEM is equipped with an HD call microphone. This microphone is specifically designed to provide high-definition audio quality during phone calls or voice communication. It Features clear and detailed sound, allowing for improved clarity and accuracy during conversations. The HD call microphone ensures that your voice is accurately transmitted, making it ideal for hands-free calling, online meetings, or gaming with voice chat.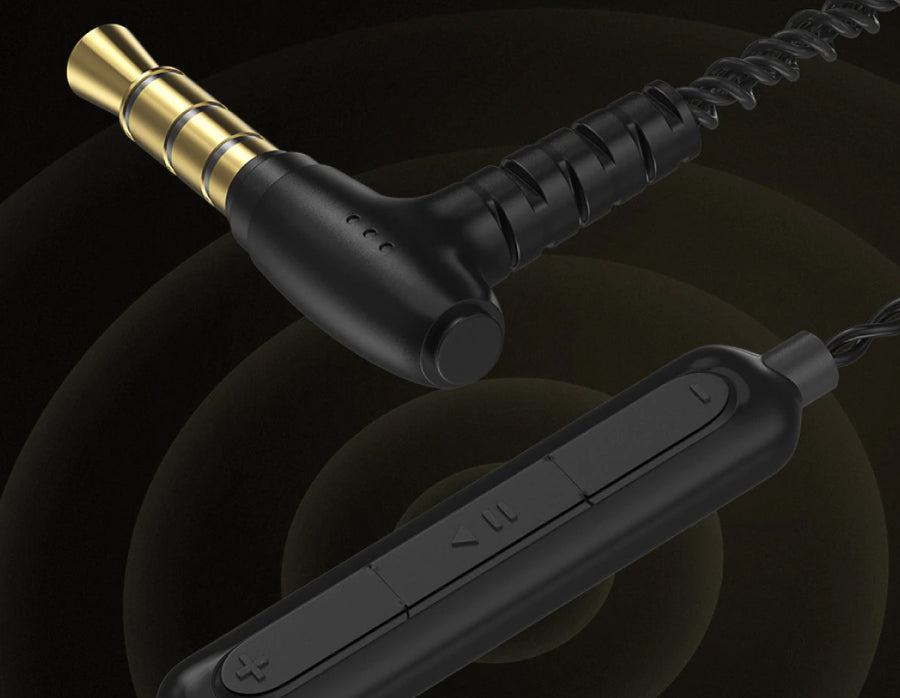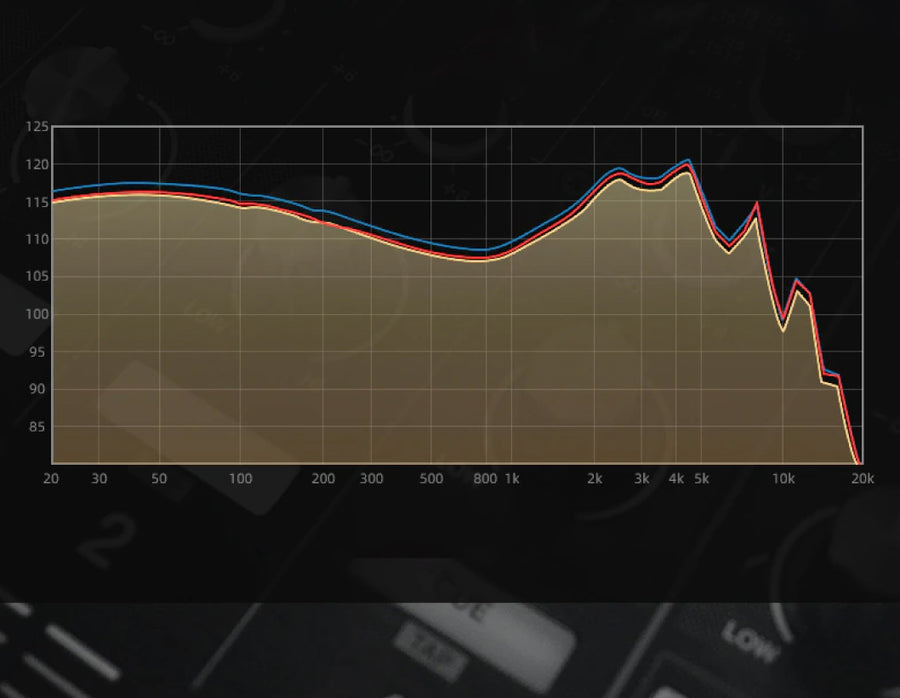 INDEPENDENT TUNING SWITCHES
It feature two tuning switches that allow for three different tuning profiles. Music Mode/Game Mode/HiFi Mode.
• Music Mode: Provides a balanced sound for enjoyable and accurate music listening across different genres. Suitable for daily music and TV show watching
• Game Mode: Optimized for gaming with enhanced in-game sound effects, three-dimensional awareness, and positional accuracy. Immersive Gaming experience.
• Hi-Fi Mode: Delivers a natural and dedicated audio reproduction for critical listening and accuracy. Match with professional music players. Enjoy HiFi sound quality

OXYGEN-FREE COPPER CABLE
The IEM come with a standard oxygen-free copper cable. The cable is known for its high conductivity and low signal loss properties. Its oxygen-free copper feature ensures a clean and accurate audio signal transmission, allowing for a high-fidelity listening experience. The cable is designed to minimize interference and deliver reliable audio performance, making it a reliable choice for connecting the headphones to audio sources.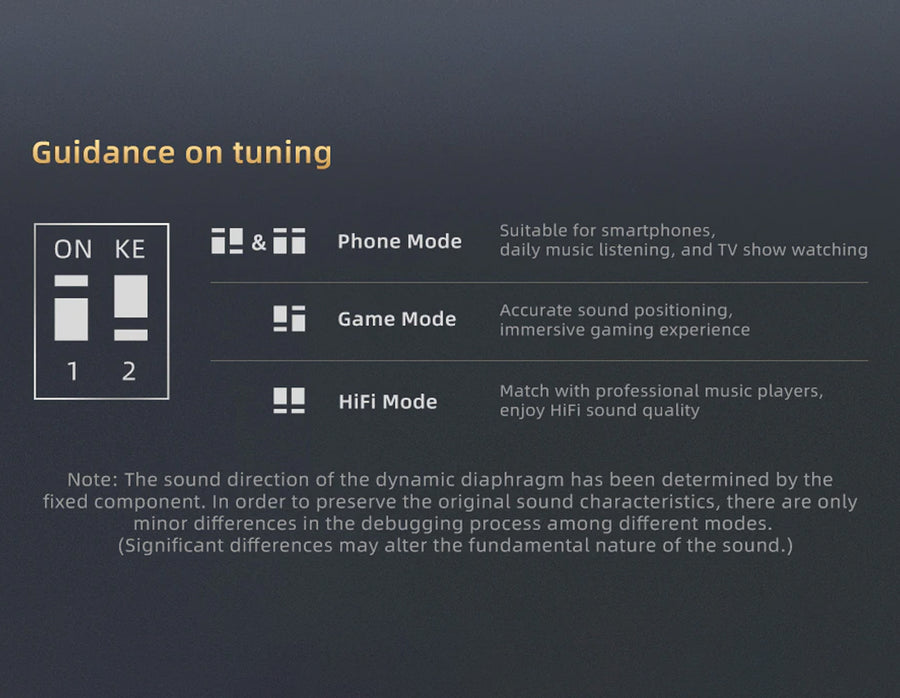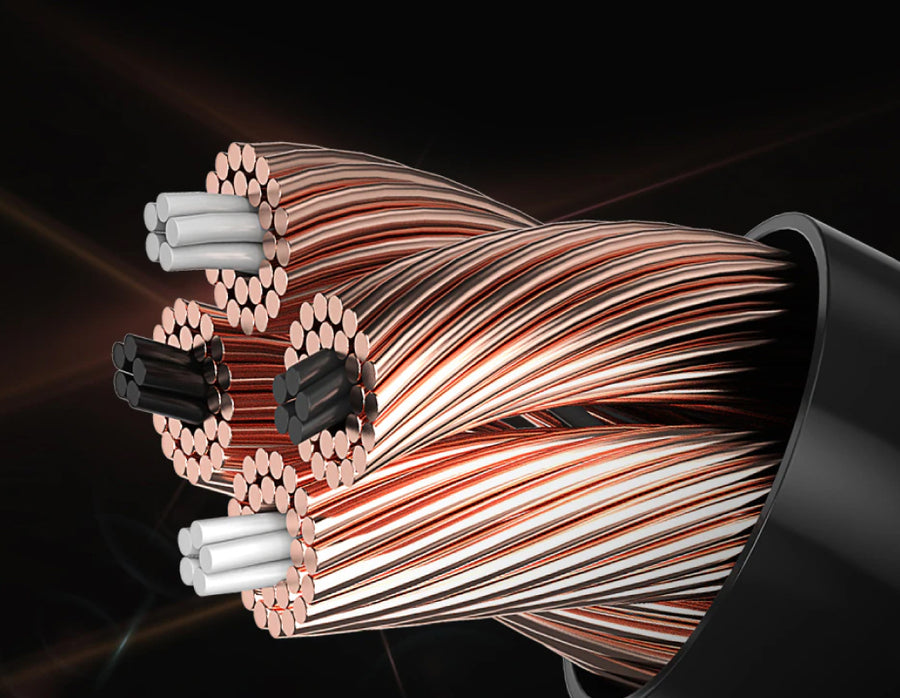 SECURE AND COMFORTABLE FIT
The TXS IEM is designed to provide a secure and comfortable fit, ensuring a natural wearing experience. The earphones are crafted with ergonomics in mind, offering you a snug and secure fit in the ear canal. This earbud design not only enhances sound isolation but also prevents the headphones from easily falling out during active use. The comfortable fit allows for extended listening sessions without discomfort, making the headphones suitable for various activities and longer usage.
Product title
Vendor
Rs. 19.99 | Rs. 24.99
Product title
Vendor
Rs. 19.99 | Rs. 24.99
Product title
Vendor
Rs. 19.99 | Rs. 24.99
Product title
Vendor
Rs. 19.99 | Rs. 24.99