Shipping & Delivery
Heavy rain and flood like situations may cause delays
Free Shipping on Prepaid Orders
Same day dispatch, if ordered before 2:00 PM.
Order Placed before 2:00 PM will be shipped within 24 hrs. (Except Sunday and Holidays)
Cash on Delivery Available
Cash on delivery applicable for order under ₹ 15000
EXTRA SAVINGS & Rewards
Earn upto 5% of order value
With GST invoice, save up to 28% on business purchases
RETURN POLICY
10 Days Replacement Policy
All products are covered by 10 Day Replacement Guarantee. This product is eligible for a free replacement, in case you receive a damaged, defective or different item. Please keep the product in its original condition with all accessories & packaging for a successful return. We may contact you to assess the damage or defect before issuing a replacement. Accessories like cables and eartips are not backed up the manufacturer's warranty.

Please note that physical damage cases need to be brought to our notice within 24 hours.

Experience the Magic of Smart Bulbs
Product Name
TECPHILE NX SK27 RGB Smart Star Light Led Bulb
Power Input
AC100-240V, 5W
Classification of Lasers
Class 1
Work Temprature
14°F~104°F(-10~40°C)
Wireless Type
WiFi 2.4G 1T1R
Laser Color
Green, 515-520nm/Blue, 450nm
LED Parameter
R,623; G,527nm; B,468nm
Shell Material
Flame Retarding V0 Class ABS+PC
Application
Indoor (Home/Café/Bar/motor homes)
Certificate
FCC, CE, ROHS
Control by
Amazon Alexa, Google Home, Smart Life APP
What will you get
1x TECPHILE NX SK27 RGB Smart Star Light Led Bulb
1x User Manual
FREE SHIPPING ON ALL PREPAID ORDERS
We usually ship orders on same day if ordered before 2 pm or within 24 hours if ordered later (except on holidays/sunday, where processing times may be higher) from one of our domestic warehouses based out of Delhi. It normally takes around 1 to 5 business days for delivery. We use premium service partners such as Blue dart, DTDC and Delivery for faster and reliable service. A tracking number will be provided upon shipment.
In very rare cases when order is not received after 10 business days of shipment (extended by number of days when the govt. Restricts movement of goods due to factors such as coronavirus pandemic), please contact us and we will provide you a support.
CUSTOMIZABLE LASER PROJECTION
The Smart Star Light Bulb offers customizable laser projection, allowing you to adjust the speed and brightness of the starry sky effect. A slow and relaxing rotation or a faster and more dynamic motion. You can tailor the starry sky experience to match your preferences and create a truly personalized lighting atmosphere.
ENDLESS COLOR OPTIONS
The Smart Star Light Bulb provides a wide range of 16 million colors to choose from, you can easily create the perfect ambiance for any occasion. Whether you want a calm and soothing blue hue or a vibrant and energetic red tone, the bulb offers endless possibilities to match your mood and style.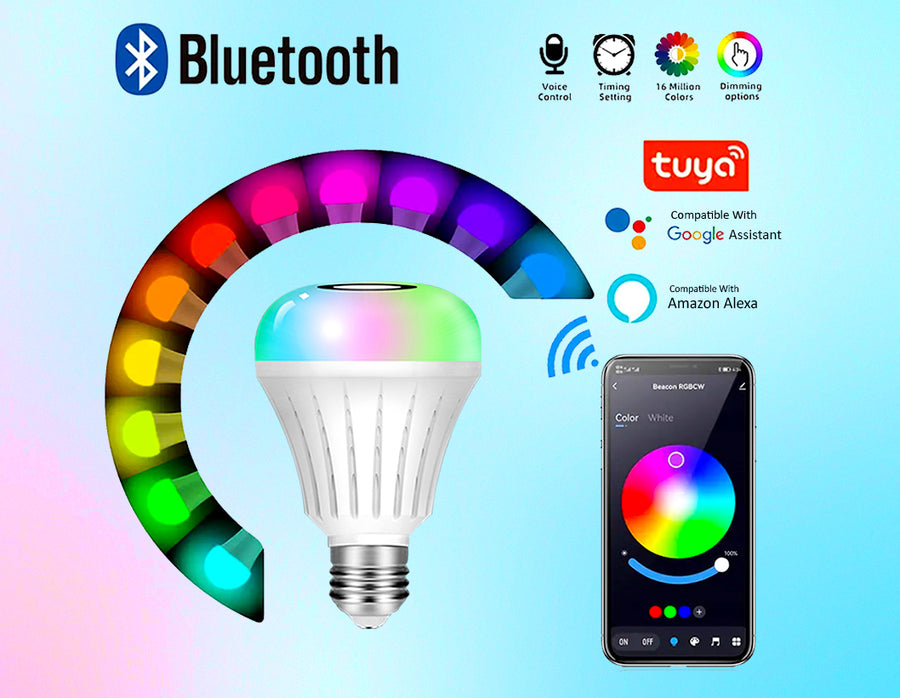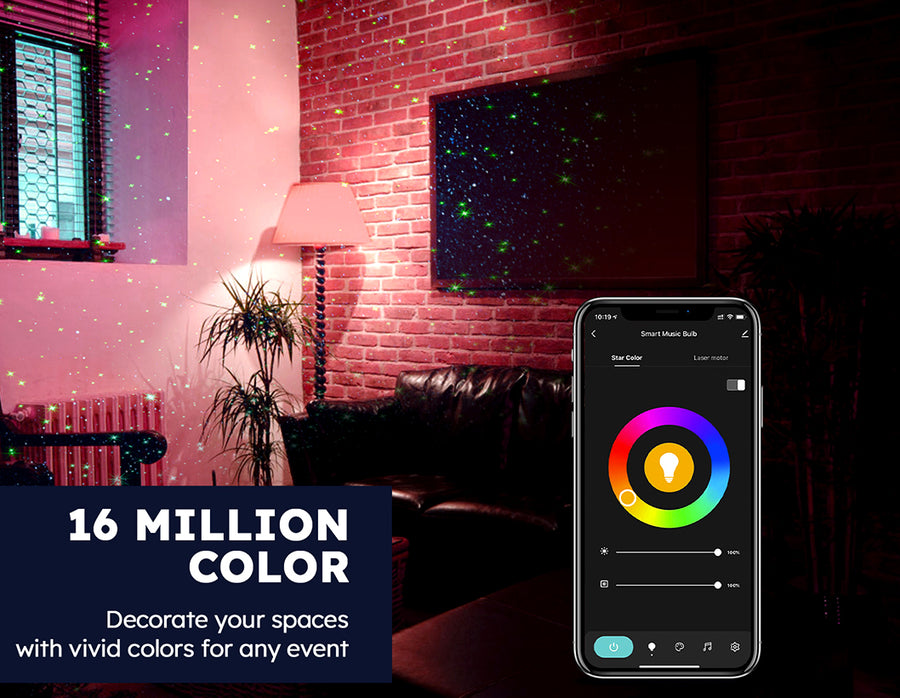 ADJUSTABLE RGB BRIGHTNESS
The Bulb features adjustable RGB brightness, allowing you to set the desired intensity of the projected lights. Whether you want a soft and subtle glow or a bright and luminous display, you can easily adjust it to suit your preferences.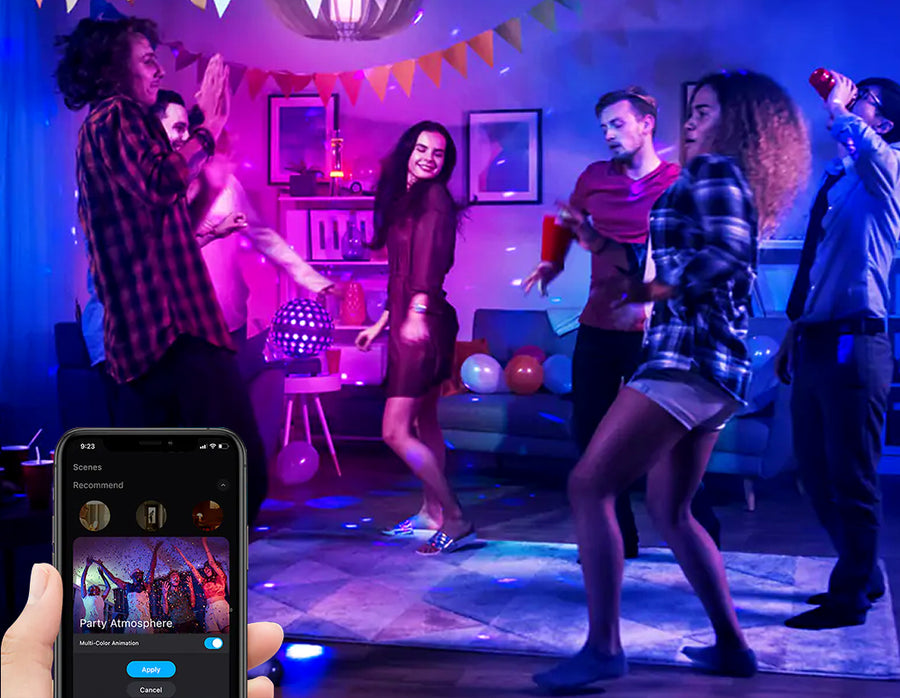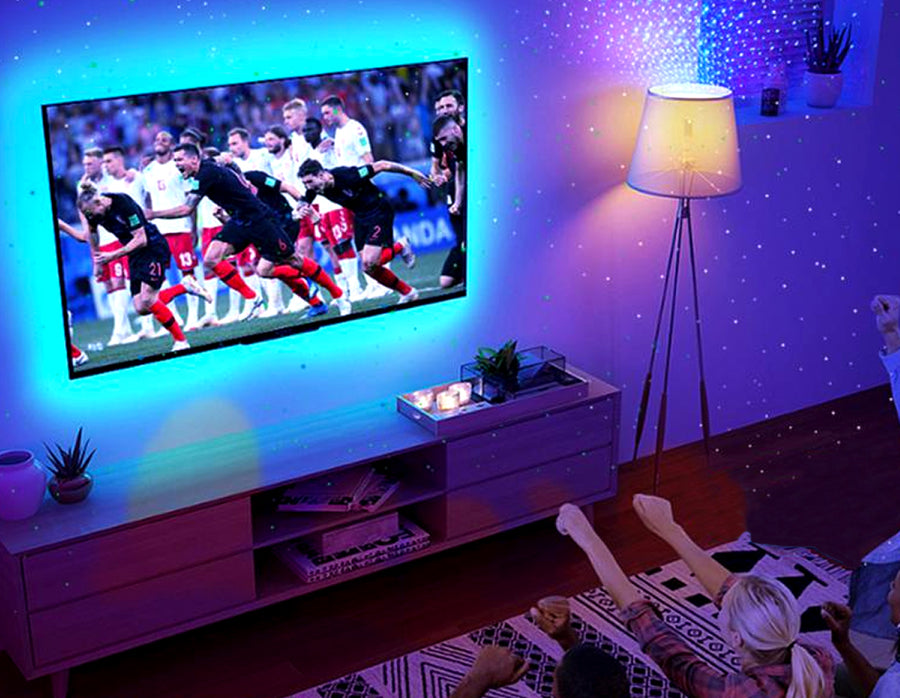 VOICE CONTROL COMPATIBILITY
The Smart Star Light Bulb is designed to provide a hands-free experience by being compatible with popular voice assistants such as Alexa and Google Home. With this compatibility, you can control the bulb using simple voice commands. Whether you want to turn the bulb on or off, adjust the color settings to your desired hue, or even activate dynamic modes for a lively lighting display, you can do so effortlessly without lifting a finger. The voice control feature adds an extra level of convenience, allowing you to seamlessly integrate the starry sky projection into your smart home ecosystem and enjoy the ease of controlling your lighting with just your voice.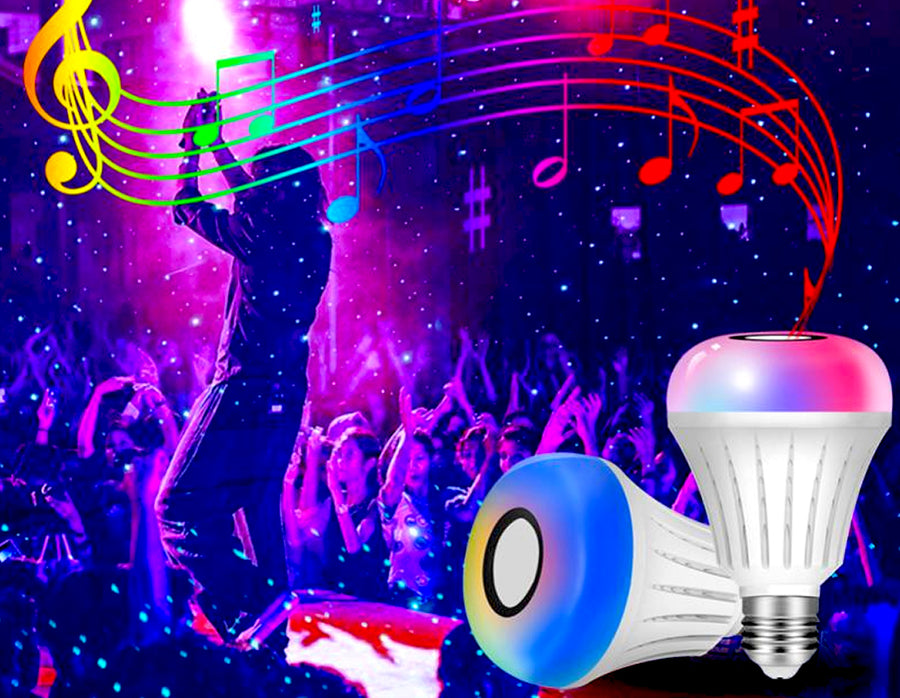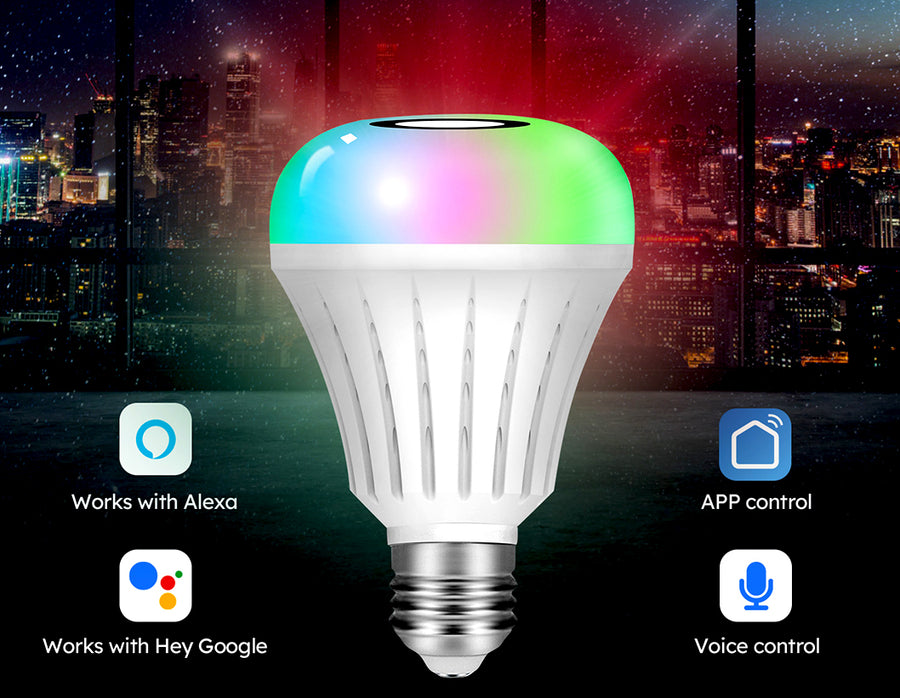 SEAMLESS APP CONTROL
The Smart Star Light Bulb can be controlled conveniently through the Tuya or Smart Life app. Simply connect the bulb to your Wi-Fi network, and you'll be able to remotely control it from your smartphone. Adjust the settings, change colors, and customize the lighting effects with ease, all from the comfort of your couch.
SHARED CONTROL ACCESS
The Smart Led Bulb features share the control access with your family members through the app. This allows everyone in the household to have control over the bulb, making it easier for everyone to create their desired lighting atmosphere. Whether it's a romantic setting, a party ambiance, or a calming environment, everyone can enjoy the benefits of the Smart Star Light Bulb.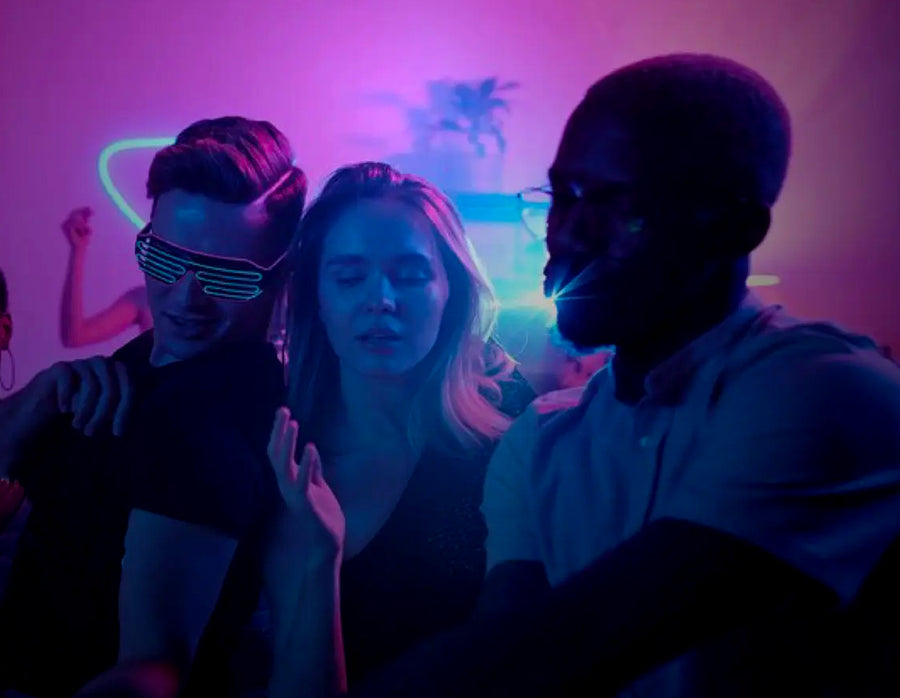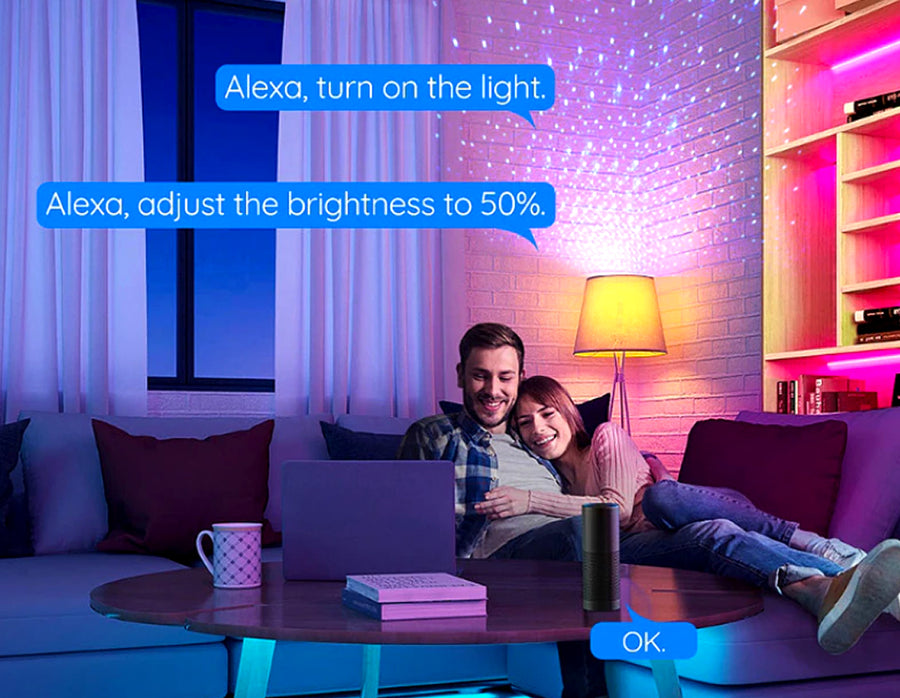 AUTOMATED LIGHTING SCHEDULE
The Smart Star Light Bulb offers versatile functions to enhance your lighting experience. Set timers to automate the bulb's on and off schedule, ensuring that your starry sky projection starts and stops at your desired times. This feature is particularly useful for creating a consistent routine or saving energy by limiting unnecessary usage.
STARRY SKY PROJECTION
Experience the dreamy starry sky with the Smart Star Light Bulb. The laser projection technology creates a realistic and captivating display, making you feel like you're gazing at a genuine night sky. The stars flicker and rotate slowly, adding a touch of magic to any room.
SYNCHRONIZED MUSIC MODES
The bulb also includes different music modes that synchronize with the lighting effects. Immerse yourself in a captivating audiovisual experience by playing your favorite tunes while the lights dance in harmony. Whether you're having a party or simply relaxing, this feature adds an extra layer of enjoyment to your environment.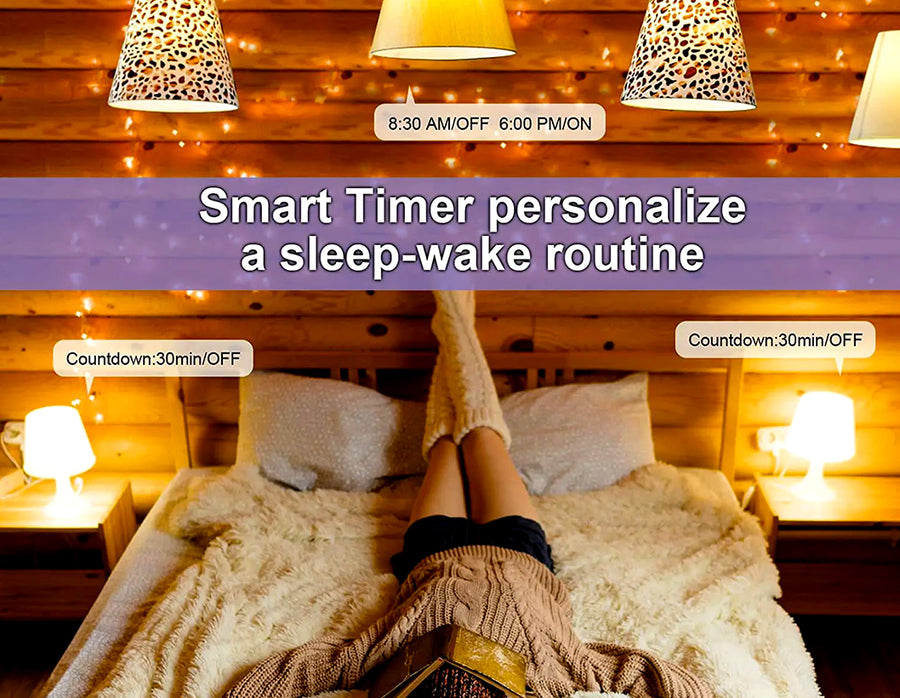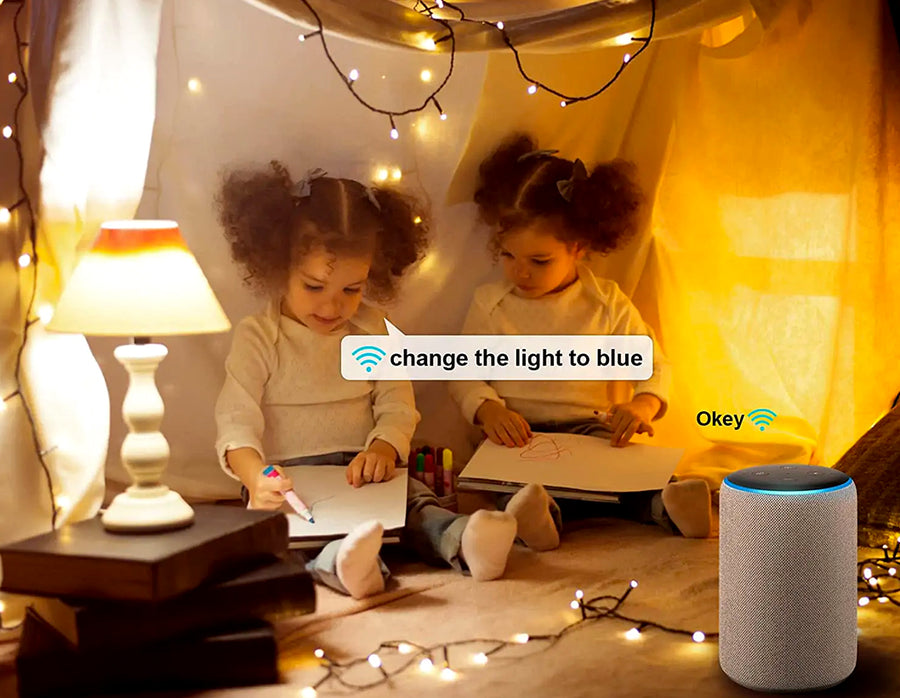 PERSONALIZED COLOR SELECTION
Choose from 160,000 colors to personalize your starry sky experience. Create a romantic ambiance with soft pastel hues, or opt for deep blues and purples for a more tranquil setting. The extensive color options allow you to tailor the atmosphere to suit your mood, preference, or the occasion.
DYNAMIC COLOR CHANGE MODE
The Dynamic Color Change Mode of the Smart Star Light Bulb automatically cycles through various colors, creating a lively and vibrant atmosphere. It adds excitement and visual interest to your space, making it perfect for parties, celebrations, or simply adding a touch of dynamic ambiance to any setting.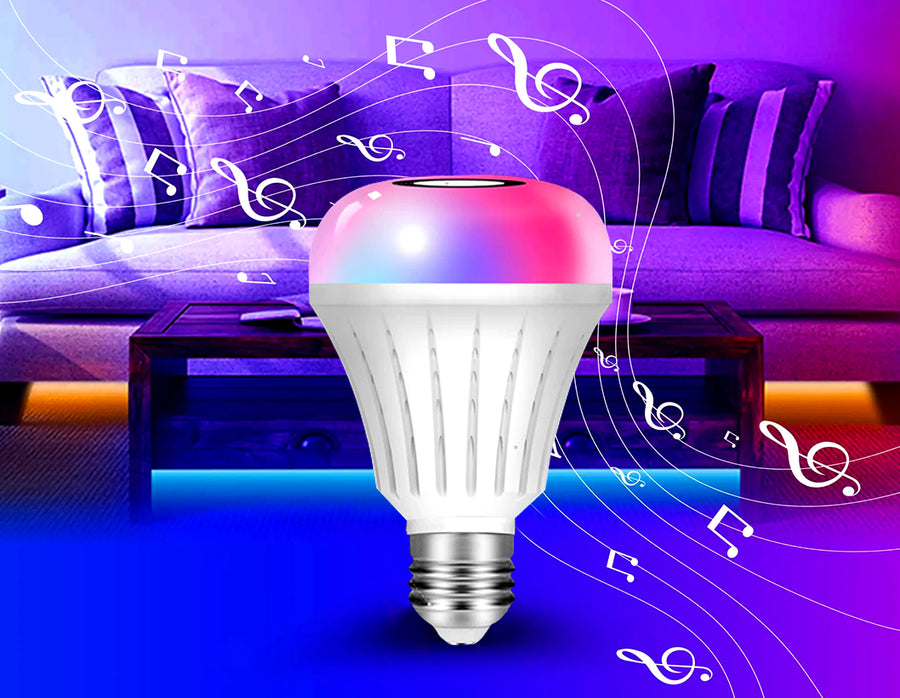 STARRY SKY PROJECTION
Experience the dreamy starry sky with the Smart Star Light Bulb. The laser projection technology creates a realistic and captivating display, making you feel like you're gazing at a genuine night sky. The stars flicker and rotate slowly, adding a touch of magic to any room.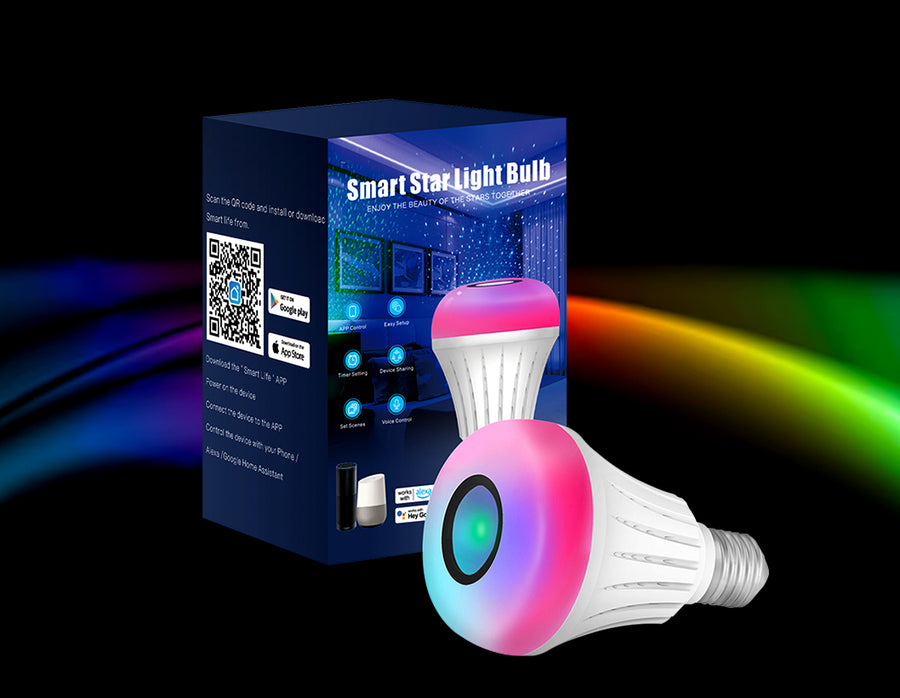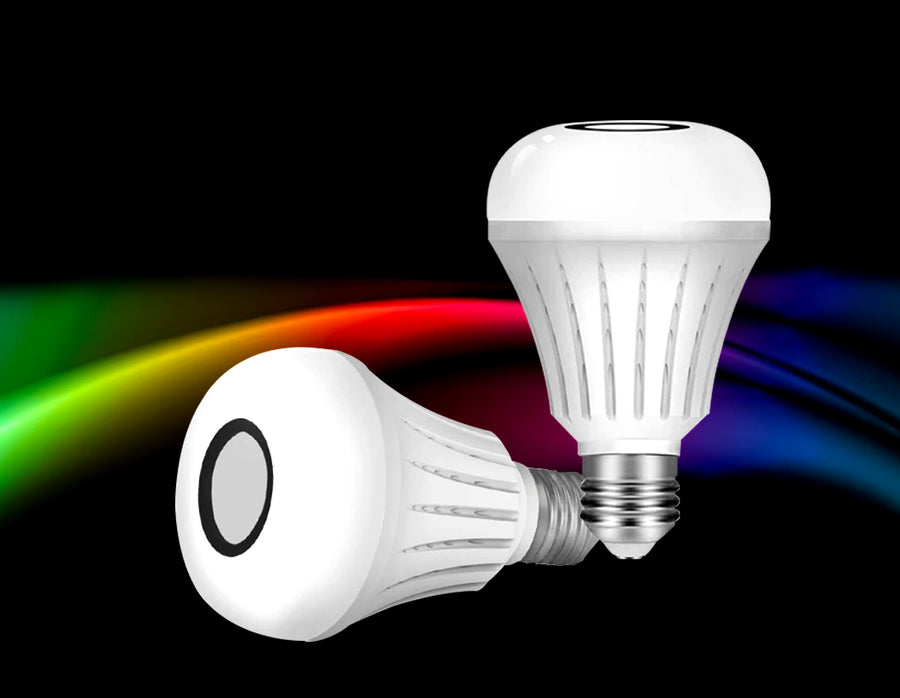 Add a heading
Add content using the options to the left
Product title
Vendor
₹ 19.99 | ₹ 24.99
Product title
Vendor
₹ 19.99 | ₹ 24.99
Product title
Vendor
₹ 19.99 | ₹ 24.99
Product title
Vendor
₹ 19.99 | ₹ 24.99
<! -- Mezereon Configuration -->