Moving Coil Unit
10mm Dual Cavity Dual Magnetic Circuit PU+LCP Liquid Crytal Dome Diaphragm
Frequency Response
20Hz-20Khz
Wires
4 Core Single Crystal Copper Silver Plated
What will you get
1x EPZ G10 IEM
6x Pair Eartips
1x Detachable Cable
1x Earphone Pouch
1 YEAR WARRANTY
Don't worry, EPZ G10 IEM comes with a 1 Year warranty against manufacturing defects. We guarantee that every product on Concept Kart is genuine and backed by the Manufacturer's warranty.
Read more about Concept Kart's warranty policy.
FREE SHIPPING ON ALL PREPAID ORDERS
We usually ship orders on same day if ordered before 2 pm or within 24 hours if ordered later (except on holidays/sunday, where processing times may be higher) from one of our domestic warehouses based out of Delhi. It normally takes around 1 to 5 business days for delivery. We use premium service partners such as Blue dart, DTDC and Delivery for faster and reliable service. A tracking number will be provided upon shipment.
In very rare cases when order is not received after 10 business days of shipment (extended by number of days when the govt. Restricts movement of goods due to factors such as coronavirus pandemic), please contact us and we will provide you a refund.
POWERFUL DYNAMIC DRIVER WITH LCP DIAPHRAGM
The EPZ G10 features a large 10mm dual-cavity magnetic dynamic driver unit with PU + LCP (Liquid Crystal Polymer) dome diaphragm material. This combination delivers an expansive frequency range, exceptional high-definition sound quality, and precise, deep, and accurate low-frequency response. Whether it's the realistic gunshots or footsteps in the game, every sound is rendered distinctly, providing you with the most immersive and enjoyable gaming experience.
HIGH PRECISION 3D PRINTED TECHNOLOGY
The G10 earpieces are crafted with meticulous precision using advanced 3D printing technology, ensuring an ergonomic and lightweight design. Constructed from skin-friendly resin material, these earpieces offer an exceptionally comfortable fit, allowing users to enjoy extended music sessions without even realizing they are wearing them.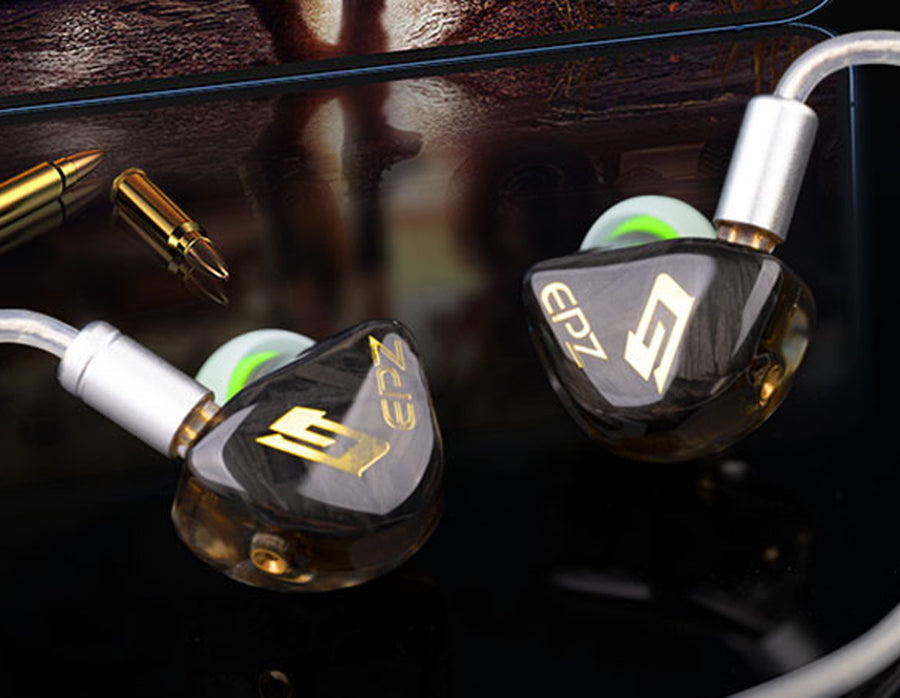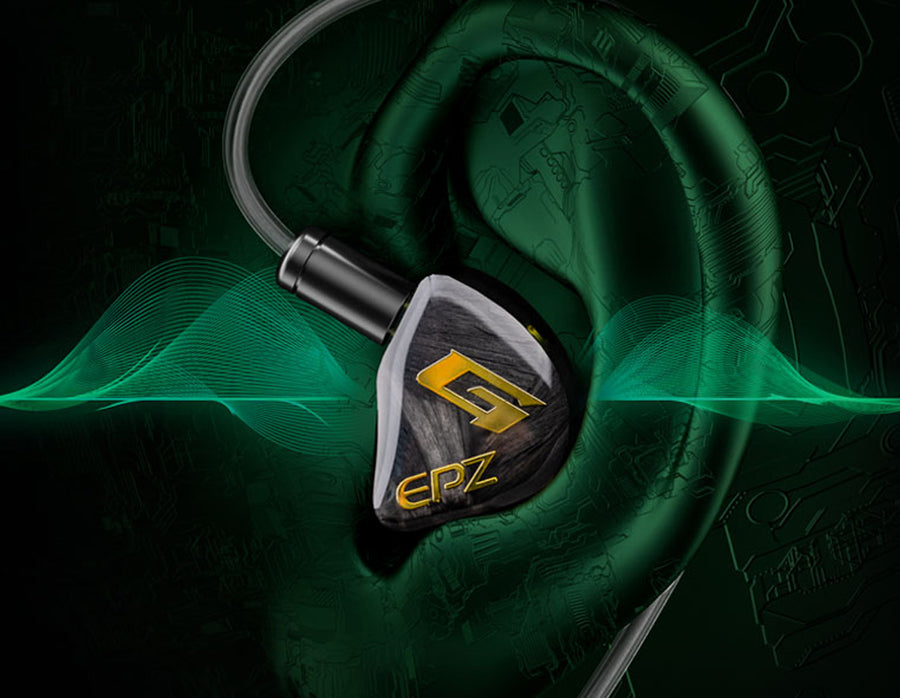 CARBON FIBER FLUORESCENT PANELS
The EPZ G10 introduces a captivating design feature in the form of its carbon fiber fluorescent panels. These panels exhibit a remarkable ability to undergo color transformations when exposed to daylight and UV light. Ranging from subtle gradients to vibrant greens, these panels enable users to immerse themselves fully in the 'battlefield' experience, effectively becoming the center of attention with their dynamic visual appeal. Carbon fiber fluorescent panels seamlessly combine aesthetics and functionality, making a bold statement and enhancing the overall gaming experience.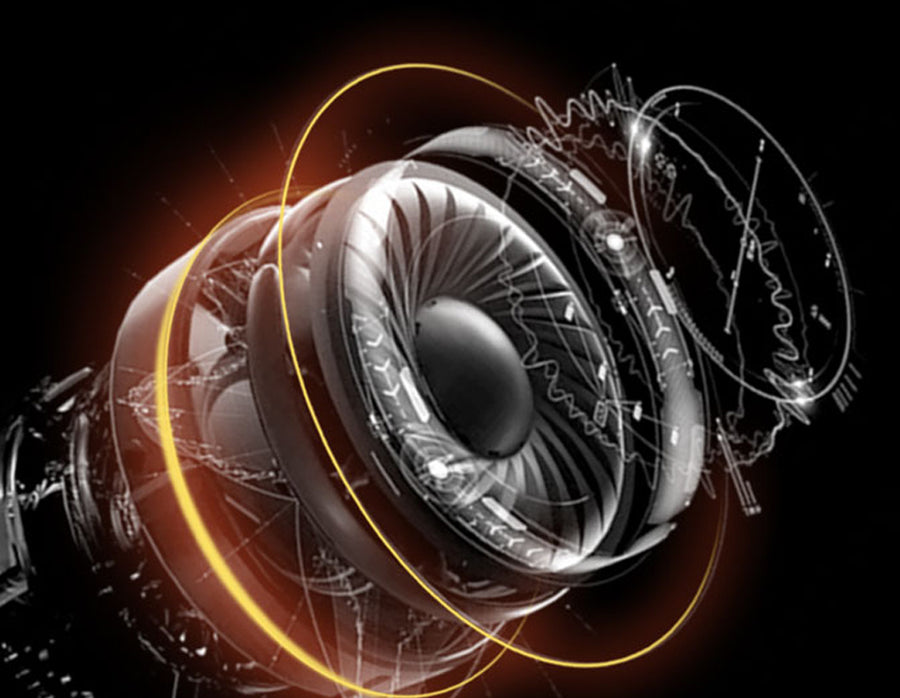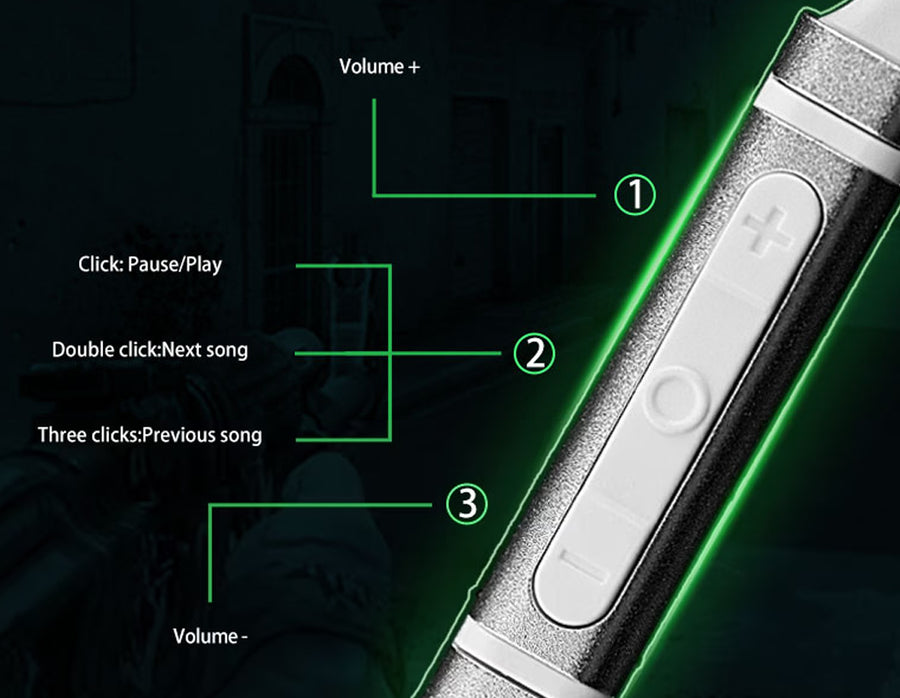 HIGH PURITY COPPER SILVER PLATED CABLE
EPZ G10 in-ear monitors come with a high quality 4 Core single crystal copper silver-plated cable with 0.78mm 2 Pin Connector and standard 3.5mm termination plug technology.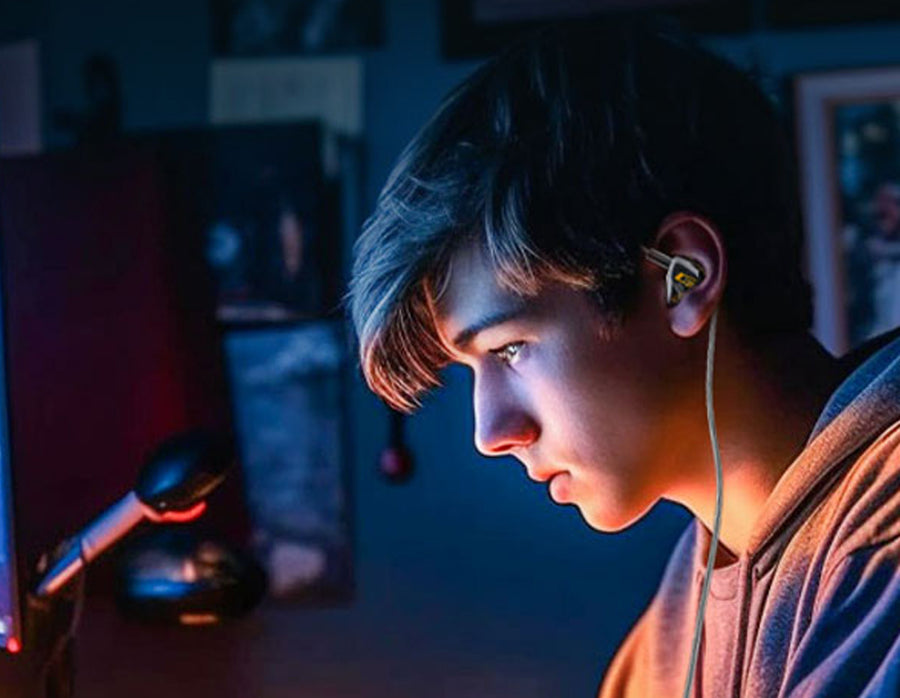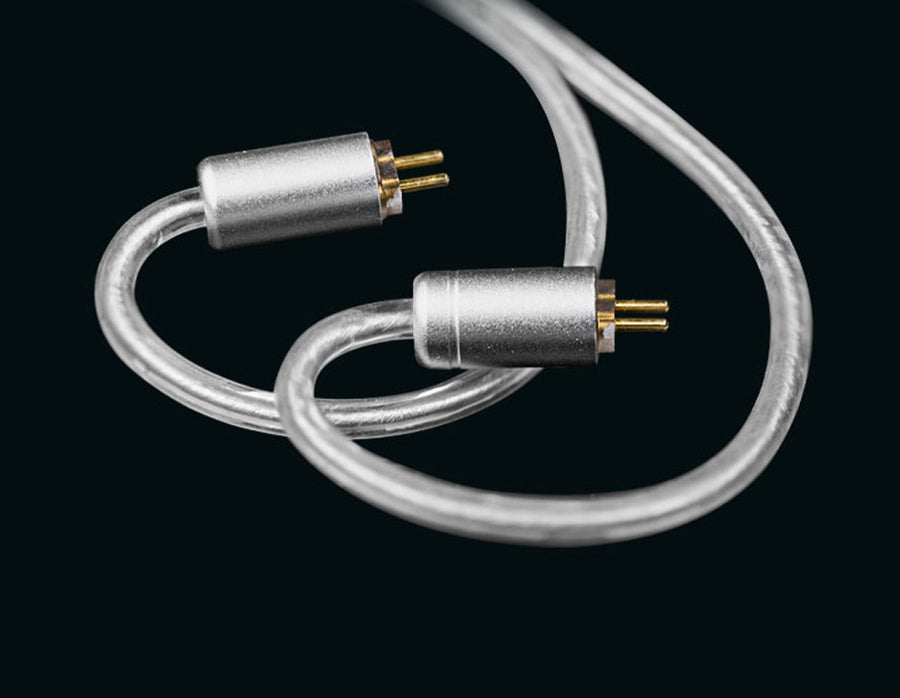 TUNED SPECIFIC FOR GAMING
EPZ G10 tuned specifically for the gaming experience, this IEM features an expansive sound field, immersing players in a lifelike auditory environment. Its precision sound field positioning empowers gamers to discern crucial auditory cues, such as the footsteps of adversaries and the discharge of firearms, with remarkable accuracy. Additionally, the earphone audio profile has been meticulously fine-tuned to accommodate a diverse range of popular music genres, including rock.
360°OMNIDIRECTIONAL NOISE CANCELLING MICROPHONE
EPZ G10 has a built in 360° omnidirectional noise-canceling microphone that is designed to excel in capturing and reproducing sound details with utmost accuracy while effectively reducing ambient noise. This ensures that during gaming sessions, you can enjoy crystal-clear, natural, and lifelike sound quality. This advanced microphone technology allows you to remain fully immersed and undistracted, providing an unparalleled gaming experience.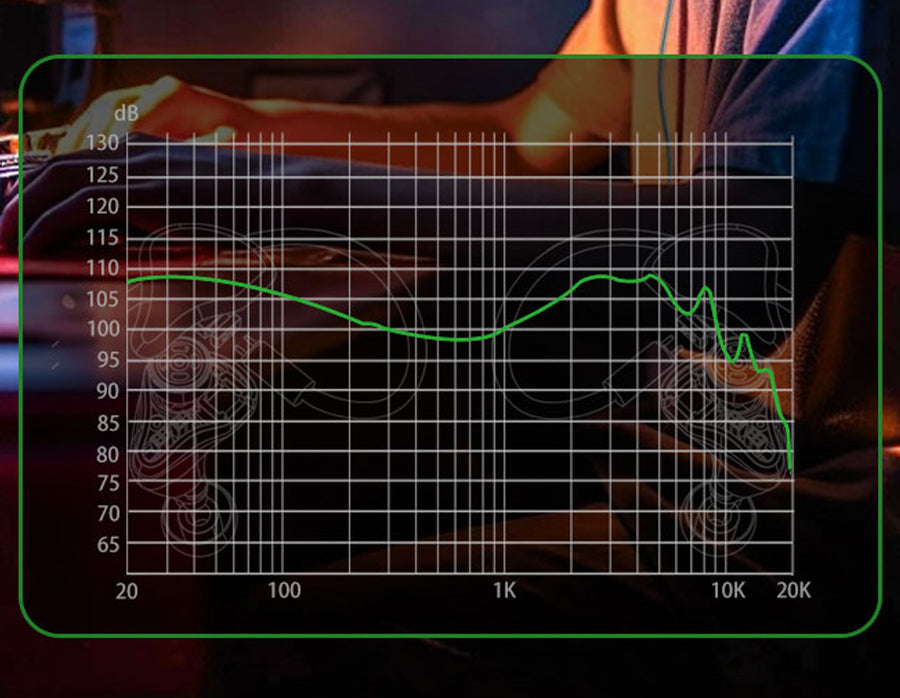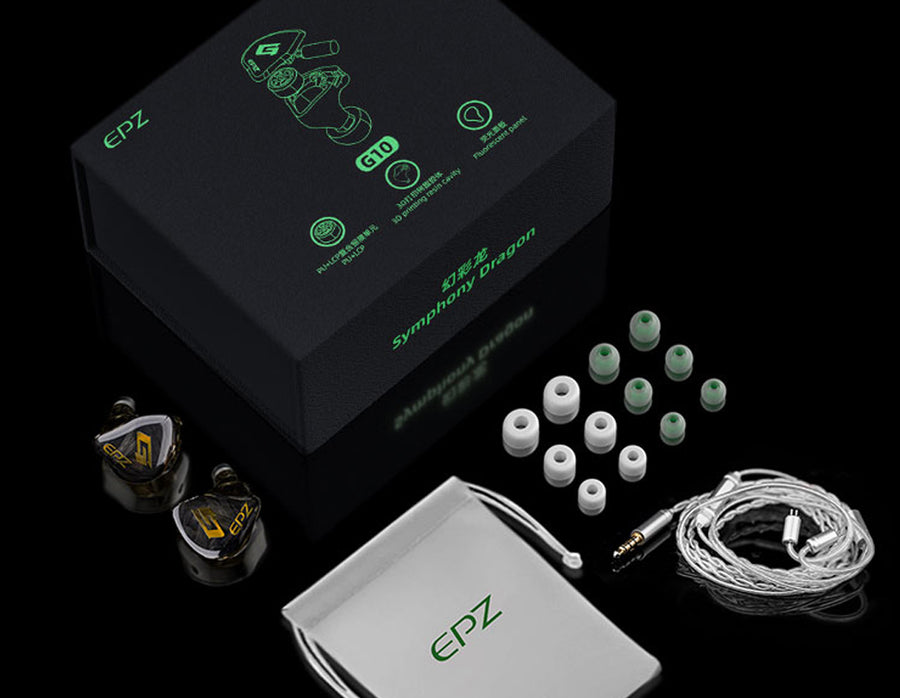 Product title
Vendor
Rs. 19.99 | Rs. 24.99
Product title
Vendor
Rs. 19.99 | Rs. 24.99
Product title
Vendor
Rs. 19.99 | Rs. 24.99
Product title
Vendor
Rs. 19.99 | Rs. 24.99