Shipping & Delivery
Estimated Delivery within 2 to 4 weeks.
EXTRA SAVINGS & Rewards
Earn upto 5% of order value
With GST invoice, save up to 28% on business purchases
RETURN POLICY
10 Days Replacement Policy
All products are covered by 10 Day Replacement Guarantee. This product is eligible for a free replacement, in case you receive a damaged, defective or different item. Please keep the product in its original condition with all accessories & packaging for a successful return. We may contact you to assess the damage or defect before issuing a replacement. Accessories like cables and eartips are not backed up the manufacturer's warranty.

Please note that physical damage cases need to be brought to our notice within 24 hours.

WARRANTY
1 Year Manufacturer's Warranty
Enjoy a seamless and long-lasting audio journey with AFUL - MagicOne IEM
Frequency Response
5Hz-35kHz
What will you get
1x Aful Magicone iem
1x Hybrid Stock Cable (3.5mm/4.4mm plug)
1x protective case
1x User Mannual
1 YEAR WARRANTY
Don't worry, AFUL - MagicOne IEM comes with a 1 Year warranty against manufacturing defects. We guarantee that every product on Concept Kart is genuine and backed by the Manufacturer's warranty.
Read more about Concept Kart's warranty policy.
FREE SHIPPING ON ALL PREPAID ORDERS
We usually ship orders on same day if ordered before 2 pm or within 24 hours if ordered later (except on holidays/sunday, where processing times may be higher) from one of our domestic warehouses based out of Delhi. It normally takes around 1 to 5 business days for delivery. We use premium service partners such as Blue dart, DTDC and Delivery for faster and reliable service. A tracking number will be provided upon shipment.
In very rare cases when order is not received after 10 business days of shipment (extended by number of days when the govt. Restricts movement of goods due to factors such as coronavirus pandemic), please contact us and we will provide you a support.
INTRODUCTION NEWLY LAUNCHED AFUL MAGICONE
Following an extensive three-year research endeavor, AFUL presents the groundbreaking MagicOne. Through meticulous development, AFUL has created a customized full-frequency balanced armature driver using premium materials and a precise construction process. Functioning as a full-frequency driver, it delivers clear and crisp audio across a wide frequency spectrum from 5Hz to 35kHz. AFUL has integrated their newly devised technologies, including SE-Math Electro-Acoustic Intermodulation, Nautilius Acoustic Maze, and Conch Structure cavity design. These innovations enable the MagicOne to achieve genuine high-resolution sound performance; its specially engineered single balanced armature (BA) emulates the quality of a multi-BA in-ear monitor (IEM) or a well-designed single dynamic driver (DD) IEM. Experience unparalleled audio clarity and precision with the AFUL MagicOne!
SINGLE BA DRIVER DELIVERS OUTSTANDING SOUND
AFUL has created a special, high-quality sound balanced armature driver using premium materials and a careful process. This driver can produce clear and detailed sound across a wide range of frequencies from very low to very high. AFUL also used their new technologies like SE-Math Electro-Acoustic Intermodulation, Nautilus Acoustic Maze, and Conch Structure cavity design to make the sound really clear and detailed. It sounds like a multi-BA driver IEM or a precisely designed single DD IEM.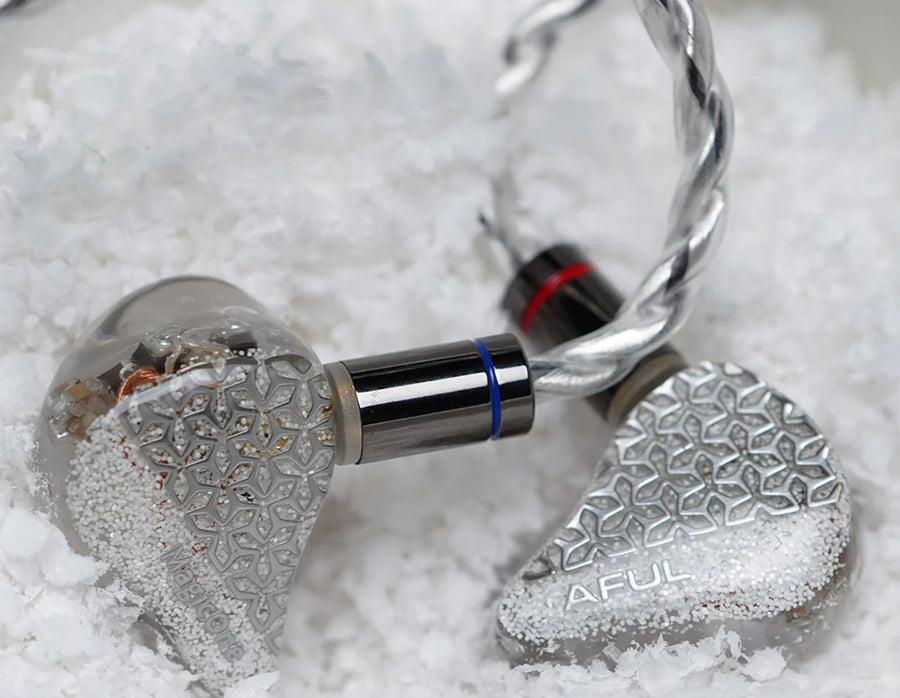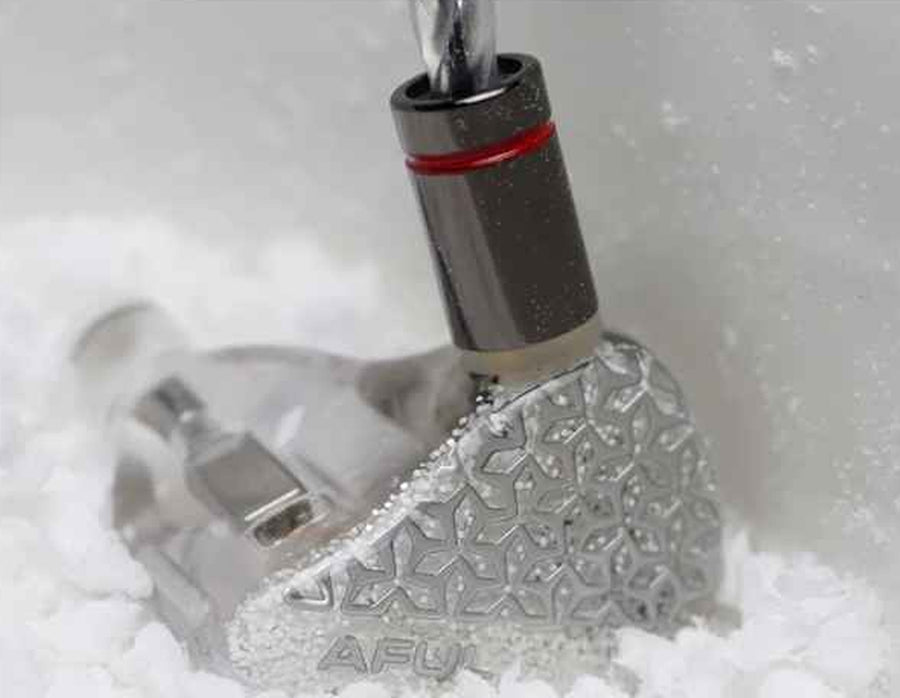 PROFESSIONALLY CRAFTED BALANCED ARMATURE DRIVER UNIT
AFUL has created a unique balanced armature driver for the MagicOne, instead of using standard ones available in the market. This special driver is made with high-quality materials like AL-Mg Alloy diaphragm and Dupont Moothing-material folding ring. It allows the MagicOne to produce high-quality sound with a wide range of frequencies, giving a smooth and natural tone.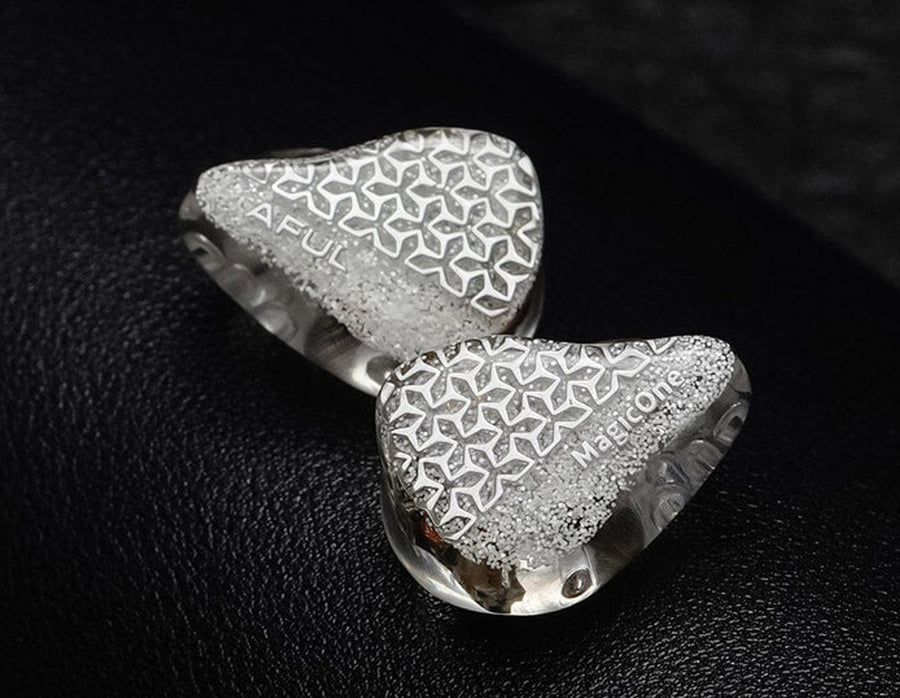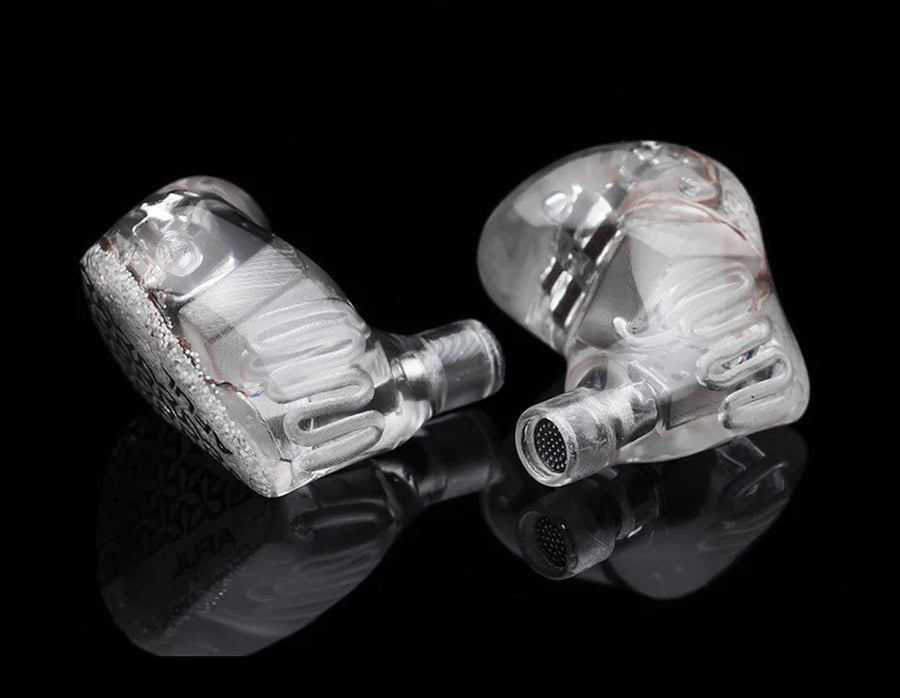 EXCEPTIONAL BASS FROM UNIQUE AIR-FLOW DESIGN
The MagicOne uses a one-of-a-kind air-flow design at the back that really boosts its ability to produce deep bass sounds. This design is inspired by the B&W Nautilus Audio Speaker, featuring a long and ultra-thin tube. You'll be pleasantly surprised by the powerful and deep bass produced by just a single balanced armature driver in the MagicOne.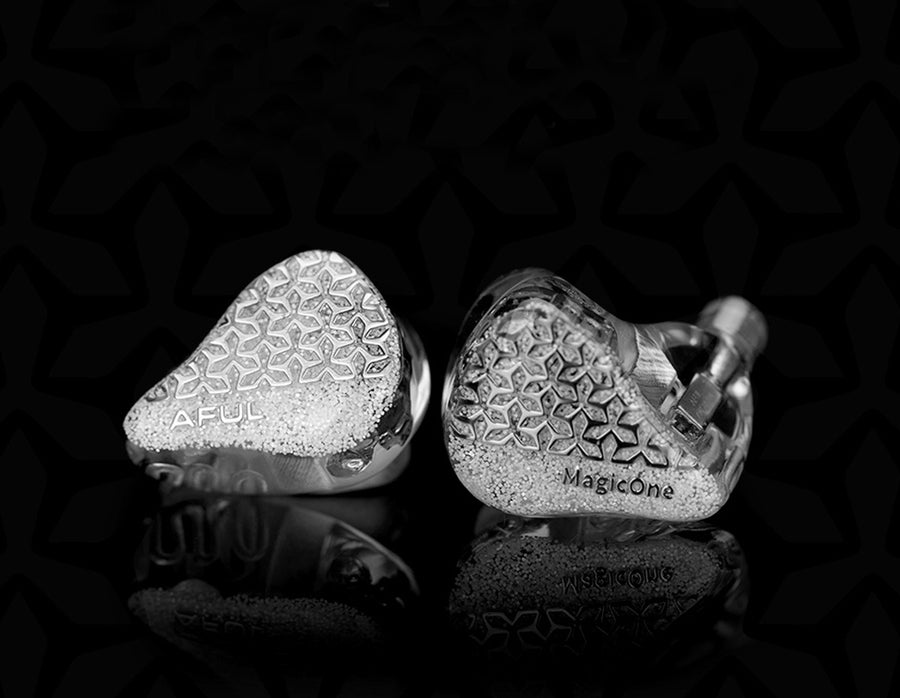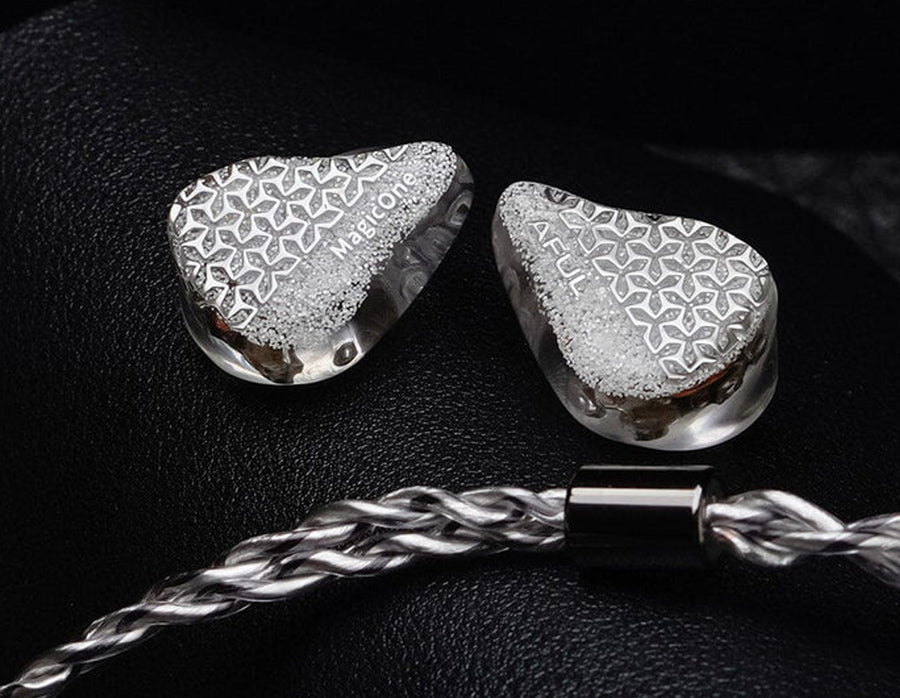 INNOVATIVE SE-MATH SOUND TECHNOLOGY
AFUL has created a special technology called "SE-Math." This technology improves the way high-pitched sounds are produced. It does this by making adjustments in the sound system, making high-pitched sounds come out more clearly and sharp in the MagicOne.
GREAT SOUND AND STUNNING LOOKS COMBINED
AFUL always want products to sound amazing and look great. The MagicOne is designed with a beautiful clear white finish. The design theme for our Face Covers is inspired by the beauty of falling snowflakes, and we've given it our artistic touch. We think you'll really like how the MagicOne looks and feels. Plus, they're really comfortable for long listening.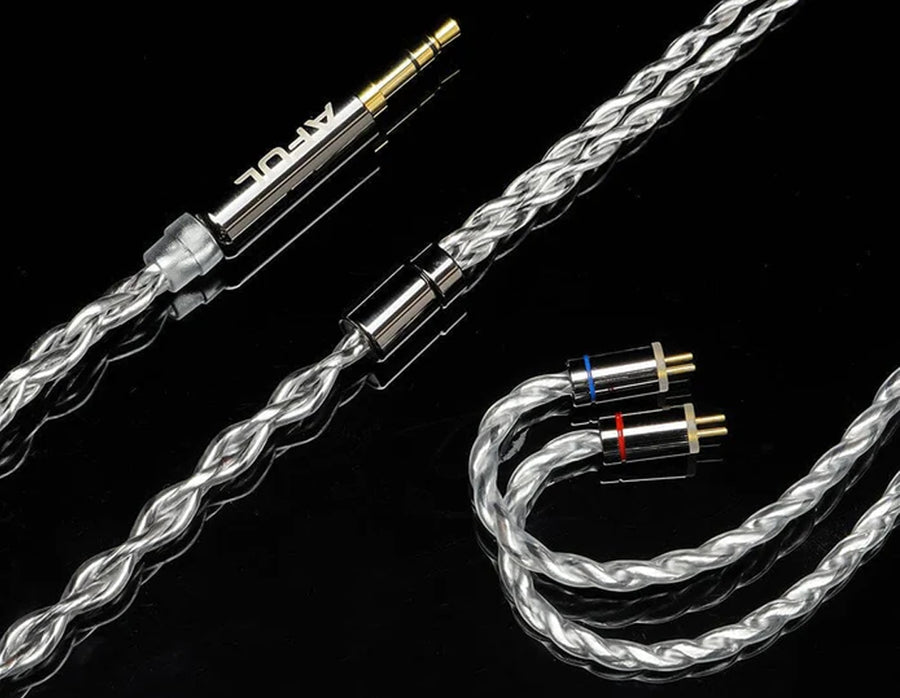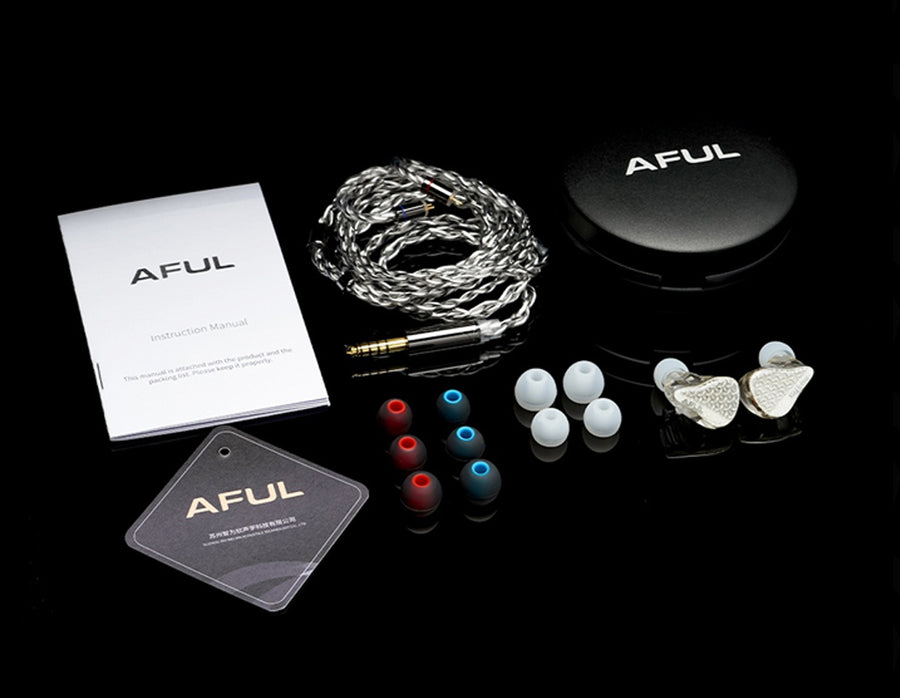 HIGH PURITY HYBRID STOCK CABLE
AFUL MagicOne comes with high purity oxygen free copper silver plated cable with 32+37 cable configuration. It features Litz Type 4 Coaxial shielded Structure. It Provides smooth signal transmission with low external interference. It adopts 2Pin 0.78mm Connector and modular cable 3.5mm and 4.4mm Plugs.
Product title
Vendor
₹ 19.99 | ₹ 24.99
Product title
Vendor
₹ 19.99 | ₹ 24.99
Product title
Vendor
₹ 19.99 | ₹ 24.99
Product title
Vendor
₹ 19.99 | ₹ 24.99
<! -- Mezereon Configuration -->