Shipping & Delivery
Heavy rain and flood like situations may cause delays
Free Shipping on Prepaid Orders
Same day dispatch, if ordered before 2:00 PM.
Order Placed before 2:00 PM will be shipped within 24 hrs. (Except Sunday and Holidays)
Cash on Delivery Available
Cash on delivery applicable for order under ₹ 15000
EXTRA SAVINGS & Rewards
Earn upto 5% of order value
With GST invoice, save up to 28% on business purchases
RETURN POLICY
10 Days Replacement Policy
All products are covered by 10 Day Replacement Guarantee. This product is eligible for a free replacement, in case you receive a damaged, defective or different item. Please keep the product in its original condition with all accessories & packaging for a successful return. We may contact you to assess the damage or defect before issuing a replacement. Accessories like cables and eartips are not backed up the manufacturer's warranty.

Please note that physical damage cases need to be brought to our notice within 24 hours.

WARRANTY
6 Months Manufacturer's Warranty
SECURE & VERSATILE CASE FOR APPLE IPADS!
Operating Distance Available
10 meters
Operating Voltage
3.0-4.2V
Working Current
<8mA (When touchpad is working)
Lithium Battery Capacity
220mA/500mA (Backlight)
Sustainable Working Time
More than 100/30 hours
Lithium Battery Life
3 Years
Key Life
5 million Stroke
Operating Temperature
-10°C+55°C
What will you get:
1x P109 Keyboard Case
1x USB Cable
1x User Manual
6 Months WARRANTY
Don't worry, TECPHILE - P109 Magnetic Wireless Keyboard Case for iPad comes with a 6 Months warranty against manufacturing defects. We guarantee that every product on Concept Kart is genuine and backed by the Manufacturer's warranty.
Read more about Concept Kart's warranty policy.
FREE SHIPPING ON ALL PREPAID ORDERS
We usually ship orders on same day if ordered before 2 pm or within 24 hours if ordered later (except on holidays/sunday, where processing times may be higher) from one of our domestic warehouses based out of Delhi. It normally takes around 1 to 5 business days for delivery. We use premium service partners such as Blue dart, DTDC and Delivery for faster and reliable service. A tracking number will be provided upon shipment.
In very rare cases when order is not received after 10 business days of shipment (extended by number of days when the govt. Restricts movement of goods due to factors such as coronavirus pandemic), please contact us and we will provide you a support.
COMPATIBILITY
Our P109 iPad keyboard case is designed for new iPad 10th Generation 10.9-inch 2022 (A2696, A2757, A2777). It is Not compatible with any other devices. Notice: NOT fit iPad Air 5th generation 2022, iPad Air (4th generation) 10.9" 2020.
MULTI-TOUCH TRACKPAD
This keyboard case for iPad 10th generation has an integrated multi-touch touchpad that perfectly adapts to the IOS system, with various trackpad gestures, providing a comfortable usage experience while clicking, scrolling, and swiping through content effortlessly.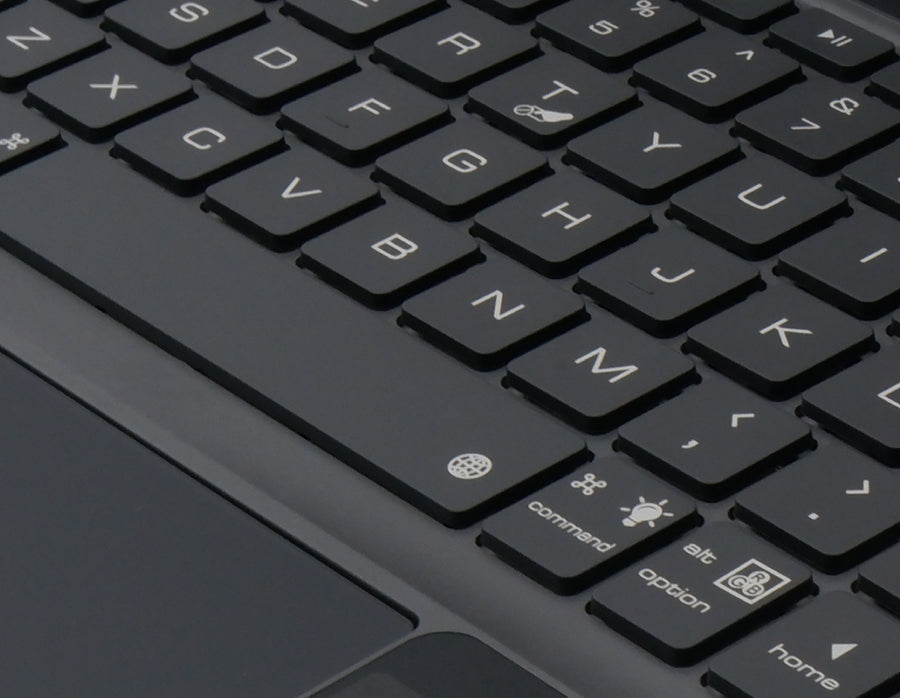 2 MODE BRIGHT BACKLIT
This keyboard has 2 modes of backlit. One has a single white color and the other one has bright 3 colors at the same time. It also has 3 level of brightness function. Back-light will make typing fun and easy in the dark/night.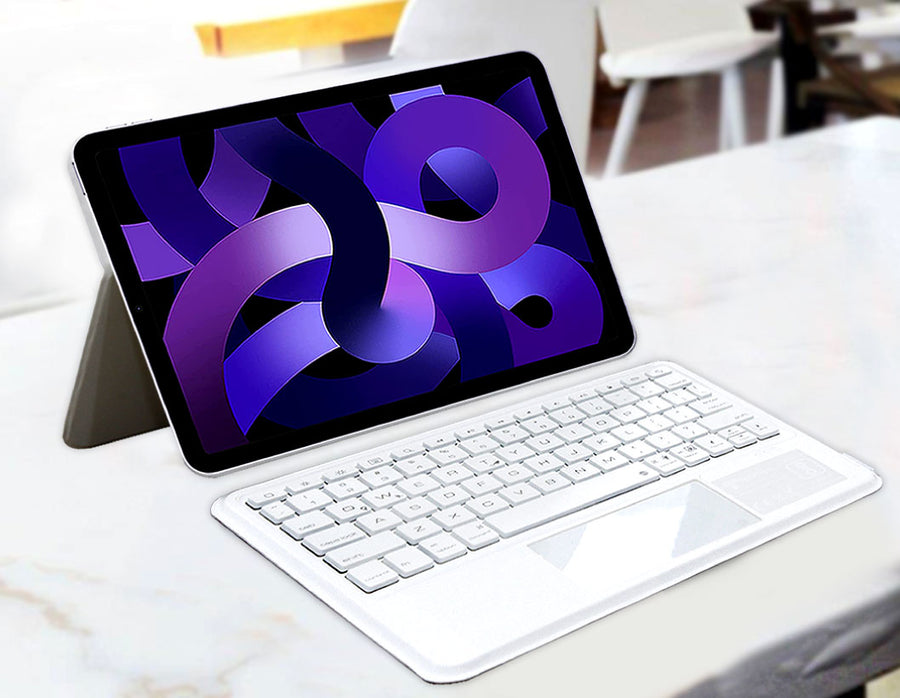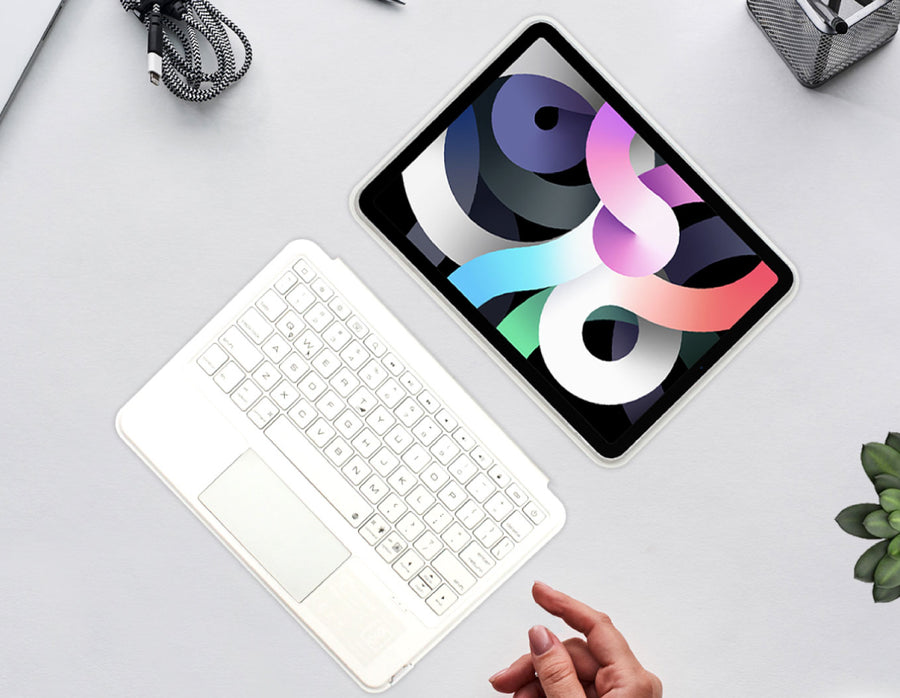 RECHARGEABLE BATTERY
Rechargeable iPad 10 keyboard brings a different experience to your work. You can charge your keyboard with the charging Type C cable that comes with it. Bluetooth keyboards for iPad built-in high stability lithium-ion battery with energy-saving mode.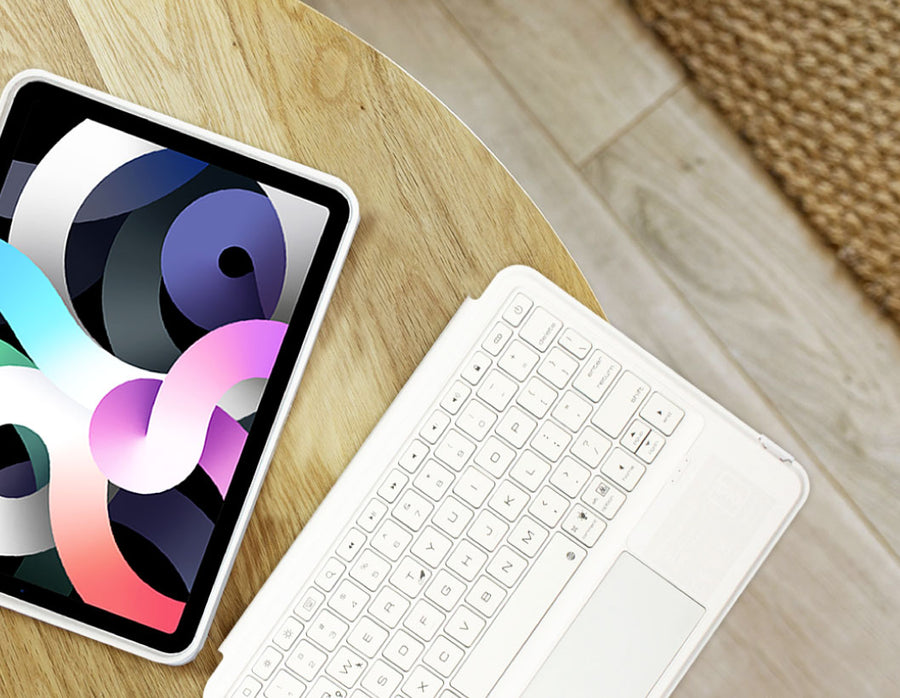 MULTIPLE STAND ANGLES FOR COMFORTABLE USE
The iPad case is magnetically attached and the thoughtful design easily adjusts to whatever comfortable angle suits you best. Convert your iPad into a laptop and easily adjust the viewing angle to any level, perfect for working, writing, or watching videos at business, school, travel, and home.
How to connect with Devices
Step 1: Before first use, we recommend charging the keyboard for a minimum of 4 to 6 hours.
Step 2: Please long press '∞' Keys to start pairing on the Keyboard. The blue light will start blinking on the keyboard to show the keyboard is in pairing mode.
Step 3: On your device, select the 'Settings' icon.
Step 4: Navigate to 'Bluetooth' settings and turn on Bluetooth.
Step 5: Select 'Refresh' from the settings bar. Your keyboard (iPad Keyboard) will show in the 'Available Devices' section.
Step 6: Select the keyboard and press Pair or hit enter. You are now connected!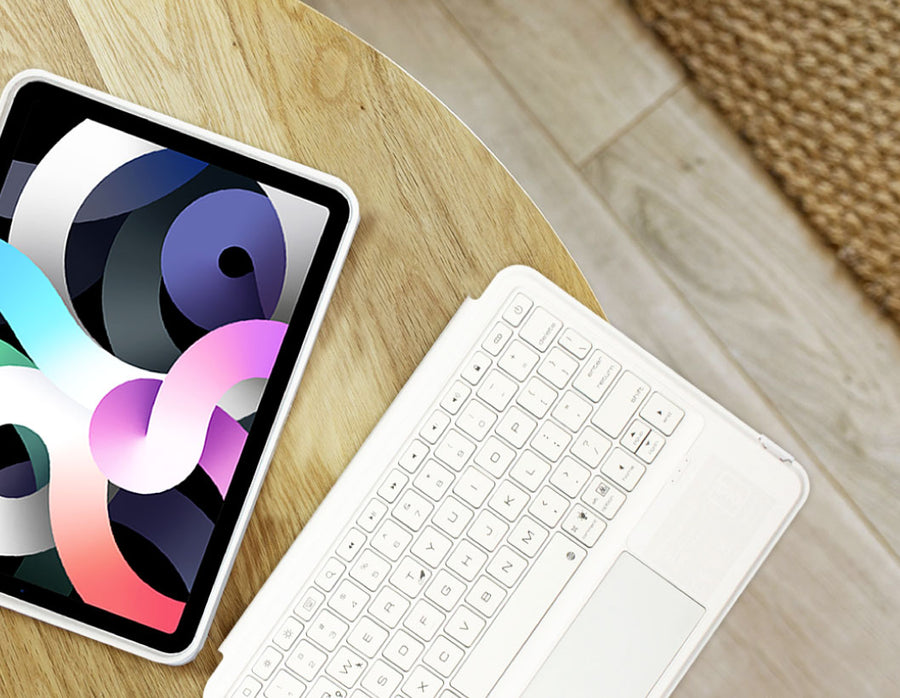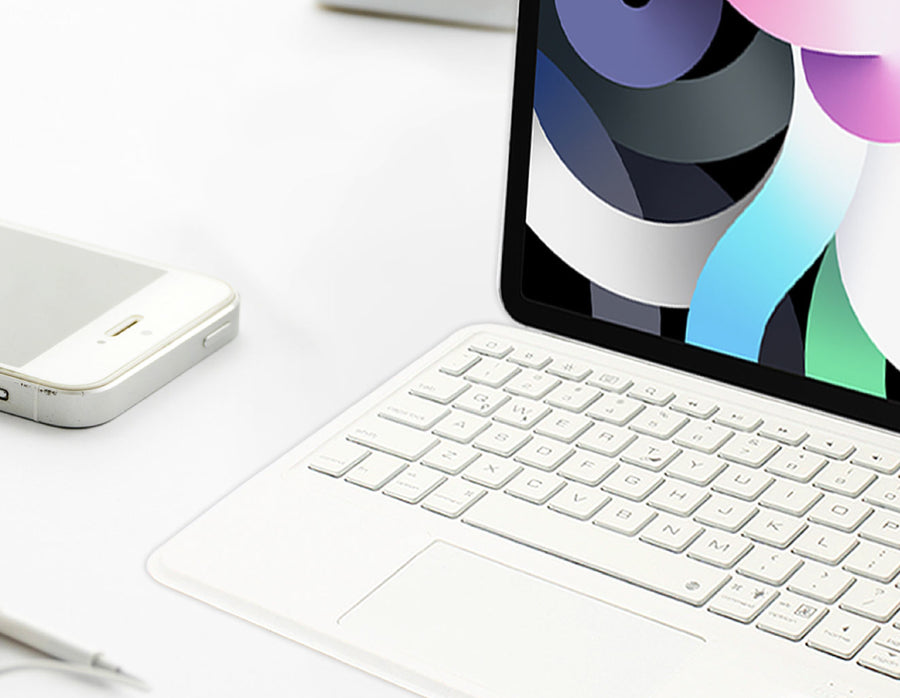 ERGONOMIC PORTABLE DESIGN
Made of Plastic & Leatherette Material, Super light and thin, design makes for easy portability, Environmental material, chocolate keys with scissor foot structure button, durable enough to travel. You can carry this easily in a bag, purse, suitcase and backpack. This keyboard only connects via Bluetooth.
Add a heading
Add content using the options to the left
Product title
Vendor
₹ 19.99 | ₹ 24.99
Product title
Vendor
₹ 19.99 | ₹ 24.99
Product title
Vendor
₹ 19.99 | ₹ 24.99
Product title
Vendor
₹ 19.99 | ₹ 24.99
<! -- Mezereon Configuration -->