Shipping & Delivery
Heavy rain and flood like situations may cause delays
Free Shipping on Prepaid Orders
Same day dispatch, if ordered before 2:00 PM.
Order Placed before 2:00 PM will be shipped within 24 hrs. (Except Sunday and Holidays)
Cash on Delivery Available
Cash on delivery applicable for order under ₹ 15000
EXTRA SAVINGS & Rewards
Earn upto 5% of order value
With GST invoice, save up to 28% on business purchases
RETURN POLICY
10 Days Replacement Policy
All products are covered by 10 Day Replacement Guarantee. This product is eligible for a free replacement, in case you receive a damaged, defective or different item. Please keep the product in its original condition with all accessories & packaging for a successful return. We may contact you to assess the damage or defect before issuing a replacement. Accessories like cables and eartips are not backed up the manufacturer's warranty.

Please note that physical damage cases need to be brought to our notice within 24 hours.

WARRANTY
1 Year Manufacturer's Warranty
Elevate Your Sound Experience with Precision and Elegance
Product Name
CCA Pianist IEM
Cable Type
Silver-plated cable
1 YEAR WARRANTY
Don't worry, CCA - Pianist IEM comes with a 1 Year warranty against manufacturing defects. We guarantee that every product on Concept Kart is genuine and backed by the Manufacturer's warranty.
Read more about Concept Kart's warranty policy.
FREE SHIPPING ON ALL PREPAID ORDERS
We usually ship orders on same day if ordered before 2 pm or within 24 hours if ordered later (except on holidays/sunday, where processing times may be higher) from one of our domestic warehouses based out of Delhi. It normally takes around 1 to 5 business days for delivery. We use premium service partners such as Blue dart, DTDC and Delivery for faster and reliable service. A tracking number will be provided upon shipment.
In very rare cases when order is not received after 10 business days of shipment (extended by number of days when the govt. Restricts movement of goods due to factors such as coronavirus pandemic), please contact us and we will provide you a support.
EXPERIENCE CONCERT-QUALITY SOUND WITH CCA PIANIST
CCA Pianist has been crafted using a professional acoustic tuning signature, it has been designed to deliver an exceptional sound quality that immerses you in the ambiance of a live music concert. Every musical note and detail are very well presented with incredible clarity. It is inspired by the classic movie "The Pianist on the Ocean" and here it gets the name CCA Pianist.
HYBRID CONFIGURATION FOR EXCELLENT SOUND
The CCA Pianist in-ear monitor is equipped with 3 driver hybrid configuration, housing a 10mm dynamic driver, 29689 balanced armature, and 30019 balanced armature driver units. The drivers are arranged in a 3-way frequency crossover with the dynamic driver, providing an impactful lower end, the 29689 BA driver delivering ultimate midrange clarity, and crispy treble and the 30019 BA driver producing nicely extended ultra-high frequency response. Overall, it brings together a clear, crisp sound which complements different genres of music well.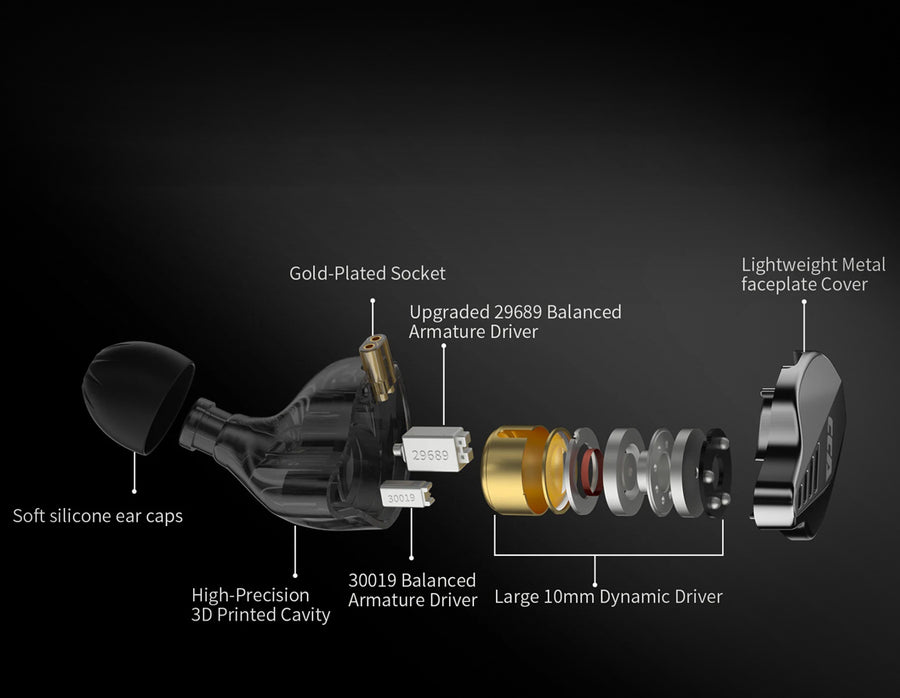 ENHANCED SOUND PRECISION WITH 3D PRINTING
The CCA Pianist IEM uses cutting-edge DLP 3D printing technology to intricately craft the internal components of the earphones. This results in significantly improved clarity and precision in the sound you hear, delivering a remarkable listening experience with reduced distortion and fuzziness.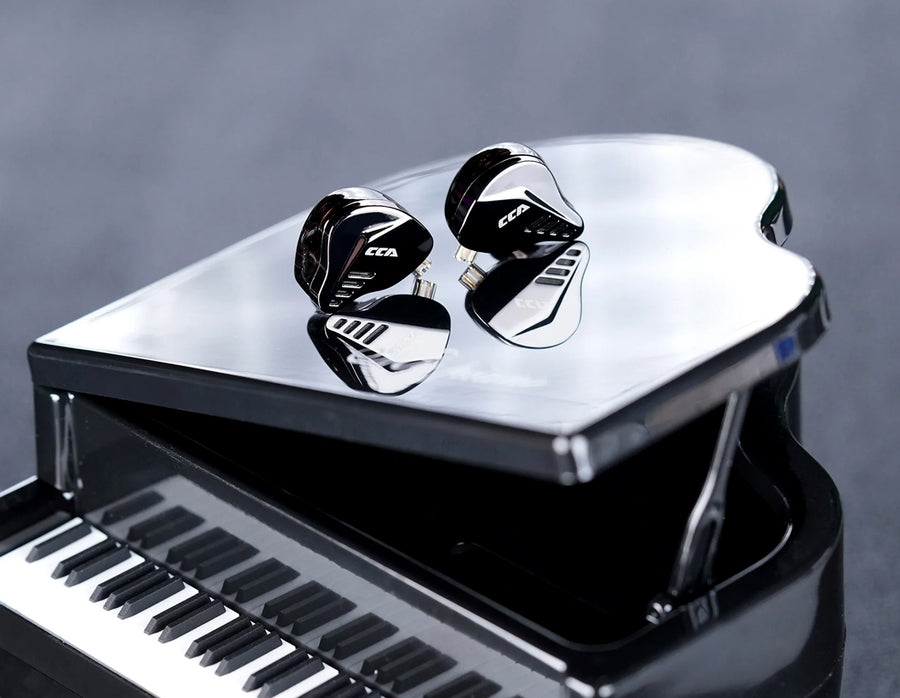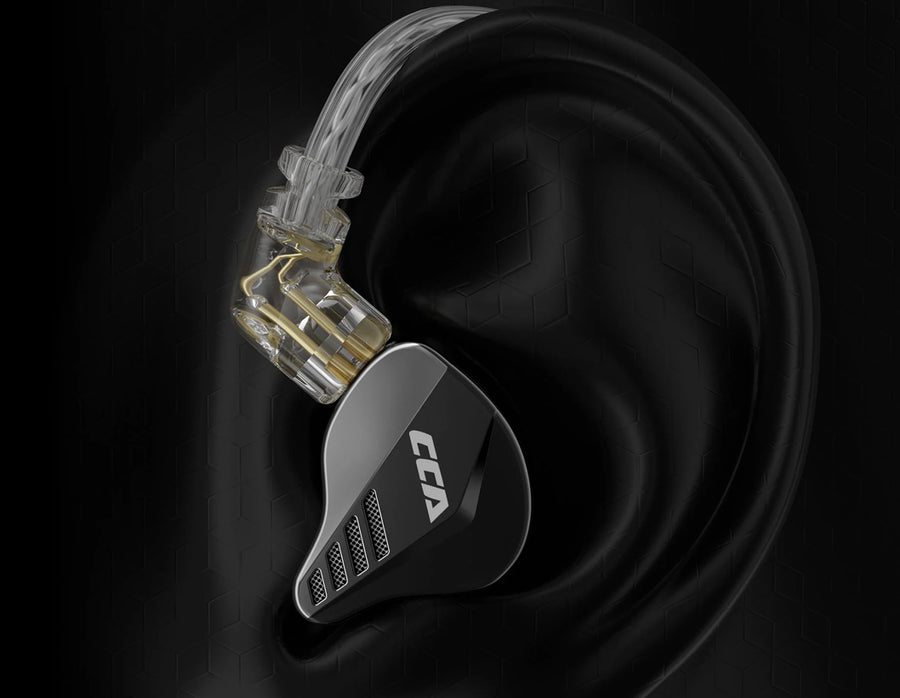 DURABLE AND VERSATILE CABLE DESIGN
It features a high-quality silver-plated cable designed for professional use, delivering outstanding sound quality, and offering superior electrical signal transmission due to their low impedance. It utilizes a 0.75mm 2-pin connector and a 3.5mm termination plug. The detachable design enhances the earphones' durability, enabling you to easily switch to any compatible 2-pin cable in the future.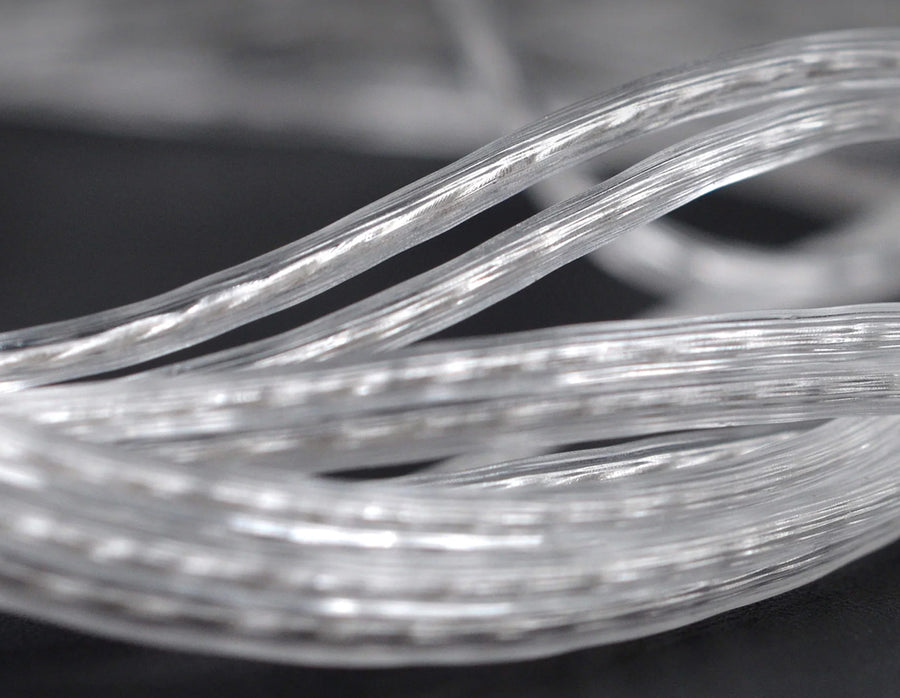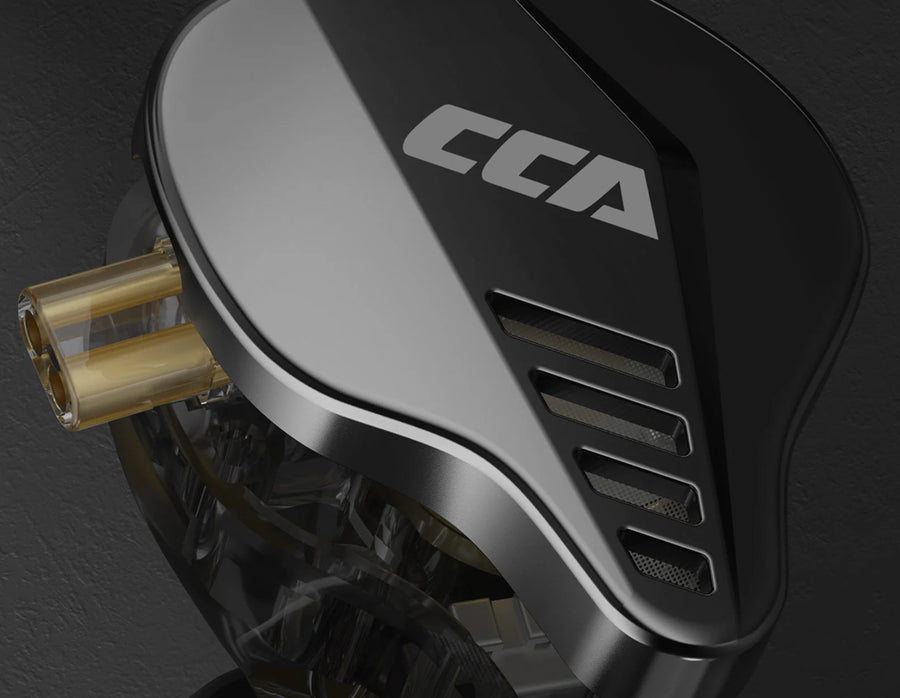 BUILT-IN IN-LINE MICROPHONE AND MEDIA CONTROL FEATURE
This IEM features an in-line microphone that is compatible with standard mobile phone calls. It also has in-line media controls that allows for call pickup/disconnection, short press for pause/play, press-twice to switch songs, etc.
COMFORTABLE AND SECURE FIT FOR EVERYDAY WEAR
It provides an exceptional wearing experience with prolonged comfort and no fatigue. The iem is designed to have a secure fit, ensuring they do not fall out. The ergonomic design promotes a natural fit, minimizing discomfort even during extended use. With these features, KZ Castor is a perfect choice for everyday wear.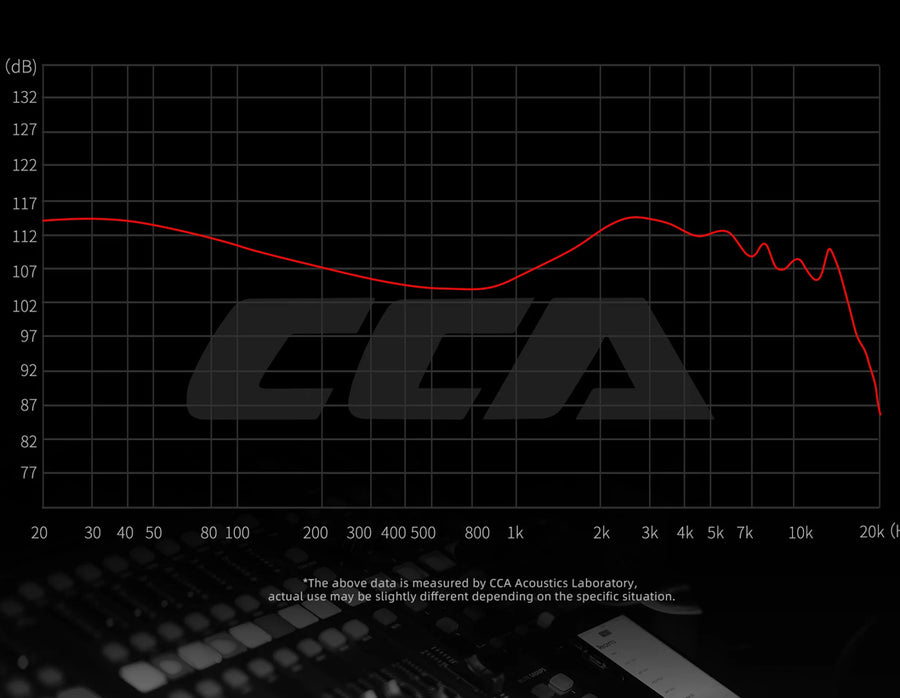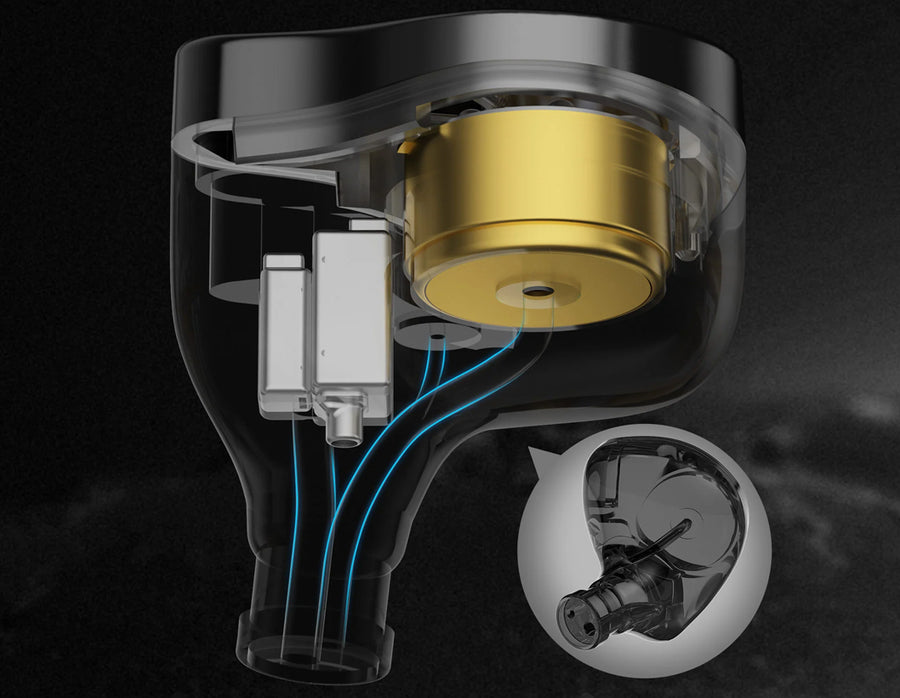 Add a heading
Add content using the options to the left
Impressed
I bought them for my digital piano and they didn't disappoint me.
The tone is a bit elevated bright on the mid and higher registers but yet warm. The tone for the lower base registers is a bit dull but is nicely textured and has composure. Overall good for what it says and does. It works nice.
Thank you so much for taking the time to leave us this amazing review.
Product title
Vendor
₹ 19.99 | ₹ 24.99
Product title
Vendor
₹ 19.99 | ₹ 24.99
Product title
Vendor
₹ 19.99 | ₹ 24.99
Product title
Vendor
₹ 19.99 | ₹ 24.99
<! -- Mezereon Configuration -->