Shipping & Delivery
Heavy rain and flood like situations may cause delays
Free Shipping on Prepaid Orders
Same day dispatch, if ordered before 2:00 PM.
Order Placed before 2:00 PM will be shipped within 24 hrs. (Except Sunday and Holidays)
Cash on Delivery Available
Cash on delivery applicable for order under ₹ 15000
EXTRA SAVINGS & Rewards
Earn upto 5% of order value
With GST invoice, save up to 28% on business purchases
RETURN POLICY
10 Days Replacement Policy
All products are covered by 10 Day Replacement Guarantee. This product is eligible for a free replacement, in case you receive a damaged, defective or different item. Please keep the product in its original condition with all accessories & packaging for a successful return. We may contact you to assess the damage or defect before issuing a replacement. Accessories like cables and eartips are not backed up the manufacturer's warranty.

Please note that physical damage cases need to be brought to our notice within 24 hours.

WARRANTY
1 Year Manufacturer's Warranty
Make Your Music Sing with The Best Headphone Amp
Output Power
120mW (SE); 220mW (BAL)
Terminating Impedance
16-300Ω
Output Mode
3.5MM + 4.4MM Headphone
Frequency Range
20Hz-20kHz (±0.5dB)
THD
0.0006%(32Ω SE)
0.001%(32Ω BAL)

Sampling Rate
32bit/768kHz
What will you get
1x Fosi Audio DS1
1x Type-C to Type-C cable
1x USB-A to USB-C Converter
1x User Manual
1 YEAR WARRANTY
Don't worry, Fosi Audio - DS1 DAC Portable Headphone Amplifier comes with a 1 Year warranty against manufacturing defects. We guarantee that every product on Concept Kart is genuine and backed by the Manufacturer's warranty.
Read more about Concept Kart's warranty policy.
FREE SHIPPING ON ALL PREPAID ORDERS
We usually ship orders on same day if ordered before 2 pm or within 24 hours if ordered later (except on holidays/sunday, where processing times may be higher) from one of our domestic warehouses based out of Delhi. It normally takes around 1 to 5 business days for delivery. We use premium service partners such as Blue dart, DTDC and Delivery for faster and reliable service. A tracking number will be provided upon shipment.
In very rare cases when order is not received after 10 business days of shipment (extended by number of days when the govt. Restricts movement of goods due to factors such as coronavirus pandemic), please contact us and we will provide you a support.
PREMIUM ESS TECHNOLOGY ES9038Q2M DAC CHIP
The DS1 utilizes ESS Technology ES9038Q2M DAC chip, supporting DSD 512 and 32-bit/768kHz PCM audio formats, aims to deliver a premium audio experience, particularly suited for audiophiles or individuals who prioritize exceptional sound quality. The inclusion of DSD 512 support means that it can handle the highest quality DSD (Direct Stream Digital) audio files available, which are known for their superior sound reproduction. Provide a more accurate timing signal for audio decoding.
HIGH PERFORMING OUTPUT
Exceptional sound with best-in-class specifications and high-power outputs to provide headphones with impedance above 200Ω. Support advanced audio formats and high-power outputs.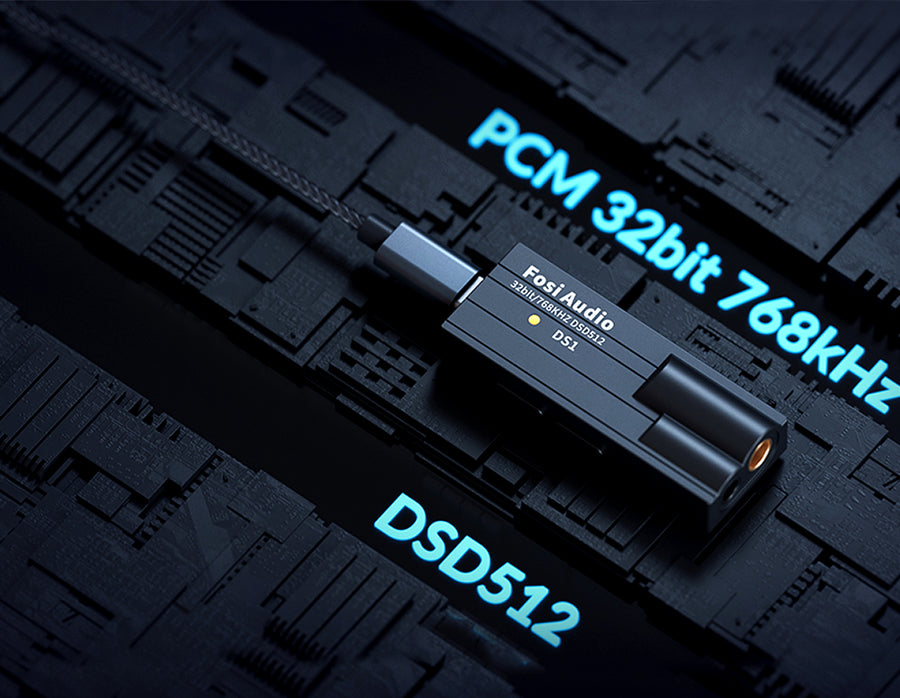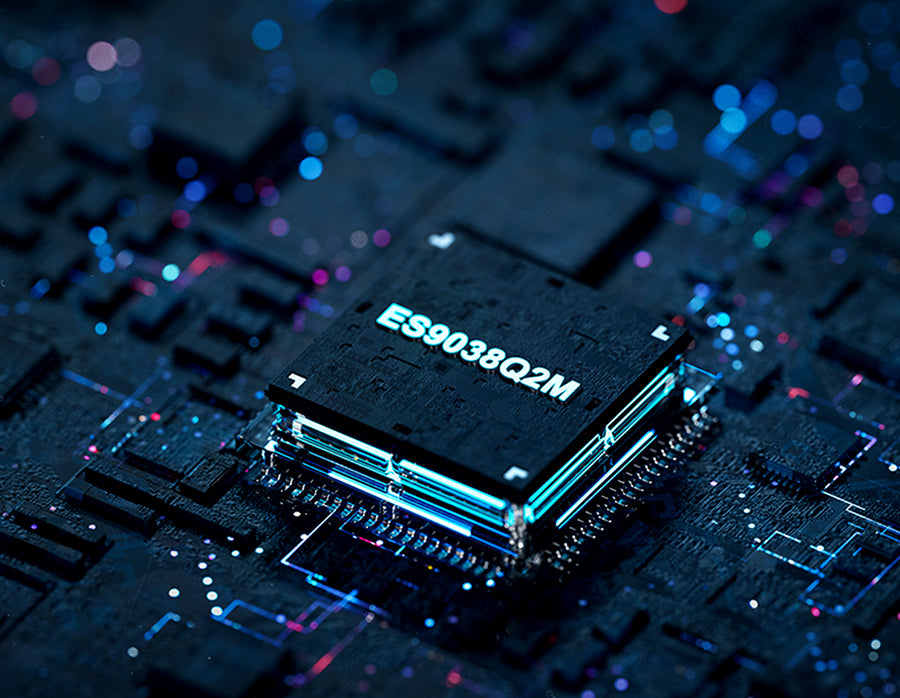 DUAL HEADPHONE OUTPUTS
DS1 DAC and headphone amplifier is equipped with both a 3.5mm single ended and a 4.4mm balanced output that support up to 240mw output to deliver rich, detailed sound. The 3.5mm output is designed to work well with a wide range of headphones, while the 4.4mm output provides a more nuanced and detailed audio experience. It includes low total harmonic distortion and noise levels, with an output power of up to 220mw, a signal-to-noise ratio exceeding 120dB, and minimal background noise measuring less than 1.6UV.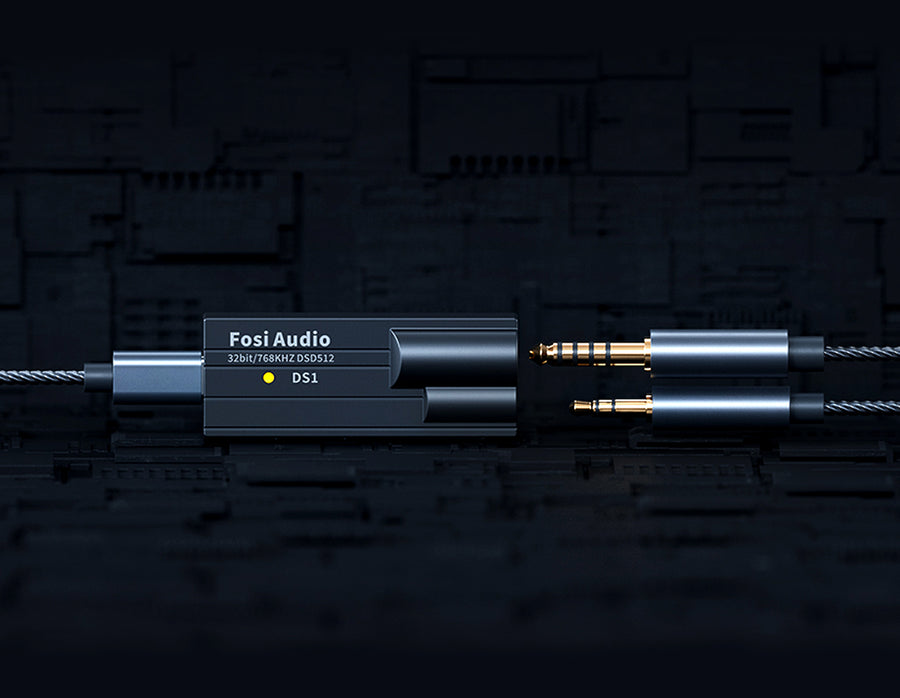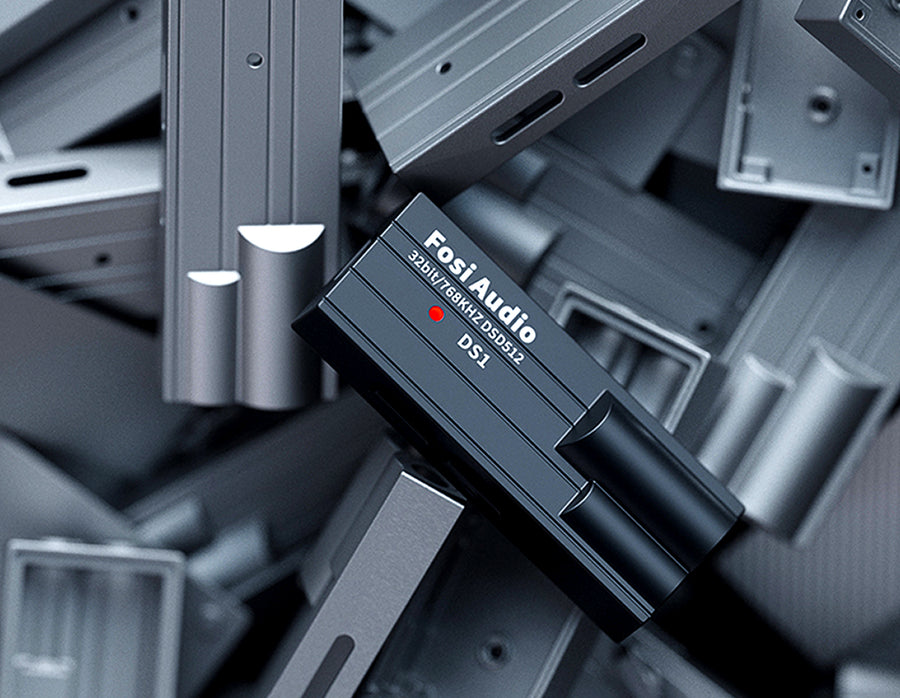 IMPRESSIVE SOUND CLARITY WITH LOW NOISE FLOOR
The DS1 ensures a clean and high-fidelity audio experience with its low noise floor. It delivers a powerful performance, featuring a high signal-to-noise ratio, minimal distortion, and almost zero background noise. It is equipped with the notable ESS ES9038Q2M chip, enabling support for DSD512 and 32bit/768kHz audio formats. Gold-plating treatment is used to reduce contact resistance and obtain clearer sound quality.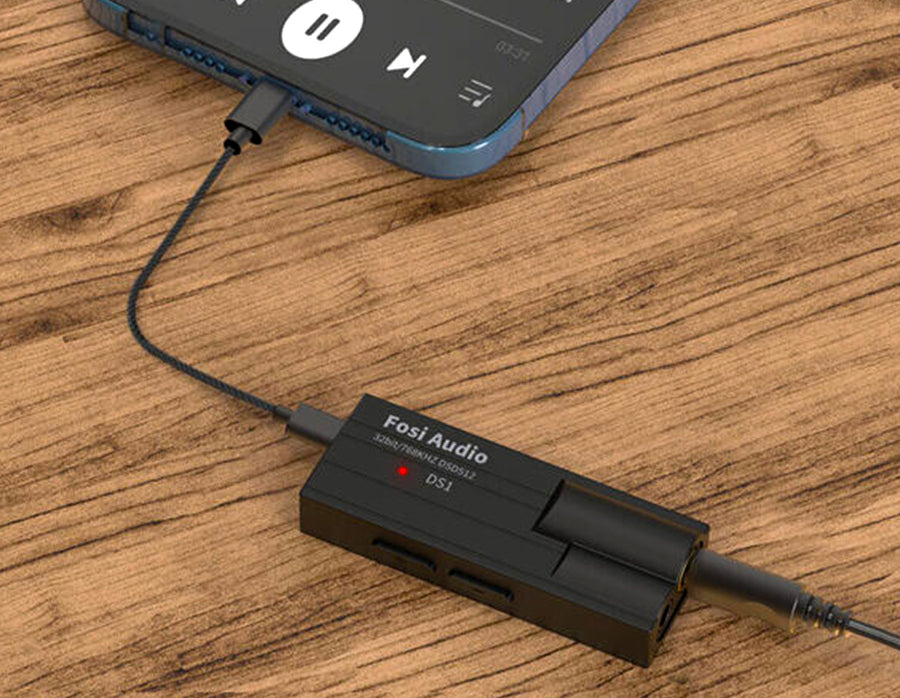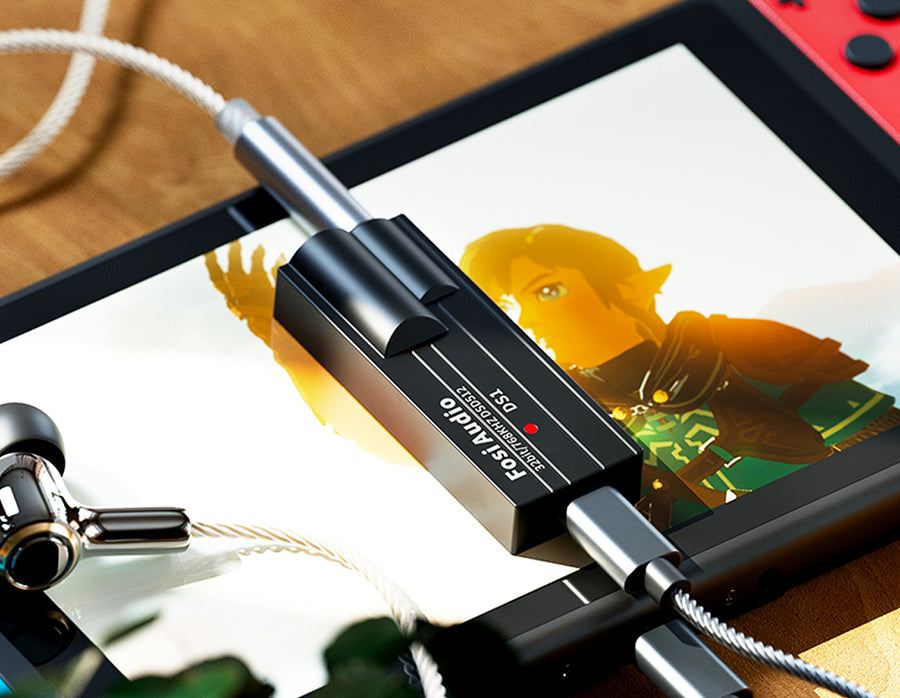 EXCEPTIONAL GAMING EXPERIENCE WITH UAC 1.0 MODE
It is a compact USB DAC headphone amplifier that incorporates a precisely optimized HiFi audio architecture, guaranteeing exceptional High-Resolution sound quality. This portable USB DAC is compatible with a wide range of systems, including Android, iOS, Windows, and Mac, and it seamlessly works with the multiple devices such as phones, computers, tablets, laptops, and audio players. Its exceptional versatility makes it ideal for various scenarios like traveling, at home, in the office, or engaged in gaming activities.
EXCEPTIONAL COMPATIBILITY
You can play games with the UAC 1.0 mode offered by this device to enhance your gaming experience on mainstream game consoles like PS5, Nintendo Switch, and PS4 Pro. It allows you to connect and utilize the device's audio capabilities to enjoy high-quality sound while gaming on these consoles.
Add a heading
Add content using the options to the left
Product title
Vendor
₹ 19.99 | ₹ 24.99
Product title
Vendor
₹ 19.99 | ₹ 24.99
Product title
Vendor
₹ 19.99 | ₹ 24.99
Product title
Vendor
₹ 19.99 | ₹ 24.99
<! -- Mezereon Configuration -->