Product Name
PD200W 6 in 1 Multifunctional Desktop Charger
Input
100-240V-50-60Hz 2.5A
Wireless Charging Panel
3 Pcs
Wireless Charging Power
15w(Phone)
5W(Earbuds)
3W(Watch)
What will you get:
1x Z9 PD200W 6 in 1 Multifunctional Desktop Charger
1x Power Cable
1 YEAR WARRANTY
Don't worry, TECPHILE - Z9 PD200W 6 in 1 Multifunctional Desktop Charger comes with a 1 Year warranty against manufacturing defects. We guarantee that every product on Concept Kart is genuine and backed by the Manufacturer's warranty.
Read more about Concept Kart's warranty policy.
FREE SHIPPING ON ALL PREPAID ORDERS
We usually ship orders on same day if ordered before 2 pm or within 24 hours if ordered later (except on holidays/sunday, where processing times may be higher) from one of our domestic warehouses based out of Delhi. It normally takes around 1 to 5 business days for delivery. We use premium service partners such as Blue dart, DTDC and Delivery for faster and reliable service. A tracking number will be provided upon shipment.
In very rare cases when order is not received after 10 business days of shipment (extended by number of days when the govt. Restricts movement of goods due to factors such as coronavirus pandemic), please contact us and we will provide you a support.
6 IN 1 MULTIFUNCTIONAL CHARGING STATION
The URVNS Z9 charging hub distinguishes itself from conventional charging stations by offering a versatile 6-in-1 multifunctional design. Equipped with dual Type-C connectors and four USB-A ports, the URVNS Z9 delivers rapid charging capabilities for numerous devices, rendering it an ideal charging solution for individuals seeking to enhance the efficiency of their charging experience.
ULTIMATE CHARGING HUB FOR A TIDY WORKSPACE
The URVNS Z9 represents a versatile and robust charging hub meticulously engineered to maintain the cleanliness and organization of your workspace while simultaneously accommodating the charging needs of multiple devices. It features nine charging ports in total, which encompass two high-capacity 100W Type-C connectors, three wireless charging pads, and four USB-A ports. This charging hub ensures rapid and efficient charging for a wide spectrum of devices, ranging from smartphones to laptops.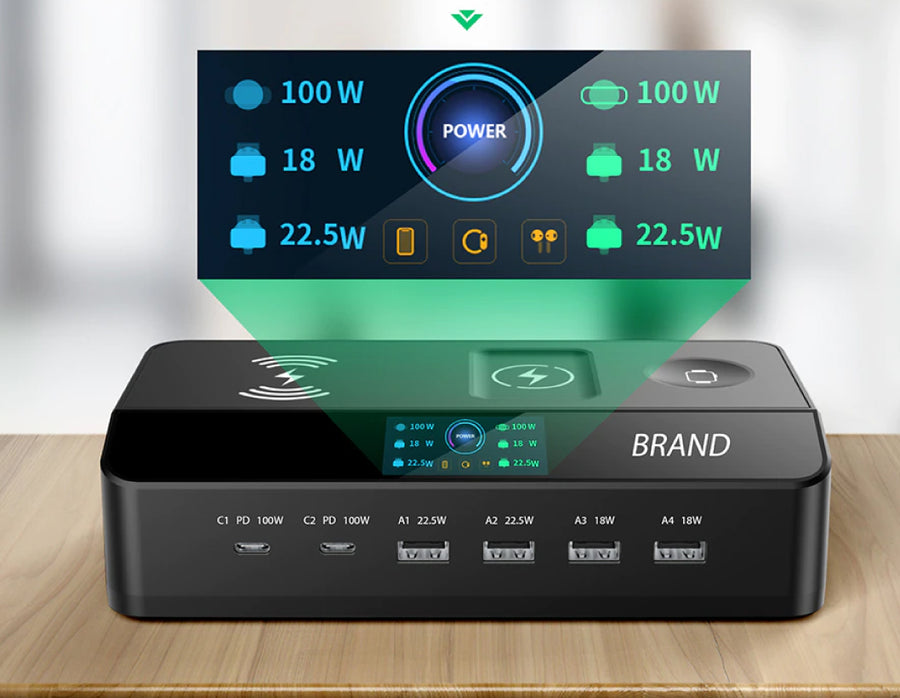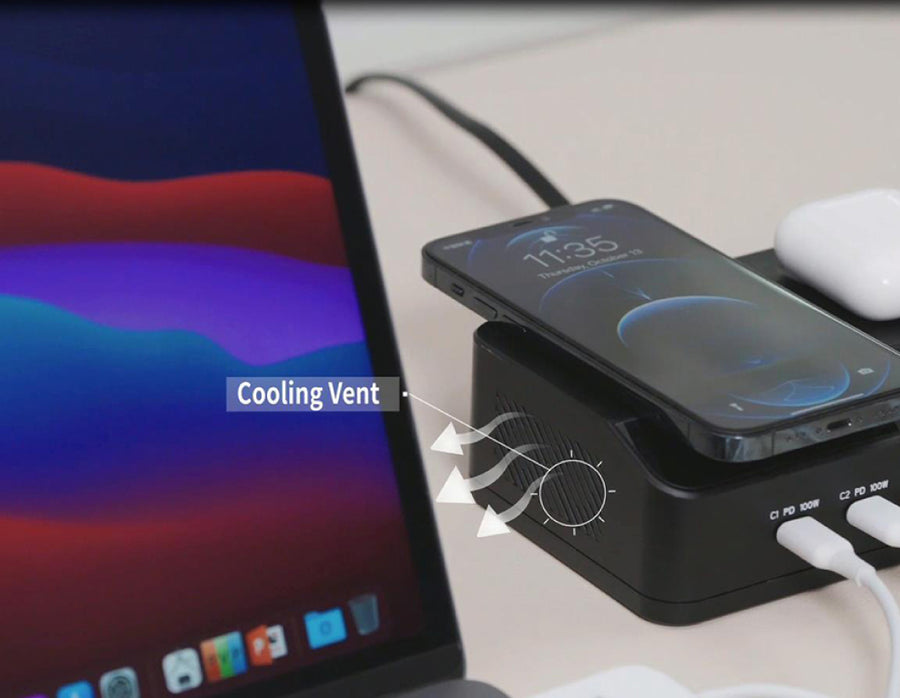 COMPACT DESIGN & PORTABLE
The URVNS Z9 is designed to be compact and portable, making it an ideal charging solution for limited spaces. With dimensions of just 190 x 100 x 45mm, this charging hub occupies minimal surface area on your desk or countertop while delivering exceptional charging capabilities.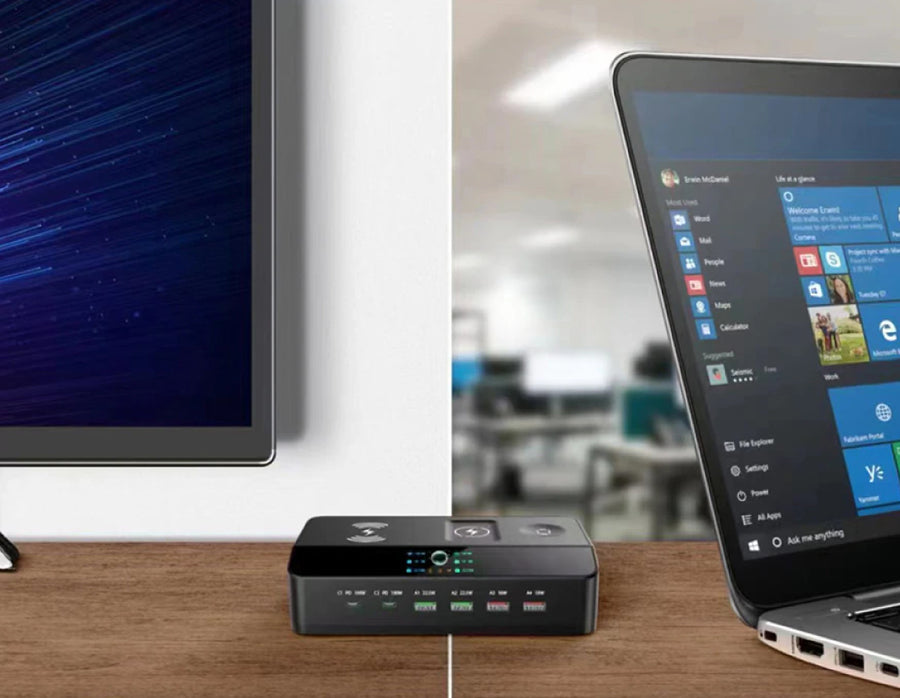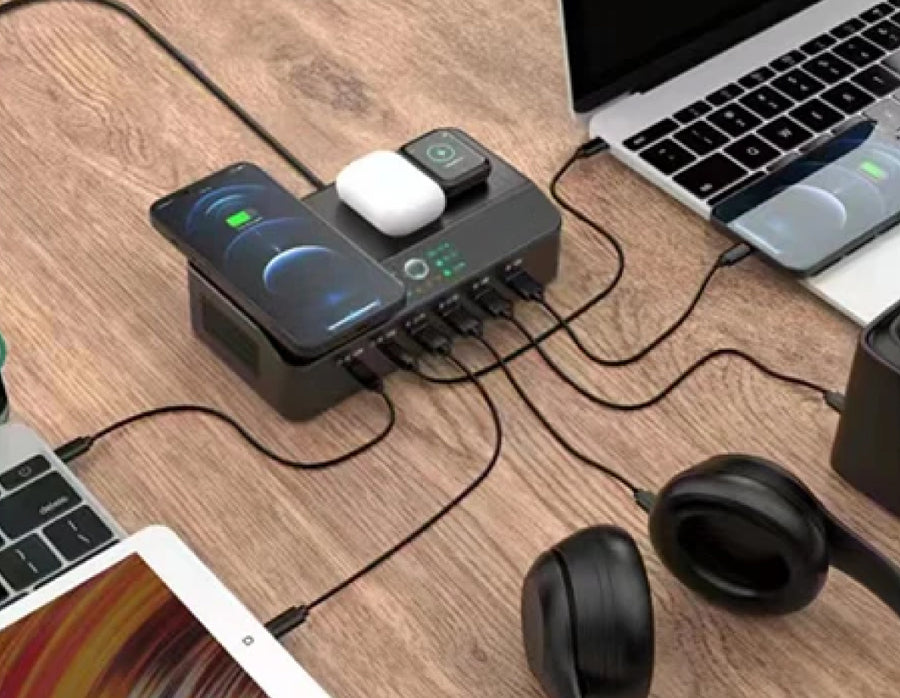 TFT COLOR SCREENS DISPLAY
The Gan Charger also features TFT color screens, showcasing dynamic images and customizable logos. This vivid display introduces an element of refinement and sophistication to your charging experience, imbuing it with an added sense of elegance and style.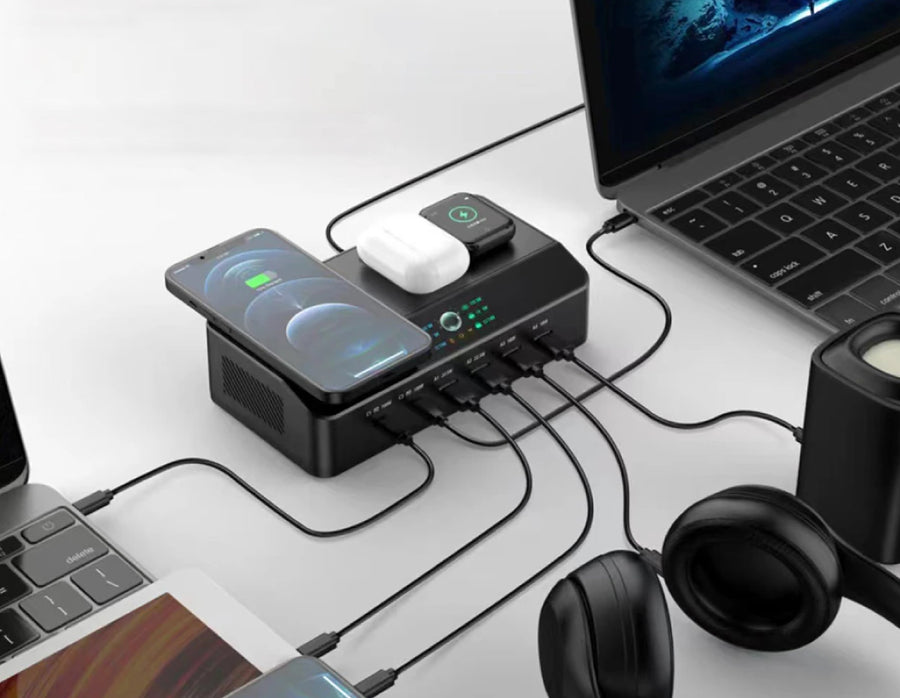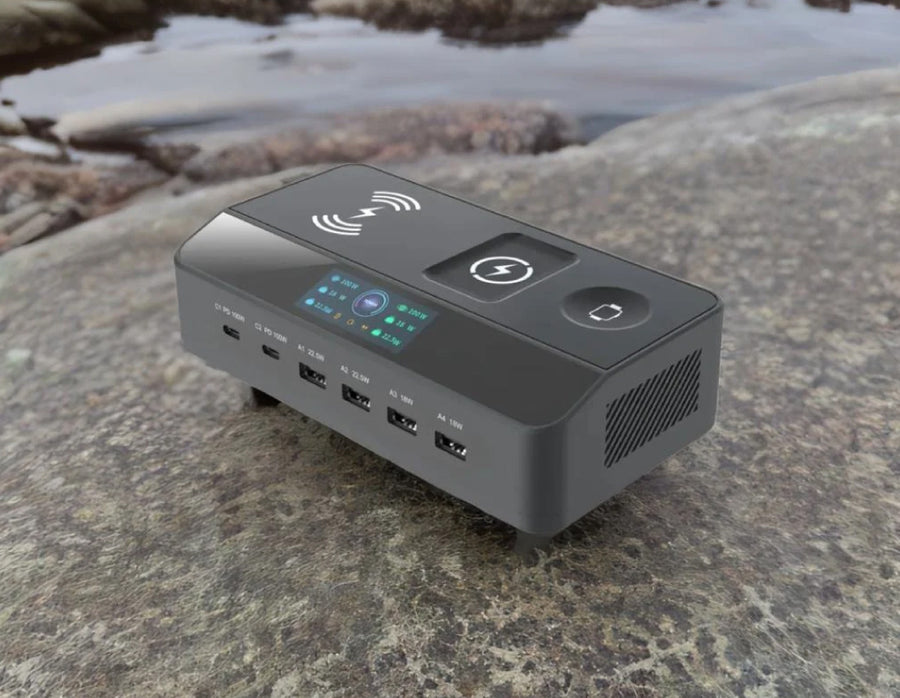 CHARGE MULTIPLE DEVICES SIMULTANEOUSLY WITH FAST CHARGING
The Charging Hub can charge multiple devices simultaneously and quickly. The Charging Hub Supports mobile phone wireless charging, watch wireless charging, TWS headset wireless Charging, PD100W fast Charging and Fast Charging of various USB devices.
9 PORTS SPECIFICATION
• AC input: 100-240V 50-60HZ
• C1 output: PD100W 5V3A, 9V3A, 12V3A, 15V3A, 20V5A(MAX100W)
• C2 output: PD100W 5V3A, 9V3A, 12V3A, 15V3A, 20V5A (MAX100W)
• A1 output: 5V3A, 4.5V5A, 5V4.5A, 9V2A, 12V1.5A(MAX22.5W)
• A2 output:5V3A, 4.5V5A, 5V4.5A, 9V2A, 12V1.5A(MAX225W)
• A3 output: 5V3A, 9V2A, 12V1.5A(MAX18W)
• A4 output: 5V3A, 9V2A, 12V1.5A(MAX18W)
• Mobile phone wireless charging output:15W
• Watch wireless charging output:3W
• TWS headset wireless charging output:5W

Add a heading
Add content using the options to the left
Product title
Vendor
₹ 19.99 | ₹ 24.99
Product title
Vendor
₹ 19.99 | ₹ 24.99
Product title
Vendor
₹ 19.99 | ₹ 24.99
Product title
Vendor
₹ 19.99 | ₹ 24.99
<! -- Mezereon Configuration -->